Karuizawa - Top 10 Spots In The Famous Holiday Resort Near Tokyo
Karuizawa is one of Japan's most popular holiday resort areas, located just one hour away by bullet train from Tokyo. We introduce how to get to Karuizawa, the region's winter and summer highlights, where to stay for an overnight trip, along with other travel tips.
Karuizawa - One of Japan's Most Popular Holiday Resorts
Karuizawa is a town in the Kitasaku district of eastern Nagano. With its cool climate, it is known as a place take refuge from the sweltering summer temperatures. In the winter, Karuizawa becomes a popular destination for skiing and other winter sports.
In 1886, the Canadian missionary Alexander Croft Shaw visited the area to get away from the heat in the urban area. After that, Karuizawa became the favorite resort of visitors from overseas. After the period of economic prosperity following the First World War, Karuizawa became renowned as a holiday resort among the Japanese. Gorgeous villas and shops targeted at summer tourists sprung up one by one, and Karuizawa established itself as an international resort destination.
At present, places like the Karuizawa Kogen Church, the Karuizawa Prince Shopping Plaza outlet mall and the Museum of Contemporary Art, Kanazawa are some of the most famous destinations to visit in Karuizawa. If you visit eastern Japan, we definitely recommend visiting this resort.
Go To Travel Booking Websites
1. Japan Wonder Travel (*the only website with English support. Please specify that you applied through MATCHA.)
2. HIS
3. JTB
4. AirTrip
5. Ikyu.com
6. Yahoo! Travel
Table Of Contents
1. Getting to Karuizawa from Tokyo and Osaka
2. Getting around Karuizawa
3. Karuizawa Weather and What To Wear
4. Karuizawa in Winter - A Popular Ski Resort near Tokyo
5. Karuizawa in Summer - A Retreat from the Heat
6. Karuizawa Area Guide
7. Top 10 Sightseeing Spots in Karuizawa
9. Lodging in Karuizawa
Getting to Karuizawa from Tokyo and Osaka
We explain how to get to Karuizawa from Tokyo and Osaka efficiently.
From Tokyo
You can take either the Shinkansen or a highway bus to Karuizawa. Taking the Shinkansen will be 1,000 to 2,000 yen more expensive, but the train will arrive an hour or two hours earlier than the bus, a point in its favor.
By Shinkansen
Take the Hokuriku Shinkansen from Tokyo or Shinagawa Station and get off at Karuizawa Station. Travel times and fares will vary by Shinkansen type, but you can expect to arrive in 65 to 80 minutes. This is the recommended method for holders of the Japan Rail Pass as the pass provides free unreserved seats on the Shinkansen.
Tokyo - Karuizawa
Fare: 5,390 yen
Shinagawa/Karuizawa
Fare: 5,710 yen
By Bus
There are buses to Naka Karuizawa Station from Ikebukuro, Tatekawa, Yokohama and Haneda Airport.
Tokyo/Ikebukuro/Tatekawa-Karuizawa
Fare: 2,500 yen one-way. 4,500 yen round-trip
Travel time: Three hours
Yokohama/Haneda Airport - Karuizawa
Fare: 3,200 yen one-way, 6,400 yen roundtrip
Travel time: Four hours
From Osaka
By Shinkansen
When traveling from Shin-Osaka Station, you will need to transfer at Tokyo Station to get to Karuizawa Station.
Shin-Osaka - Karuizawa
Fare: 17,820 yen
Travel time: Four hours
By Bus
There is a direct bus that runs through Kintetsu Osaka Abenobashi Station, the Namba OCAT building and the Higashi-Umeda subway station en route to Naka Karuizawa Station and Karuizawa Station.
Osaka - Karuizawa
Fare: 9,500 yen one-way; 17,100 yen roundtrip
Travel time: 11 and a half hours
If you want to minimize travel time and have the JR Pass, you should take the Shinkansen.
For more details about taking public transportation, check out our article on Getting Around In Japan.
Getting around Karuizawa
You can get around Karuizawa via bus or taxi; you can also rent a bicycle or car.
There are bus routes from Karuizawa Station which stop at Kyu Karuizawa, Naka Karuizawa Station, and Minami Karuizawa (an east loop and a south loop). Another route goes from Shinano-Oiwake Station to west Sengataki and Naka Karuizawa Station (a north loop). However, these buses are very infrequent, only running five or six times a day.
If your budget allows for it, we recommend renting a car to go sightseeing around Karuizawa. While you could also rent a bicycle, you should be aware of the conditions. Karuizawa has steep slopes in many places and can be extremely cold in winter.
Karuizawa Weather and What To Wear
Karuizawa is situated in the cold highlands. Because Karuizawa's climate is comparatively less humid, it is characteristically cool in the summer and quite cold in the winter. Evenings can get chilly, even in the summertime, so you should have a shawl or light coat at the ready.
Protection against the cold is a must in the winter. You will definitely need a down jacket, gloves and some headwear. When going up into the mountains, it would be wise to prepare some spiked boots to deal with the snow. Snow glare can also cause UV damage to the eyes, so don't forget to wear sunglasses. If you're visiting in winter, have fun, but be sure to take precautions against the low temperatures and the snow.
Karuizawa in Winter - A Popular Ski Resort near Tokyo
Picture from 5 Ski Resorts To Enjoy On A Day Trip from Tokyo
Karuizawa is home to one of the most popular ski resorts located near Tokyo: the Karuizawa Prince Hotel Ski Area. Not only is it easily accessible from the capital in about one hour by bullet train, but it is also an extremely modern facility with various ski courses that accommodate the needs of every visitor.
In fact, the East High-speed Lift can also be used only for sightseeing by visitors who don't ski. Because it operates until late in the evening, it allows visitors to enjoy Karuizawa's nightscape.
The ski season lasts until March 31st. If you like winter sports, how about coming here?
Karuizawa in Summer - A Retreat from the Heat
Karuizawa is especially famous as a summer retreat. Thanks to its high elevation, the air is cool even in the hot months of July and August. Ever since the Meiji period (1868-1912), Karuizawa has been a popular summer holiday resort for people living in the Tokyo area.
The beautiful Shiraito Falls and Kumoba Pond are just two of the scenic places that can be enjoyed in the summer. Below in this article, we introduce other great destinations to visit in Karuizawa.
Karuizawa Area Guide
Karuizawa is a comparatively compact town, but each area has its own distinct tone, from the clusters of villas in Shin-Karuizawa and Kyu Karuizawa to the bubbling hot springs in Naka Karuizawa.
Shin-Karuizawa and Kyu-Karuizawa
Expanding outward from JR Karuizawa Station, Shin-Karuizawa is a haven for villa development. The high-class resort area two kilometers north of the station is called Kyu-Karuizawa, or Old Karuizawa. Kyu-Karuizawa is home to Karuizawa Ginza and the Kumoba Pond. The highlight of Shin-Karuizawa is the Karuizawa Prince Shopping Plaza.
Naka Karuizawa, Senga Falls
Naka Karuizawa is renowned for its hot springs. This is where you can find facilities like Sengataki Onsen and Hoshino Onsen, among others. The Karuizawa Kogen Church, the Senga Falls, as well as Harunire Terrace are just a few of its sightseeing spots.
Minami Karuizawa - The Southern Area
Represented by the Shiozawa Lake, the southern section of Karuizawa has its own uniquely elegant summer vibe, with art museums and rose gardens.
Top 10 Places to Visit in Karuizawa
We've compiled a list of ten places you should check out when you visit Karuizawa.
1. Karuizawa Prince Shopping Plaza
One of the largest outlet shopping malls in the country, the Karuizawa Prince Shopping Plaza contains 240 stores that handle fashion items, accessories, and interior design items. You'll be able to find a wide array of apparel, from high-class brand items to more conservative fashion, as well as kids' clothing and outdoor wear.
The outlet boasts excellent restaurants, too. It is also renowned as a pet-friendly facility.
2. Old Karuizawa Ginza Shopping Street
Old Karuizawa Ginza, or Kyu-Karuizawa Ginza, is a shopping street bustling with tourists. This 50 meter street is lined with restaurants, cafes, accessory and souvenir shops, galleries, boutiques and more.
3. Kumoba Pond
A picturesque spot near JR Karuizawa Station, the still waters at Kumoba Pond reflect the surrounding trees creating a beautiful view. There are footpaths around the pond, so you can enjoy the scenery from many different angles.
After a walk around the pond, how about stopping for a tea or coffee break at one of the cafes in the area?
4. Karuizawa Shiraito Falls
Karuizawa Shiraito Falls is 3 meters high and 70 meters wide. Its name can be translated as "White Thread Falls" and is derived from the similarity of the waterfall to white threads. In contrast to regular waterfalls, which are formed by a drop of water from a lake or a pond into a river, the water of Shiraito Falls comes from underground, braching through the cliffs.
You will surely be moved by the beauty of this waterfall and by its soothing sound.
The Karuizawa Shiraito Falls can be accessed in about 20 minutes by car from Karuizawa Station via the Shiraito Highland Way.
5. Former Mikasa Hotel
The Former Mikasa Hotel was built in 1905. It is a Western-style hotel built entirely of wood by Japanese craftsmen. Its unique exterior is a fusion of American, British and German architectural styles.
The hotel is famous for having been the lodging of members of the imperial family and royalty from overseas during their visit to Karuizawa. It is now an important national cultural property.
6. Harunire Terrace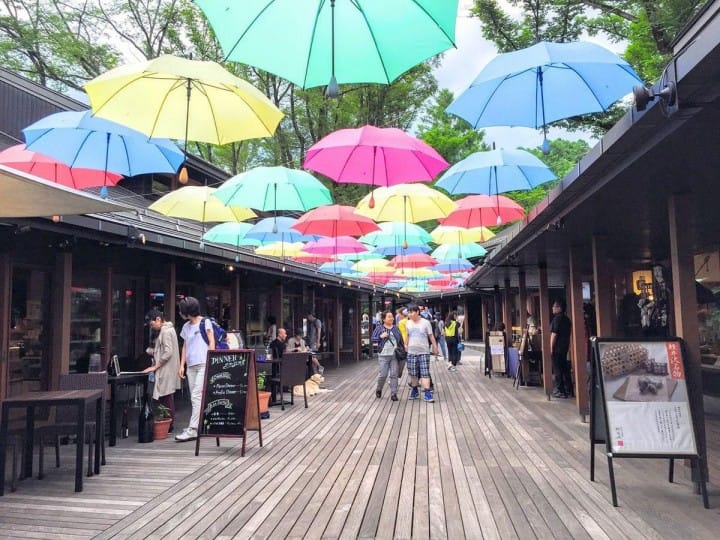 Harunire Terrace is recreation site with shops, restaurants and elegant cafes, located in the Naka-Karuizawa area. The facility has stores targeting customers with refined tastes who wish to spend a relaxing time enjoying the the nature of Karuizawa.
The fresh bread from bakery and restaurant Sawamura, as well as coffee and sponge cake from the well-established Maruyama Coffee store, are some of the most popular products to enjoy here. The picturesque Karuizawa Kogen Church and the Tombo no yu Onsen are also close by.
7. The Museum Of Contemporary Art, Karuizawa
The Museum Of Contemporary Art, Karuizawa collects and displays artwork by Japanese artists who have been successful overseas. Visitors can enjoy works by artists like Yayoi Kusama, Yoshitomo Nara, Tsuguharu Foujita and others.
8. Senga Falls
The Senga Falls is 20 meters high and 2 meters wide. The highlight of this waterfall is watching the current weave its way through the rugged boulders below.
The Senga Falls can be accessed in about 20 minutes by car from Karuizawa Station.
9. Lake Shiozawa
Surrounded by greenery, Lake Shiozawa is the only place in Karuizawa where you can enjoy the sight of boats. The adjacent Musee PEYNET displays artwork by Raymond Peynet. Another facility worth visiting nearby is the English Rose Garden, an impressive facility with about 1,800 roses.
10. Karuizawa Kogen Church
The Karuizawa Kogen Church is a Japanese Episcopalian church that was established in 1921 in a wooden building. A particular highlight of the facility is the Karuizawa Shaw Memorial Church, which holds gospel meetings and candlelight services that are open to all.
Lodging in Karuizawa
As a resort area that was developed into an area for summer retreats, Karuizawa has many stylish wooden Western-style boardinghouses which can cost anywhere from 5,000 to 10,000 yen per night. There are many different types of these places, which include delicious breakfasts and are pet-friendly. Choose one to your liking.
Naka Karuizawa also has traditional onsen inns. These are also priced around 5,000 to 10,000 yen a night. We recommend staying in this area for those who want to soak in the hot springs and enjoy traditional Japanese cuisine.
The area also has many business and luxury hotels available on Booking.com. Three particularly well-reviewed hotels are The Prince Karuizawa, Hoshinoya Karuizawa and the Karuizawa Hotel Soyokaze. Let's take a look at these three spots.
The Prince Karuizawa
Reasonably priced for a luxury hotel at 20,000 yen a night, this high-quality hotel offers excellent service. You can enjoy a Western-style breakfast while looking out at the hotel courtyard, which is popular with guests of all ranges. Guests also get special privileges like onsen admission, rental bicycle access and free morning coffee.
Hoshinoya Karuizawa
One of the best luxury hotel chains in Japan, Hoshino Resorts, operates this Karuizawa Hotel. Enjoy first-rate service in your room, in the spa, and in the restaurants. Depending on your mood, you can choose from French, Italian, and Japanese dining options. One night is 40,000 yen.
Karuizawa Hotel Soyokaze
Recently gaining popularity as a pet-friendly hotel, the Soyokaze has a Karuizawa-esque cottage exterior. It stands out for its southern French cuisine offerings, which use plenty of locally-sourced organic vegetables. Lodging for one night starts at 17,000 yen.

Go To Travel Booking Websites
1. Japan Wonder Travel (*the only website with English support. Please specify that you applied through MATCHA.)
2. HIS
3. JTB
4. AirTrip
5. Ikyu.com
6. Yahoo! Travel

The information presented in this article is based on the time it was written. Note that there may be changes in the merchandise, services, and prices that have occurred after this article was published. Please contact the facility or facilities in this article directly before visiting.