Hakuba Guide 2019-2020: 8 Best Ski Resorts And Sightseeing Spots
Hakuba in Nagano Prefecture is known for its excellent skiing and winter sports. The powder snow and many resorts here make it a great destination in Japan. There are also things to enjoy in the summer and year-round. Learn more about suggested activities and places in Hakuba.
Hakuba - Recommended Skiing Spots and Year-Round Activities
The village of Hakuba is located at the base of Mt. Hakuba in the Kita-Azumi are, in the northwestern part of Nagano Prefecture. With an area of 182.3 km² and a population of around just 9,000 people, Hakuba might be small, but it is known for its picturesque beauty, drawing a never-ending stream of travelers from within Japan and around the world.
Hakuba's average temperature in the summer goes up to 20℃, making it a popular summer holiday resort. People from the city often visit Hakuba in the summertime to cool off.
Hakuba is also a sacred ground for winter sports enthusiasts, with facilities for mountain climbing, skiing and more. Thanks to the silky, powdery snow that falls in winter, Hakuba's ski resorts can boast enduring popularity with skiers. One particularly famous ski resort is Happo-one, which served as a venue during the 1998 Nagano Olympics.
This guide suggests winter sports and activities in Hakuba, a list of the best ski resorts and standout sightseeing spots, and when to visit them.
Table of Contents:
1. Hakuba Weather
2. How To Get To Hakuba (From Tokyo, Osaka)
3. The Best Skiing In Hakuba
4. Activities To Do In Hakuba
5. Recommended Spots In Hakuba
The Weather in Hakuba and What to Wear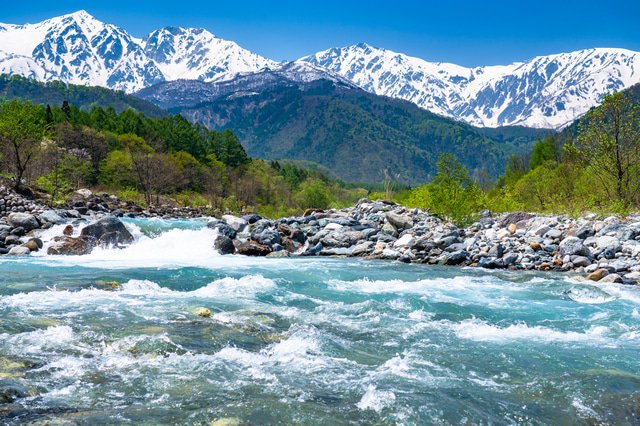 Before you set off on your trip, let's take a look at what sort of clothing you'll need to prepare to deal with Hakuba's weather.
January to March
Winter to early spring is the coldest time in Hakuba, with temperatures that drop below zero and plenty of snow. If you visit during this time, a heavy coat, headwear, gloves and other countermeasures against the cold are a must.
April and May
The weather starts to warm up and feel a little more like spring, but snowy conditions can persist into April, so bring a sweater or light coat for peace of mind.
June to August
While temperatures can exceed 30℃ on some days, the weather is generally quite pleasant. Men can wear short-sleeved shirts and shorts, and women can wear summery clothes like light skirts and sandals. Evening temperatures will drop toward the end of August, and it may cool down later in the day, so be ready with a scarf or long-sleeved shirt.
September and October
Temperatures at this time of the year max out at around 15 to 25℃, making it a comparatively comfortable season. During the day, wearing long-sleeved shirts and light pants or skirts is no problem. However, early mornings and evenings can get chilly, with some days hitting temperature lows of 10℃, particularly in October. You should have a sweater or scarf just to be safe.
In November and December
Average temperatures at the end of the year are below 5℃, so dress for winter. You should wear coats, mufflers, ski caps and the like.
How to Get to Hakuba
We'll explain how to reach Hakuba from Tokyo and Osaka.
From Tokyo to Hakuba
First, take the Hokuriku Shinkansen from Tokyo Station to Nagano Station.A one-way fare is around 8,000 yen. Travel time will vary depending on the class of shinkansen train you get on, but it should take between an hour and a half to an hour and 50 minutes. From Nagano Station, you can take the Limited Express Nagano Hakuba Line to get to nine places around Hakuba: Sun Park Hakuba, Hakuba Goryu, Hakuba Station, Hakuba Happo, Hakuba Shinden, Tokyu-Kirikubo, Tokyu-Ochikubo, Tsugaike Kogen and Hakuba Norikura.
Buy tickets from the counter by the east exit of Nagano Station. Fares vary by stop but range from 2,000 to 2,200 yen (as of August 2019).
From Osaka to Hakuba
First, take the Shinkansen from Shin-Osaka Station to Nagoya Station, then take the Limited Express Wide View Shinano to Matsumoto Station. The one-way fare is 9,820 yen and the ride takes about three hours. Switch to the JR Oito Line at Matsumoto Station and head to Shinano-Omachi. Stay on the line, catch a train bound for Minami-Otari, and get off at Hakuba Station. The fare is 1,140 yen and takes about an hour and 40 minutes.
8 Best Ski Resorts in Hakuba
Hakuba has a great number of popular ski resorts, impressive even for Japan. Here are our eight top recommendations.
1. Hakuba Goryu Ski Resort
The vast Hakuba Goryu Ski Resort has over 45 courses tailored to various skill levels so that beginners and experts alike can fully enjoy the slopes. While it depends on the annual weather conditions, you should be able to ski from late November until early May.
There are also ski lessons taught by foreign instructors, conducted in English and German, and a gondola connects the resort to the courses at Hakuba 47 Winter Snow Park.
Season: first snow - May 6, 2020
Access: take the JR Oito Line to Kamishiro or Imori stations, then ride the free shuttle bus or a taxi for five minutes.
2. Hakuba Happo-one Ski Resort
Well-regarded for its long ski runs and the quality of its snow, Happo-one is one of the biggest ski resorts in Japan. Race down the slopes as you behold the beautiful mountain surroundings. Happo-one also served as a ski venue during the Nagano Winter Olympics.
Season: late November - early May 2020
Access: JR Oito Line, five minutes from Kamishiro Station or Imori Station by free shuttle bus or taxi
3. Hakuba Cortina Ski Resort
Cortina's slopes, laden with powdery natural snow, are the main attraction for the groups of tourists who visit this area. You can get a stellar view of the five mountains in Nagano's Hokushin region, including Mt. Ushirotateyama and Mt. Myoko.
Season: mid-December, 2019 - early April 2020
Access: Nagano Shinkansen, Nagano Station; 100 minutes by shuttle bus, reservation required. Adults 1,000 yen, Children 500 yen, Children 3 or younger free (*no toddler seats). Or, from Minami-Otari Station (JR Oito Line), 20 minutes by free shuttle bus, no reservation required. Bus pick up point in front of Minami-Otari Station.
4. Tsugaike Kogen Ski Resort
While Tsugaike is relatively compact in comparison to other resorts, you can enjoy some uncommon activities next to the regular ski slopes: snow biking, snowshoeing, heli-skiing and snowboarding. The resort has 10 courses in total, accommodating beginners and experts alike, and you'll be happy to know that the snow is all-natural.
Season: late November 2019 - early May 2020
Access: Hakuba Station (JR Oito Line), 23 minutes by bus to Tsugaike Kogen, 20 minutes by taxi. Or, from Nagano Station, one hour and 30 minutes by Nagano Hakuba Limited Express bus
5. Hakuba 47 Winter Snow Park
The "47" in this resort's name means "four seasons a year, seven days a week." In the winter, there is skiing and snowboarding, and in the summer, the resort offers activities like trekking and mountain biking for visitors to enjoy.
Season: early-mid December 2019 - early May 2020
Access: ride the JR Oito Line to Hakuba Station, then take the free shuttle bus to Hakuba 47
6. Hakuba Sanosaka Ski Resort
With eleven courses, 80% of which are targeted at beginner and intermediate skiers, this ski resort's slopes are relatively gentle. It also has convenient access, and from the #3 Laketown ski slope lift, you can look out at onto the almost transparent waters of Lake Aoki. There are free 15-minute ski lessons every day (signups required) where instructors will teach key points for beginners, like safely falling and correctly getting onto the ski lift. You can also take a 30-minute snowboarding lesson for free. This resort is excellent for skiers who are just starting out.
Season: early December 2019 - late March 2020
Access: JR Chuo Main Line from Matsumoto Station to Minami-Kamishiro Station, then five minutes by free shuttle bus
7. Hakuba Norikura Onsen Ski Resort
Located close to Hakuba Onsen Town, this resort has natural snow and courses targeted at skiers of all skill levels, from beginners to experts. All courses are open to snowboarders as well as skiers, making it perfect for those who want to enjoy snowboarding as well. After a day of skiing, rest up in one of the nearby onsen hot springs.
Season: mid-December 2019 - late March 2020
Access: take the JR Oito Line to Minami-Otari Station, then ride for 15 minutes via bus to Hakuba Norikura Onsen Ski Resort.
8. Hakuba Valley Kashimayari Ski Resort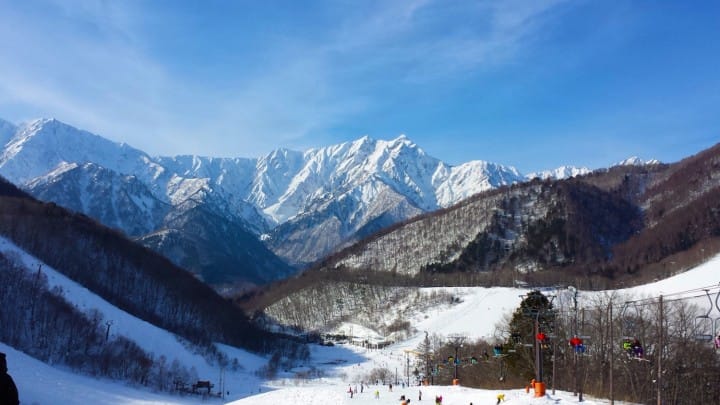 You can enjoy the spectacular scenery on the 2,890-meter-high Mt. Kashimayari at Hakuba Valley Kashimayari Ski Resort. The summit of the ski slope, at an elevation of 1,550 meters, offers a wonderful view and a pleasant skiing experience.
Season: early December 2019 - early April 2020
Activities to Do in Hakuba Off-Season
There are plenty of things to do in Hakuba other than skiing and snowboarding. If your trip doesn't overlap completely with the skiing season, be sure to consider these outdoor activities.
Hiking and Mountain Climbing
The "Hakuba Three" (Mt. Shirouma, Mt. Shakushi and Mt. Yariga), the Hakuba Snow Valley, Mt. Karamatsu and Mt. Goryu are a few area sites that are perfect for hiking and climbing. They are very cold at night and during winter, so be sure to take protection against the cold.
Rafting
Take a dynamic ride down the Saigawa River, which runs through Hakuba, in a rubber boat.
Prices and fares: Adults 8,000 yen (over middle school age), children 6,000 yen (elementary school age), boat rental 42,000 yen (two to seven people)
Hakuba Lion Adventure Homepage: http://hakuba.lion-adventure.com/saigawarafting/ (Japanese)
Hot Air Balloon Riding
Ride a hot air balloon and take in the spectacular scene of the Northern Alps and Hakuba's townscape from a height of 30 meters.
Prices: Adults 2,500 yen (over middle school age), children 1,700 yen (from 4 to elementary school age), toddlers free (3 and under), dogs 500 yen
Hakuba Lion Adventure Homepage: http://hakuba.lion-adventure.com/lionballoon/
Canadian Canoeing
If you visit the clear waters of Lake Aoki, you'll want to try canoeing. Enjoy a refreshing canoe ride for two people. You won't get too wet, so even beginners can feel at ease.
Prices and fares: Adults 5,000 yen (over middle school age), children 4,000 yen (elementary school age), Sunset Plan 2,000 yen
Hakuba Lion Adventure Homepage: http://hakuba.lion-adventure.com/aokikokanadian/
Onsen (Hot Springs)
Visiting hot springs is one of the fun things to do in Hakuba, There are many onsen resorts, including Hakuba Happo Onsen (Japanese). We recommend booking a stay so you can properly relax.
Recommended Spots in Hakuba
If you visit Hakuba, you should take in all the mountain sights and check out the high-altitude plant life. Here are some places that are well worth a visit.
Happo Pond
This pond lies in wait on the Happo-one Nature Trail, accessible from the Happo-one Ski Resort. You can get a great view of Mt. Shirouma, Mt. Yariga and Mt. Shakushi directly ahead of you.
Tsugaike Nature Park
One of Japan's leading nature parks, Tsugaike has high-elevation wetlands and is equipped with walking trails that span a distance of 5.5km. Enjoy a pleasant stroll as you look over the Hakuba mountain scenery and the unusual area vegetation.
Hakuba Art Museum
This art museum's central focus is the portfolio of the French artist Mark Chagall. The museum has from 120 to 150 pieces on display, from his early engravings to the work he produced in his final years. Note that the museum is only open for a short time - from April to September.
The museum is closed between April 1, 2019, and March 31, 2020. For more information on hours and exhibits (held irregularly), visit the official website: http://www.laforet.co.jp/hakuba/museum/ (Japanese).
Hakuba Jump Stadium
This stadium served as the ski jump event venue during the Nagano Winter Olympics. Get on the lift and ascend to the top of the 140-meter hill. The best part is being able to experience the height from which the ski jumpers actually blasted down the hill during the Olympics. *Skiing is not permitted.
Hakuba Goryu Takayama Botanical Garden
At this botanical park situated at an elevation of 1515 meters, you can observe rare alpine plants. Along with native flora such as dicentra flowers and black lilies from the Northern Alps, you can also see foreign plants such as Himalayan blue poppies and Swiss edelweiss.

The information presented in this article is based on the time it was written. Note that there may be changes in the merchandise, services, and prices that have occurred after this article was published. Please contact the facility or facilities in this article directly before visiting.