9 Must-Do Activities In Matsumoto - Explore History And Nature!
Nagano Prefecture's Matsumoto City is a cultural heritage center brimming with rich history and art. Travelers can admire historical sites and museums, including the five-tiered Matsumoto Castle and exhibits by Yayoi Kusama. Learn more about this ideal city to base your Nagano travels in!
Matsumoto – A City of History, Nature, and Culture
Located in Nagano Prefecture, Matsumoto City has long flourished as a prominent castle town with the presence of Matsumoto Castle, a designated National Treasure of Japan. Matsumoto is a popular sightseeing destination where you can experience its history and culture by strolling down historic streets, a museum where you can encounter traditional Japanese art, and local dishes.
Vast nature fills the outskirts of the city, allowing for trekking and snow activities in areas like Kamikochi and Hakuba. We recommend making travel plans to visit these spots while based in Matsumoto. The city is about two hours and 40 minutes by limited express train from Shinjuku Station in Tokyo. You can also take the Shinkansen (bullet train) or limited express from Osaka or Kyoto for a travel time of three hours.
In this article, we've compiled a selection of things to do when you visit Matsumoto.
Table of Contents
1. Learn History at Matsumoto Castle
Matsumoto Castle was constructed as a residence for military commanders during the Sengoku Period in the 1500s. On the outside, it looks like a five-storied structure, but it's actually a six-storied castle if you go inside. This architectural style is only found in two castles in Japan—Matsumoto and Himeji castles. It also has beautiful black lacquered walls, making it an invaluable national treasure of Japan.
You'll find the steepest set of stairs at a 61-degree-incline and massive pillars inside. Carpentry tools used in the castle's construction and harquebus, a firearm dating back to this time period, are also exhibited in the castle. There is also a stunning view of Matsumoto City and the Northern Alps from the towers on the top floor. Admission is 610 yen for adults, 300 yen for elementary and junior high school students, and free for children below elementary school age.
At night, the Matsumoto Castle is illuminated year-round and decorated for seasonal events. There are cherry blossoms in spring, traditional performances in the summer, and ice sculptures in the winter. It takes ten minutes to get to the castle by Town Sneaker, the Matsumoto excursion bus line, from JR Matsumoto Station.
2. Admire the Yayoi Kusama Collection at the Matsumoto City Museum of Art
"The Visionary Flowers" by Yayoi Kusama, 2002. Picture courtesy of Matsumoto City Museum of Art
Matsumoto City Museum of Art is where works from artists connected to the city are permanently exhibited. "The Visionary Flowers," a giant artwork by the prominent avant-garde artist and Matsumoto-born Yayoi Kusama, decorates the museum's exterior. The exhibition rooms are also full of Yayoi Kusama collections, including her "Love Forever" series.
The museum's collection showcases a wide genre of artworks. These include the works of Munehide Hosokawa, a Matsumoto-born sculptor, and the calligrapher Shinzan Kamijo. It is just 12 minutes on foot from JR Matsumoto Station or a 14-minute ride on the Town Sneaker East Bus (Japanese).
*The museum is scheduled to close for one year in 2021 due to large-scale repairs.
3. Encounter Traditional Art at the Japan Ukiyo-e Museum
Picture courtesy of Japan Ukiyo-e Museum
The Japan Ukiyo-e Museum began showing works from the Sakai family, a paper wholesaler in Matsumoto who had an ukiyo-e collection. The museum was founded in 1982 after this valuable private collection was left behind. The museum currently conducts art studies and holds exhibitions.
Ukiyo-e is a type of Japanese painting that was developed during the Edo Period (1603 – 1868). It was an art form that depicted the scenery, people, and lifestyle of the pleasure-seeking world during that period.
An overview of the museum shop. Picture courtesy of Japan Ukiyo-e Museum
A colorful type of art that used plant-based dyes from safflower and Japanese indigo appeared during a time when art materials and ink were only available in black. These artworks were produced in large quantities as paintings as well as woodblock prints, resulting in a period when ordinary people began to enjoy art.
The Japan Ukiyo-e Museum possesses numerous works by ukiyo-e artists with worldwide recognition, including Katsushika Hokusai, Toshusai Sharaku, and Utagawa Hiroshige.
4. Stroll Through Elegant Streets
Nakamachi Street
Let's take a stroll on Nakamachi Street, located about six minutes on foot from Matsumoto Station. Matsumoto, a 400-year-old historic castle town, was once bustling with businesses selling kimonos, alcohol, and other goods. Namako-walled homes, made to be fireproof by applying plaster onto mud walls, were constructed due to the town's many fires. These tiled Namako walls have preserved the town's elegant streetscape to this day.
The street is lined with traditional shops unique to Matsumoto. Enjoy sake manju at Fujimura, a Japanese confection store specializing in this steamed bun made with local Shinshu sake. You can order takeout of usuyaki (a regional fried dish made by mixing wheat, buckwheat flour, seasonal vegetables, and fruits together) at Usuyaki Cafe Mame Mame. Or, have fun looking at unique Japanese trinkets at SANWA.
Nawate Street
Nawate Street, located between Matsumoto Station and Matsumoto Castle, is a shopping district made to recreate streets from the Edo Period. In 1879, Yohashira Shrine, dedicated to four deities, was constructed, and the street has since transformed into a busy path leading to this spiritual site.
There are close to 40 shops in the district. Rajindo sells tasty homemade senbei made with Shinshu miso. Taiyaki Furusato makes their taiyaki (fish-shaped pastries) filled with red bean paste the traditional way. There's also TOCA by lifart, a boutique that carries general goods that make life a little bit more fun.
5. Tour Kaichi School, Japan's Oldest Elementary School
Constructed in 1876, Kaichi School is currently the oldest remaining elementary school in Japan. The schoolhouse is characterized by its ornate marquee in the protruding roof at the entrance. Its roof is also similar to a temple and is decorated with Western-style engravings.
The drum tower that sounds the time is an octagonal design. The Former Kaichi School Building is where visitors can observe Giyofu architecture, a popular style back then that resembled Western architectural styles. Upon entering, you can see desks, chairs, and mini blackboards that were once used in classrooms for note-taking.
6. Listen to Time Flow at the Matsumoto Timepiece Museum
Located 10 minutes on foot from Matsumoto Station, you'll find the Matsumoto Timepiece Museum and its rare collection of antique clocks. Japan's largest pendulum clock is striking against its exterior and greets visitors to the quirky museum.
The timepieces on display are mainly items that were donated to the city by Chikazo Honda, an antique clockmaker and collector. Some of the clocks were also gifted to the museum by residents. The exhibitions aim to keep the appliances in constant operation. Upon entering the museum, visitors will be surrounded by the sound of the clock dial and ticking time.
7. Visit Two Shrines
Yohashira Shrine
Yohashira Shrine, which looks out onto Nawate Street, was first constructed in 1879, then reconstructed in 1924 after a fire. The shrine is dedicated to four deities, just as its name describes ("yohashira" means four pillars in Japanese).
The enshrined Amenominakanushi-no-Kami is the sovereign of the creator deities (gods that possessed the power to create all things in this world). Takamimusubi no Kami (Deity ruling the center of heaven) and Kamimusubi no Kami (Sacred Musubi Deity) are the gods that created life. Amaterasu Omikami is said to be the sun goddess and the representative divinity in Japan.
On the shrine grounds, there are two pine trees that sprouted from one root coined the "Matchmaking Pine Trees." Many visitors come here with the belief that it's a spiritual spot for relationships and love. With its fresh greenery and autumn leaves, this serene atmosphere makes it the perfect place for a commemorative photo.
Tenjin Fukashi Shrine
Tenjin Fukashi Shrine, located about a 15-minute walk from Matsumoto Station, contains the Japanese characters for "strong will" in its name. The story goes that when Fukashi Castle—the predecessor of Matsumoto Castle—was constructed in 1504, retainers from the Ogasawara clan, who were once military commissioners of Nagano, made Fukashi Shrine into the castle's guardian deity.
The Tenjin Festival is held over a course of two days on July 24 and 25, livening up the city with elaborate wheeled performances and festival floats. These floats are called butai among locals. The display of ornamental roofs, sculptures, and puppet performances are also highlights of the festival.
8. Enjoy Local Dishes and Craft Beer
If you're traveling to Matsumoto, then Shinshu soba (buckwheat noodles) and oyaki (wheat dumplings) are regional dishes you'll want to try. Because Nagano is a mountainous region, it's easier for the prefecture to grow buckwheat and wheat, rather than rice. This is the history behind these tasty regional dishes.
There are several soba restaurants in the city—be it on Nakamachi Street or in front of the station—where you can eat the dark, fragrant Shinshu soba. A popular restaurant is Asada, a specialty soba and Japanese sake restaurant located 10 minutes on foot from Matsumoto Station.
The restaurant will close early once it runs out of ingredients. If you're eager to try this dish, try to arrive at the restaurant before it opens at 11:30.
Oyaki is also available for those wanting to snack. This Nagano dumpling consists of a wheat dough wrapped around seasonal vegetables or red bean paste that is then roasted. At Takajoan, a specialty oyaki shop located 14 minutes away from Matsumoto Station, you can try ten different flavors of oyaki—all made from dough with homemade yeast and seasonings.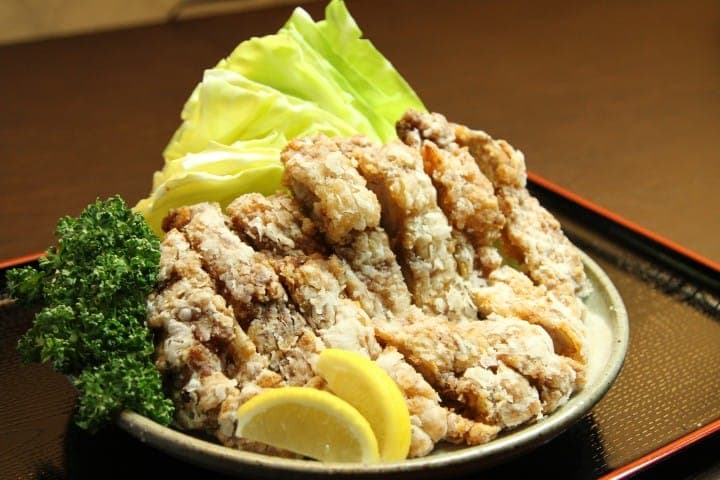 Sanzoku-yaki is another local Matsumoto dish. Using a whole piece of chicken, this fried dish is made from thin, flat pieces of meat immersed in a soy-sauce-based marinade with condiments like ginger and garlic. It is then coated in potato starch before being fried.
At Ippo, an izakaya (Japanese pub) located 15 minutes away from Matsumoto Station near Matsumoto Castle, you can enjoy a gigantic sanzoku-yaki. This dish is marinated in a miso sauce that is then twice-fried until it has a crispy crust. You can also eat this dish at several soba restaurants.
Then, you should have a glass of alcohol during your trip! We recommend tasting the craft beer produced in Matsumoto. At Matsumoto Brewery Tap Room Nakamachi, a brewery with locations on Nakamachi Street and the third floor of Shinmai Media Garden, you can enjoy unique fermented beverages made with clean water from the Northern Alps.
The lineup contains six different varieties, including a fruity pale ale and an IPA (India Pale Ale) with special emphasis on its bitterness. The brewery is currently expanding its vendors to places like local restaurants and hotels!
9. Things to Do Near Matsumoto
Daio Wasabi Farm, Azumino
Daio Wasabi Farm is situated in Azumino, a city adjacent to Matsumoto, and is laid out with waterways filled with wasabi (Japanese horseradish) fields. It is Japan's largest wasabi farm and was once complete wilderness 100 years ago.
You can learn about the farm's extensive history since its development at the 100th Anniversary Museum on the premises. There is also a waterfront area with watermills that was the filming location for Akira Kurosawa's film "Dreams." The wasabi plant processing factory (tours available from April to November), observation deck, and shrine—surrounded by neighboring boats—are also perfect places to take a stroll.
You can even enjoy food made with wasabi at the farm, including soft-serve ice cream, croquettes, and curry. Visitors can also try their hand at making pickled wasabi. From Matsumoto Station, it will take about 27 minutes on the Oito Line to Hotaka Station. It'll then be a ten-minute ride to the farm on either the Azumino Tour Bus or taxi from the station.
Kamikochi
Take a walk in Kamikochi, the best place for trekking in Nagano. For a convenient ride with no transfers, board the bus leaving the terminal at Matsumoto Station's Castle Exit. The trip is approximately an hour and 30 minutes before it arrives at the bus terminal in central Kamikochi.
Kamimochi's entirety is designated as a natural monument. As a result, this area continues to be lush with nature that will be preserved for future generations.
We recommend walking along the Azusa River if you'll be taking the hour-long trail. Try trekking to the Walter Weston relief—dedicated to the English missionary—while gazing out at the 3,000-meter mountains and Mt. Hotaka. Mr. Weston was also a mountaineer who climbed famous mountains in Japan.
You'll also be able to see Mt. Yake, an active volcano measuring 2,455 meters high, downstream once you return from Tashiro Bridge.
Tateyama Kurobe Alpine Route
Photo by Pixta
The Tateyama Kurobe Alpine Route is a mountain route between Tateyama Station in Toyama Prefecture and Ogizawa Station in Nagano Prefecture. This route makes it possible for travelers to enjoy many amazing views. Personal vehicles cannot enter the course. Instead, visitors must travel by switching to one of six modes of transportations available.
It's approximately 55 minutes from Matsumoto Station to Shinano-Omachi Station on the Oito Line. It will then take 40 minutes by bus to Ogizawa Station. If you embark from Nagano Prefecture, the route will begin from the electric bus for Kurobe Dam.
If you plan on viewing Kurobe Dam—the tallest dam in Japan—then head to Tateyama Murodo (measuring 2,450 meters in elevation) by either cable car, ropeway, or trolley bus. Located near Tateyama Murodo, Otani has some of the heaviest snowfalls, which causes a 20-meter snow wall to appear after snow on the roads are cleared. Enjoy this breathtaking landscape between late April and early June when you can touch and walk along these snow walls.
This area is also blessed with the best locations from summer to autumn. It'd also be an excellent idea to plan a short trip during one of your transfers here.

Norikura Plateau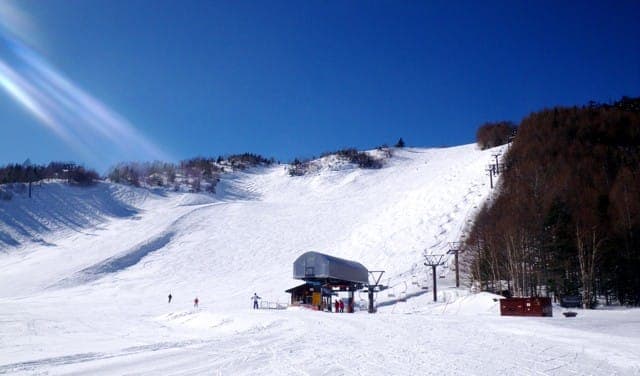 Norikura Plateau is located south of the Hida Mountains, otherwise known as the Northern Alps. The snowy season is long, which makes it possible for travelers to enjoy skiing, snowboarding, and other snow activities.
Snowshoes, special footwear worn to make movement easy in snow-covered areas, is something all can try. Rent a pair and experience a stroll on the snow for half a day!
For experienced travelers, backcountry skiing can be enjoyed on ungroomed areas along the powdery, snowy mountain slopes. To travel to the plateau from Matsumoto Station, take the Alpico Kotsu Kamikochi Line for 30 minutes to Shinshimashima Station. Then take the route bus from the station for 50 minutes to arrive at the Norikura Plateau.
Hakuba Village
Photo by Pixta
Hakuba is a popular area to play in the snow, located in the northern part of the Northern Alps. You can try riding a snowmobile, which are commonly found at ski resorts. Tours are also available, so be sure to check them out. You can also experience snow rafting, a thrilling activity where you slide down a snowy mountain on a rubber raft!
To travel to the village from Matsumoto Station, head to Shinano-Omachi Station along the Oito Line. Transfer to a train heading for Minami-Otari Station, which will arrive at Hakuba Station in about one hour and 45 minutes. From the station, take the respective shuttle bus for your ski resort.
Access to Matsumoto
From Shinjuku Station
When traveling to Matsumoto from Tokyo, it will take around two hours and 40 minutes on the Limited Express Azusa from Shinjuku Station (6,620 yen one-way). If taking the express bus, then utilize either the Alpico Kotsu or Keio Bus. Depart from the Shinjuku Expressway Bus Terminal, located right outside the South Exit of Shinjuku Station, and you'll arrive at the Matsumoto Bus Terminal in about three hours and 20 minutes (3,800 yen one-way).
From Tokyo Station
There is only one Limited Express Azusa at 16:00 that leaves from Tokyo Station and travels directly to Matsumoto. It will take about three hours (starting from 6,620 yen one-way). For this reason, it would be best to take the Hokuriku Shinkansen to Nagano Station for a travel time of one hour and 40 minutes (starting from 7,810 yen one-way). You'll then transfer to the Limited Express Wide View Shinano for Matsumoto Station in roughly 50 minutes (2,900 yen one-way). This route will make planning your travel itinerary easier.
Experience Japan's Great Outdoors and Traditions in Matsumoto
Nagano Prefecture's rich history, culture, and the warmth of the locals make Matsumoto a very charming destination. There are also many nearby spots that can be visited on an extended trip from the city. The experience of being surrounded by vast nature is sure to increase your excitement about your travels in Japan.

The information presented in this article is based on the time it was written. Note that there may be changes in the merchandise, services, and prices that have occurred after this article was published. Please contact the facility or facilities in this article directly before visiting.