Niigata's Tsunan Sunflower Field Annually Attracts 70,000 Visitors
Today we visit northern Japan's Niigata prefecture to see the Tsunan Sunflower Field, a 4 hectare plot of land that is engulfed in a sea of yellow flowers.
For Japanese people, the sunflower is a plant that signals the arrival of summer. All regions of Japan have well-known places for sunflower sightseeing, and during this season they attract thousands of tourists from both outside as well as within Japan.
One of these places is Tsunan Sunflower Field (Tsunan Himawari Hiroba), located in Niigata prefecture's Nakauonuma-gun district. Every July and August, a massive 4 hectare area is packed with 500,000 blooming sunflowers! This vast sunflower field is subdivided into 3 sections and the seed planting times for each area are slightly staggered, allowing visitors to enjoy the sunflowers for an extended period of time.
Despite being in a mountainous region of Niigata prefecture, every year approximately 70,000 people make a pilgrimmage here. Those without a car can get here by first going to the closest station, JR Tsunan station, then taking a 15 minute taxi ride (about 2000 Yen). For those coming all the way from Tokyo, they'll first need to board the shinkansen (bullet train), then transfer to a bus and then finally take a taxi. But when the sunflowers here are in full bloom, it's an impressive sight definitely worth seeing. Let's get over there right away!
You Will Be Overwhelmed By the 2 Meter Tall Sunflowers
With the exception of parking (300 Yen for cars), admission to Tsunan Sunflower Field is free. Let's walk along the Sunflower Field's official route.
Wow! Sunflowers all the way to the back of the field. And all together, they're facing in the sun's direction.
Look! Yes, I might only be 156 cm in height, but the sunflowers are so tall that my hand can't even touch the top of them. For sure they have to be 2 meters in height.
This is the view from the lookout. The yellow flowers fill up the entire surrounding area, and while admiring the view, one can't help thinking that summer has finally arrived here, too.
Let's Try To Get Through the Sunflower Maze
Walk a little further, and the entrance to the Sunflower Maze appears. People, including children and senior citizens, pour into the maze one after the other in great numbers.
A caution sign tells visitors that the maze has a high level of difficulty, so those short on time and those unsure of their stamina, should refrain from entering. It also says that it takes about 20 minutes from start to finish.
It's more than 35°C, a scorching, hot day. While taking care to not get dehydrated, I also tried to beat the maze!
The sunflowers spread out in all directions as far as the eye can see. Periodically a cool, refreshing breeze passes through the rows of sunflowers.
An ideal photo opportunity.
This sunflower's leaf is larger than my face!
Yes, I got through the maze safely! It took me about 20 minutes. Despite stopping here and there along the way to take pictures, it didn't take long at all to get through.
Let's Cool Down At a Food Booth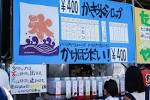 Cold, refreshing kakigori, or shaved ice, is the perfect antidote to the sun's hot rays!
After the time spent looking at sunflowers, this ice-cold kakigori was absolutely delicious!
There's an adjoining rest area next to the food booths, but go outside and the sun's rays are relentlessly beating down, so when visiting be sure to bring a hat and a cool drink. Because it's such an impressive and unforgettable sight, Tsunan Sunflower Field could very well become the highlight of your summer!
Parking Information
Parking Fees
Motorbikes - 100 Yen
Cars - 300 Yen
Micro-buses - 1,500 Yen
Buses - 3,000 Yen
Map Code
When using a car navigation system, please input the following map code:
253  243  736
Information
Tsunan Sunflower Field
Location: Ashigasaki, Tsunan-machi, Nakauonuma-gun, Niigata
Hours: 9:00 - 17:00
Open Season: open every day when the flowers are in bloom, from late July to late August
Wi-Fi: not available
Credit cards: not accepted
Information in other languages: -
Nearest station: JR Tsunan station
Access: From Tokyo - Joetsu shinkansen to Echigo-Yuzawa station (90 minutes). At Echigo-Yuzawa station take Echigo Kotsu bus to JR Tsunan station (50 minutes). At Tsunan station take a taxi to get to Tsunan Sunflower Field (about 15 minutes).
Admission: free (plus pay parking)
Phone Number: 025-765-5585
Website:Tsunan Sunflower Field HP
Official Facebook page: Tsunan-machi Tourist Association
The information presented in this article is based on the time it was written. Note that there may be changes in the merchandise, services, and prices that have occurred after this article was published. Please contact the facility or facilities in this article directly before visiting.