The Tottori Daisen Tour - From Fine Cuisine To Museums
Mount Daisen, a popular spot in Tottori, offers a wide variety of activities, along with great views, ancient temples, museums, and fine cuisine.
Mount Daisen
Photograph: © Tottori Prefecture
Mt. Daisen, 1,729 meters high and located in the western area of Tottori prefecture, is the highest mountain in the Chugoku region. According to the ranking of famous peaks in Japan, held by NHK (Japanese national broadcasting company), Daisen is the third most popular, after Mt. Fuji and Yarigatake.
Mt. Daisen has been revered as a sacred mountain by the local residents, due to the grand view of the lush foliage in spring and summer, autumn leaves in fall, and the snow-covered scenery in winter. The surrounding area has become the place to enjoy a magnificent view, as well as historic sites, fine food and a wide variety of activities.
Various Activities Throughout the Year
Photograph: © Tottori Prefecture
In the Daisen area, visitors can enjoy hiking, cycling, camping and horseback riding, from spring to fall.
Daisen White Resort, which opens in winter, is the largest ski resort in western Japan. Visitors can enjoy the great view of Yumigahama and the Sea of Japan while skiing at this resort.
For more information about various activities, please take a look at the Daisen official site.
Access to Daisen
If you want to move around in the Daisen area, using a rental car is recommended. For those renting cars at Yonago Kitaro Airport, there is a special discount campaign which runs until March 2018. Check this flyer.
For information about rental cars in Japan, please read All You Need To Know About Renting A Car In Japan.
First-time visitors worried about driving a rental car should use the Daisen Loop Bus.
Daisen Loop Bus
Daisen Loop Bus is a tour bus connecting Yonago City and the sightseeing spots in the Daisen area. The one-day fare is 1000 yen, and the two-day fare is 1300 yen, so it is a convenient way to move around.
The Daisen Loop Bus runs on Saturdays, Sundays and Holidays, from late April to early November. However, during Golden Week from late April to early May, summer vacation season from late July to late August and during the autumn leaves season from late October to early November, the bus will run every day.
The Daisen Loop Bus Model Route
The following is a one-day model route to visit the great viewing spots, temples and museums, to enjoy fine food and also do some souvenir shopping.
** Please note that this plan is based on the 2017 timetable.
8:25 Yonago Station Bus Terminal
Photograph: © Tottori Prefecture
Get on the 8:25 Daisen Loop bus at the Yonago Station bus stop, and head for the Shoji Ueda Museum of Photography.
8:50 Shoji Ueda Museum of Photography
Ueda Shoji was born in 1913, in Sakaiminato city, Tottori prefecture. Ueda is famous for the photographs depicting the natural environments of the San-in Region, such as the Tottori Sand Dunes. He is also known for the photographs of children, producing mystic, and sometimes humorous works.
Ueda was a master of dramatic photography, and arranged the models in his photographs as if they were objects. His style was named Ueda-cho by the French, and has admirers all over the world.
At the museum, along with Ueda's works, visitors can view the upside-down Daisen, through the world's largest camera lens.
There are also various props for photographing Daisen in the museum, so photo-lovers from all over the world visit this museum.
Shoji Ueda Museum of Photography
Address: Tottori, Saihaku, Hoki-cho, Sumura 353-3
Official Site: http://www.houki-town.jp/p/ueda/contents/english/
From the museum, get on the 9:56 bus, and head for Daisen-ji Temple.
10:20 Daisenji Temple
Daisenji Temple will celebrate its 1300th anniversary in 2018. In the Edo Period (1603 - 1868), a market to trade oxen and horses was held at the temple.
So a statue of an ox, cast from its nose rings is set at this location, to console the animals' soul. It is said that by stroking the head of the statue, one wish will come true.
Ōgamiyama Jinja, a shrine with the longest stone-paved approach in Japan, is also located near the temple.
Daisenji Temple
Address: Tottori, Saihaku, Daisen-cho, Daisen 9
Official Site: http://daisenji.jp/ (Japanese)
After visiting the temple, take the 12:20 bus. You might be hungry, so the next stop is the lunch break.
12:25 Gouenzan Lodge
Gouenzan Lodge, which has an observatory to enjoy the view of Mt. Daisen, offers the Healthy Genghis Khan (mutton barbecue) from April to November.
Healthy (wholesome) Genghis Khan (1450 yen) is a one-hour, all-you-can eat menu with lamb dipped in special sauce and vegetables, a popular menu for the tourists.
In winter, visitors can also enjoy skiing in the nearby ski resort.
Gouenzan Lodge
Address: Tottori, Saihaku, Daisen-cho, Daisen 124
Official Site: http://www.daisen-resort.jp/green/465.html (Japanese)
After the lunch at the lodge, take the 14:25 bus back to Daisen-ji, and transfer to the 14:30 bus bound for Masumizu Kogen.
14:39 Masumizu Kogen
Masumizu Kogen (highland) may be the best spot to enjoy the view.
Take the Tenku (sky) Lift, and head for the observation deck. Located at 900 meters above sea level, visitors can enjoy the panoramic view of Yumigahama.
The Tenku Lift has a couples seat, decorated with heart-shaped designs.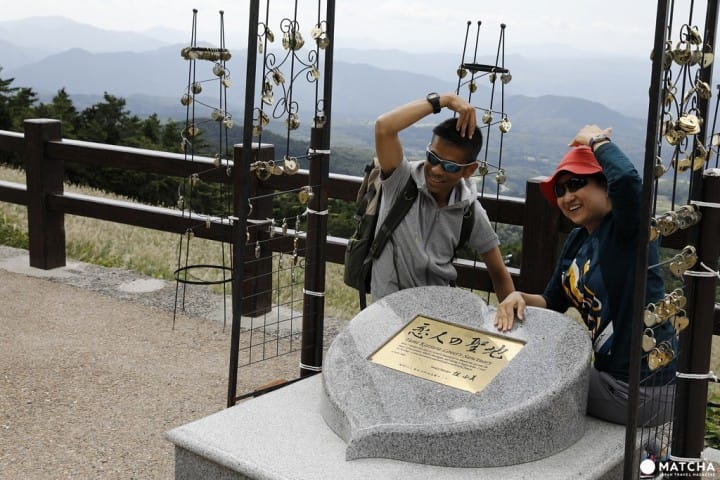 Masumizu Kogen, due to its romantic atmosphere, is known as a holy site for lovers. If you have the chance to visit, be sure to take a photograph at the monument.
In winter, visitors can also enjoy skiing at Masumizu Kogen.
Masumizu Kogen
Address: Tottori, Saihaku, Hoki-cho, Ouchi, Masumizu Kogen 1069-50
Official Site: http://www.masumizu.net/english/index.html
After taking in the fresh, highland air, get on the 15:39 bus to do some souvenir shopping.
15:43 Daisen Makiba Home of Milk
Daisen Makiba Home of Milk offers a wide variety of products, using fresh milk provided by the local dairy farmers. Their soft-serve ice cream, with its deep flavor, is especially popular. It is the perfect snack for a break.
One of its popular souvenirs is the milk manju (bun). The soft texture and the milk flavor is worth a try.
Candy Cheese is the perfect companion for the bus ride.
The restaurant offers unique dishes cooked with milk, such as milk udon (thick noodles).
Daisen Makiba Home of Milk
Address: Tottori, Saihaku, Hoki-cho, Kobayashi 2-11
Official Site: http://www.milknosato.com/ (Japanese)
The bus leaves Daisen Makiba Home of Milk at 16:43, and arrives at Yonago Station on 17:32.
In Conclusion
The information of the Daisen Loop Bus can be obtained at Yonago Kitaro Airport and Yonago Station Tourist Information Center. Besides the six spots in the article, the bus stops at nineteen spots in all, so visitors should check the other spots as well.
View Information
Mt. Daisen
| | | |
| --- | --- | --- |
| | Address | Tottori, Saihaku district, Daisen ward, Daisen |
| | WiFi | Some areas have Wi-Fi. |
| | Accepted Credit Cards | Some stores in the area accept credit cards. |
| | Languages | Mainly Japanese. There are some facilities with English speaking staff. |
| | Nearest station | JR Yonago Station |
| | Access | 50 minute car ride from JR Yonago Station to Daisenji Temple. |
| | Telephone number | 0859-52-2502 (Daisen-cho Tourist Information Center) |
| | Website | http://en.go-to-japan.jp/daisenguide/ |
For more information please check the official website of Tottori Prefecture: https://www.tottori-tour.jp/en/

Please also check out our articles in the Tottori section.

The information presented in this article is based on the time it was written. Note that there may be changes in the merchandise, services, and prices that have occurred after this article was published. Please contact the facility or facilities in this article directly before visiting.