Forest Inn Showakan - A Lodging For Outdoor Lovers In Tokyo's Suburbs
Forest Inn Showakan is a nature resort located near Akishima Station In Tokyo, just 40 minutes by train from Shinjuku Station. Visitors can enjoy sightseeing and shopping nearby at outdoor retail stores such as Snow Peak, THE NORTH FACE or CAINZ.
Forest Inn Showakan - A Hotel Surrounded by Nature in Tokyo
After visiting a few places in Tokyo, how about venturing out to enjoy nature scenery? Now you may be wondering whether there is any nature in Tokyo. Well, you're in luck because we have the perfect place for you.
Forest Inn Showakan is a resort surrounded by lush trees near Akishima Station, which is only a 40-minute direct train ride from JR Shinjuku Station.
Numerous outdoor equipment and apparel stores are within walking distance. Showa Kinen Park (Showa Memorial Park) and Mount Takao—ideal for an autumn hike—are also easily accessible. There is so much to explore around Forest Inn Showakan the minute you get off the train.
Book your room at Forest Inn Showakan!
Nearby Sightseeing Locations with Breathtaking Nature
Showa Kinen Park
Photo by Pixta
A 15-minute train ride from Forest Inn Showakan's closest station, Akishima, will take you to Showa Kinen Park. This park features a row of ginkgo (maidenhair) trees that create a carpet of golden leaves in the fall.
During the winter, the entire park temporarily transforms into a twinkling night sky when it is decorated with illuminations.

Mount Takao
Photo by Pixta
Boasting the largest number of climbers worldwide, Mount Takao flourishes with nature. Depending on your level of experience, you can choose from a number of hiking trails.
If you visit during the winter, you might catch a glimpse of the sun setting behind Mt. Fuji—a natural phenomenon known as Diamond Fuji. Mount Takao is a must-visit destination that attracts hikers from all around the world.
Take the train from Akishima Station and you'll arrive at the foot of the mountain in about half an hour.

Shop for Camping Gear at MORIPARK Outdoor Village
With over ten famous outdoor sporting brands, MORIPARK Outdoor Village is a new type of mall that opened in 2015. The facility also offers outdoor attractions, such as climbing a bouldering wall and kayaking in a pond.
Some stores are tax free while others offer exclusive products. Before long, you will have spent an entire day shopping! Below are three stores that we warmly recommend.
1. Snow Peak Eat - Japan's First Ever Restaurant to Savor Camp-Style Food
The outdoor goods store Snow Peak has been familiarizing people with a daily dose of nature through their brand. Now, at MORIPARK Outdoor Village, there is a restaurant called Snow Peak Eat.
At this eatery, you can experience a camp setting while savoring camp-style food served on Snow Peak's dishes, tables, and chairs. The restaurant uses freshly selected vegetables, fruit, and meat. If you are lucky, you can grab a seat on the terrace to sample seasonal dishes outside.
For the article, the writer ordered the rib eye steak (1,800 yen before tax). The tender meat was complemented by a savory, homemade sauce and the side dishes made of vegetables were also delicious!
If you order the self-service salad and drink set (500 yen before tax), you can pour your own cup of hand-drip coffee. Do enjoy the aromatic fragrance of drip coffee at the end your meal.
2. THE NORTH FACE - Shop for Exclusive and Fashionable Outdoor Apparel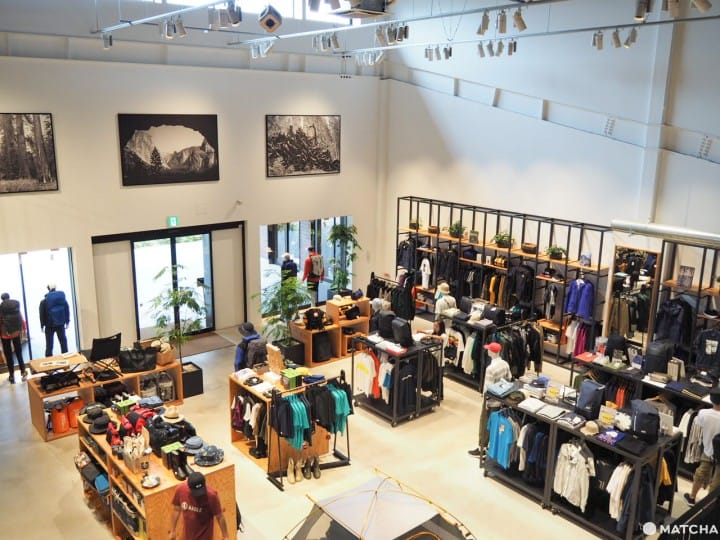 THE NORTH FACE is known for their functional yet fashionable line of outdoor apparel. They sell many derivative products in Japan. Their store at MORIPARK Outdoor Village has an especially large selection of goods with many exclusive products. After a round of shopping, there is also a cafe attached to the store where you can take a short break.
Pictured left: Super Climb Jacket (42,000 yen before tax)
THE NORTH FACE's mountain climbing gear lineup is popular among consumers. They even have a check list of necessary gear for climbing Mt. Fuji. Check out the clothes featured on the mannequins or ask the staff for advice to find the right outfit. Also, keep an eye out for what the staff members are wearing for inspiration.
One of the store's featured products is their eco-friendly canvas tote bag (3,300 yen before tax). Equipped with a large compartment and featuring a simple design, it's a great for everyday use.
3. Coleman - Awaken Your Adventurous Spirit with This Innovative Brand
Coleman started as a lantern manufacturer. Made with impressive ingenuity, their lanterns were called "the sunshine of the night." The company went on to create over 10,000 different products. By making it easier to enjoy the outdoors, they have revolutionized the way people spend their holidays.
The store at MORIPARK Outdoor Village is the brand's flagship store. The first thing you'll notice when you walk inside is the numerous tents. You'll likely be able to imagine yourself camping if you step into one of them.
From BG LED lamps and storage bags to collapsible grills and shoulder bags, the store carries a massive selection of outdoor camping equipment.
The tent and chair pictured above were made in collaboration with the Japanese fashion brand United Arrows. The products have a distinct metropolitan vibe that contributes to their uniqueness.
Information
Address: Tokyo, Akishima, Tanaka 610-4
Hours: Weekdays 11:00 - 20:00, Closed on Wednesdays; Weekend and Public Holidays 10:00 - 20:00 *Specific hours depend on the store
Closest station: JR Akishima Station
Credit cards: Accepted
Phone number: 042-541-0700
Website: https://outdoorvillage.tokyo/lang/?sl=en
Forest Inn Showakan - A Hotel Nestled Within a Forest
Picture courtesy of Forest Inn Showakan
Forest Inn Showakan is a seven-minute walk from Akishima Station and directly accessible by bus from Haneda and Narita Airports. The bright and comfortable rooms—with a total of eight guestrooms—will make you forget you are in the bustling metropolis of Tokyo.
A favorite among guests is the corner twin room where you can revel at Mt. Fuji in the distance.
Picture courtesy of Forest Inn Showakan
The rooms on the north side come with a spacious window that offer guests a beautiful view of the green surroundings.
The Caring Suite is a new addition to the inn. With an in-room coffee machine, you can pour a cup of coffee at your own leisure. The spacious bathroom also features an LCD TV. It is the ideal choice for those looking for respite from the noise of the city.
The traditional Japanese style tatami room includes a spacious wooden bath. Yukata garments are also provided as loungewear inside your room. This accommodation is perfect if you wish to enjoy a ryokan (traditional Japanese inn) experience.
You will find complimentary beer and sodas in the refrigerator*, too.
*An extra fee may be charged for certain accommodation plans.
*The amenities pictured in the bottom right are only available through August 2019.
If you're looking for maximum relaxation, we recommend heading to the bathhouse and sauna. There is a spacious changing room and a set of amenities provided as well.
Picture courtesy of Forest Inn Showakan
The breakfast is buffet style. With an open kitchen and a view of the garden, there is no better way to start your day. You will not be disappointed by the fresh ingredients showcased in both their Japanese and Western-style menus. If you order an omelet, a chef will prepare it right in front of you!
Picture courtesy of Forest Inn Showakan
We also recommend eating at Showanomori Kurumaya, a Japanese restaurant located on the first floor of the hotel. Savor elegant Japanese flavors inside a dining room crafted in the likeness of a tea-ceremony house.
Information
Address: Tokyo, Akishima, Showanomori
Hours: Open 24 hours
Closest station: JR Akishima Station
Credit cards: Accepted
Phone number: 042-542-1234
Website: https://www.showakan.co.jp/en/
Book your room at Forest Inn Showakan!
A Sculpture Museum near the Hotel in the Heart of the Forest
In June 2019, the Akishima Showa no Mori Junkyu Muto Sculpture Museum opened in the forest situated on the hotel's north side. As the name implies, the museum displays artworks by the world-renown sculptor Junkyu Muto.
The pieces can be enjoyed differently depending on the season and way the lighting falls on the outdoor objects.
Information
Address: Tokyo, Akishima, Showanomori (Forest Inn Showakan Northern Woodlands)
Hours: 7:00 - Sundown
Closest station: JR Akishima Station
Phone number: 042-546-1105
Website: https://www.june9-showa-no-mori-akishima.jp (Japanese)
Have Fun on a Rainy Day! Visit Nearby Shopping Locations
If the weather hinders your sightseeing plan or you need to go shopping before or during your stay, the shopping locations near the hotel are perfect for you!
Ito Yokado, a popular Japanese shopping mall, is located near Akishima Station and carries everything from clothing to medicine and make-up.
The hardware store CAINZ is also a short walk away. They sell DIY goods and everyday household items at reasonable prices. Hailed by the media for its great value for money, CAINZ products have received a number of awards in the past.
CAINZ has an exclusive collection of Disney pet goods—ranging from clothes, toys, and beds—that will surely catch the attention of any Disney fan or pet lover.
Picture courtesy of CAINZ
NECOTA (pictured left) is a feline-favorite cylindrical tower that was designed for cats who love heights and dark places. The product, which won the Red Dot Design Award, is durable yet easy to put together.
The stone marble frying pan with a detachable handle (pictured center) is light and great at conducting heat. Once you are done using the pan to cook, simply detach the handle and serve it on the table.
The Good Design Award winner Skitto storage cases (pictured right) is an effective way to utilize empty shelf space. They are easily stackable and help keep your things organized. Choose from ten different sizes depending on your needs.
Information
Address: Tokyo, Akishima, Tsutsujigaoka 2-8-55
Hours: 9:00 - 20:30
Closest station: JR Akishima Station
Credit cards: Accepted
Phone number: 042-500-0777
Website: https://map.cainz.com/map/733 (Japanese)
A Nature Resort Tucked Away in Tokyo
There are wonderful nature-filled sightseeing spots and hotels located in the less visited areas of Tokyo. The vicinity around Forest Inn Showakan allows you to experience the fun of the outdoors and offers high-quality products you can incorporate into your daily life.
Forest Inn Showakan is accessible during any season on a short trip by train. We highly recommend traveling out into the suburbs the next time you visit Tokyo!
Book your room at Forest Inn Showakan!
Written by miho
Sponsored by Forest Inn Showakan
Main image courtesy of Forest Inn Showakan

The information presented in this article is based on the time it was written. Note that there may be changes in the merchandise, services, and prices that have occurred after this article was published. Please contact the facility or facilities in this article directly before visiting.