Bandaisan Onsen Hotel: Enjoy Perfect Snow And Local Delights In Aizu!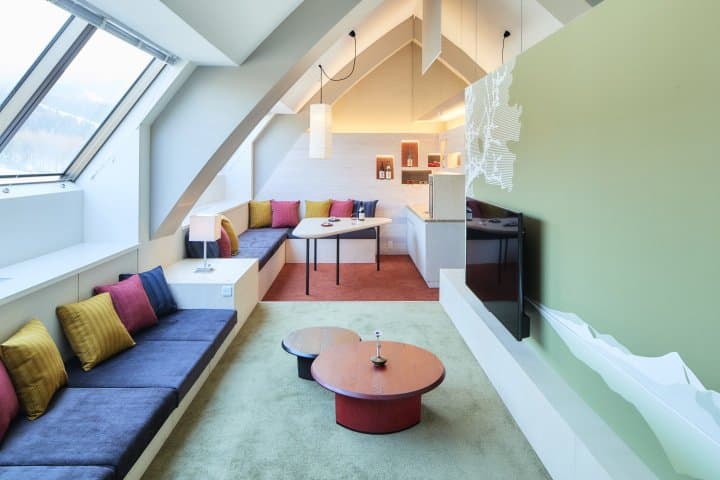 Hoshino Resorts Bandaisan Onsen Hotel is located in Aizu, Fukushima. The area is especially famous for its delicious sake and as a destination for winter activities. Enjoy a relaxing stay amid the vibrant traditions of Aizu while enjoying dreamlike snow scenery, hot springs, and exciting activities.
Bandaisan Onsen Hotel - A Wonderful Snow Resort in Aizu
Picture courtesy of Hoshino Resorts
The Hoshino Resorts Bandaisan Onsen Hotel is located in Aizu. Aizu is the westernmost region of Fukushima Prefecture and is well-known for its winter sports facilities and local sake.
Picture courtesy of Hoshino Resorts
Bandaisan Onsen Hotel fully embraces the cultural features of Aizu by introducing its guests to local sake and winter activities.
The facility is located in the proximity of two famous ski resorts: Alts Bandai Snow Park & Resort and Nekoma Snow Park & Resort. While Alts Bandai Ski Resort is located right next to Bandaisan Onsen Hotel, it takes a brief bus ride to reach Nekoma Snow Park & Resort, which is located at a higher altitude.
Hoshino Resorts Bandaisan Onsen Hotel Official Website
Exciting Activities at Bandaisan Onsen Hotel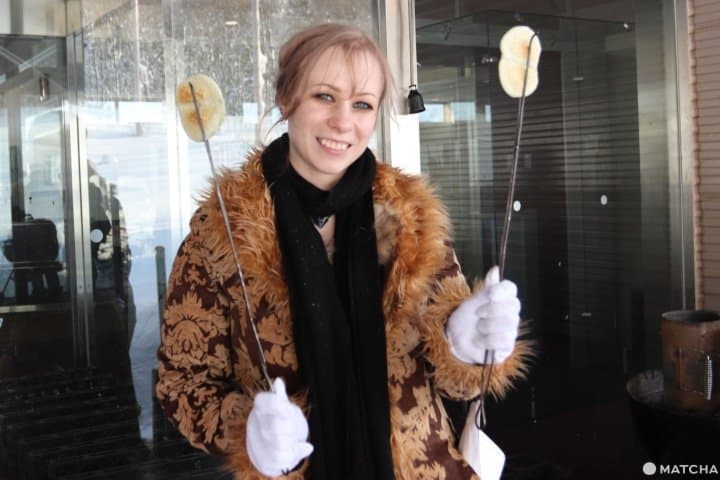 One of the defining features of Hoshino Resorts facilities is that they reveal the exciting culture of the region they are located in. Bandaisan Onsen Hotel has no shortage of these activities. It introduces its guests to the deep snow, fun crafts, and delicious sake of Aizu.
1. Learn Snowboarding and Skiing on Powder Snow
With two amazing ski resorts in close proximity, guests at Bandaisan Onsen Hotel can fully enjoy winter sports like snowboarding and skiing. Everything necessary to enjoy the snow can be rented at the hotel so there is no need to bring anything from home.
Alts Bandai Snow Park & Resort, located right beside the hotel, stretches over Mt. Bandai, Mt. Nekomagadake, and Mt. Umaya offering twenty-five different ski courses for all levels, from beginner to advanced.
Nekoma Snow Park & Resort is located fifty minutes by bus or car from the hotel. It is renowned for its excellent powder snow. Nekoma got its name from Mt. Nekomagadake, where it is located.
Bandaisan Onsen Hotel offers lessons for beginner, intermediate, and advanced skiers and snowboarders. Even if you never skied before, there is nothing to worry about. The instructor will first explain the basics and ask you to do some warm-up exercises.
We took the beginner lesson for snowboarding at the Nekoma Snow Park & Resort (120 minutes, 5,600 yen with tax). After mastering the basics by riding the board with one foot only, we went down a small slope.
The instructor carefully explained everything from how to get on and off the lift to stopping, slowing down, going left, right, as well as in a curve. After the lesson, we left with enough confidence and knowledge to approach a smaller slope all by ourselves!
The restaurant at Nekoma Snow Park & Resort is ideal if you wish to recharge between snow sessions. Local specialties like sauce katsu (fried pork cutlet with sweetened sauce) and salt katsu (fried pork cutlet with a salt and leek sauce) on top of rice are available here.
For more information on the two ski resorts of Bandaisan Onsen Hotel, please refer to the official website of the facility.
2. Natural Hot Springs from Mt. Bandai
Picture courtesy of Hoshino Resorts
There is nothing better than relaxing in a hot bath after a day of playing in the snow. The hot spring bath of Bandaisan Onsen, called Akane no Yu, uses spring water from Mt. Bandai, which is said to have moisturizing and heat retaining properties.
After the bath, guests can relax in their room or enjoy a cold beverage in the lounge. From 15:00 until 1:00, complimentary iced sake is available in the lounge, along with other beverages.
Please note, however, that it's better to refrain from drinking alcohol before entering the bath as it might raise your blood pressure.
3. Join a Festival Without Leaving the Hotel
Picture courtesy of Hoshino Resorts
If you always wanted to join a Japanese festival, you can enjoy this experience at Bandaisan Onsen Hotel without even leaving the facility! A famous local festival is recreated in the hotel lobby, complete with music and traditional dances.
Guests are offered festival jackets (happi) in order to get into the real festival mood. The staff will show you how to sing and dance along. Join the dance around the small stage for the full experience!
4. Paint an Akabeko, Aizu's Popular Mascot
Akabeko, a wooden red cow with a swinging head, is the beloved mascot of the Aizu region. It is said to be inspired by the story of a mysterious red cow that helped build Enzoji Temple in the ninth century.
The Akabeko is regarded as a talisman for good health and is the best-known souvenir from Aizu.
Bandaisan Onsen Hotel offers an activity where you can paint and decorate a small plain Akabeko (1,300 yen/person). There are no rules on how to paint the cow but the staff will show you some traditional examples so that you get an idea.
Participants are given acrylic colors, a cup of water, and a brush. This is a fun activity to enjoy together with children and is also a great chance for you to create your own special Aizu souvenir.
5. Sake Tasting and Making Local Snacks
Japanese sake is one of Aizu's specialties. The climate of this region makes it possible to cultivate high-quality rice, which is the base ingredient for sake. At one time, there used to be over 300 sake breweries in the Aizu area.
In addition to an introductory lesson to Japanese sake types and a brief tasting, guests can also enjoy an extensive sake bar with local specialties. For a small fee, you can taste several varieties of local sake.
The staff can also teach you how to make local taffy candy and bake sembei rice crackers.
The candy is made with syrup, which is cooled and rolled on a stick, then dipped in a sweet or spicy flavoring, depending on your liking.
When baking sembei, the staff will teach you a short song to sing along. It indicates the timing of when to flip the cracker so that it doesn't get burned. These sembei crackers are made locally.
Rooms Inspired by the Nature of Aizu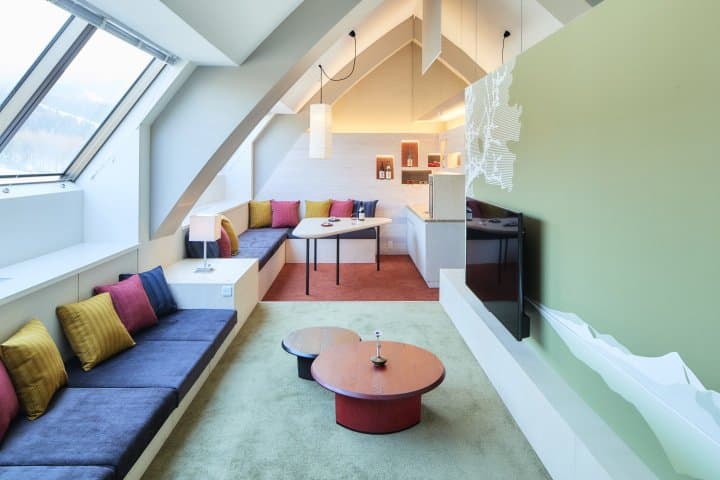 Picture courtesy of Hoshino Resorts
Depending on whether the room is facing Mt. Bandai or the nearby Lake Inawashiro, its design will be slightly different. The rooms facing the mountain have a flower-themed design while the ones facing the lake have flowing water motifs.
All the rooms are decorated with beautiful local crafts such as Aizu lacquerware and Akabeko toys.
The luxurious two-story suite rooms have a second floor where the beds are located. This makes it possible for someone to enjoy sake downstairs while other members of the party get undisturbed sleep upstairs.
Picture courtesy of Hoshino Resorts
There are nine different types of room layouts, including budget-friendly twin-rooms, as well as pet-friendly rooms where guests can stay with their four-legged family members.
Kisse kisse: Delicious Breakfast and Dinner Buffet
In Aizu, "Kisse! Kisse!" is a greeting phrase used to welcome guests. The dining area of Bandaisan Onsen Hotel is named after this greeting.
Kisse kisse offers a delicious dinner and breakfast buffet made with local ingredients.
For dinner, guests can enjoy Japanese dishes such as soba noodles, deep-fried tempura, as well as horse meat hot pot, a specialty of Aizu. Dessert consists of miso caramel soft-serve ice cream, an aromatic, slightly sweet, and salty treat that is very popular with the locals.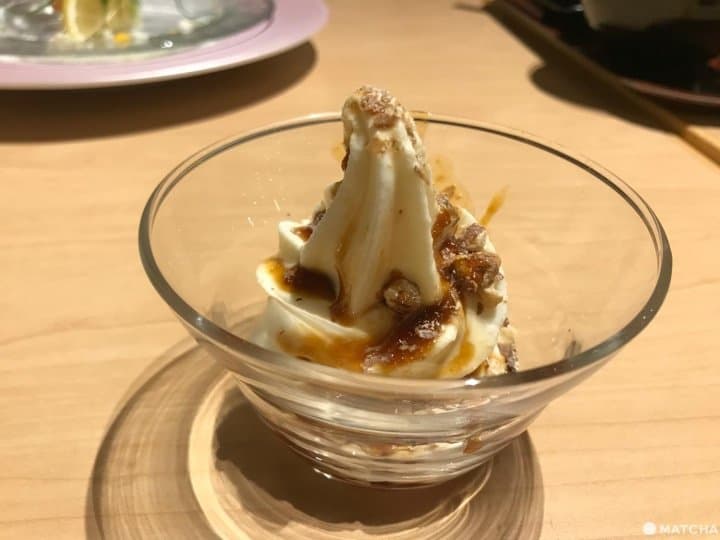 The breakfast menu includes seasonal vegetables and local ramen noodles among other dishes. Guests can also enjoy fried daifuku (glutinous rice cake filled with sweet red bean paste), another popular local sweet treat.
Enjoy Sparkling Snow and Delicious Sake at Bandaisan Onsen Hotel!
If you love winter sports and Japanese sake, then we recommend staying at Bandaisan Onsen Hotel. The facility can be easily accessed from Tokyo via Koriyama Station, which can be reached by Shinkansen.
Even if you don't know how to ski or to ride a snowboard, Bandaisan Onsen Hotel is the perfect place to learn and enjoy winter to the fullest! Aizu is worth visiting for both winter sports and its beautiful snowy scenery, and Bandaisan Onsen Hotel is the ideal lodging in the area.
Hoshino Resorts Bandaisan Onsen Hotel Official Website: https://www.bandaisan.co.jp/en/
Check room availability on the Hoshino Resorts Booking Page
Main image courtesy of Hoshino Resorts
Written by Chiara Mischke
Sponsored by Hoshino Resorts
Hoshino Resorts operates hotels and ryokan (Japanese inns) in more than 40 locations. Their facilities are ideal for travelers who wish to fully enjoy the charms of Japan.
Each facility has English speaking staff who make sure that visitors from all around the world experience the full breadth of Japanese hospitality without inconveniences.
The Hoshino Resorts brands include HOSHINOYA, KAI, RISONARE, OMO, and BEB.
The information presented in this article is based on the time it was written. Note that there may be changes in the merchandise, services, and prices that have occurred after this article was published. Please contact the facility or facilities in this article directly before visiting.