A Sip of Tea Culture in Kyoto! 8 Amazing Matcha and Green Tea Activities
Southern Kyoto Prefecture, especially Uji, is known for its tea production. Visitors can enjoy here matcha, sencha, gyokuro, and other tea varieties, as well as tea-infused desserts. From whisking matcha to picking tea leaves, this area offers excellent ways to experience Japanese tea culture.
8 Great Kyoto Activities for Tea Lovers
The southern region of Kyoto Prefecture, called Yamashiro, is famous for its high-quality tea and over 800-year-long history in the production, invention, and perfection of Japanese tea.
Yamashiro is where Uji is located. This region is the birthplace of green tea varieties such as gyokuro, matcha, and sencha (*1). Visitors can drink flavorful tea while learning about the rich tea culture and history of this area.
The eight activities listed below are perfect for anyone wanting to learn about Japanese tea. From preparing matcha in Uji to savoring tea-infused sweets or picking tea on the hillside of one of Japan's most picturesque areas, the activities you can enjoy here will become wonderful memories of your visit to the southern tea region in Kyoto.
*1 Matcha, sencha, gyokuro... Gyokuro is a type of tea obtained from growing the tea plants in the shade. Matcha tea is grown in the shade just like the gyokuro, but after the leaves are picked, they are steamed, dried, and then ground in a stone mill. Sencha is obtained from tea plants grown in full sunlight; the fresh tea leaves are steamed, then left to dry. Matcha and gyokuro have a stronger flavor and aroma than sencha, and are considered high-quality teas. Several theories exist regarding the origins of these teas.
For details, please check the Another Kyoto website!
1. Learn How to Grind and Prepare Matcha
For many, matcha is synonymous with Kyoto. Especially in Uji, there are numerous workshops where participants can enjoy learning to grind and prepare matcha green tea. Uji is easy to access from Kyoto City; it can be reached in 17 minutes on the JR Nara Line.
Our first recommended spot in Uji is Takumi no Yakata. This facility offers activities where participants can learn how to prepare and enjoy delicious matcha, gyokuro, and sencha teas, as well as information on how these three types of tea differ from one another and how they are grown.
Takumi no Yakata has English-speaking staff who hold licenses as Japanese tea instructors. Please check the details on the official website.
Another great place that shouldn't be missed is the Fukujuen Tea Factory (Fukujuen Uchija Kobo) in Uji. Matcha is made from tencha, a variety of green tea leaves, which are stone-ground. The matcha-making activity at Fukujuen Tea Factory allows participants to hand-grind matcha, and then try the tea they've made!
Inside Fukujuen, there is a cafe and a shop on the first floor. There are two other locations nearby: the Uji Kissakan, where you can enjoy ice cream and drinks made with green tea, and the Uji Kobo, which offers traditional sweets made with green tea.
Both Takumi no Yakata and Fukujuen are located within walking distance from JR and Keihan Uji stations. Please note that an advanced reservation is required for the workshops.
2. Tea Picking
In southern Kyoto Prefecture, tea is traditionally harvested in the spring, summer, and fall. Tea grows on a type of camellia plant, and only the freshest leaves are taken when harvesting.
For a tea-picking experience, d:matcha in the town of Wazuka offers tea field tours and tea picking workshops in both Japanese and English. Participants will be able to venture into tea fields on a guided tour and see the tea plants up-close. The guides are very knowledgeable and explain the basics of tea production and harvesting.
Be sure to make an advanced reservation and inquire about when tea picking is available, as the activity is seasonal.
In the latter half of this article, we introduce a cafe operated by d:matcha.
3. Learn How Shade-Grown Gyokuro Tea is Made
Picture courtesy of Fugenji Fureai no Eki
Gyokuro is a type of green tea that is grown in the shade, producing a bold umami, savory flavor that tastes almost as rich as soup depending on how it's brewed. Fugenji Fureai no Eki in Kyotanabe is a center carrying local agricultural products and tea. They also offer an in-depth tea-making workshop, during which participants can learn how gyokuro is processed from leaves.
Picture courtesy of Fugenji Fureai no Eki
In this intensive workshop, participants will learn how to roll the tea leaves and help process them into fine-quality gyokuro tea. This six-hour class is offered seasonally. The workshop fee is around 60,000 yen for a group of four or five.
Be sure to inquire in advance about reserving a spot. Non-Japanese speakers are encouraged to bring a friend or interpreter who is fluent in Japanese.
4. Make Matcha Art
A matcha art class is a fun experience for all ages, allowing participants to hone their creative skills. Matcha art classes are taught by an experienced and friendly teacher in Wazuka. First, you'll learn about green tea in Kyoto and Wazuka, learn how tea is processed, and other fun facts about tea.
After you've prepared some matcha tea, it's time to draw! The matcha here may look like a latte, but it is made of just green tea powder and hot water. You can then draw on the surface to create your masterpiece. If you mess up, it's easy to correct, and you can re-do your design as many times as you want.
An advanced reservation is required to participate in a workshop. Send an email to the teacher at utena.tea@gmail.com for more information on the venue and the workshop schedule (English is accepted).
5. Enjoy Matcha Sweets and Sets
Matcha and delicious green tea are everywhere in Uji and the southern areas of Kyoto. This abundance may make it difficult to decide where to go. We recommend visiting an Uji tea-certified cafe––a certification that ensures the shop offers authentic Uji tea and has staff knowledgeable on the region's history, culture, and brewing methods.
The following five cafes and facilities are certified Uji tea cafes, perfect for experiencing delicious matcha, tea, and sweets!
1. Tsujiri Uji Main Store
Tsujiri is a famous tea shop chain founded in 1860, with locations in Kyoto and Osaka. For a truly relaxing tea experience, head to the Tsujiri Uji Main Store. This elegant shop has a courtyard with a garden and a peaceful environment, providing a serene haven from the streets outside.
On the menu at Tsujiri Uji Main Store are traditional matcha and sweets sets, as well as matcha-infused desserts. The menu is available in English, so it's easy to order. Pictured above is the matcha set with okoicha (full-flavored, thick tea) and homemade monaka (a light wafer filled with red bean paste).
This okoicha type of matcha is rich, dense, and creamy. In spite of being this rich, it's surprisingly not bitter and recommended for those wanting to try a unique type of matcha. A second serving comes with this set, and you can ask for it to be made with a lighter flavor (usucha).
2. Ocha no Kanbayashi
Ocha no Kanbayashi has over 400 years of history producing high-quality green tea. The shop's second story has a cafe area where customers can enjoy matcha sets with seasonal wagashi (traditional Japanese sweets) that taste delicious. Pictured above is the matcha set with chestnut mochi. The matcha tea used in this set, called Asahi no Shiro, enjoys great popularity with customers.
Kanbayashi also offers tours of the tea factory behind their shop, where you can learn how matcha and tea are processed after harvest. Here they have machine-powered versions of the stone ishiusu machines.
3. Maikocha Boutique
Maikocha Boutique is a cafe offering high-quality green tea sweets and beverages in the city of Kyotanabe. For those with a sweet tooth, don't miss the matcha parfait. This large parfait is filled with rich matcha flavored ice cream, mochi, adzuki beans, chestnuts, fruit, and other delicious ingredients.
Those thirsty for tea can try the gyokuro tea set, which includes premium gyokuro tea that normally sells for 10,000 yen. You have enough for multiple cups and can even eat the leaves after you've had your fill of tea.
4. d:matcha Kyoto CAFE & KITCHEN
Picture courtesy of d:matcha
d:matcha Kyoto CAFE & KITCHEN is a facility in Wazuka that operated by d:matcha. At the cafe, you can enjoy savory offerings like sencha tea-infused Genovese pasta, matcha and hojicha chocolates, as well as Japanese-style dessert.
Picture courtesy of d:matcha
The cafe overlooks the town of Wazuka and its picturesque, hilly tea fields. The shop also sells sweets and tea to-go, so you can enjoy some later and share with friends.
5. Wazukacha Cafe
Picture courtesy of Wazukacha Cafe
Wazukacha Cafe is another Ujicha-certified cafe in Wazuka. Selling high-quality tea from local tea farmers, and sweets infused with matcha and tea, this is a great place for a light snack or something sweet.
Iced matcha yokan jelly is a unique treat sold here. This chilled dessert comes in different flavors, with bold matcha infused in each bar. It's the perfect treat for a hot day!
6. Matcha Soba and Tea Cuisine
For something more substantial than sweets, how about matcha soba or a green tea-infused meal?
Yantan is a sightseeing information center located in Ujitawara. "Yantan" is a short version of Yuyadani, the name of this area in the Edo period (1603-1868), when Soen Nagatani invented here the production method for ryokucha green tea.
The tourist information center called Soen Koyuan Yantan sits inside a renovated tea factory. The facility offers fresh meals such as chajiru, which is made with miso paste and bancha tea, or matcha soba (please note that the menu varies by season and time).
Picture courtesy of Ocha no Kyoto DMO
The house where Soen Nagatani was born is located close by and is also worth a visit. The facility can be visited on Saturdays, Sundays, and public holidays from 10:00 to 15:00. An advanced reservation is required for visits on weekdays.
On a tour, you can visit the home, see the remains of the tea drier used by Soen, and enjoy a cup of sencha tea inside. The processing of green tea to produce its vibrant color and increase its flavor was invented here, forever improving the taste and experience of Japanese tea.
7. Find the Perfect Tea Set at a Pottery Village
Kyoyaki––ceramics made in Kyoto––are famous throughout Japan and the world, and the Sumiyama Pottery Village in Uji is one of the best places to learn more about this centuries-old pottery. Skilled artisans who have been making these ceramics for years have their studios here, and visitors can purchase some of the finest teacups and utensils, dinnerware, vases, and other crafts.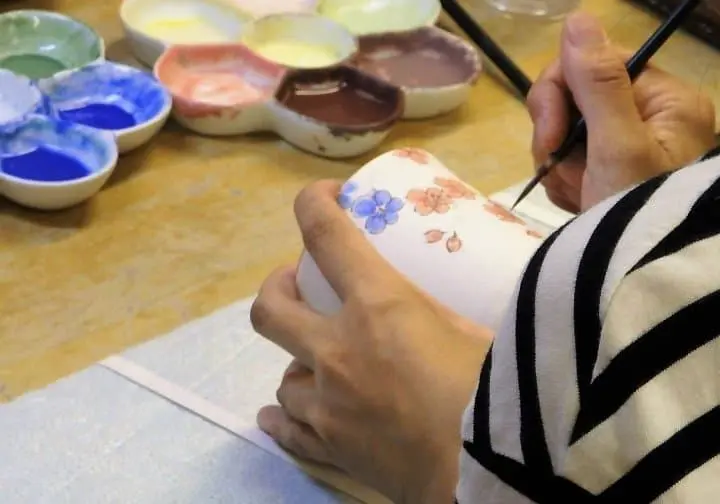 Picture courtesy of Ocha no Kyoto DMO
Kyoyaki is known for its elegance and refinement and is thought to date back to the 16th century. The intricate designs are made using a variety of techniques, including slip trailing, a method where watered-down clay is used to draw on the surface.
Although most wares today are finished with an electric kiln, there is also a climbing kiln originally from the Edo period (1603 - 1868), which is used only once a year during a special event dedicated to the preservation of traditional pottery methods. When used, the ceramics are put in special cases to avoid ash and imperfections from the climbing kiln.
Please note that only Japanese is spoken here, so it's best to visit with a tour group or interpreter. If you send an e-mail to Ocha no Kyoto DMO at t-taravel@kyototeacountry.jp, you can apply for tours of the studios and the climbing kiln, as well as for ceramic drawing workshops. For more details, please see check the official website of the facility.
8. Souvenirs and Snacks by Byodoin Temple
Byodoin Temple, a World Heritage site, is one of the best-known attractions in Uji and the southern Kyoto area. Omotesando, the main street leading up to Byodoin has been designated one of Japan's one hundred fragrance scapes. This street is lined with shops selling souvenirs and sweet treats, as well as cafes and restaurants.
One of the must-try treats here is cha-dango––skewered mochi flavored with green tea. They can be small in size, making it an excellent choice for something to satisfy your sweet tooth.
Discover Tea Culture in Kyoto
The long history of tea production in Kyoto and the complex tea culture here can't be found anywhere else in Japan. Anyone searching for a cup of green tea or matcha will be delighted with the depth of tea and its high quality in this paradise for tea lovers!

Venture to the twelve towns (*2) in southern Kyoto Prefecture, including Uji, for a trip full of satisfying tea and discovery. For a day trip suggestion, see this article.

*2... Uji, Joyo, Yawata, Kyotanabe, Kizugawa, Kumiyama, Ide, Ujitawara, Kasagi, Wazuka, Seika, and Minamiyamashiro.

For details, please check the Another Kyoto website!

Written by Jasmine O
Sponsored by Ocha no Kyoto DMO, Kyoto Prefecture

The information presented in this article is based on the time it was written. Note that there may be changes in the merchandise, services, and prices that have occurred after this article was published. Please contact the facility or facilities in this article directly before visiting.