Discover Another Kyoto At The World Masters Games 2021 Kansai
The World Masters Games 2021 Kansai will be held in cities in western Japan, such as Kyoto and Osaka, from May 14 to May 30, 2021. This article offers an overview of the event and introduces beautiful lesser-known places in Kyoto near the tournament venues.
World Masters Games 2021 Kansai
Picture courtesy of Kyoto Tourism Federation
The World Masters Games are the world's largest lifelong sports (*1) competition.
The first tournament was held in 1985 in Toronto, Canada. Since then, six countries have hosted the games, including Denmark, Australia, and the United States. In 2017, the ninth and most recent edition of the World Masters Games was hosted in Auckland, New Zealand.
In 2021, the tenth edition of this multisport event will be held in Japan. The World Masters Games 2021 Kansai (here on referred to as WMG 2021 Kansai) will take place across nine prefectures in the Kansai region (western Japan).
What makes the World Masters Games unique is that anyone above the age of 30 can participate. There are no athletic qualifications or sports career requirements. About 50,000 individuals from across the world will compete in various tournaments.
*1 Lifelong sports: physical activities that can be enjoyed throughout a person's life based on their lifestyle, age, athleticism, and preferences.
Competitions and Venues in Kyoto
Picture courtesy of Kyoto Tourism Federation
WMG 2021 Kansai will take place over seventeen days from May 14 to May 30, 2021. A total of 35 competitions (59 events) will be held across over 80 venues. For more details, check the WMG 2021 Kansai website.
Kyoto, a popular travel destination, will be hosting the following games:
Soft Tennis: Sandanike Park Tennis Court (Fukuchiyama)
Handball: Tanabe Central Gymnasium (Kyotanabe), Yamashiro Total Sports Park (Uji)
Canoeing (Marathon): Kumihama Bay Canoe Stadium (Kyotango)
Triathlon (Duathlon): Oigawa Ryokuchi Park (Nantan)
Cycling (Mountain Bike): Yubune MTB LAND (Wazuka)
Gateball: Kyoto Tamba Park (Kyotamba)
Flying Disc (Ultimate): Yamashiro Total Sports Park (Uji)
WMG 2021 Kansai Information and Application Form
Discover Another Side of Kyoto
During the WMG 2021 Kansai, we recommend going sightseeing around the venues.
When you think of Kyoto, the first places that come to mind may be Fushimi Inari Shrine or Kinkakuji Temple. But travel out to the suburbs to find some of Kyoto's hidden gems.
We will introduce "another side of Kyoto" based on four elements: sea, forest, tea, and bamboo.
Seaside Kyoto
Picture courtesy of Amanohashidate Tourism Association
Seaside Kyoto is composed of seven cities in northern Kyoto: Fukuchiyama, Kyotango, Maizuru, Miyazu, Ayabe, Ine, and Yosano.
The most famous location among these cities is Amanohashidate in Miyazu. This strip of coastal land measures 20 to 170 meters wide and 3.6 kilometers long. The beauty of this beach has earned its spot among the enviable Three Most Scenic Views of Japan. In 2017, Amanohashidate and its surrounding neighborhood welcomed over three million visitors.
You can admire stunning views of Amanohashidate from observatories on the northern and southern ends. Another popular way of enjoying the scenery is by "matanozoki," or looking between your legs. When viewed this way, the strip of land is said to resemble a bridge in the sky or a flying dragon.
Amanohashidate
Address: Kyoto, Miyazu, Monju
Phone: 0772-22-8030
Website: https://www.amanohashidate.jp/lang/en/ (Amanohashidate Tourism Association)
Funaya and Other Locations
Drive 30 to 40 minutes from Amanohashidate and you will arrive at Ine no Funaya. Here you will find traditional houses built on top of boat garages. Also nearby is Yuhigaura, a popular sunset location in Kyotango.
The venues for the canoeing marathon and soft tennis matches are located in Seaside Kyoto (Kyotango and Fukuchiyama, respectively). We recommend traveling to some of these locations when attending the WMG 2021 Kansai.
Ine no Funaya
Address: Kyoto, Yosa, Ine, Hirata 491
Phone: 0772-32-0277 (9:00-17:00)
Website: http://www.ine-kankou.jp/english/ (Ine Tourism Association)
Yuhigaura (Hamazume Yuhigaura Beach)
Address: Kyoto, Kyotango, Amino, Hamazume
Phone: 0772-72-6070
Website: https://visitkyotango.com/ (Kyotango City Tourism Association)
Forest Kyoto
Picture courtesy of Kyoto Miyama Tourism Association
Forest Kyoto comprises Kameoka, Nantan, Kyotamba, Fukuchiyama, and Ayabe, all located in the center of Kyoto Prefecture. The local communities here live in communion with nature.
When visiting Forest Kyoto, we recommend Miyama, a historic town in Nantan with beautiful natural scenery throughout the seasons. Situated in the center of Kyoto Prefecture, Miyama retains Japan's traditional atmosphere. Kayabuki no Sato, a village with thatched roof houses, in particular, is a must-see when in the area.
Picture courtesy of Kyoto Miyama Tourism Association
Kayabuki no Sato preserves a village of traditional kayabuki homes (*2) and was designated as a Preservation District for Groups of Traditional Buildings in 1993.
The village has three cafes and two inns. If you want to avoid the crowds, we recommend staying the night and waking up early the next morning for a walk.
Forest Kyoto will host the triathlon (duathlon) in Nantan, soft tennis matches in Fukuchiyama, and gateball competitions in Kyotamba. We recommend exploring the beautiful area as well!
*2 Kayabuki homes: wooden houses with thatched roofs. This historic architectural style is common in rural Japan.
Kayabuki no Sato
Address: Kyoto, Nantan, Miyamachokita
Phone: 0771-75-1906
Website: https://kyotomiyama.jp/en/sightseeing/kayabuki-no-sato (Kyoto Miyama Tourism Association)
Tea Kyoto
Picture courtesy of Kyoto Tourism Federation
Green tea produced in Uji ("Uji-cha") is renowned for its high quality in Japan. With 800 years of tea farming, southern Kyoto is a major production area for Uji tea.
In addition to Uji, a dozen cities and towns (Joyo, Yawata, Kyotanabe, Kizugawa, Kumiyama, Ide, Ujitawara, Kasagi, Wazuka, Seika, and Minamiyamashiro) make up the Tea Kyoto area. During the WMG 2021 Kansai games, Uji will host the ultimate flying disc games, Kyotanabe the handball games, and Wazuka the mountain bike cycling race.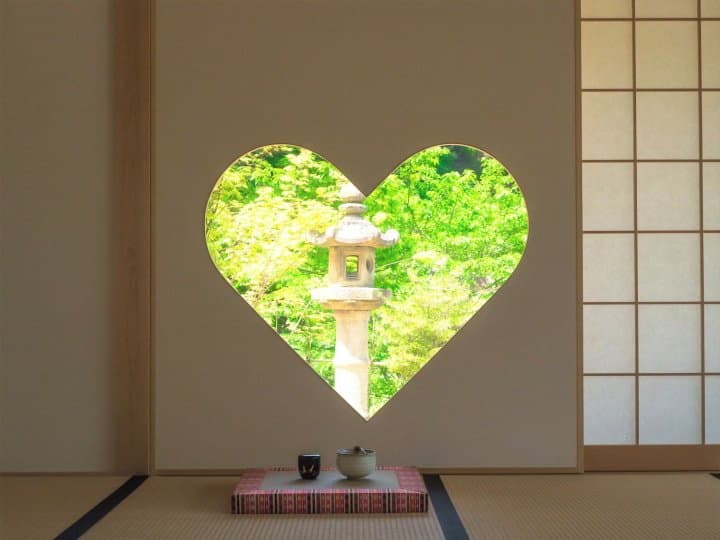 Picture courtesy of Pixta
Gaining popularity in recent years is Shojuin Temple in Ujitawara. Built around 800 years ago, this historic temple features a heart-shaped window in one of its rooms, which has garnered attention on social media.
Known as "inome," this traditional window design is based on the eye of a wild boar and is said to keep away evil spirits. You will often find inome patterns in temples and other historic buildings. We highly recommend stopping by this temple when you are in the Tea Kyoto area.
Shojuin Temple
Address: Kyoto, Tsuzuki, Ujitawara, Okuyamada, Kawakami 149
Phone: 0774-88-3601
Website: http://shoujuin.boo.jp/ (Japanese) (Shojuin)
The Bamboo Groves of Otokuni
Picture courtesy of Muko City
Due to world-famous locations such as the Arashiyama Bamboo Grove, Kyoto is often associated with towering bamboo trees. If you are looking to visit these otherworldly forests, we suggest visiting the Otokuni District, which includes the cities of Muko, Nagaokakyo, and Oyamazaki.
We especially recommend the Muko Bamboo Grove on the city's northwest side. This 1.8-kilometer path features eight species of bamboo trees and ranks among one of the top 100 promenades in Japan.
Compared to Arashiyama, this bamboo grove is less crowded and ideal for photos. Pose in front of the rows of bamboo trees for a memorable snap!
Muko Bamboo Grove
Address: Kyoto, Muko, Terado, Shibayama
Kyoto, Muko, Nagano, Nakakaido
Phone: 075-963-6504
Website: https://www.muko-kankou.jp/ (Japanese) (Muko Tourist Association)
Sign Up by February 2021!
The entry period for WMG 2021 Kansai is until 23:59 on Sunday, February 28, 2021.
Whether you're competing or watching the games, there are plenty of hidden gems to discover near the Kyoto venues. Find another side to this alluring city on your next visit!
WMG 2021 Kansai Information and Application Form
For more detailed information on Kyoto sightseeing, visit the Kyoto Tourism website.
Written by Kazuma Takahashi
Sponsored by Kyoto Tourism Federation
Main image courtesy of Kyotango City Tourism Association (Yuhigaura in Kyotango)

The information presented in this article is based on the time it was written. Note that there may be changes in the merchandise, services, and prices that have occurred after this article was published. Please contact the facility or facilities in this article directly before visiting.