A Day Trip to Wazuka! Kyoto's Tea Fields, Matcha Art, and Green Tea
Wazuka, a town in southern Kyoto Prefecture, is famous for its production of exquisite green tea. This town has an 800-year history of making high-quality Uji tea. Visit Wazuka on a day trip to see its scenic tea fields and enjoy various types of tea, as well as tea cuisine and matcha art.
Tea-Themed Day Trip to Wazuka, the Home of Green Tea
Kyoto is known and cherished for its traditional culture. There are several towns and cities in southern Kyoto Prefecture that boast a rich tea culture and history. With souvenir shops and cafes offering green tea just about everywhere you look, it might be challenging to decide where to go.
Those looking for a new experience should head to Wazuka. Considered to be the "hometown of green tea," Wazuka is where Ujicha, a high-quality type of green tea that remains prized today, originated from. The tea history and culture of Ujicha in Wazuka go back around 800 years. Designated as one of Japan's most beautiful villages, the dramatic, sloped tea fields remain today a breathtaking sight for all who visit.
Get your camera ready and continue reading to learn what to do on a day trip in this gorgeous area!
For details, please check the Another Kyoto website!
How to Get to Wazuka from Kyoto Station
Getting to Wazuka requires a train and bus ride, taking a little over one hour in total via public transit. From JR Kyoto Station, take the rapid Miyako service on the JR Nara line, bound for Nara. Get off at Kizu Station and change lines to the rapid train on the Kansai Main Line bound for Kamo Station. From Kamo Station, take the number 66 Nara Kotsu bus bound for Wazukacho Kosugi.
The stop where you should get off differs depending on the facility where you want to go first.
Morning: See the Picturesque Ishitera Tea Fields
Picture courtesy of Wazukacha Cafe
Tea fields are in every corner of Wazuka, but perhaps the most famous is the Ishitera Tea Field. The bright green, impossibly-steep fields here are iconic of what you will find everywhere in this town. Depending on the time, you may see farmers at work, riding in tiny trucks and cars, tending to the fields to keep the tea plants healthy and manicured perfectly. You can admire and appreciate their hard work from afar.
Visitors are not permitted to enter the tea fields, as they are the private property of the farmers. However, you can take pictures and walk around them. Those wanting to go into the fields and get a closer look at the fields or climb up the slopes can do so on a tour.
The climate in Wazuka and its surrounding regions are ideal for tea production, with a stark difference between daytime and nighttime temperatures, and fog that rolls in the mornings, shielding the delicate buds from the sun. Tea in Wazuka is harvested three times per year: once in spring, once in summer, and once in autumn.
The bright green tea shrubs are a type of camellia that produces what we know as tea. Only the top two buds are taken and processed into tea. If you see tarps on the hillsides, they are for shading the plants to produce a bolder, savory flavor.
To get to Ishitera in Wazuka, take the bus from JR Kamo Station to Wazuka Takahashi bus stop (the ride takes around 8 minutes). From the bus stop, walk up the path ahead and you'll see the tea fields right before your eyes.

Grab a Tea-Infused Craft Beer for Later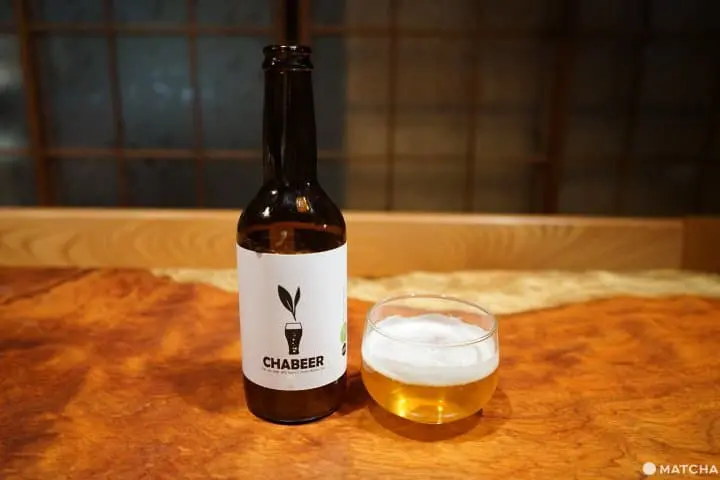 Unique craft beer is sold at Taketani Saketen, a local liquor store located just past the Ishitera tea fields. Cha Beer is a local craft beer made with Wazuka-grown tea leaves. It comes in three varieties: a sencha-infused pale ale, a hojicha (roasted green tea) stout, and a white ale with kabuse shade-grown tea.
The beers have a pronounced tea aroma and a pleasant aftertaste with a light tea flavor that compliments the fullness of a flavorful beer. These brews are rare and sold only at very few locations in Japan, so if you are curious about this beer, be sure to pick up a bottle or two!
Savor a Traditional Japanese Lunch at Kyoto Wazukaso
The nearest bus stop to the Ishitera Tea Fields is Wazuka Takahashi. Take a bus from here to Wazuka Yama no Ie. The ride is around seven minutes and it takes about 10 minutes on foot from the bus stop to Kyoto Wazukaso, a Japanese inn with a restaurant overlooking a tea field.
Picture courtesy of Wazuka Community Center
The gozen set (pictured above) offered by Kyoto Wazukaso at lunchtime comes in an elegant lacquered set of drawers that you open to reveal your meal. Each meal includes classic Japanese dishes and flavors, from tempura to miso-glazed vegetables. You're sure to enjoy the unique rice. It's cooked with hojicha roasted tea and has a light and delicious roasted flavor. The portions are large, so make sure you bring your appetite!
We highly recommend that you make a reservation, as this is a popular place to enjoy the local cuisine. If you have any allergies or dietary restrictions, be sure to inform the staff when making your reservation. Please note that the menu changes seasonally.
Wazukaso is also a ryokan, which means that you can stay here for the night if you wish. Rooms are available in both Japanese and Western styles, and the baths here are infused with tea!
Early Afternoon: Tea Tasting at d:matcha Kyoto CAFE & KITCHEN
d:matcha Kyoto CAFE & KITCHEN is a green tea heaven located a short walk from Kyoto Wazukaso. d:matcha provides several experiences, from tea picking to tea tasting, and hiking courses that allow you to venture into the fields with a tour guide! There are English-speaking employees here who are happy and passionate about sharing their knowledge of tea with you.
For an introductory experience, try a tour that includes a sencha or matcha tea-tasting course. You will receive a tasting flight of green tea containing three varieties of tea grown by d:matcha in the fields in Wazuka. Some varieties are grown organically, too.
Participants will be able to taste the difference between high-quality teas: some have a sharper bitterness to them, while others have an almost savory, umami-like flavor. There is a shop in the cafe, so you can take home your favorite kind after the tasting if you like.
Mid-Afternoon: Cycle Around Wazuka
Picture courtesy of Wazuka Town Hall
Although you are not allowed to enter the tea fields, you can enjoy the picture-perfect scenery by touring around them. One of the best ways to do this is via bicycle. You can rent an electric-powered bike at Wazukacha Cafe, which is within walking-distance of d:matcha.
Bicycle rental is 1,000 yen an hour. The cafe has cycling maps and suggested routes that take you past more tea fields, allowing you to enjoy more of the gorgeous scenery of Wazuka with the wind blowing in your hair.
Plan to spend an hour or two riding around, depending on how long your route is. When cycling and making stops, remember to abide by traffic rules. Please don't enter the tea fields.
Late Afternoon: Show off your Creativity with Matcha Art
Matcha art, where you can design your own masterpiece on the foamy surface of matcha, is a fun spin on traditional powdered green tea. Classes at Utena Chaya are available via advanced reservation at the following e-mail address: utena.tea@gmail.com
This workshop teaches about tea in Wazuka and shows participants how to draw with matcha. First, you'll prepare the tea, which is the ink and the canvas for your work of art. After that, it's time to start designing! If you make a mistake or want to re-draw your design, it is easy to erase and change the matcha's foamy surface.
Once you're satisfied, take a picture and sip on your delicious matcha. Even if you've made a simple design, you will feel a slight sense of accomplishment. A seasonal wagashi (traditional Japanese sweet) comes with your drink, too, to sweeten and refresh your tastebuds.
Find Souvenirs Before you Leave!
Picture courtesy of Wazukacha Cafe
Although there are some experiences you can only have in Wazuka, you can take home some of the magic of this tea paradise. Wazukacha Cafe sells tea and sweet treats from local farmers. For organic tea and other fun sweets, like matcha-infused chocolates, you can head back to d:matcha.
To return to JR Kyoto Station, take the bus from Wazuka Yama no Ie, heading towards JR Kamo Station Nishiguchi. Buses leave once an hour, and the last departs at 20:26 on weekdays, so check the timetable before heading back to avoid a long wait.
From JR Kamo Station, take Kansai Main Line train to Kizu Station, and transfer there to the Nara line heading for Kyoto Station. The journey back should take around one hour––the same time it took getting to Wazuka.
A Day Trip of Tea!
Picture courtesy of Nara Kotsu Bus Lines Co., Ltd.
For those looking for a trip where they can experience something out-of-the-ordinary, a tea-filled side journey to Wazuka in southern Kyoto Prefecture may be the answer. This small, rural town is a treasure trove of natural beauty and high-quality green tea that will make you appreciate a new side of Kyoto.

There are many other places in the southern Kyoto region where one can learn about tea history and culture. For more suggestions on matcha-related activities and destinations, please see this article.

For details, please check the Another Kyoto website!

Written by Jasmine O
Sponsored by Ocha no Kyoto DMO, Kyoto Prefecture

The information presented in this article is based on the time it was written. Note that there may be changes in the merchandise, services, and prices that have occurred after this article was published. Please contact the facility or facilities in this article directly before visiting.