Experience Niigata and Sado Island! 10 Exciting Places by the Sea of Japan
Niigata City, reachable in about two hours by Shinkansen from Tokyo, and Sado Island boast fascinating traditional cultures. We introduce ten places where visitors can experience their charm firsthand - from the fun-filled Niigata Rice Cracker Museum to the historical Sado Gold Mine.
Niigata and Sado: the Gateway to the Sea of Japan
Picture courtesy of Niigata Saito Villa (upper left), Sado City Tourism Department (upper right), and the Northern Culture Museum (lower right)
Sado Island, the largest island in the Sea of Japan, and Niigata City boast ancient cultures that continue to thrive today. Narrow lanes hiding secret geisha performances, breathtaking untouched wilderness, and a cuisine culture kept alive by restaurants as old as the streets themselves - there is nowhere better to kick off your Sea of Japan adventure than here!
To help get your itinerary started, here are 10 of the best spots to experience Niigata City and Sado Island!
Niigata, a Port City with Fascinating Traditional Culture
Picture courtesy of the Northern Culture Museum
Niigata is one of the largest cities on the west coast of Japan's Honshu Island. It has developed as a port city with a distinctive culture of hospitality toward travelers from all nations. A trip to Niigata is a chance to explore some of the finest Japanese culture, from traditional gardens and tea ceremony to excellent cuisine.
To get to Niigata City, take the Joetsu Shinkansen bullet train from Tokyo Station to Niigata Station. The journey will take about two hours. From Niigata Station, board the Niigata City Loop Bus for easy and affordable access to many of the attractions in the downtown area.
1. The Niigata Saito Villa – Discover One of Japan's Most Beautiful Gardens
Picture courtesy of the Niigata Saito Villa
Constructed in 1918 as the residence of a wealthy businessman called Saito Kijuro, the Niigata Saito Villa represents the pinnacle of traditional Japanese architecture. Its intricate design seamlessly connects each room to a separate element of the garden, allowing residents to feel as though nature is always by their side.
In early twentieth-century Japan, tea ceremonies were considered the pinnacle of elegance among the wealthy and cultured. Naturally, the owner of Saito Villa was very passionate about the art of tea ceremony, which is delicately expressed through the villa's room layout and tasteful interior.
Visitors can enjoy a bowl of delicious matcha green tea with a traditional confection while viewing the garden. (500 yen; this service is available only until 16:00.)
The garden has a vast carp-filled pond in the center enclosed by a dynamic assortment of Japanese maple, pine, and bamboo on an elevated slope.
From the top of the slope, visitors can enjoy sweeping views of the villa backed by Niigata City's modern skyscrapers, including the eye-catching NEXT 21 building, creating an alluring confluence of past and present.
In mid-November, the maple trees transform into a fiery display of fall foliage, which is often illuminated at night in a breathtaking autumn exhibition.
The Niigata Saito Villa is located very close to bus stop no. 10 on the Niigata City Loop Bus.
2. Furumachi – Stroll Through Niigata's Old Town
During its height, the Furumachi old town once rivaled Kyoto in its rich geisha culture. Sailors and merchants from across Japan would wander these streets looking to unwind after their perilous journeys. Even today, geisha, or geigi, as they are locally known, provide their exquisite entertainment services throughout the town.
Picture courtesy of Niigata City
For a comprehensive walking tour of Furumachi, walk about 30 minutes north-east from Niigata Station to find Minatopia - Niigata City History Museum, a historic western-influenced building now serving as a museum detailing Niigata's vibrant history.
From Minatopia, a 20-minute walk south-west will bring you to the legendary Nabejaya Street. Rows of traditional restaurants, tea-houses, and nagaya rowhouses line this beautiful street that is reminiscent of the past.
Parallel to Nabejaya is Furumachi. Walk about 10 minutes on this street and you'll reach the tranquil Kamifurumachi, a shopping street where you can feel the pulse of daily life in Niigata.
Stop for a breather at Kanemakiya, a traditional Japanese sweet shop boasting a 150-year history. Here you can enjoy a bowl of matcha green tea with a delicious seasonal confection.
At Kanemakiya, the sweets are made using traditional ingredients such as adzuki beans, rice, and sweet potato. Each seasonal confection is a small piece of art carefully hand made by experienced artisans at the back of the shop.
Kanemakiya makes a variety of 250 types of sweets of which around 20 types can be found in their store at all times; some of their confections have a longer shelf life and make ideal souvenirs from Niigata.
3. Niigata Rice Cracker Museum – Make Your Own Rice Cracker!
Niigata is often called the rice capital of Japan, and with good rice comes good rice crackers! If you're partial to the satisfying crunch of these delicious snacks, then Senbei Okoku: The Niigata Rice Cracker Museum should definitely be on your itinerary!
The Niigata Rice Cracker Museum is operated by Befco, the manufacturer of Bakauke and other popular rice snacks.
For 1,530 yen (tax-included), you can roast your own giant rice cracker on a specially-made stove, which you can then decorate with a soy-sauce illustration!
The finished product, which has a whopping diameter of 25 cm, is then sealed in a cute box for you to bring home.
Limited edition flavors, such as Italian and curry rice crackers, are available for purchase, along with some adorable souvenirs of their mascots. At this facility, you can also watch professionals hand-bake rice crackers.
As the Niigata Rice Cracker Museum is a little far from the city center, we recommend taking a train from Niigata Station to Niizaki Station. The museum is a 15-minute walk from there.
4. Imayotsukasa – Taste Your Way Through an Well-Established Sake Brewery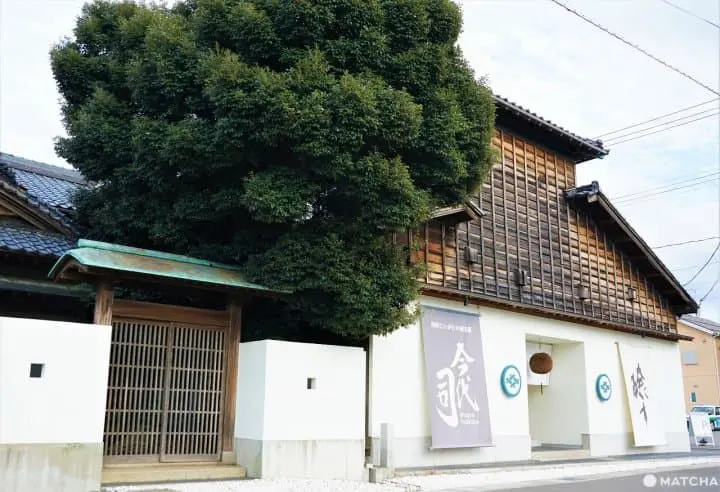 While dozens of incredible sake breweries dot the region, Imayotsukasa Sake Brewery has taken the lead as Niigata's sake gateway to the world.
Their motif, 'linking the past and the present,' is perfectly realized through the brewery's flawless blending of modern design with traditional Japanese architecture. The brewery has an adjacent shop where you can find most of the products made by Imayotsukasa.
Their free brewery tour, which runs in Japanese several times a day and in English at 14:00 on weekdays, takes visitors on a journey through each stage of the brewing process while showing off the actual tools used to create their products. You can even have your photo taken wearing the coat of a sake brewmaster.
Their extensive tasting course is 1,000 yen for a self-serve range of around 10 different sake varieties. From the sweet to the dry and everything in between, their selection will please both beginners and experts alike! The tasting includes Nishiki-Koi, a high-quality sake whose award-winning bottle was inspired by koi fish.
For those not familiar with sake, their IMA Japanese Pure Rich Sake for Pairing with Oysters, which has a semi-sweet acidity similar to white wine, will be sure to please. If you'd rather keep a clear head, you can sample their delicious non-alcoholic amazake for free!
5. The Northern Culture Museum - Exciting Activities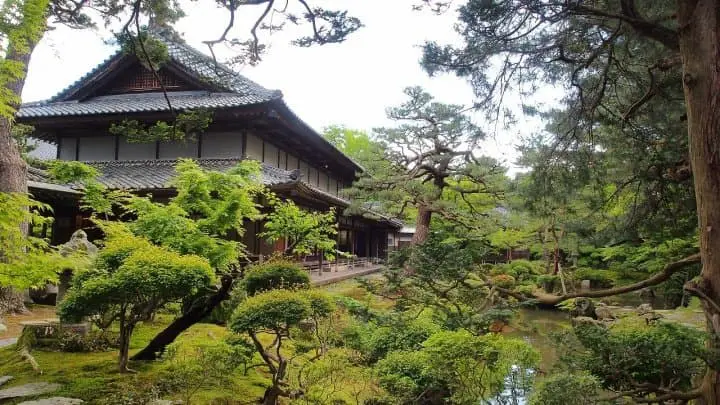 Picture courtesy of the Northern Culture Museum
At the Northern Culture Museum, visitors can deepen their understanding of Niigata's history and the Japanese culture through activities. The Ito residence, property of a wealthy local family of landowners, was opened to the public as a museum in order to promote and preserve traditional forms of Japanese lifestyle.
The facility consists of several buildings, including a banquet hall, tea ceremony rooms, and storehouses, as well as an exquisite Japanese garden with stunning views in every season. Visitors can enjoy art exhibits from the Ito collection, along with exhibitions of treasured items from the Ito household such as tea utensils and precious porcelain ware that was used on special occasions.
Picture courtesy of the Northern Culture Museum
The Northern Culture Museum offers a wide range of activities that give you a firsthand experience of Japanese culture such as tea ceremony in one of the beautiful tea rooms in the garden, elegant geigi performances, or mochitsuki, the act of pounding rice to make fresh, delicious rice cakes.
Picture courtesy of the Northern Culture Museum
The garden tour gives you the chance to discover the highlights of the splendid garden and the tea rooms, which have a deep connection to tea ceremony, an art that the Ito family treasured greatly.
For a full list of the activities available at the Northern Culture Museum, please visit this official page.
We highly recommend enjoying lunch at one of the charming Japanese restaurants within the facility, such as Iwanoya, which offers delicious soba noodle dishes, or Misogura, where you can enjoy gorgeous Japanese set meals (*available only upon prior reservation for groups of at least six persons.)
What to Eat in Niigata City
The freshest catches from the Sea of Japan can be found in the bustling markets and restaurants of Pier Bandai, a stop on the Niigata City Loop Bus that's perfect for lunch! For dinner, eat and drink your way through Furumachi's tapestry of renowned restaurants specializing in the finest Niigata cuisine and sake. Some popular choices are the locally-adored seafood restaurant Goro and the traditional izakaya Suzuya.
To find other amazing destinations, please refer to Welcome to Niigata City, the official travel website of Niigata City.
Sado Island, a Treasure Trove of Wonderful Views
Picture courtesy of Sado City Tourism Department
Sado Island has flourished since the beginning of the Edo period (1603 - 1868). After the island's rich gold resources were discovered, it became a special domain under the direct rule of the shogun's government. Nowadays, Sado is a popular destination for leisure trips, sought by many for its wonderful natural scenery, hot springs, and fabulous seafood.
The ferry terminal for Sado Island is next to the iconic Toki Messe building in Niigata Port, which can be reached from Niigata Station by bus in 15 minutes or on foot in about 30 minutes.
6. Daizen Shrine – Experience Sado's Noh Theater Culture
Picture courtesy of Sado City Tourism Department
One understated element of Sado's vast history is its deep connection to Japanese Noh theater. Noh theater was deeply loved by the wealthy warrior class in the Edo Period. The performances were regarded as offering to the gods and were an essential element of shrine festivals. This is why you'll see many Noh stages on in Sado.
You can get up close with this history at Daizen Shrine, which holds Sado's oldest and most beloved Noh stage.
This charming and rustic shrine complex is surrounded by lush, enchanting woods with unobtrusive renovations keeping its beauty fresh while retaining the majesty of its age.
While you're there, wander over to the nearby Myosenji Temple, which boasts the only five-story pagoda in Niigata Prefecture!
Noh performances are held across Sado every year between April and October, with performances at Daizen Shrine in April and June. Sessions are limited, so be sure to check online before going! For information on events in Sado, we suggest checking this official website.
Daizen Shrine is a 30-minute drive from Ryotsu Port and a 15-minute walk from the Takedabashi bus stop.
7. Iwakubi Shoryu – Adventure to the Top of a Rice Field Terrace!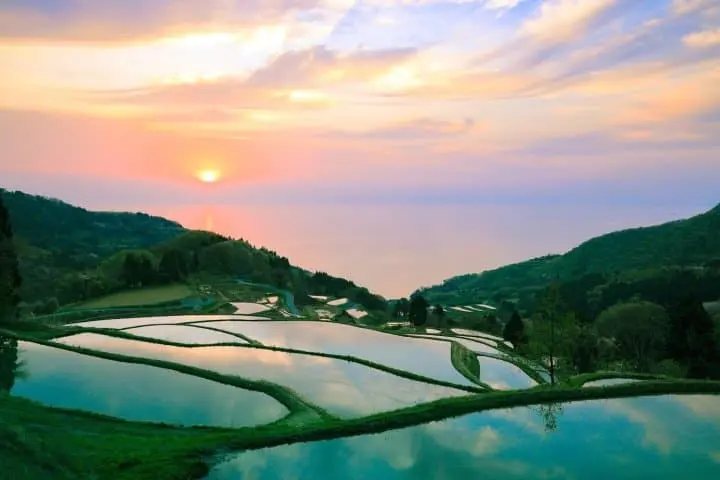 Picture courtesy of Sado City Tourism Department
Scratch your itch to get off the beaten track and discover Sado's most magnificent view at the Iwakubi Shoryu terraced rice fields! Not for the faint of heart, the steep roads prove a challenge even for cars, and without one, you can expect to hike at least an hour uphill from the closest bus stop.
However, we promise it's worth it! The stark blue waters of the Sea of Japan framed by the steep valley of descending rice fields will leave you speechless. We'll let the photos do the talking!
Picture courtesy of Sado City Tourism Department
The best time to visit Iwakubi Shoryu is in April or May when the rice seedlings are sunken in water. The water's reflection beautifully mirrors the colors of the sky. The fields also look splendid when they're full of luscious green rice plants, providing a photogenic contrast to the deep blue of the ocean. This scenery is at its peak in summer (June, July, and August).
If you have a car, you shouldn't have any trouble reaching the observatory at the top of the terrace. If not, the nearest bus stop is Iwakubi on the Higashi-Kaigan Line or Iwakubi Line. This line is very limited, so be sure to confirm the schedule in advance.
8. Sado Kinzan Gold Mine – Explore a Goldmining Mountain
The Sado Kinzan Gold Mine is a series of abandoned mines running underneath the iconic Doyu no Warito mountain, which was split in half after 400 years of being hollowed out for its rich deposits.
The Sado Gold Mine fueled the Japanese economy in the Edo Period (1603-1868) and contributed to the modernization of the country after the Meiji period (1868-1912). It is indeed one of the representative gold mines in Japan. The mining operations grew to consume the entire area, filling it with relics of both ancient and modern mining technology.
Put on some good shoes and venture underground into the tunnels of the Sodayu Mine, which are now packed with realistic animatronics exhibiting the lives and work of Sado miners.
Continue on to the Doyu Mine, which is only partially open, but offers magnificent views of the split mountain, along with remnants of the train system used to transport the ore. For the daring, a guided tour of the untouched Mumyoi Mine provides a thrilling and creepy insight into the horrific nature of ancient mining.
Picture courtesy of Sado City Tourism Department
In addition to the mines, numerous leftovers from the expansive industry dot the entire region. This includes the beautifully renovated Sado Magistrate's Office, which was originally built in 1603 and controlled all mining operations on the island.
Picture courtesy of Sado City Tourism Department
About 10 minutes away is the industrial Kitazawa Flotation Plant, which was added in the late 1930s to advance the ore extraction process and contribute to the war effort. Born during completely different times, yet ultimately dedicated to the same purpose, these relics give travelers a humbling sense of history's magnitude.
Visit the Flotation Plant after dark to see it illuminated in a brilliant lights show! The light-up can be enjoyed until February 28, 2021.
9. Onogame and Futatsugame – Relax on Sado's Unique Beaches!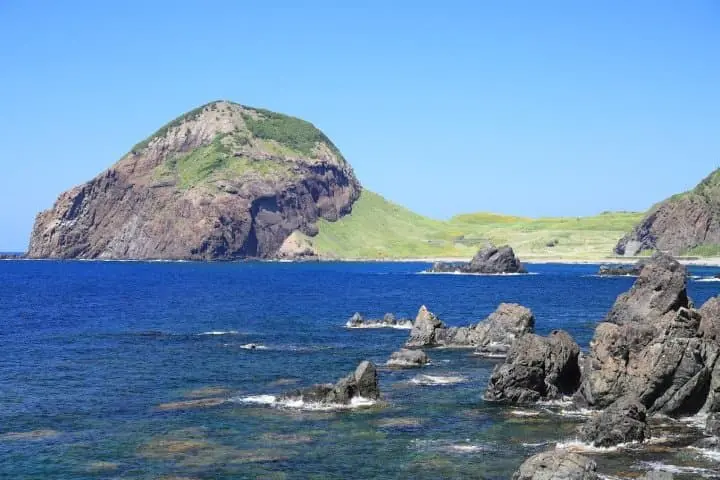 Picture courtesy of Sado City Tourism Department
Your Sado adventure wouldn't be complete without a relaxing swim or stroll on the picturesque coast. Onogame, on Sado's northern tip, is known for the mammoth 167m tall boulder protruding from the coastline into the water's edge. While not ideal for swimming, its scenic coastal trail offers visitors a relaxing taste of Sado's magnificent nature.
Picture courtesy of Sado City Tourism Department
Here you can see the beauty of Onogame peaks between late May and early June, when the hills are painted yellow by over a million flowering Amur daylilies.
Picture courtesy of Sado City Tourism Department
If you want a cool-down in the Sea of Japan, Sado's most beautiful swimming beach is the nearby Futatsugame. Its name, meaning 'two turtles,' is derived from the shape of the small island just off the shore, which connects to the mainland during high tide. This small path between the land and Futatsugame creates an iconic spectacle that was awarded two stars in the Michelin Green Guide.
The crystal-clear waters are surprisingly warm during mid-summer, making it hard to resist taking a dip! You can also rent fishing gear, or see Sado's underwater paradise up close with scuba diving courses for both beginners and pros.
Onogame and Futatsugame are roughly an hour's drive from Ryotsu Port on the northern end of the island.
10. Osado Skyline - A Panoramic View of Sado
The Osado Skyline is an approximately 30-kilometer route connecting the towns of Kanai and Aikawa. A drive on this route is a chance to enjoy breathtaking scenic views of the mountains and the sea.
From the highest point of the Osado Skyline, located at over 900 m above sea level, you can enjoy a panoramic view of the entire island surrounded by the still waters of the Sea of Japan. On clear days, the peaks of the mountain range in northern Niigata are visible in the distance.
We suggest stopping at Hakuundai, a rest area with a viewing deck, a souvenir shop, and a diner. It is one of the best places to enjoy the magnificent seasonal scenery of Sado.
What to Eat in Sado
Sado's go-to fish is buri – a species of yellowtail also known as Japanese amberjack. This light, tasty fish can be enjoyed as sushi or sashimi at restaurants all over the island! For some of the best sushi in Sado, visit Sushi Chozaburo.
Sado's rice, kaki persimmons, Le Lectier pears, wagyu beef, and seafood varieties such as crab, shrimp, and oysters are also not to be missed! If you're a sake-lover, Sado's five breweries are all worthy additions to your travels.
Discover other great destinations and things to do on True Sado, the official tourist information website for Sado Island.
Endless Hidden Gems in Niigata and Sado
Niigata City and Sado Island are full of spectacular scenery, fascinating history, and exciting activities. While this list covers ten of the best, it only scratches the surface of what they have to offer.

If you've had your fill of Japan's typical tourist attractions and are longing for an authentic, off-the-trail adventure, head over to the Sea of Japan and explore Niigata City and Sado Island on your next Japan holiday!

You can find other exciting destinations along the Sea of Japan coast by checking the official website of the Japan Sea Sightseeing Routes.

Written by Steven Csorgo
Sponsored by the Association for Promotion of Japan Sea Routes
Main image courtesy of Sado City Tourism Department

The information presented in this article is based on the time it was written. Note that there may be changes in the merchandise, services, and prices that have occurred after this article was published. Please contact the facility or facilities in this article directly before visiting.