Make Your Own Senbei Crackers At The Niigata Senbei Kingdom!
Senbei is a representative Japanese snack made from rice and well-known by Japanese people. You can make your own senbei at a shop in Niigata, the leading area in Japan for rice production. Why not make memories you can only find in Niigata, Japan?
Senbei is a representative Japanese snack made from rice. It is a well-known snack that Japanese people have eaten since they were children. In Niigata, the leading area in Japan for rice production, there is a shop where you can make your own senbei. Why not make some unique memories at a place you can only find in Niigata, Japan?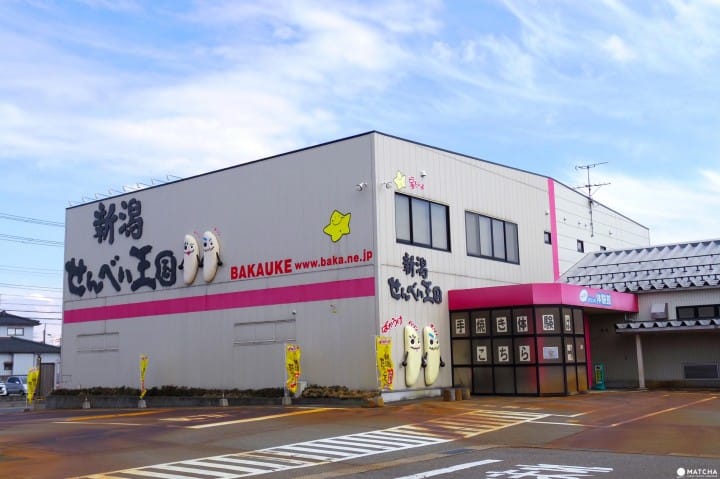 To go to Niigata Senbei Kingdom, ride the JR Hakushin Line for fifteen minutes from Niigata Station, exit at Niizaki Station, then walk for approximately 20 minutes. The kingdom is split into two buildings; one is the Souvenir Building and the other is the Experience Building. At the Experience Building, you can go on a factory tour and experience cooking your own senbei.
The Bakauke Inari, a shrine where one prays for the development of beika (*1), will catch your attention in the Niigata Senbei Kingdom. Bakauke is a popular banana-shaped senbei produced by Kuriyama Beika Co., Ltd (Befco) and is operated by the Niigata Senbei Kingdom. This rice-type senbei can be purchased anywhere in Japan.
*1 Beika: A confectionery made from rice such as senbei and okaki.
Let's Make a Giant Senbei!
Let's go to the Experience Building to have a senbei-making experience! Most senbei are the size of your palm, but here, you can experience making a giant senbei with a diameter of 25cm for 1500 yen plus tax.
After paying, you will be led into an area where you will cook your senbei. What the staff will prepare for you is a white item that is too large to call a senbei. This white object will later become a light brown-colored senbei.
Now, we will go step by step into the senbei-making process.
STEP 1: Cook on the Grill
You will cook the white senbei on the grill. It will take a slightly long time to cook. You may worry "when should I move to the next step?", but please rest assured as each group will have a navigator to aid them in cooking.
STEP 2: Draw on Your Senbei
Once you receive an OK from your navigator, the next step is to draw whatever you want on your senbei with a writing brush dipped in soy sauce. You might be thinking "what should I draw?" or "I'm not confident because I'm not good at drawing…", but please don't worry! There are various sample illustrations of popular Japanese characters such as Anpanman and Doraemon in the drawing area for customers to use as references.
STEP 3: Cook on the Grill Until Browned
Once you've drawn your preferred illustration in soy sauce, the next step is to heat up your senbei while holding it at around eye-level.
When the senbei has become warm, place it on the grill and cook evenly until brown. The drawing, which wasn't visible at first, gradually began to appear as I cooked it on top of the grill.
STEP 4: Flavor the Entire Senbei With Soy Sauce
Once browned, coat both sides entirely in soy sauce. Finally, do not place your senbei directly on the grill; instead, hold it at eye-level and dry both sides of it over the grill.
STEP 4: Let It Cool
Once dried, place your senbei on the rack to cool.
STEP 5: Finish It Off With Wrapping!
Once sufficiently cooled, wrap your senbei in a transparent bag and then place it in a specially-made box to finish! Your super huge senbei, the only one of its kind in the world, is ready.
You Can Add Your Favorite Flavors to Bakauke!?
Another experience activity is the Bakauke Flavor Experience where you can add your own flavors to bakauke (1200 yen plus tax/15 pieces).
You will first be given fifteen pieces of bakauke and three cups. Insert five pieces into each cup.
Next, choose your favorite flavors from an array of approximately ten different powders, from green soybeans to pot sticker flavors, and pour the powders into your cups of bakauke. Shake your cups to coat the crackers in the powder as evenly as you can. Once that is finished, you will be given a special container for your bakauke to complete the experience.
It's completely fine to combine two powder flavors to make your bakauke! It's fun to choose flavors based on the recommended flavor combinations list in the shop or on the staff's recommendations. By the way, I chose the 7-spice squid mayo and buttered clam flavors. I was recommended this flavor combination by a staff member who told me it goes well with Japanese sake.
What is the Senbei Soft Serve? Bakauke Croquette?
Aside from the offered experiences, you can also enjoy foods unique to the Niigata Senbei Kingdom. The Senbei Soft Serve (420 yen plus tax) is senbei sandwiched between soft serve and drizzled with a special soy sauce. The combination of soy sauce, soft serve, and senbei went unexpectedly well together and I was able to polish it all off with gusto.
The Bakauke Croquette (160 yen plus tax) is a spicy croquette flavored with black pepper. The bakauke-shaped deep-fried croquette is sprinkled with dried seaweed and looks like an actual bakauke. It was a fun product that was the talk of many people here and tasted great.
Buy Souvenirs Unique to Niigata!
In the Souvenir Building, there are various souvenirs lining the walls including locally produced bakauke from all over Japan and bakauke goods that can only be bought here. You can purchase the Chiba-only Buttered Clam Flavor or Osaka-only Okonomiyaki Flavor without leaving Niigata. There are also local bakauke flavors that can only be purchased here such as the Senbei Soft Serve Flavor and the Squid Mayonnaise Flavor.
Region-limited bakauke can be purchased for 400 yen (plus tax) while the Niigata Senbei Kingdom-limited bakauke are 450 yen (plus tax). Food samples are also available, so please test each flavor out and try finding your favorite bakauke flavor.
In Conclusion
Experiences, delicious sweets, souvenirs, and all kinds of senbei are what makes up the Niigata Senbei Kingdom. This is definitely a spot you'll want to visit when coming to Niigata. Please try visiting and make some fun memories here soon!

The information presented in this article is based on the time it was written. Note that there may be changes in the merchandise, services, and prices that have occurred after this article was published. Please contact the facility or facilities in this article directly before visiting.