Tsurugaoka Hachimangu, Kamakura: Once The Center Of Japan
Tsurugaoka Hachimangu is one of the oldest shrines in Kamakura, having been established during the Kamakura period and has been one of the main draws for visitors to the area ever since. This is a must see place for history buffs visiting Kamakura!
Don't Miss Tsurugaoka Hachimangu When You Visit Kamakura!
Kamakura, with its close proximity to Tokyo, is a popular spot for tourists looking for day trips from the busy Tokyo area. Today, let's pay a visit to one of the main attractions in Kamakura, Tsurugaoka-Hachimangu!
Role of Kamakura in Japanese History
When the Kamakura Bakufu, which was more or less a military government established about 800 years ago in 1185, the real power of the state became more concentrated in Kamakura, which became the nation's political, economical and cultural center.
Kyoto had been the center of Japan before that, but Minamoto-no-Yoritomo (the shogun of Kamakura Bakufu) set up his base in Kamakura and started building the country there. As the most important shrine of Kamakura, Tsurugaoka Hachimangu is a historic monument that still retains some of the quaint atmosphere of ancient times.
Take Dankazura to the Shrine
Dankazura is a 450 meter long raised pedestrian pathway leading to the shrine. There are cherry trees planted along both sides of the pathway which usually start to bloom sometime from late March to mid April. Walking along the Dankazura surrounded by cherry blossoms is just one way to enjoy a visit to Kamakura.
Although not fully bloomed at the time of the photo, when they are at full bloom, you can see beautiful cherry blossom arches here too!
Relationship Between Doves and Hachimangu Shrines
When you get to the precincts of the shrine, you will first notice that there are lots of doves waiting to greet you. In fact, doves have a special relationship to Hachimangu shrines.
There are many other Hachimangu shrines scattered throughout Japan, two of the most famous being Usa Jingu in Oita prefecture and Iwashimizu Hachimangu in Kyoto. According to legend, when the deity of Usa Jingu was divided and transferred to Iwashimizu Hachimangu, the deity was guided by doves.
This Tsurugaoka Hachimangu was originally built in a different location, and the deity enshrined here may also have been guided by doves in its journey. To venerate these doves, the name board of the shrine includes two doves that form the Japanese character "八".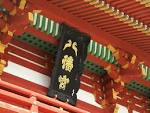 Benefits Bestowed by Tsurugaoka Hachimangu upon Visitors
Tsurugaoka Hachimangu is known for offering good luck to its worshipers in a variety of different categories, so visitors pray for things such as luck in love, good health and passing their exams or doing well in school here.
An ema, or votive board.
If you plan to visit the ancient city of Kamakura, make sure to visit Tsurugaoka Hachimangu, so that you can fully appreciate the history and charms of Kamakura and its surroundings.
Information
Tsurugaoka-Hachimangu
Address: Kanagawa, Kamakura, Yukinoshita 2-1-31
Nearest Station: JR Kamakura Station
Access: 15 min walk from east exit of Kamakura Station
Phone: 0467-22-0315
Website: http://www.tsurugaoka-hachimangu.jp/