Vegan Snacks And Meals At Japanese Convenience Stores
Searching for vegetarian and vegan food at Japanese convenience stores? This is a full guide to eating plant-based, with 20 great vegan food, snacks, and drinks, and general tips for finding food. All can enjoy travel in Japan, regardless of food and dietary preferences.
Eating Vegan at Convenience Stores
The convenience store, or conbini, is a food and shopping spot that plays vital role in everyday life in Japan. Found every couple of blocks in Tokyo, Osaka, and other cities and suburbs nationwide, Seven-Eleven, Lawson, Family Mart, and other convenience stores are everywhere. It is easy to drop in to buy snacks and drinks at low prices.
While convenience stores carry a lot of food, it can be challenging for guests looking for vegan food and beverages or those with allergies. This article recommends vegan* items found at convenience stores throughout Japan. These ready-to-eat foods and beverages are suitable for traveling or on-the-go. Pick up a few items to make a complete meal.
Read also:
Vegan Convenience Store Options
1. Savory Food
2. Snacks
3. Sweets
4. Frozen Dessert
5. Beverages
6. Fresh Ingredients and Tips
*Vegan in this article is defined as food made without animals, including fish and seafood, or ingredients derived from animals, including fish and seafood, dairy products and eggs, as well as honey. White sugar processed via animal bone char may be included in some of the items listed below, and the manufacturing environment of each food item may include dairy or another animal-derived product. Additionally, the ingredients and suppliers of processed foods are subject to change without notice. Those with food allergies or sensitivities should contact companies directly to confirm before consuming. Also, please note that selection at supermarkets varies by season and location; the items listed in this article may not be available at the store you visit.
It is recommended to search for certified vegan products, which can be found at Natural Lawson convenience stores (Japanese) and natural food supermarkets in Japan, like the Vegan Store.
1. Plain White Rice Onigiri
A basic, but delicious option is a plain rice onigiri (rice ball). Found at all convenience stores, this rice ball is completely plant-based and vegan-friendly, containing white rice and salt. A typical white rice ball will be priced around 100 yen and is among the most inexpensive options at a convenience store.
White rice balls are sold at Seven-Eleven, Lawson, and Family Mart, as well as less common stores, such as Mini Stop and Daily Yamazaki. This is a satisfying option when you are looking for something quick and filling.
2. Pickled Plum Onigiri
A pickled plum rice ball, or umeboshi onigiri, is another vegan-friendly food found at convenience stores nationwide. This rice ball has a pickled plum in its center, which gives it a pronounced sour, salty taste. Its strong flavor may surprise first-time eaters.
Umeboshi and ume are a staple in Japanese diets and cuisine, and are also considered to be healthy and may provide metabolism-boosting benefits. A pickled plum rice ball will generally cost around 120 yen and is available at all convenience store chains.
3. Edamame
An easy option for those looking for vegetables is ready-to-eat edamame. Edamame is sold at convenience stores in triangular-shaped packages that are easy to open and consume wherever you are. Flavored simply with salt, edamame is a great way to enjoy a classic and refreshing Japanese snack. A bag will cost between 150 and 200 yen.
4. Hash Browns
For hot, savory foods, try the hashed potatoes (around 90 yen) sold by the register at convenience stores. All stores sell versions of this delicious treat, but Family Mart and Seven-Eleven make a vegan-friendly version with plant-based oil.
Please note that oil the potatoes are fried is likely the same as meat and non-vegan foods, and that palm oil may be used.
5. French Fries
French fries are another satisfying, hot option. Listed usually as "fried potato," a regular size costs around 150 to 200 yen. As with the hash browns listed above, they may share oil and cooking equipment with non-vegan food, and palm oil may be used. For concerned consumers, be sure to ask directly.
6. Crispy Soyjoy Bars
For extra energy, be sure to grab a Soyjoy Bar. The "Crispy" variety of Soyjoy Bars are made without dairy and eggs and are suitable for those on an all plant-based diet. Crispy Soyjoy Bars come in plain, mixed berry, peach, banana, and white macadamia (pictured above) flavors. Prices range depending on the store, but most cost around 120 to 130 yen each.
Crispy Soyjoy is also available at supermarkets and drugstores at a slightly lower price. Please note that other varieties of SoyJoy are not vegan.
7. Mixed Nuts
Salted and unsalted mixed nuts are found at all convenience stores. Basic but healthy and filling, they make a great snack or supplement to a meal. Please be aware that margarine, butter, and animal-derived flavoring may be used in non-standard flavored nuts, so be sure to look for a plain bag, as pictured above.
A bag ranges from 300 yen to 400 yen, depending on the size. Lawson's Natural Lawson stores and brand carry small sizes of plain mixed nuts, seeds, and berries, ideal for a quick energy boost.
8. Potato Chips
Potato chips are a classic snack that can satisfy cravings for something salty--Japan is home to a number of unique flavors. Vegan-friendly options found at the convenience store include shio, usu shio (lightly salted; pictured above), and nori, which contains small flakes of dried seaweed. Chips are a basic but delicious comfort food with a light, crispy texture.
9. Yuzu Soybean Chips
The yuzu and salt soybean chips pictured above are a crunchy, protein-filled snack sold at Natural Lawson, a health food-focused brand and stores operated by Lawson. The yuzu (Japanese citrus) flavor pairs deliciously with salt and black pepper for a tangy, slightly spicy chip.
These crunchy chips are made from soybeans instead of corn or flour, providing a satisfying high-protein, low-sugar treat.
Produced by Biokura, a Japanese food manufacturer, these tasty chips come in vegan-friendly flavors, like the yuzu (above), aonori vinegar (blue seaweed and vinegar), tomato basil, and green vegetable. A pack of chips costs around 200 yen.
10. Sweet Potato Sticks
Hoshi imo, or dried sweet potato, are a simple but delicious treat found throughout Japan. Hoshi imo are simply sweet potato strips that have been dried, containing the natural sweetness of the vegetable. They are typically cut into strips when sold.
All convenience stores carry them, making them a sweet and nutritious snack anytime.
11. Morinaga Macrobiotic Biscuits
The Morinaga brand macrobiotic biscuits come in two different flavors: cocoa with nuts and berry. These petite cookies are vegan-friendly and found at all major convenience stores.
The cocoa flavor has a concentrated chocolate taste and a satisfying texture, filled with nuts and seeds, with just the right amount of sweetness--it is a must-try for any chocolate lover. One pack costs around 160 to 180 yen, depending on the flavor.
These cookies are also sold in larger packs at supermarkets in Japan.
12. Morinaga Macrobiotic Cake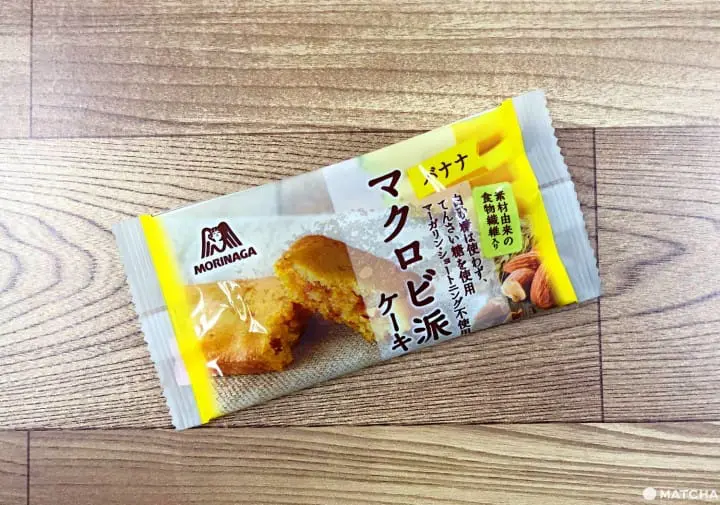 These small cakes made by Morinaga (mentioned above) are also completely plant-based. Sold at all convenience stores in chocolate and banana flavors. this is a classic dessert option for those wanting a small, but satisfying, choice. Pictured above is the banana flavor, which has a rich, sweet taste.
The cocoa flavor has a delicious chocolate flavor that is not overly sweet. Each cake costs around 120 yen.
13. Natural Lawson Macrobiotic Cookies
Shoppers can also enjoy these vegan-friendly macrobiotic cookies made by Natural Lawson, a health and natural food-focused brand of Lawson convenience stores. The cookies above are flavored with soymilk and kinako (roasted soybean powder) and have a light, but pleasant flavor.
They are a great choice for satisfying any cravings for sweets. They are sold at all Natural Lawson stores and most Lawson convenience stores, making them easy to find. Please note that selection and flavors may vary by location and season.
14. Biokura Macrobiotic Cookies
The macrobiotic cookies sold at Natural Lawson pictured above are vegan, made by Biokura, a natural food company in Japan. Priced between 250 to 280 yen per package, these crispy cookies are bite-sized and sweetened lightly with beet sugar, a vegan-friendly option.
They come in a variety of Japanese flavors, like Japanese pumpkin, roasted sweet potato, and roasted green tea with kinako.
15. Azuki Bar
Azuki Bar is a delicious ice treat made of traditional red bean and sugar. Found in the same section as other ice creams, this is a classic dessert with a frozen twist on zenzai, a type of Japanese sweet. These bars have been sold in Japan since the 1970s and are a nostalgic, well-liked treat for many. The bar is reddish in color and contains bits of azuki bean for texture.
This sweet treat is sold for around 100 to 120 yen at most convenience stores. Try it during the summer for a refreshing treat and a taste of old Japan.
16. Gari Gari Kun Bar
Picture from 5 Popular Ice Cream Treats You Can't Resist On A Hot Summer Day
Another iced sweet for a hot day is the Gari Gari Kun Bar. Containing just sugar and flavoring, this vegan-friendly bar comes in a variety of types. Pictured above is the soda flavor, which is bright blue in color. You may also find other types, such as grape and mikan orange. They are a refreshing treat that taste especially great on a hot summer day.
17. Soymilk
For beverages and protein, convenience stores carry vegan-friendly soymilk. Different flavors are available, but the unsweetened soymilk (pictured above) is recommended and found at most Lawson stores. With a pronounced soy taste, Japanese soymilk is delicious and a must-try. A 200-mL size will cost around 100 yen.
Other flavors of soymilk, such as those sweetened with brown sugar, are sometimes available and also plant-based. For those concerned about white sugar, look for unadjusted, unsweetened soymilk (無調整) or those made with brown sugar.

18. Soymilk Latte
For something besides black coffee, try a soymilk latte, available at select Mini Stop locations. Most latte drinks and milk tea in Japan are made with dairy milk--soymilk and other flavored plant-based beverages are rare. This beverage provides a cool and creamy drink, making a great pick-me-up in the afternoon. A latte costs around 130 yen.
19. Almond Milk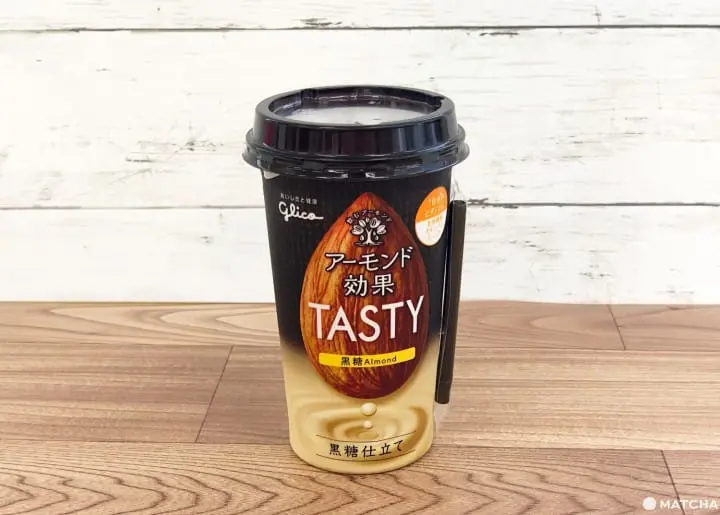 Almond milk sold at Family Mart in the packaging above comes in a few different varieties, including sweetened (above), unsweetened, and almond milk with coffee. The beverages have a light almond flavor and are a great beverage choice for those wanting something besides soymilk.
All of these flavors are vegan, however, the variety with walnuts is not.
20. Classic Black Coffee
Sold individually or in plastic bottles, sometimes there is nothing better than coffee. Each convenience store sells its own coffee (hot and iced) that you make with the machines at the counter. They come black, without dairy products or sugar.
Pre-bottled coffee in plastic bottles is available in the beverage section of stores. Please be aware that some contain sugar or milk. If you do not read Japanese, it may be more simple to order a regular-size iced coffee, which costs 100 yen at all convenience stores in Japan.
21. Asahi Soy Latte
Anyone who prefers their coffee sweetened and with plant-based milk will be delighted by Asahi's vegan-friendly soymilk latte. Sold for around 130 yen at all convenience stores across Japan, this bottled beverage (415ml) is great for those on-the-go or craving a slightly-sweet pick-me-up. The soymilk flavor is delicious and compliments the espresso for a very tasty, satisfying latte. The bottle is well-designed and well-marked with English; you can find it in the refrigerated beverage section of convenience stores.
22. Asahi Soymilk Tea
Similar to the soy latte mentioned above, this soymilk tea is made by Asahi and available at all convenience stores. Milk tea is a very popular beverage choice in Japan, but most are dairy-based: this refreshing drink is made of black tea and soymilk and is vegan. It is sweet but light, and contains caffeine, making it an ideal choice for teatime or extra charge of energy in the afternoon. It is clearly labeled in English and looks similar to the soy latte, and retails for around 130 yen, and contains 415ml of beverage. Look for it in the refrigerated area at convenience stores.
Fresh Ingredients and Tips
There are several other choices suitable for vegan diets in addition to the options listed above. Convenience stores also act as miniature grocery stores. For example, fresh bananas and other fruit in small portions can be found. Plain tofu and udon noodles, are also sold and are vegan.
On the other hand, please note that processed food items, like instant cup noodles, and even salads with dressing are likely to contain animal and fish-derived ingredients. The most common dashi (Japanese soup base) used in nearly all dishes comes from bonito (look for a word that says "katsuo," shown with "鰹," "かつお," or "カツオ"), a type of fish.
A quick way to see if an item could be vegan-friendly or not is to check the potential contained allergens in the food. This product, contains wheat (小麦), making it suitable for those on a plant-based diet.
Some items, however, will not have an easy-to-spot allergen list. Instead, look through the ingredients. This salad comes with a dressing that contains extract from chicken (鶏肉).
Another ingredient to be wary of is 乳化剤 (emulsifier). In Japan, emulsifiers can be made of either animal-based ingredients or dairy-based ingredients. Additionally, the suppliers and ingredients in processed food in Japan is subject to change: an emulsifier that is free of animal-derived products one day may contain dairy the next. If you have a food allergy or sensitivity to dairy or another animal product, please do not consume anything that contains this emulsifier.

Vegan Food at Japanese Convenience Stores
Being vegan in Japan can be challenging, but far from impossible. With advanced planning and patience, much of Japan's vegan-friendly food will surely satisfy your taste buds and appetite--even on-the-go at a convenience store. Look for the items mentioned above when searching for something plant-based.

The information presented in this article is based on the time it was written. Note that there may be changes in the merchandise, services, and prices that have occurred after this article was published. Please contact the facility or facilities in this article directly before visiting.