Premarche Gelateria Nakameguro - 40 Flavors Of Delicious Frozen Treats
Premarche Gelateria Nakameguro, near Shibuya, is a shop where all can enjoy a blissful moment with creamy gelato and sorbet. With vegan and allergen-free choices, all are invited to dig into decadent desserts of various flavors, from matcha to miso, to pistachio and chocolate.
Premarche Gelateria Nakameguro - Decadent Desserts Friendly to All
Nakameguro, a Tokyo neighborhood two train stops away from Shibuya, is known for its sophisticated atmosphere with fashion-forward shops and restaurants, and the Meguro River, one of Tokyo's iconic cherry blossom viewing spots.
One must-visit store in the area is Premarche Gelateria Nakameguro, a gelato and sorbet shop serving dessert suitable for visitors with allergies, vegetarians, vegans, or anyone looking for an alternative. Stop by for creamy and flavorful scoops that will satisfy your sweet tooth and fill you with the nostalgia enjoying a frozen treat on a summer day.
Award-Winning Gelato that Brings Bliss
Premarche Gelateria Nakameguro was established in July 2018 and is the second store of the Premarche Gelaterias, with the first shop being in Kyoto's Sanjo area. The founder of the store wanted to make as delicious of dessert as possible while allowing as many people to be able to enjoy it, regardless of dietary restrictions. He firmly believes that everyone should experience the happiness of eating exquisite gelato.
As a result, the gelato and sorbet at Premarche Gelateria are made with high-quality, often organic ingredients and contain no synthetic emulsifiers. Vegan, non-dairy options make it easy for customers with diverse diets to enjoy the dessert here, too. The gelato is all gluten-free.
This shop also won bronze in an international competition run by the Italian Gelato Association in 2018, speaking to how delicious the desserts are. In addition to the renowned taste and texture of the gelato, customers from overseas can feel rest-assured ordering here, as there is an English menu.
Choose From Milk-Base, Vegan, and Bee-gan Gelato, and Sorbet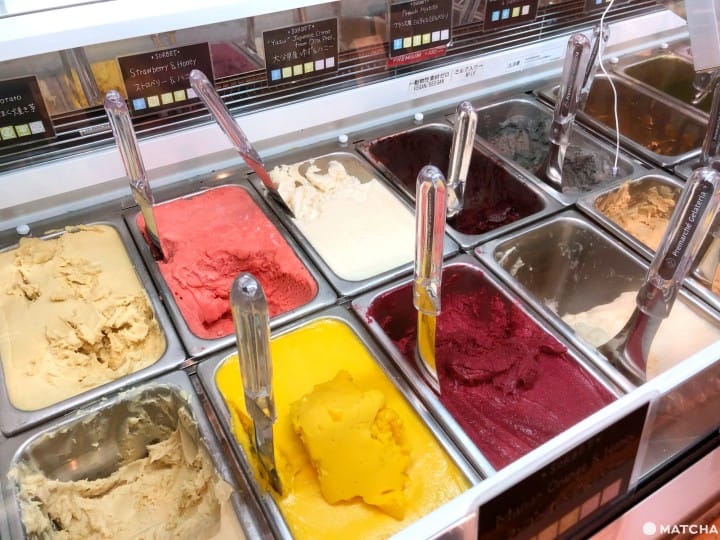 There are three types of frozen desserts to choose from: milk-based gelato, vegan and bee-gan (contains honey), and sorbet. The Nakameguro shop has 40 flavors. 18 flavors are vegan-friendly, 10 are bee-gan, which are non-dairy and use honey, and the rest are dairy-based. All of the flavors are clearly labeled with which allergens and special ingredients they contain.
The menu includes two main different choices for desserts: a single (600 yen) and a double (700 yen), with different cup and cones, with vegan and a brown rice gluten-free options. Both prices include tax. There are also children's sizes, ideal for visitors with families.
If you want to pair your gelato with a drink, there is coffee, cappuccinos, and other beverages on the menu. All the drinks are organic.
The variety of choices will astonish first-time customers. Premarche Gelateria carries Japanese flavors of all types, like matcha, yuzu (Japanese citrus), chestnut, and even miso. Other unusual choices include gelato with Hokkaido tomato and wine. If you're in the mood for classic gelato selections, there is Sicilian pistachio, rich chocolate, and certified fair trade vanilla. Visitors can also look forward to season-limited flavors.
If you feel at loss of what to choose, you can sample up to three different flavors for free.
Vegan Matcha and Roasted Soybean - Unbelievably Rich Plant-Based Gelato
A popular combination is the matcha and kinako (roasted soybean) -- two classic Japanese flavors made into a delicious Italian-style sorbet. Pictured above is a double cone with Organic Uji Matcha & Ume and Okinawa Organic Brown Sugar & Organic Kinako flavors, which are both suitable for vegan diets. The adorable cone is vegan-friendly, too.
The matcha and ume gelato is made with high-grade matcha from Uji in southern Kyoto. It has a delicate ume (pickled plum) aroma and a recognizable green tea flavor. The kinako flavor is simply delicious, with the right amount of sweetness. Both flavors are extremely creamy and satisfying.
Vegan Ninja and Yuba Tofu - Delicious, Inventive Japanese Flavors
Ninja and yuba are two other unique gelato options. The Ninja, an all-black gelato, is striking in appearance and extremely rich, containing black sesame and other ingredients. Ninjas were known to traditionally eat only black-colored things, resulting in its name. It has a one-of-a-kind flavor and is highly recommended. "Zen" Milky Fresh Yuba, a Kyoto delicacy, has a light tofu taste and sweetness, making it a must-try, especially if you enjoy tofu.
On a sunny day, you can walk along the Meguro River with gelato in hand. Be careful though, as your dessert will melt quickly when it's warm outside!
How to Get to Premarche Gelateria Nakameguro
Premarche Gelateria Nakameguro is located in Nakameguro, an area known for its fashionable stores, dining, and iconic Meguro River. It is close to Shibuya, making it a convenient stop when sightseeing in Tokyo.
From Nakameguro Station, which services the Tokyo Metro Hibiya Line and Tokyu Toyoko Line, exit through the main gate and use the east exit, making a right. After about a five-minute walk down the street, you will see Premarche Gelateria Nakameguro just down the way.
When you find Tobita-kun with gelato in his hand, you'll know you've come to the right place.
Sweet Treats Worth Sharing
Gelato, sorbet, and frozen treats are desserts associated with summer, childhood, and happiness for many. In Japan, there are few options for sweets that people with diverse dietary needs, including food allergies and vegetarianism, can enjoy, too. Premarche Gelateria is changing this with their satisfying desserts, filled with all the right ingredients that can put a smile on all peoples' faces.
With around 40 delicious and creative flavors suitable for diverse needs, it will be tempting to come back for a second visit for another blissful dessert break. Be sure to bring your friend along to share the happiness that comes from a cool cone of gelato.
Made in cooperation with Prema Inc.

The information presented in this article is based on the time it was written. Note that there may be changes in the merchandise, services, and prices that have occurred after this article was published. Please contact the facility or facilities in this article directly before visiting.