Kippy's COCO CREAM - Healthy And Delicious Ice Cream For Everyone!
This service includes sponsored advertisements.
KIPPY'S COCO CREAM is a dessert shop in Tokyo. They offer non-dairy, coconut-based, flavorful and nutritious ice cream suitable for guests with allergies and dietary restrictions. This article introduces these healthy and delicious sweet treats.
Kippy's COCO-CREAM is a dessert shop serving scoops of delicious non-dairy, sugar-free, coconut-based ice cream located in a stylish neighborhood of Tokyo. Kippy's offers frozen treats that are enjoyable for everyone, including guests with allergies, dietary restrictions, or those wanting a healthier option.
This article introduces a place that will delight your taste buds while making it easy to choose a healthier dessert option.
Kippy's COCO-CREAM - Delicious Coconut Cream-Based Ice Cream!
Kippy's originally started in the coastal town of Venice, California in 2010. They are based on the concept of offering all-organic and nutritious ice cream on a daily basis. The Tokyo branch is the brand's second location, which opened in 2015.
The ice cream here is unique as it uses coconut cream instead of dairy as a base. It is also sweetened with either raw honey or dates instead of refined sugars. Each rich, mouth-watering flavor is made with five or less nutritious high-quality ingredients. All the ingredients are organically certified in the United States.
The ice cream here is gluten-free, dairy-free and a selection of the menu is even suitable for vegans. 
The Kippy's store also shares its space with DAVID OTTO JUICE, a shop selling cold-press juice. When you are on your way to the store, be sure to look for both businesses.
Choose from a Variety of Flavors
Kippy's offers about ten delicious flavors every day, including seasonal and special limited-time choices. Please note that the selection varies by the day and season.
Featured in the picture above on the top row from left to right: charcoal (seasonal), strawberry, berry swirl, chocolate chip, coconut honey, and raspberry sherbert (seasonal and made with coconut water). On the bottom row from left to right: vanilla date, coffee date, double dark chocolate, matcha, cinnamon, and blueberry sherbert (seasonal and made with coconut water).
The vanilla date and coffee date flavors are ideal for vegan customers who do not consume honey.
Many customers' favorites are coconut honey, double dark chocolate, and coffee date. The coconut honey flavor contains coconut water and raw honey. The double dark chocolate is made with coconut honey, cacao powder, and chocolate chips. The coffee date ice cream is flavored with unique tasting and nutrient-dense Maya nut powder instead of coffee, making it caffeine free.
There are three serving sizes to choose from: Mix & Match (2 scoops for 500 yen), Neopolitan (3 scoops for 720 yen), and Half-pint (4 scoops for 900 yen). All prices include tax.
If you are unsure about which ice cream to order, don't worry! You can taste test a few different flavors before making your decision. The menu is written in both Japanese and English, and the employees here can also understand simple English.
After choosing your flavors, how about picking some toppings to add to your dessert? Each topping is 100 yen including tax. Like the ice cream, the toppings are scrumptious, nutritious, and made with few ingredients. Many of these extras feature special ingredients known for their health benefits, including cacao nibs, goji berries, and bee pollen. Please note that the toppings available vary by the day and season.
In addition to dry toppings, you can try a decadent home-made sauce. Add honey salted caramel, berry sauce (vegan-friendly), or a hardening chocolate shell to create your own sundae. The employee in the photo is adding the honey salted caramel sauce to a Neopolitan. The honey salted caramel sauce is made with made with raw honey, coconut oil, and Himalayan salt.
Above is the Neopolitan (left) with raw honey flavors and Mix & Match (right) with vegan date flavors. The texture of both the raw honey and date ice creams are velvety and creamy. The smoothness is well balanced with the gentle sweetness from the honey and dates. The toppings add the final touch to these indulgent desserts.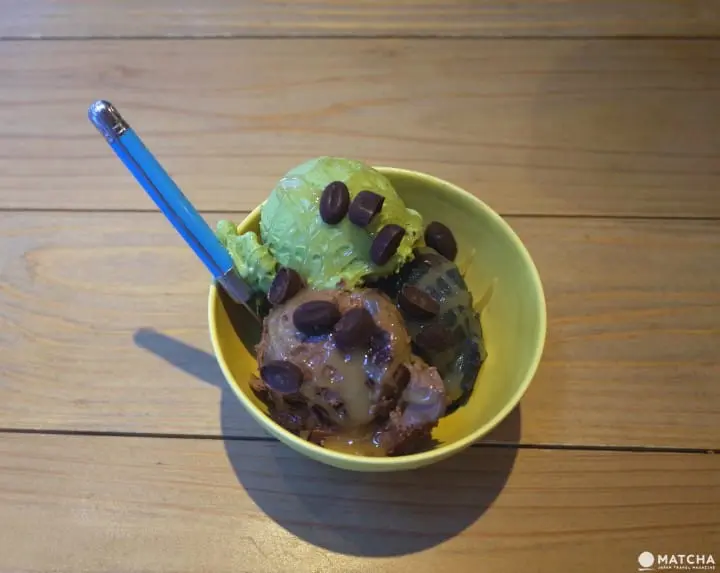 For our Neopolitan we tried the matcha, charcoal, and double chocolate flavors, topped with honey salted caramel and chocolate chip fudge bombs. Be aware that the caramel hardens the same way the chocolate shell does.
The double dark chocolate with its rich flavor is not too sweet and tastes like a dark chocolate bar. The matcha flavor contains a strong green tea flavor and is also not overly sweet. The seasonal charcoal ice cream has a light, refreshing, coconutty flavor and an interesting, slightly grainy consistency.
Next is our Mix & Match, with the vanilla date and coffee date flavors. It is topped with spiced pecans which are dusted with cinnamon. The vanilla date is full-bodied and warm. The coffee date has a refreshing coffee-like taste from the Maya nuts. The contrast of the creaminess of the ice cream and crunchiness of the pecans is delicious. The cinnamon pairs perfectly with the date ice cream too.
Both of these flavors, as well as the pecan nut topping, are suitable for vegan customers.
Kippy's is spacious and inviting, with a bright and modern looking interior. Customers can savor the bliss of a frozen treat while enjoying the view of the neighborhood from the windowed front.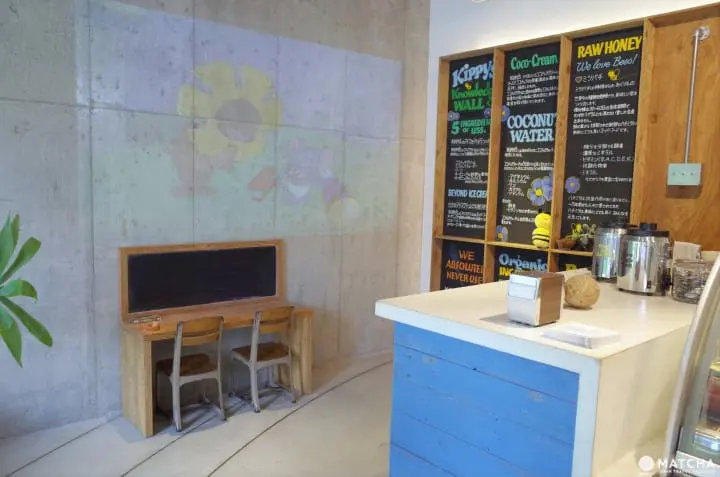 The shop is also welcoming to families and customers with kids, as the corner has a small desk where young children can eat ice cream and draw pictures. There are also cartoons broadcasted on the wall and an adorable bee mascot plush doll they can play with.
We All Scream for Ice Cream!
In Japan, the number of places catering to different dietary preferences is still small. Kippy's Coco Cream is making this classic childhood treat healthier and accessible to guests with diverse needs, one addictively delicious scoop at a time. The shop is closely located to the vibrant Takeshita Street in Harajuku, the famous Meiji Jingu Shrine, and Yoyogi Park.

If you enjoy sweets, indulging in some nourishing ice cream could be the perfect way to unwind after a trip to the lively Harajuku area.
Why not make time for a dessert break at Kippy's?

In cooperation with SAZABY LEAGUE, Ltd.




Written by

The MATCHA editorial department. Our articles feature useful travel information for visitors to Japan, from how-to guides to recommended places to visit.

The information presented in this article is based on the time it was written. Note that there may be changes in the merchandise, services, and prices that have occurred after this article was published. Please contact the facility or facilities in this article directly before visiting. Some of our articles contain affiliate links. We kindly ask our readers to exercise careful judgement when making a purchase or booking a service online.