Japanese Soy Milk: Varieties And Flavors All Tastebuds Can Enjoy!
Soy milk comes in many varieties in Japan. In fact, representative flavors such as sakura, matcha, and plum can be experienced through rich, creamy soy milk. How about trying a sip of some for yourself?
Soy Milk in Japan - Sip Fun and Traditional Flavors
Did you know that the most popular plant-based milk in Japan  - soy milk - is available in over 50 flavors? Soy milk ("tonyu" in Japanese), is a drink produced by grinding dried soybeans in water. It is a plant milk with very high nutritional content, containing a healthy amount of protein and carbohydrates, and no cholesterol.
For people who exclude dairy products from their diet, or just wish to have an alternative to cow's milk, soy milk is a great option that is also available throughout Japan at cafes, convenience stores, and supermarkets. Soybeans and soy milk have been a staple in East Asian and, particularly, Japanese diets for hundreds of years. It is, therefore, no surprise that soy milk is easily available everywhere and also in many different flavors.
Seasonal and Rare Varieties of Soy Milk
Soy milk in Japan comes in all types. The two most common types of soy milk come from Kikkoman and Marusan, two food making brands. In addition to plain flavors, coffee, vanilla ice cream, matcha, and hochija (roasted green tea), there is so much to try. Pictured above is cola-flavored soy milk. During the springtime, soy milk infused with cherry blossoms is a very popular drink. The sakura flavored soy milk is, in fact, a seasonally-limited product. It's a great way to experience the Japanese tradition of enjoying sakura flavored food in the spring––look for it at supermarkets or Don Quijote.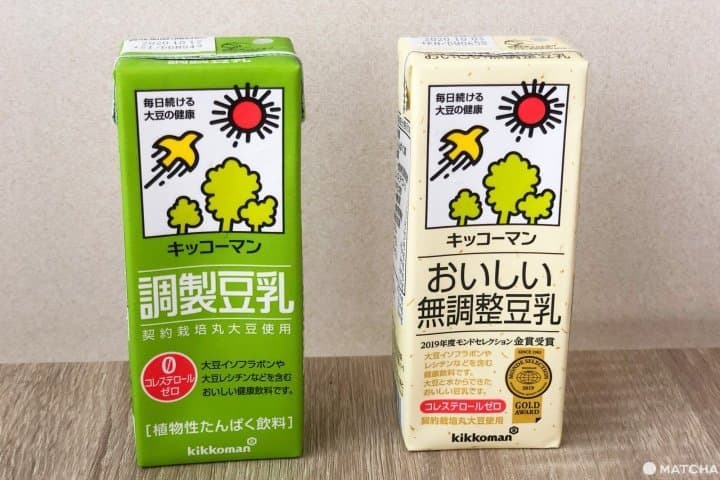 Convenience stores usually carry some of the popular flavors, such as plain, grain coffee, banana, and matcha (green tea) flavor. At the very least, they will carry plain (sweetened 調整豆乳) and unsweetened, plain versions (無調整豆乳), as shown above (sweetened green carton on the left, unsweetened white carton on the right). Soy milk sold in these small containers hold 200 ml.
Popular varieties such as plain soy milk, banana, coffee, or chocolate flavor even come in 1-liter containers. Some of the other flavors on the market are, for example, black tea, matcha, yuzu, ume (Japanese plum), sweet potato, mango, strawberry, and others. There are even varieties with specific dessert flavors such as vanilla ice cream, pudding, and cake-flavored soy milk drinks!
Enjoy Familiar Japanese Flavors
Japanese soy milk producers have surely tried to bring out familiar Japanese flavors in their soy milk drinks to enable people to enjoy these popular flavors through soy milk. At the supermarket, you will be able to find soy milk with flavors such as matcha, oshiruko, ume (plum), black bean, and even amazake (sweet sake).
The flavors are familiar to those who often eat Japanese food, while still keeping the soybean taste that many have come to love. If you are craving for oshiruko (sweet red bean soup) in the morning, why not have a glass of oshiruko flavored soy milk with your breakfast? Experiencing Japan's rich palette of flavors through soy milk is easy, healthy, and inexpensive!
Easy To Find!
Different varieties of soy milk are available at every food shop. This includes supermarkets, drugstores, convenience stores, 100 yen shops, and smaller kiosks. Recently, some vending machines have started to carry the small 200 ml soy milk types. Drugstores tend to have the cheapest prices starting from around 40 yen, while convenience stores usually have fixed prices at around 100 yen. The supermarket prices will most often lie at around 80 yen.
Japanese soy milk usually comes in 1-liter containers, while other flavors will mostly be available in smaller 250ml containers. Kikkoman is the most popular soy milk producer in Japan, producing most of the different varieties of soy milk on the Japanese market. Their current line-up of soy milk products can be viewed on their website, and includes over 40 different types.
Other soy milk producers have their own lines of various flavors. This means that there are many more flavored soy milk types than any other popular milk drinks, such as dairy or almond milk.
How to Enjoy Japanese Soy Milk
The flavored soy milk varieties sold in Japan can be enjoyed as a drink on the go or at home, served cold with ice   to create an at-home, cafe feel. Some varieties are also great heated up, like the coffee, matcha, and tea flavor types. Some of the more exclusive varieties have flavors such as sakura, Cola or ramune (a type of Japanese cider drink). Japanese soy milk types also make great souvenirs to bring back home to friends and family.

You can also enjoy soy milk as a frozen treat. Put a carton of soymilk in the freezer overnight and savor it when you are in need of a refreshing treat. Take out the soy milk from the freezer, cut open the top of the carton, wait a few minutes for the soy milk to soften. Take a spoon and enjoy! The vanilla ice cream (shown above) and macadamia nut soy milk are delicious as these easy "ice cream" treats.

Since soy milk is so inexpensive and available everywhere, we recommend trying out as many as you can. These beverages provide an easy way of experiencing traditional Japanese flavors and other favorite flavors. Many flavors are suitable for vegetarians and vegans, too!*

Some soy milk may use animal-based emulsifiers and non-vegan sugars, like bone-char processed sugars and honey. Please confirm directly with the manufacturer, or purchase vegetarian, vegan-certified products.

The information presented in this article is based on the time it was written. Note that there may be changes in the merchandise, services, and prices that have occurred after this article was published. Please contact the facility or facilities in this article directly before visiting.