Spice Up Your Rice! The Appeal Of Furikake Seasonings
Furikake are popular Japanese seasonings used to add flavor to rice, vegetable or fish dishes. These widely available and conveniently priced seasonings also increase the nutritional value of your meals!
Even if the Japanese diet is rice-based, that doesn't have to mean that you'll be eating plain rice all the time. By adding the popular rice seasonings called "furikake", which come in many different varieties, you can make a simple rice dish into a delicious meal. The tradition of using furikake in Japanese cooking helps transform plain rice and vegetables into a tasteful experience.
What is Furikake?
Furikake is a mix of spices and seeds that can be added to rice and veggies (or any other kind of meal you are preparing) as seasoning. Some of the main ingredients are sesame seeds and popular seaweed types such as wakame or nori. There are actually many varieties available to choose from. While some are vegetable based, there are also varieties that contain egg or meat.
These seasonings have been invented around the beginning of the 20th century when pharmacists were looking for ways to make food healthier. They created a powder based on seeds and sea vegetables, that could be added to meals to give them higher nutritional value. The richness of its taste made the powder a popular condiment in Japanese cooking and foods, and the tradition of using "furikake" to add taste to rice and other foods has since kept its popularity. As rice is the staple dish in Japanese cooking, furikake enabled the people to keep healthy diets without compromising the taste experience.
The Greatest Appeal of Furikake - They're Easily Available!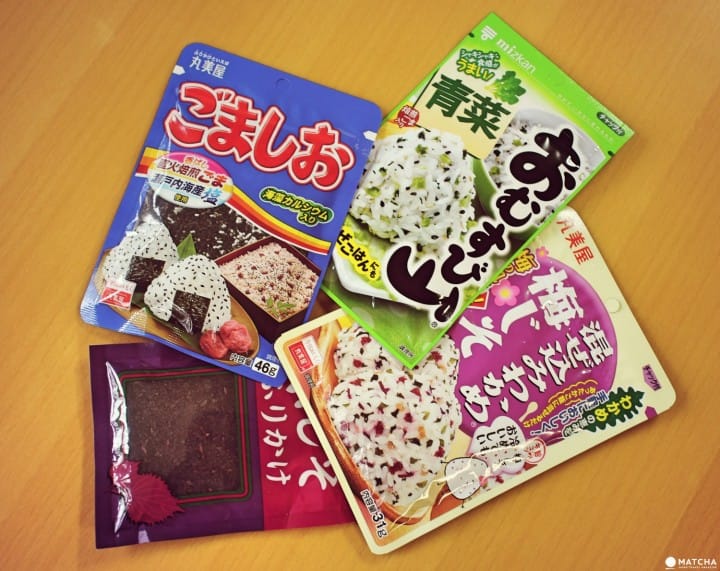 Various types of furikake are available at supermarkets, 100-yen shops, and convenience stores. At the Don Quijote chain all over Japan, they also sell furikake that is conveniently packed so that it can be taken as a souvenir to bring home to friends and family.
One package usually costs between 80 - 108 yen. At some supermarkets you will find furikake types priced as low as 60 yen.
Whether you want your rice to taste leafy, spicy or savory, you will find many different types to choose from. While some have just one or two base ingredients, others can contain up to ten different ingredients.
Making Onigiri Using Furikake
Furikake is usually sprinkled over rice, vegetables or fish. Another great way of using these popular Japanese seasonings is to make with them onigiri (rice balls). By simply adding some of the furikake to either the cooking water for rice or mixing it with the cooked rice, the seasonings will expand and blend in with the rice, giving it flavor. After the rice seasoning has blended in well with the rice, you can shape it into rice balls.
How about trying to make your very own vegetarian onigiri using the furikake mixes available at the supermarket?
Make Your Own Furikake
Although furikake is available at every food store, some people enjoy making their own varieties, either to bring out a specific taste or to use the natural and organic ingredients of their choice. Making furikake is fairly easy and there is no limit to the ingredient combinations possible.

As sesame seeds and sea vegetables like nori or wakame are the main ingredients in furikake, crumbling and mixing seeds, nori and salt will result in a good furikake base. After making this base, you may add whatever other ingredients you might desire to make your preferred furikake mix. You can add more leafy ingredients, your favorite spices, or other types of seeds and thus make a nutritional and tasteful rice seasoning of your own.

Remember that by seasoning your rice, vegetables, and meals with furikake, you're not only adding flavor to them but at the same time you're making these simple dishes into nutritious meals.

The information presented in this article is based on the time it was written. Note that there may be changes in the merchandise, services, and prices that have occurred after this article was published. Please contact the facility or facilities in this article directly before visiting.