Natural & Raw Food LOHAS - Enjoy Sapporo's Local Vegetarian Cuisine!
Natural & Raw Food LOHAS is a cafe restaurant that offers vegan, vegetarian and Halal dishes made with local vegetables. If you wish to enjoy the local raw food while in Hokkaido, how about stopping by this cafe in Sapporo's Susukino area?
Natural & Raw Food LOHAS is a healthy cafe located at the very end of the Tanuki-koji shopping arcade in the district of Susukino, downtown Sapporo.
Both its location and its veggie and halal friendly menu has made the cafe popular among travelers to Japan looking for healthy dining, or wishing to try the trending raw food style of cooking. Although not exactly a vegetarian restaurant, Natural & Raw Food LOHAS is particularly popular for its vegetarian menu, thus attracting a health conscious clientele. If you find yourself in Sapporo, you don't want to miss out on this cafe, as it's the only one of its kind in Sapporo. It's a great place to start one's exploration of Japanese style raw foods. On the menu you will also find the popular Hokkaido specialty - soba (buckwheat noodles).
Ever since its opening in 2007 Natural & Raw Food LOHAS has been the city's most popular natural cafe, being conveniently located in central Sapporo with many sightseeing and shopping attractions close by.
The Vegan Menu at Natural & Raw Food LOHAS
The Natural & Raw Food LOHAS cafe focuses on raw food, while also offering a menu that features Hokkaido's famous products: buckwheat noodles and local vegetables. The menu has therefore something to satisfy everyone's tastes, while still aligned with it's healthy conscious style.
The cafe menu is split in various categories: soba set meals, detox raw menu and dessert sets which include drinks. The popular raw food selection consists of raw sushi (made with cauliflower and veggie fillings), smoothies and cakes.
When asked what the most popular dish on the menu was, the main chef suggested the detox set meal. It consists of a bowl of brown rice, a tasty salad, and very delicious raw sushi. This sushi set is strictly vegetarian, so people excluding animal ingredients from their diets can enjoy it with no problems.
The set is also surprisingly affordable at only 1600 yen. If you think the quantity of food in the set is too large, you can choose a smaller one at around 800 yen. All of the dishes on the menu come with a bowl of delicious konbu miso soup. If you wish to eat something sweet after lunch, you can choose a dessert set which includes a piece of cake, the smoothie of the day and bowls of nuts and dried food.
What Is Raw Food?
Simply put, raw food is food that is not cooked above 40 Celsius degrees, and without processed ingredients such as sugar and oils. The most popular way of cooking raw is with vegetables, nuts, dried fruits, seeds and sprouts. It will most often exclude animal ingredients as well.
In recent years an interest in natural and raw foods has exploded in Japan and this trend has found its way also to Hokkaido -  the Japanese island known for good quality vegetables and natural foods.
Raw desserts are often made with a nuts and seeds bottom, and with layers made either also from nuts and seeds, or from frozen fruit. Refined sugar is often replaced by natural sweeteners such as honey or agave syrup. I was pleasantly surprised after having tasted the cafe's dessert menu.
The Raw Sushi at Natural & Raw Food LOHAS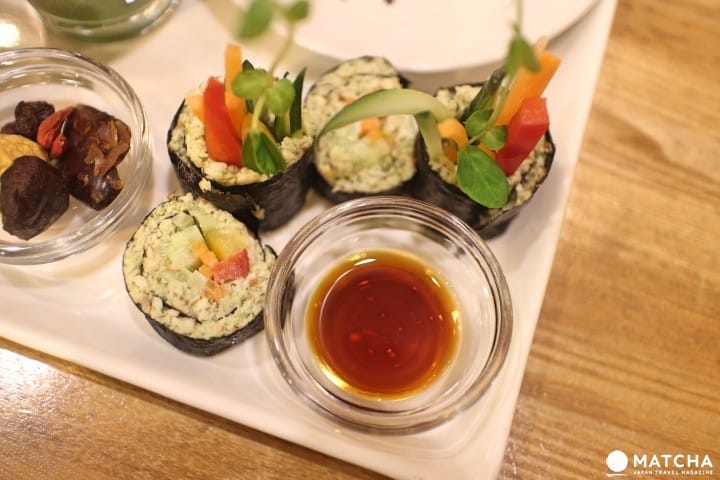 I was particularly intrigued by the raw vegetable sushi on the menu, which is made without rice. It uses instead a mix of mashed cauliflower wrapped around nori (seaweed), and then stuffed with veggie fillings. The raw sushi pieces are beautifully decorated with sprouts and arranged creatively on the plate. Without any cooked ingredients, the seafood flavor of the nori seaweed really brought out the taste of the vegetable ingredients in a very positive way.
Convenient and Relaxing
Natural & Raw Food LOHAS is a convenient choice for visitors (especially vegetarians and Muslims) finding themselves in Susukino, downtown Sapporo. The cafe is easy to spot at the end of the Tanuki street - a shopping arcade that attracts many customers every day. Its bright exterior with decorative lights and plants also makes the cafe very inviting and hard to miss.
When entering the cafe you will feel relaxed when seeing the the calm and bright decor. Its open kitchen enables you to watch the chef making the food, which is a great if you want to see how raw food cuisine is made. You can clearly see that the chefs at Natural & Raw Food LOHAS make their food with passion and love, something also noticeable not only in the taste, but also in how beautifully arranged these set menus are. The overall experience of this cafe, considering also its very convenient prices, makes you want to revisit in the very near future.
The English Menu Makes Your Dining Experience Stress Free
The menu is available in English, and there is also English speaking staff in the store. Moreover, the chef himself is also fluent in English, making it very easy to ask him about raw food and natural ingredients. If you are interested in raw or natural foods, the small shop inside the cafe sells many items that are popular when it comes to raw food cooking.
In Conclusion
When visiting Sapporo, do stop by Natural & Raw Food LOHAS! Whether you prefer vegetarian food, or are just interested in tasting good quality local cuisine, at Natural & Raw Food LOHAS you will surely find a dish you'll like.
The information presented in this article is based on the time it was written. Note that there may be changes in the merchandise, services, and prices that have occurred after this article was published. Please contact the facility or facilities in this article directly before visiting.