Sapporo's Nijo Fish Market - Enjoy The Freshest Seafood In Japan!
Located in Sapporo's central area, Nijo Fish Market is a popular sightseeing spot. In this article, we'll introduce the best ways to fully enjoy the market, including the top places for eating delicious, fresh seafood and shop for souvenirs.
Nijo Fish Market - Can Be Enjoyed in a Variety of Ways
Nijo Fish Market is located in Hokkaido's Sapporo city. Frequented by domestic and international visitors alike, this is a market that's bustling with people every day.
One of Nijo Fish Market's appealing features is that it can be enjoyed in a variety of ways. Inside the market, there are places where you can eat and drink, souvenir shops as well as many shops selling fresh fish, fruits, and vegetables.
However, for first-timers, it can be a little daunting, especially if you don't exactly know what kind of place Nijo Fish Market is.
In this article, we'll introduce Nijo Fish Market's appealing features. We show you how to purchase fresh marine products and our recommended restaurants where you can sample exquisite-tasting kaisen donburi (a bowl of rice topped with fresh seafood)
A Market Serving the Culinary Needs of Local Residents
Nijo Fish Market has a history exceeding one hundred years. Serving the culinary needs of the local community, it is loved by all the nearby residents.
For people in Sapporo in the past, it was considered to be an essential market. In addition to Hokkaido marine products such as salmon, crabs, and scallops, it also had fruit, vegetables, and other agricultural produce.
At the present-day Nijo Fish Market, there are shops that have been doing business unchanged for several decades, shops that have just recently opened up, and in the nearby area there has been an increase in the number of izakaya and other unique food and drink establishments.
It has become a popular sightseeing destination, perfect for eating fresh seafood and for picking out a good souvenir.
Let's Walk Around Nijo Fish Market
If you have plans to visit Nijo Fish Market, first you need to go for a stroll inside. There's seafood representative of Hokkaido including crabs and scallops, fish that one's never seen before, and processed foods unique to Japan such as dried fish (himono) and dried foods (kanbutsu), so you might possibly make a new discovery when visiting here.
When there's something that catches your interest, you can ask the shop staff, Kore wa nan desuka? (What is this?). They'll politely answer your question and perhaps even give you a complimentary food tasting.
One of the fun ways to enjoy yourself at Nijo Fish Market is by speaking with the various shop staff when you have a question or something you're curious about.
Shops Worth Checking Out at Nijo Fish Market
On the market premises, there are many places where you can eat fresh fish and seafood. During your visit, if there are any shops that look interesting, feel free to step inside and give the food a try.
Now we'll introduce our recommended list of restaurants for delicious fresh seafood.
1. Sushidokoro Keiran
Sushidokoro Keiran, is located right beside the east entrance to Nijo Fish Market.
This is a shop proudly serving fresh kaisen donburi, a bowl of rice topped with seafood, and also sushi. Every day it's bustling with out of town visitors, and is a popular destination for international guests as well.
There's an English menu available, and there are also Taiwanese staff on duty who can serve you in Chinese as well. So no worries for international visitors unfamiliar with the Japanese language!
Inside the shop they have both table and counter seating. If you sit at the counter at one of the seats at the far end, you'll have the unique opportunity of watching the chef preparing food right in front of your eyes.
Some of you might be thinking, "I've made the effort to come all the way here, so I'd like to try eating everything! Sea urchin (uni), crab, sushi..."
For people like you, we recommend the Sushigozen (3,200 yen including tax). It includes three mini-sized kaisen donburi dishes, three pieces of sushi, and also comes with a bowl of crab soup.
The three kaisen donburi are scallop-donburi, ikura (salmon roe)-donburi, and uni (sea urchin)-donburi. The three pieces of sushi are maguro tuna, salmon, and crab.
Though the kaisen donburi are considered mini-sized, there's more than enough here to satisfy one person, so customers can easily fill up on fresh seafood and sushi.
The dish that the shop's owner is most proud of, is the home-made ikura-donburi (salmon roe).
Actually, Sushidokoro Keiran manages Kondo Noboru Shoten, a store selling processed marine products and fresh seafood. Keiran's salmon roe is a special marine product that's processed with confidence by the pros over at Kondo Noboru Shoten.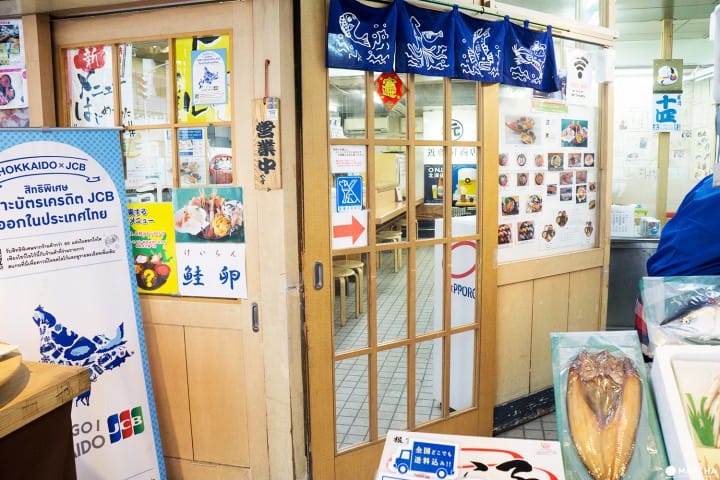 Both Kondo Noboru Shoten and Sushidokoro Keiran are housed in the same building, and you can enter Keiran through the door on the left side (see picture above).
At Kondo Noboru Shoten, you can buy dried foods and other processed marine products, and also home-made salmon roe that's used in the ikura-donburi.
After a delicious meal at Sushidokoro Keiran, how about picking out a nice souvenir here as well?
2. Oguma Shoten
Oguma Shoten, which specializes in kaisen donburi, is the market's newest shop having just opened in February 2018. A small shop with only seven counter seats, it looks much like a traditional sushi shop.
One of the enjoyable points of sitting at the counter is being able to communicate with the chef, a true Japanese craftsperson.
Though the staff don't speak English well, apparently they're studying hard every day. We were also told that they're learning how to greet customers in various languages, so let's try talking to them.
They have English menus with pictures too, so ordering shouldn't pose any difficulties.
Oguma Shoten's recommended dish is Kaisen Kitamae Funamori-don (2,880 yen including tax). When you order this dish, you can make your own kaisen donburi!
This order is for two customers, so it includes two servings of sashimi, and two bowls of rice (The photo above shows two servings of sashimi. When you actually order this dish, there will be one more bowl of rice).
Funamori (part of the meal's name), refers to sashimi that's been placed and arranged in a boat-shaped dish. It's a traditional method of arranging ingredients, that's also said to have been around since the Edo period.
In the picture above, there are some little national flags planted in the funamori dish. Actually, the shop has flags from many different countries, and if you mention your country to a staff member they'll gladly put your flag in the funamori dish.
With your country's flag planted firmly in the middle of the Japanese traditional funamori, by all means don't forget to take a commemorative photo.
At Oguma Shoten they're constantly on the lookout for ways to make your visit here more memorable, such as providing excellent service for international guests, and of course by offering fresh, delicious seafood.
For example, after ordering a meal, customers who share Oguma Shoten on SNS will receive a complimentary soft ice cream. We've been told that they're also planning new menu items and other services to make your next visit more enjoyable.
3. Nijo Crab Market
Hokkaido is famous for its crab. Fresh crabs are sold at Nijo Crab (kani) Market. Horse hair crab (kegani), King crab (tarabagani), Hanasaki crab (hanasakigani), and other fresh crab line the shop shelves when they're in season.
If you've had the chance to taste this fresh seafood, then you'll probably also want your family and friends to enjoy this delicious taste.
At Nijo Crab Market, they'll pack fresh seafood into a take home box for you.
You'll be relieved to know that shop staff will place some dry ice refrigerant inside the box to preserve the freshness of the seafood. When packed in this manner, the contents will be stored at a low temperature for about two days. So if you buy some seafood just before returning home, it should arrive at your home in peak condition (*1).
Being able to use your credit card when shopping in Japan is convenient, isn't it? In addition to credit cards, purchases at Nijo Crab Market can also be made with WeChatPay and Alipay, so paying will be a simple process.
*1: There are rules regarding what can be brought back into your country after traveling abroad, so please check for details ahead of time.
However, not being able to speak Japanese might be a cause for concern among those wanting to take seafood back home as a souvenir.
No need to worry! Some of the shop staff can speak English, so if there's anything that you don't understand, please feel free to ask them questions.
With a big smile, the staff will politely explain not only how to take a souvenir back home with you, but also the best way to eat a particular kind of seafood, and even how to cut and prepare it.
Also, prices will depend on the season and on the weight and amount of your purchase, so please check with the shop staff. If you do some bargaining, they might even give you a small discount!
Though crab makes for a great souvenir, you can also eat it fresh on the premises in the market's eat-in area, and in the restaurants across from the market.
There are countless ways to enjoy eating crab such as sashimi-style, baked, and boiled, so be sure to ask staff for their recommended way of eating. Let them know how you want to eat the crab, and they'll prepare it accordingly.
After you buy some crab, be sure to have your picture taken as a reminder of your experience. If you ask a staff member, they'll kindly take a photo of you and your group as you stand behind a large display of crab and other seafood.
Getting to Nijo Fish Market
Nijo Fish Market is located in Sapporo's central area only five minutes away on foot from Odori Station (subway), so it's easy to get to.

After you exit Odori Station, you'll see the Sapporo TV tower, a popular sightseeing spot. If you walk in the direction of the tower and then go a little past it, there's a river flowing by called the Soseigawa river. Cross this river and then proceed south for about three hundred meters, and you'll see Nijo Fish Market on your left hand side.

Across the street from the Nijo Fish Market, there's Tanukikoji Shotengai (shopping street). Also, if you go past Nijo Fish Market and continue walking alongside the river, you'll arrive at Sapporo's top entertainment district, the Susukino area.

The Nijo Fish Market area is home to many of Sapporo's popular sightseeing destinations. If you stay at a hotel in Sapporo's central region, you can easily walk to the market from there. Since many shops in the market are open for business early in the morning, we recommend walking there for your breakfast.

There are many ways to have a good time at Nijo Fish Market, such as eating fresh seafood and looking for the ideal souvenir, so on your next trip to Hokkaido be sure to stop in for a visit!

In cooperation with: Nijo Fish Market, Sushidokoro Keiran, Oguma Shoten, Nijo Crab Market

The information presented in this article is based on the time it was written. Note that there may be changes in the merchandise, services, and prices that have occurred after this article was published. Please contact the facility or facilities in this article directly before visiting.