Vegetarian And Vegan At Tokyo Disney! Disneyland And DisneySea Guide
Tokyo Disney Resort, with its imaginative rides and spectacular shows, is a must-see for many in Japan. Food is another part of the fun not to miss out on. This article lists vegetarian and vegan food at Tokyo Disneyland and Tokyo DisneySea, from Mickey-shaped frozen treats to meals.
Eating Vegetarian and Vegan at Tokyo Disney Resort
Tokyo Disney Resort, comprising of the Tokyo Disneyland and DisneySea parks, is known for its fantastical rides and shows. However, food is another characteristic that makes the area so magical. From colorful drinks to Mickey Mouse-shaped desserts and meals, eating at the park is an experience in itself.
With some preparation, vegetarians and even vegans can enjoy the Disney parks and its tasty treats, too. This is a guide for vegetarian and vegan guests,* or those looking to just looking to eat less meat. Continue reading to learn more about the snack and meal choices to make the most of Disney with fun and food.
*In this article, vegetarian and vegan are defined in the following way:
Vegetarian: not containing meat, fish, seafood ingredients, or those derived from it. The food may include dairy products, egg, and honey.
Vegan: does not contain meat, fish, seafood ingredients, or those derived from it. The food does not contain dairy products, eggs, honey, or any form of animal or fish and seafood-derived ingredient.
Tokyo Disneyland - Vegetarian and Vegan Food Options
Picture from Stay Cool! Tokyo Disneyland Summer 2019 - Shows, Food, And Shopping Guide
Tokyo Disneyland has some food suitable for vegetarian diners, but fewer without milk or dairy, making it slightly inconvenient for those on a vegan diet.
Restaurants and eateries with vegetarian items are listed in the Guide Map handed out at the park entrance, marked by a green leaf. Please be aware that menu options and ingredients change regularly, so confirm with employees at the restaurant or food stand you go to. Below are some suggestions when spending the day at Disneyland.
Vegan and Vegetarian-Friendly Desserts and Snacks
At the park, visitors can enjoy an iconic Mickey or Minnie Mouse-shaped frozen treat. The Minnie Ice Bar (Peach & Raspberry), Mickey Ice Bar (Tropical Fruits) are 300 yen each and are vegan and vegetarian-friendly. Another choice is a frozen mango bar, also priced at 300 yen.
Vegetarians have a wider choice for sweets and can also enjoy the Mickey Ice Cream Sandwich (300 yen) pictured above, and the Tiramisu Ice Cream Sandwich (300 yen), which has a Mickey Mouse imprinted on it. Cakes, ice cream, and other desserts will likely be vegetarian-friendly, but be sure to ask if you are concerned about gelatin or other ingredients.
Certain snacks sold at food stalls like popcorn, fruit, and bread can be vegetarian and even vegan-friendly. For example, the salt flavor and caramel flavor of popcorn (400 yen each, with tax) are suitable for vegans.
Another simple, healthy choice is the fresh fruit cup (450 yen with tax) sold at food stalls around Critter Country.
For something more filling, try Sweetheart Cafe for baked goods. The Rice Bread (Sweet Bean Filling) is 250 yen (with tax) and suitable for vegan and vegetarian diners. It is fluffy, shaped like a bone, and filled with red bean paste.
Vegetarian Meals at Tokyo Disneyland
For meals, those eating vegetarian can enjoy dining at the Eastside Cafe, which makes a vegetable pasta with a tomato-based sauce (comes in a set with an appetizer, bread, and beverage for 1,800 yen with tax). Another option is dining at Blue Bayou (pictured above), located inside the Pirates of the Caribbean ride. Diners can select a soymilk and vegetable quiche as the main item of the course meal (4,200 yen with tax).
For a casual meal, visit Plazma Ray's Diner, which sells a vegetable curry rice bowl topped with an egg (780 yen a la carte with tax), suitable for vegetarians.
There are no vegan meals at Tokyo Disneyland. However, side dishes like french fries and salad are free of animal and fish-derived ingredients.
Tokyo DisneySea Vegetarian and Vegan Food Options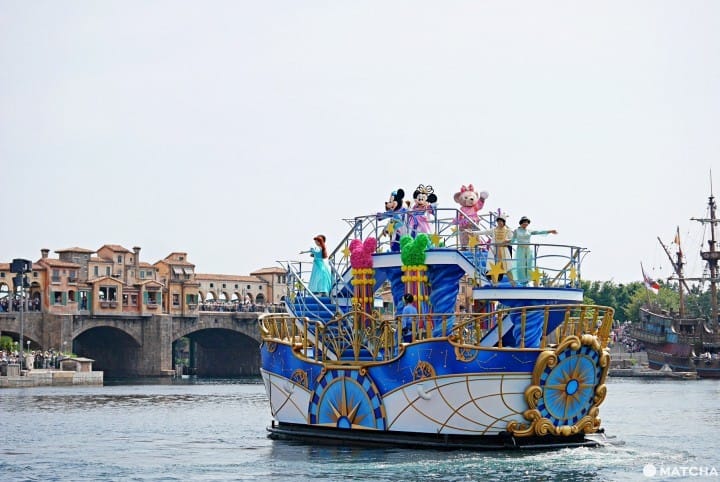 Picture from Tokyo DisneySea Summer 2019 Guide - Celebrate Disney Tanabata Days
There are comparatively more vegan-friendly, plant-based choices at Tokyo DisneySea, including snacks and meals at some establishments. Please note that menus and ingredients change periodically, however, so be sure to confirm directly at the eatery.
Restaurants and eateries with vegetarian items are on the Guide Map handed out at the entrance, designated with a green leaf. Below are some recommended food options to try when at DisneySea.
Vegan and Vegetarian-Friendly Desserts and Snacks
Similar to Tokyo Disneyland, visitors can try the ice pops shaped like Mickey and Minnie Mouse, and Frozen Mango (300 yen each). In general, vegetarians can enjoy other ice cream and desserts without issue. Shave ice, usually available during the summer season is also usually vegan-friendly.
Popcorn flavors at Tokyo DisneySea include black pepper, caramel, and salt (400 yen each, with tax).
Other vegan-friendly options at restaurants include side dishes like french fries at all eateries. Tortilla chip with salsa and avocado dip at Miguel's El Dorado Cantina and Sailing Day Buffet are also suitable. For something sweet, try Mama Biscotti's Bakery for the Walnut and Raisin Bread. Prices for each item vary by location.
Vegetarian and Vegan Meals at Tokyo DisneySea
For a full-course vegan meal, try Ristorante di Canaletto for vegetarian and vegan items. The restaurant will allow diners to modify choices like pasta and pizza to make them entirely plant-based, so be sure to ask the staff.
Ask the staff at Ristorante di Canaletto for vegan-friendly pizza.
Vegetarian-friendly meals are also at Casbah Food Court, which offers curry and rice, and Zambini's Brothers' Ristorante, a casual food court-style restaurant with pasta and pizza (prices vary by item). Be sure to inquire directly at the restaurants when you visit to confirm and see if they can accommodate further dietary requests.
Enjoy the Best of Tokyo Disney Resort with Delicious Food!
Tokyo Disney Resort, full of imaginative rides, shows, and a fairytale-like atmosphere, is a must-visit destination for many in Japan. While vegetarian and vegan food is limited, there are snacks and dishes visitors can savor, while taking in all the parks have to offer.
Please note that vegan options, in particular, are harder to find than vegetarian dishes. Also, as menus and ingredients change, always be sure to check firsthand before ordering or purchasing food.
For food near the parks, try Monsoon Cafe near JR Maihama Station, which serves pan-Asian cuisine, with choices like Vietnamese-style soups, vegetable stir fry dishes, and salad. For those using Tokyo Station, T's Tantan in the Keio Street area serves vegan ramen and noodles until late, making it a convenient stop after a Disney-filled day.
In cooperation with Oriental Land Co., Ltd.
The information presented in this article is based on the time it was written. Note that there may be changes in the merchandise, services, and prices that have occurred after this article was published. Please contact the facility or facilities in this article directly before visiting.