35th Happiest Celebration At Tokyo Disneyland! Don't Miss This Event!
Tokyo Disney Resort 35th Happiest Celebration is an event held from April 15, 2018 to March 25, 2019 in celebration of Tokyo Disney Resort's 35th anniversary. We'll introduce highlights of the events going on at Tokyo Disneyland!
A Limited Time Special Event
In commemoration of the 35th anniversary of its opening,  the special Tokyo Disney Resort 35th "Happiest Celebration" will be held from April 15th, 2018 (Sun) to March 25th, 2019 (Mon) at Tokyo Disneyland.
Both the parade and attractions have been renewed with an atmosphere overflowing in fun and happiness spread throughout the entire park. We've selected several highlights of the event to introduce in this article!
A Must See! The Afternoon Parade "Dreaming Up!"
Kicking off the start of the anniversary event is the premiere of this afternoon parade. Mickey Mouse will appear as the host onboard an extravagant float together with Pluto.
You will then hear "Door of Dream" being played in order for guests to be guided into the "World of Dreams".
Goofy will be the first guide into the World of Dreams. He will then be followed by a parade that will energize the crowd as familiar Disney characters sing and dance.
The centerpiece of this parade is Baymax! This is the film's first appearance in a parade. Baymax powerfully flies on top of the float with Hiro, another character from the film "Baymax", riding on his back.
Super popular characters such as Minnie Mouse, Chip and Dale, and Winnie the Pooh will also guide guests into the World of Dreams. How about watching the parade and immersing yourself in the fantastic World of Dreams?
The Reopened Popular Attraction "it's a small world"!
The attraction "it's a small world", loved since the park's establishment, underwent a drastic renovation and has now reopened.
This attraction consists of riding and boat and watching as adorable characters dance along to the melody of "It's a small world" sung in various languages in each area of the ride.
Following its renovation, approximately 40 new characters have been added to the attraction. These characters include those from Disney and Pixar films such as "Lilo & Stitch", "Frozen", "Tangled", and "The Little Mermaid".
The setting of the attraction starts from Europe. It's a fun cruise where you travel around the world to Asia, Africa, and several different countries too.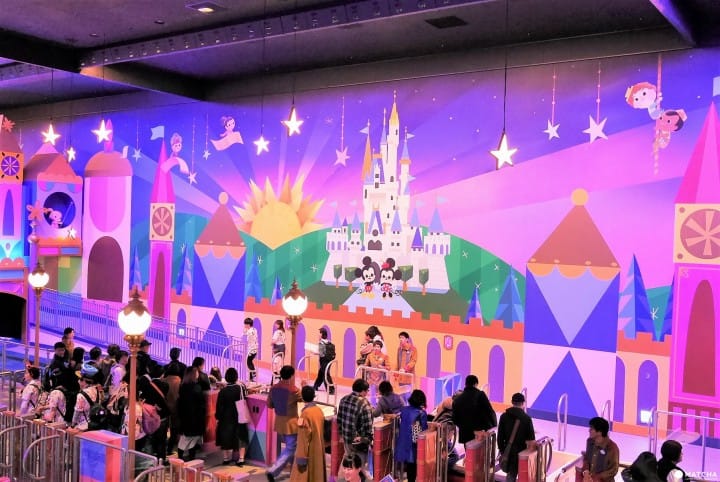 You can even enjoy your time waiting by gazing at the image of Mickey Mouse, Minnie Mouse, and adorable children from around the world drawn on the boat's station platform. This attraction has also been introduced into the Disney FASTPASS system, so you can shorten your waiting time to ride the attraction by getting a FASTPASS in advance.
Perfect Photo Spots! Park Decorations
There are also plenty of exciting photo spots for the 35th anniversary at Tokyo Disneyland! What about taking photos of your memory of your trip during the 35th anniversary together with the symbolic Cinderella's Castle?
You can find Mickey Mouse statues wearing various costumes in various spots in the park during the event.
At these spots, you'll hear Mickey Mouse's excited voice when you go near the statue with the limited edition Happiest Memory Maker (2300 yen plus tax)! Although it will be in Japanese, it'll feel as if you're walking together with Mickey Mouse inside the park if you hold it while walking.
The Happiest Memory Maker can also be used at Tokyo DisneySea.
There is also a decoration that warmly welcomes guests in the flower garden located right near the entrance of the park. It looks as if the red carpet is extending into the park.
Fun to See, Delicious to Eat Limited Edition Foods
Mickey Mouse Motif Set Products
A bread set made in the image of Mickey is sold at the Sweetheart Café. To the right in the photo is the Mickey Bread, Peach Jelly, and Drink Special Set at 1050 yen plus tax. You can choose from three varieties – cream cheese and blueberry jam, chocolate cream, and strawberry cream – for the bread's filling.
To the left in the photo is the Custard Cake (Red Bean & Strawberry) with Souvenir Case (1000 yen plus tax). The red beans are accentuated in the custard, giving it a flavor that's almost as if wagashi (Japanese sweets) has been placed inside, and deliciously sweet and sour strawberry jam is something you'll become addicted to.
Being able to bring home the silicon souvenir case as a gift is also a plus.
Foods Perfect to Eat While Walking
The Sandwich Wrap (Grilled Meat & Eggs) is a perfect food to eat while walking. It is 500 yen plus tax. The sauce and the taste of the perilla leaf has a balance that blends well together in your mouth.
This Kalbi Beef Cone looks like ice cream (500 yen plus tax). You'll find kalbi beef packed deep into the cone once you've eaten through the turmeric rice. The snack on top of the white sauce also has an interesting crunchy texture.
Churros, a classic food at the park, has been made purple and are being sold as Special Churros (350 yen plus tax)! It is characterized by a sweetness that is just like that of a sweet potato.
A Special Chocolate Crunch-Themed Shop Open for a Limited Time!
For Japanese people, this snack is a standard souvenir to the point that it's been said that "when you think of Tokyo Disneyland souvenirs, you think of chocolate crunch". The Pastry Palace, a shop in World Bazaar, will be transformed into a chocolate crunch-themed shop from April 15th, 2018 to March 25th, 2019.
Its concept is a chocolate contest. Donald Duck and his family will play a leading role in this shop. Chocolate crunch will of course be sold alongside a lineup of goods outside of food such as a Donald Duck Plush Doll Badge dressed in a themed costume, cups, and more.
The main item of the shop is the All-You-Can-Stuff Chocolate Crunch! Choose your favorite can out of two choices available and fill it with your favorite flavors out of six varieties of chocolate crunches. You'll also be able to select your can lid and ribbon, making it a souvenir just for you!
For details, please read the article "Make A Souvenir Just For You! Tokyo Disneyland's Time-Limited Chocolate Crunch-Themed Shop".
Tons of 35th Anniversary Limited Goods!
During the period of the event, there will also be limited edition goods. A staple item is definitely the Mickey Mouse and Minnie Mouse Plush Doll Badges (1900 yen plus tax each). They are dazzling in their 35th anniversary outfits, aren't they?
There are also adorable Chip and Dale Plush Doll Badges with twirling hats. This set is 2900 yen plus tax.
The World Bazaar Projection Mapping – A Sight Different from the Day!
Although the World Bazaar may be flashy during the day, it becomes very magical during the night. It has an atmosphere that is different from the usual thanks to the ten meter tall Celebration Tower and projection mapping displayed onto the walls of shops in the area.
It's a romantic space that feels as if you were being enveloped by magic.
Happiest Celebration! Enjoyable No Matter How Many Times You Go!
Tokyo Disney Resort is always filled with a fantastical atmosphere. For it's 35th anniversary, it has become even more brilliant and there's no doubt that it can be enjoyed by not only Disney fans, but also those that rarely have the opportunity to visit.
Tokyo Disneyland isn't the only place celebrating, because there's also a program that can only be experienced at Tokyo DisneySea. We recommend taking two days to enjoy both parks.
During this limited time of one year for the event, definitely please visit and surround yourself in the World of Dreams.
View Information
Tokyo Disney Resort
Address
Chiba, Urayasu, Maihama 1-1
Business Time
Depends on the season
Fixed holidays
Frequently updated
WiFi
Not Available
Accepted Credit Cards
VISA,MASTER,JCB,American Express,Diners Club,銀聯Card,Other
Languages
English, Chinese, Korean, Thai, Indonesian
Menu/Pamphlets in Other Languages
Available
Nearest station
Maihama Station (JR Keiyo Line)
Access
Tokyo DisneySea:
Fifteen minute walk from Maihama Station
Tokyo Disneyland:
Five minute walk from Maihama Station
Price
Adults (ages 18 and above): 7400 yen
Junior and High School students (ages 12 - 17):
6400 yen
Children (ages 4 - 11): 4800 yen
Free admission for children under age 3.
Telephone number
+81-570-00-8632
Website
Tokyo Disney Resort
Made in cooperation with Oriental Land Co., Ltd.