Create "Chocolate Crunch" Souvenirs At Tokyo Disneyland!
A limited-time special shop has appeared for Tokyo Disneyland's Happiest Celebration! Check out the chocolates themed after Donald Duck and his family members!
A Shop Only Open for a Limited Time During the 35th Anniversary Celebration
In 2018, Tokyo Disneyland will welcome its 35th year, and for the Happiest Celebration, the park will hold captivating anniversary events. The Chocolate Crunch shop, open until March 25th, 2019, celebrates Tokyo Disneyland's 35th anniversary. Chocolate Crunch is a staple souvenir for Japanese people who visit Disneyland, and you absolutely won't want to miss exclusive items!
Themed Around a Chocolate Competition by the Duck Family
The shop is themed around a chocolate competition held by Ludwig Von Drake, Donald Duck's relative. Donald Duck in a chef's hat, his nephews Huey, Dewey and Louie, the ice cream-making Daisy Duck, and the wealthy Scrooge McDuck all appear in the competition, making delicious and gorgeous chocolates.
In the shop, you can enjoy cartoons and interior design items with this story as a backdrop.
Take the Standard Souvenir and Make It Your Very Own! A Customizable Chocolate Crunch
In the Pastry Palace, you can make your own combination of Chocolate Crunch. Everything is customizable, down to the contents of the case. You can have fun making your selections. We'll introduce the four steps to making a Chocolate Crunch souvenir.
1. Choose the Can
You can choose from two cans: a yellow Donald can and a Huey, Dewey and Louie design only available until July 7th, 2018. After July 8th, apparently new cans will be released.
2. Fill the Can with Chocolate Crunch
Choose the can and fill it with your favorite flavor! In addition to the standard milk, white chocolate and strawberry flavors, there is a new strawberry cheesecake flavor, and exclusive caramel and yogurt flavors only available until July 7th. You can fill the can, which holds 18 pieces, with all six flavors.
3. Choose the Lid
Choose from a lid with a blue, white or gold design; find the one that best matches your can.
4. Choose the Ribbon
You can choose a green, pink or brown ribbon when you pay for your can. The staff member will tie it into a butterfly, creating a Chocolate Crunch can that is yours alone! You can experience the Chocolate Crunch Pick and Match for 1500 yen.
Many Other Cute Items!
Don't rush off after buying your Chocolate Crunch. Take a look around at the many exclusive products being sold, also themed around Chocolate Crunch.
This Donald and Daisy Duck mug (1500 yen), with its chocolate competition theme and melted chocolate design, is cute.
You'll want to use it with the similarly designed coaster (650 yen).
There is a key chain shaped like a Chocolate Crunch Pick and Match can (950 yen).
There is a Huey, Dewey and Louie stuffed animal three-pack (2900 yen).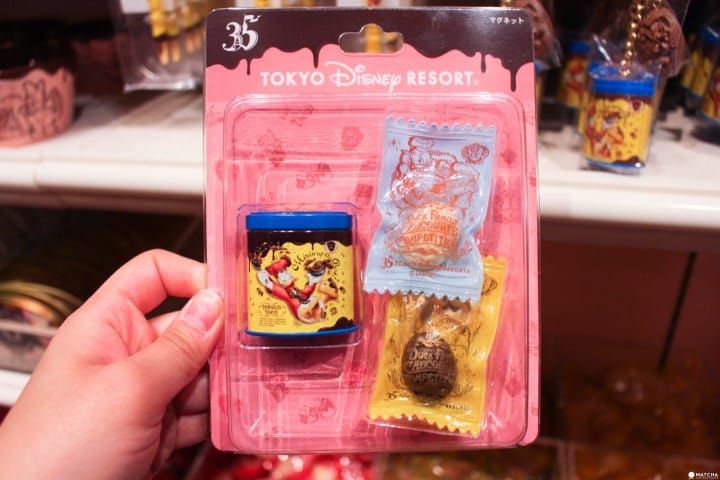 These magnets are shaped like a can and pieces of Chocolate Crunch (1200 yen).
There are plenty of other sweets in the shop, other than the Chocolate Crunch you choose yourself. This is the Chocolate Crunch Kit (1000 yen), which allows you to make your own.
The Crunchy Choco Cream marshmallows (600 yen for 14 pieces) are very light, so they're perfect for souvenirs to bring back home.
Too Cute to Eat! Limited-Edition Ice Cream Cone Products
Photos courtesy of: ©Disney
At the Happiest Celebration! Shop, there are ice cream cones too, not just the Pastry Palace. You can buy two kinds of ice cream here.
Photos courtesy of: ©Disney
Cookies shaped like Donald Duck's feet are laid out on top of the round scoop of ice cream, looking as though he's gone headfirst into your cone! This is the Chocolate Donut Vanilla Ice and Chocolate Crunch (500 yen/scoop), and there is also the Milk Soft Serve Cream and Chocolate Crunch (450 yen), modeled after Daisy with its purple ribbon chocolate topping. The ice cream contains Chocolate Crunch, and its texture is also the best.
Yummy!
The festive atmosphere wafts from every spot in the park, and there are future plans to increase the activities for the 35th anniversary celebration at Tokyo Disney Resort even more. If you head out to attend the festivities, check out the Donald Duck family's contest!
In cooperation with: Oriental Land Co., Ltd.
The information presented in this article is based on the time it was written. Note that there may be changes in the merchandise, services, and prices that have occurred after this article was published. Please contact the facility or facilities in this article directly before visiting.