2019 Disney's Easter Spring Event - Tokyo Disneyland Souvenirs And Things To Do
Tokyo Disneyland, fun for families and all visitors hosts Disney's Easter this spring. Learn about event highlights, like a special parade, limited-edition souvenirs, and photo spots!
Disney's Easter: A Special Spring Event at Tokyo Disneyland
Tokyo Disneyland is where you can enjoy various events for every season. The park is hosting Disney's Easter, an event for Easter, from Thursday, April 2, to Sunday, June 2, 2019.
In this article, we'll introduce a fantastic parade, park decorations, merchandise, and limited edition food to enjoy during Disney's Easter!
Spot Adorable Usatama Characters
Usatama ("rabbit eggs" in Japanese) are characters appearing in the park as part of the festivities for a limited time during this event! The Usatama were the cause of many unexpected incidents when the Disney Friends were preparing Easter eggs.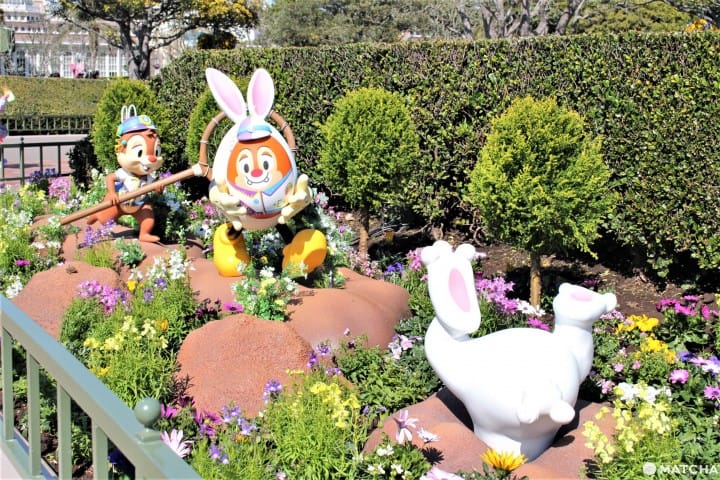 During the event, you'll see numerous Usatama that escaped into the park in entertaining scenes and poses.
Capture the Usatama! A Lively Parade
During the parade "Usatama on the Run!", Disney characters become Usatama Chasers to capture the Usatama that have escaped into the park.
Chip and Dale will come out riding this vehicle.
Minnie Mouse boards a balloon aircraft in search of the Usatama.
During the middle of the parade, the characters will also perform simple dances with guests. You can become a part of the Usatama Chasers if you dance with the Disney Friends!
There will also be Usatama parading during the middle of their showers. You won't be able to take your eyes off the funny Usatama!
Colorful Park Decorations at Every Corner
Brightly colored egg-shaped decorations and energetic Usatama make the park more fun and exciting.
Find Usatama and Take a Picture!
You can do more than just admire the decorations! Try to participate in the Egg Hunt with "Disney's Easter Search for Usatama!"
Open the pamphlet pictured above and you'll find a park map with several Usatama illustrations. There will be eight Usatama-holding nets called Usatama Catchers in the spots indicated on the map. You'll receive an original sticker when you find all eight of them!
The Usatama will be on the upper floors of buildings, playing golf on the lawn, or transforming into all-black. You'll feel as if you've discovered a treasure when you find these innocent figures.
The program pamphlet is enclosed in the Today booklet distributed near the park entrance.
Characters with an Egg Motif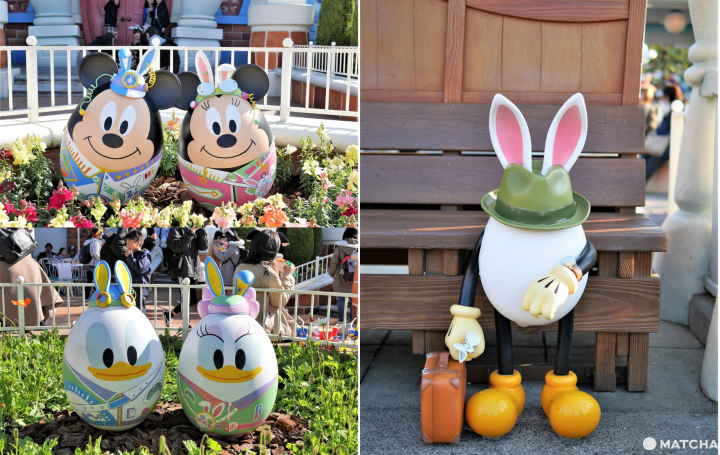 Don't forget to see these funny Usatama decorations along with Disney characters that have transformed into eggs. Try finding your favorite character in the park!
Fantastical Limited Edition Products
Walk Around the Park in Disney Gear!
T-shirt: 2,600 yen (S, M, L, LL), 2,900 yen (3L) Hairband: 1,300 yen Hair Accessory: 900 yen. All including tax.
Are you thinking of buying souvenirs on the way home? Consider purchasing them when you get to the park, as there is a lot of merchandise (*) being sold that will make the event and your day even more fun.
We recommend exploring the park while wearing this colorful, bright T-shirt and a rabbit ear hairband with an Usatama on top!
*Please note that merchandise varies in price.
©Disney
Plush Doll Keychains (1,800 yen including tax per doll) of the characters in their parade outfits are also for sale. Mickey Mouse, Minnie Mouse, Donald Duck, Daisy Duck, Chip and Dale, and Usatama are the characters that appear in this line-up. Walk with them around the park by attaching them to your bag!
Perfect for Souvenirs or Presents
From top left clockwise – Keychains: 1,000 yen each; Madeleine: 1,300 yen; Stationery Set: 2,000 yen; Chocolates: 1,000 yen. All prices include tax.
We recommend the egg-shaped products as souvenirs from Disney's Easter. The madeleines (pictured top right) and chocolates (pictured bottom left) themselves are not only egg-shaped, but so are their cases.
The item pictured to the bottom right are packaged in a carton, like actual eggs. Open them and you'll find stationery! It contains memo notes, paper clips, a pencil, and eraser.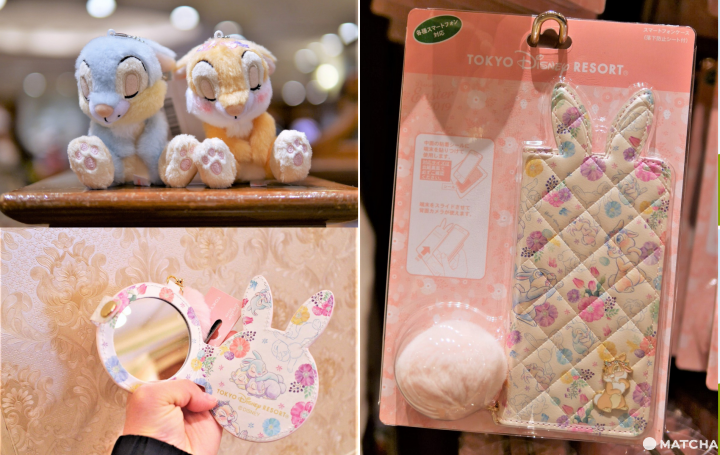 Plush Doll Keychains: 2,800 yen (2-Doll Set) Smartphone Case: 3,400 yen Hand Mirror: 1,300 yen. All including tax.
You will also find rabbit goods that match perfectly with the Easter theme. These are goods of Thumper and Miss Bunny from the movie "Bambi." The plush doll keychains will cheer you up just by looking at them.
The smartphone case and hand mirror come with an adorable fluffy rabbit tail. The hand mirror also comes with a strap, making it great for walking with it attached onto your tote bag.
Special Food to Celebrate the Easter Season
A Spring-Themed Sandwich
An egg-shaped Egg and Sausage Katsu Sandwich is served at Huey, Dewey and Louie's Good Time Café for the event in the Toontown area. It is 990 yen including tax, and comes with french fries and a drink.
There are four different sandwich wrappings with images of the Usatama playing in the park. Be sure to take notice of the wrapping before you take a bite!
A Menu Filled With Imagination!
We recommend the special set at Grandma Sara's Kitchen for a hearty meal. The main dish, roast chicken, comes with a lemon crumb cake for dessert and drink for 1,580 yen including tax.
On the side is ketchup rice, arranged in the shape of a cracked egg, with scrambled eggs pouring out of it. To the side are also Mickey-shaped carrots, giving it its Disney flair.
Grandma Sara's Kitchen is in the Critter Country area.
Sweets with Souvenirs
If you want to do more than just enjoy eating, how about getting sweets that come with a souvenir cup and plate? Sweetheart Café sells sweets that come with souvenirs decorated for the event.
The Orange Jelly and Vanilla Mousse (800 yen including tax) with rabbit ears made out of chocolate comes with a souvenir cup. If you want to get a souvenir plate, purchase the Peach Cream Cake (800 yen including tax). You can enjoy the rich sweetness of peach cream with this dessert.
*Products and menus may change in price and selection once they are sold out.
Enjoyed the Day? Visit Tokyo DisneySea Next!
If you've enjoyed the atmosphere unleashed by the Usatama, then head to Tokyo DisneySea for the park's own Disney's Easter event! Usapiyo, rabbit chicks, will welcome guests.
Tokyo DisneySea is also full of things to do, from adorable photo spots and Tokyo DisneySea limited-edition goods and one-of-a-kind performances.
Please enjoy the magical and colorful atmosphere of both parks.

*This article is a revision updated in 2019 of an article originally published on March 25, 2016.
Original Author: Mami Wakamatsu
In cooperation with Oriental Land Co., Ltd.
The information presented in this article is based on the time it was written. Note that there may be changes in the merchandise, services, and prices that have occurred after this article was published. Please contact the facility or facilities in this article directly before visiting.