Tokyo DisneySea Summer 2019 Guide - Celebrate Disney Tanabata Days
Disney Tanabata Days, based on a traditional Japanese event, is held until July 7, 2019 at Tokyo DisneySea. Take in the adorable and festive environment with limited edition goods and shows. Visitors can also enjoy Duffy's Sunny Fun Duffy until August 27!
Disney Tanabata Days – Celebrating a Legend of Love
Tanabata (Star Festival) is a traditional Japanese event that started in China and continues to share the story of two stars, Orihime (Vega, the weaving deity) and Hikoboshi (Altair, the agricultural deity), who fell in love and were separated. They are only able to meet once a year on July 7, or Tanabata.
Nowadays, festivals occur in various regions come the day of Tanabata. The festivities include the custom of writing your wishes and securing them onto bamboo leaves to pray to the stars to be granted, much like Orihime and Hikoboshi's desire to meet again.
Disney Tanabata Days is a special event held at Tokyo Disney Resort, centered around Tokyo DisneySea, from June 6 to July 7, 2019. There are many fun, unique event-only activities, including the Wishing Place where guests can write their wishes, Tanabata Greetings, and special goods.
Doll Costumes (4,800 yen per outfit, with tax), Duffy's Fashion Sunglasses (2,000 yen with tax)
Additionally, a special event called Duffy's Sunny Fun is held from June 6 to August 27, 2019, at Tokyo DisneySea! Get your hands on these adorable goods of Duffy and friends enjoying the summer!
In this article, we'll introduce ways to have fun at Tokyo DisneySea this July.
Make a Wish at the Wishing Place
During Disney Tanabata Days, the Wishing Place is set up on the pier in the New York area of American Waterfront at Tokyo DisneySea. Here you can write down your wishes. Along with Tanabata-related decorations, guests are provided with a space for you to tie the tanzaku you've written your desires on them.
Continue further into the Wishing Place, and you'll find tanzaku, pens, and string for the tanzaku on the table. Once you finish writing your wish, thread the cord through the hole and tie it onto a pole.
There are also decorations with refreshing and traditional Japanese designs nearby. You'll no doubt take the perfect picture with these decorations in the background.
Shop for Limited Edition Goods
Orihime and Hikoboshi can only meet when the Milky Way can be seen in the night sky. As such, goods that can also be enjoyed at night make an appearance. The Mickey Mouse and Minnie Mouse Plush Doll Keychains (1,800 yen each, with tax) glow in the dark, producing a magical atmosphere.
Chip and Dale have transformed into bright, flashing stars! These are room lights you to decorate your home with the characters' charming expressions (2,800 yen with tax).
A part of these keychains (1,800 yen for a set, with tax) also light up in the dark. The sentences written on each charm are wishes of Disney characters. Reading their hopes will make your smile.
These star-shaped tins contain pineapple soda-flavored candy (500 yen with tax; includes 8 pieces). The can is also useful as an accessory case once you finish eating all the sweets. The right-side picture shows Salted Caramel Cookies (1,100 yen with tax). They come with cute Chip and Dale charms for free.
Say Hello to Mickey During Tanabata Greetings!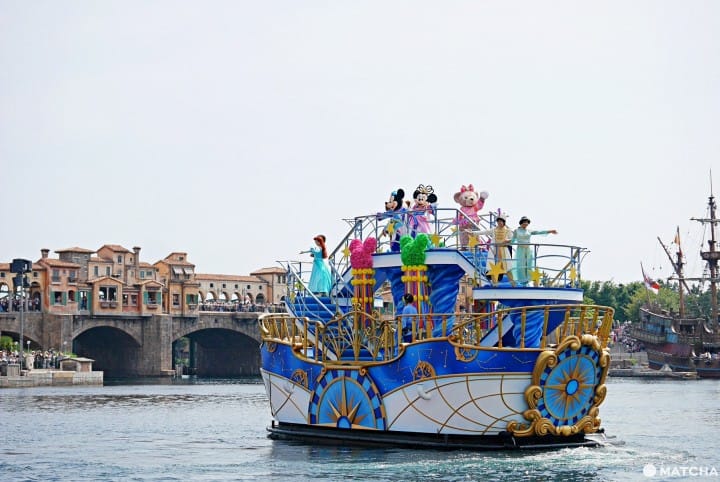 During the Tanabata Greetings, Mickey Mouse, Minnie Mouse, Duffy, Shellie May, and the princesses ride a boat at the Mediterranean Harbor. The characters greet guests as they travel on water.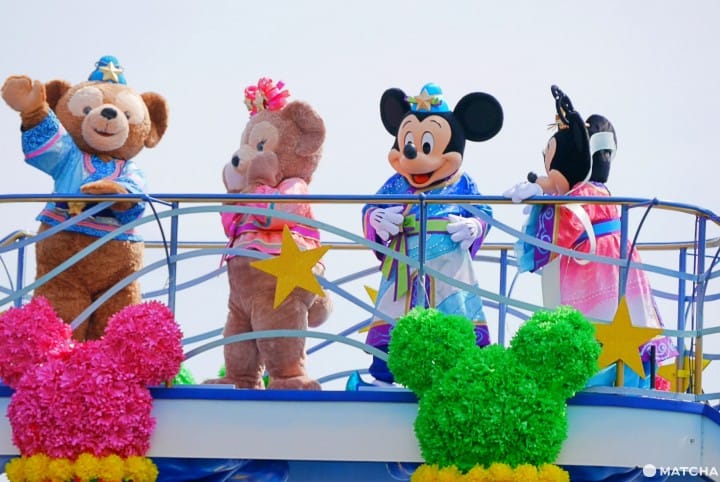 Once you see the characters, dressed in slightly colorful costumes, waving their hands, you'll want to wave back without even realizing it. The show is held twice a day. Don't miss it!
Feel Summer with Duffy's Sunny Fun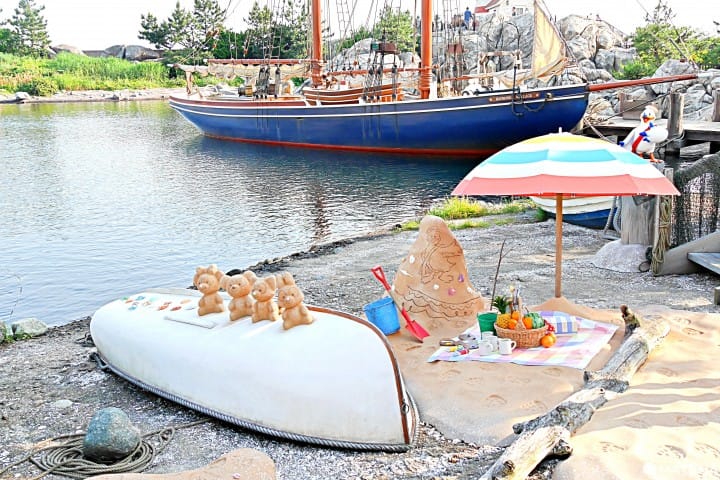 A special event called Duffy's Sunny Fun occurs in the Cape Cod area of the park, which is Duffy's hometown. Through the event, you can enjoy lovely decorations and foods only available during this period.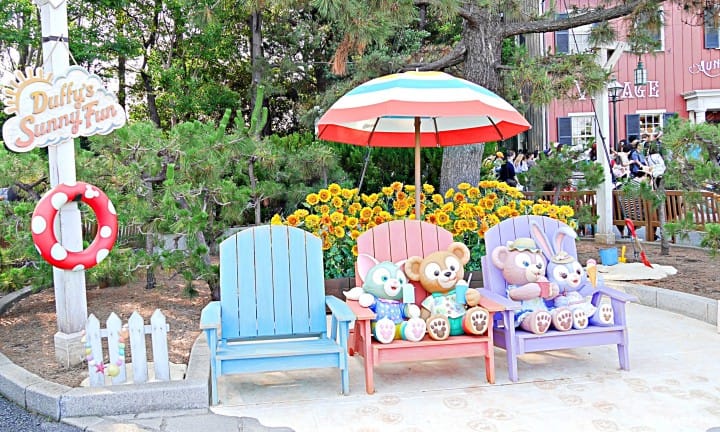 Want to take pictures together with the characters? We recommend going to this decoration with three benches set up in a row. Sit on the blue chair and it'll feel like you're enjoying the summer with Duffy!
Many enthusiastic Duffy fans in Japan walk around the park with plush dolls of Duffy and his friends. This is a must-visit spot for such fans, ideal for positioning their plushies and taking photos. If you have a Duffy doll, be sure to bring it!
A Must for Duffy Fans! Character Goods
How about wearing this cap with Duffy ears (3,500 yen with tax) and this T-shirt with an event-limited design (3,200 yen with tax) around the park? You can even get your plushie an event-limited costume (4,800 yen per outfit, with tax) to add to the fun.
The swimming intertube-style souvenir coaster that comes with an iced caramel milk tea is another item that will make you excited for the summer. Place your plush doll keychains into the coaster, and it'll look like Duffy is enjoying a swim!
Plush doll keychains are also available in their Disney Tanabata Days costumes. You can meet a Duffy and Shellie May that are different from their usual selves.
* Iced Caramel Milk Tea with Souvenir Coaster: 1,000 yen per set, with tax
Plush Doll Keychain (Duffy's Sunny Fun): 2,000 yen per doll, with tax
Plush Doll Keychain (Disney Tanabata Days): 1,800 yen per doll, with tax
Surround Yourself with Duffy's World on the Train
When traveling from JR Maihama Station to either Tokyo DisneySea or Tokyo Disneyland, try to ride the Duffy Wrapped Disney Resort Line.
The platform is decorated for the event, making it a great chance to take an adorable photo. You can also take a picture of the Disney Resort Line as it comes into the station by waiting at the end of the platform.
Duffy and his friends playing on the beach decorate the Mickey-shaped train windows. The walls of the cars have also been painted with illustrations to remind you of the beach, making it feel like you're by the ocean with Duffy and his friends.
A Must-See Program for Toy Story Lovers!
There many events at Tokyo DisneySea during summer 2019! For example, Fun Times with Toy Story 4 started June 14 for the release of "Toy Story 4". During the event, Toy Story-related character goods, foods, and decorations brighten up the park.
The same event is also held at Tokyo Disneyland, so be sure to visit both parks for the complete experience!
In cooperation with Oriental Land Co., Ltd.
*This article is a revision updated for 2019 of an article originally published on June 21, 2017.
The information presented in this article is based on the time it was written. Note that there may be changes in the merchandise, services, and prices that have occurred after this article was published. Please contact the facility or facilities in this article directly before visiting.