Tokyo Disney Sea Winter Holidays 2019 - Shows, Food, And Memories
Every year at Tokyo DisneySea is an opportunity to celebrate the winter holidays from day to night. In 2019, there were impressive shows, limited edition menus, and Christmas merchandise with unrivaled cuteness! Guests can enjoy the Fantasmic! show until March 25, 2020.
Celebrating a Colorful Christmas at Tokyo DisneySea
Tokyo DisneySea held its annual Christmas event from November 8 (Friday) to December 25, 2019 (Wednesday). This Christmas-themed event—with attentively made decorations and amazing shows—could be enjoyed with your eyes and ears.
The limited-edition menus also had a hidden Christmas surprise. This magical experience catered to all five senses was an unforgettable memory!
After passing through the gate, there was a huge curtain banner at the entrance, announcing the coming of Christmas. Once you take a step inside, the theme park will resemble a Christmas castle.
Holiday-colored ribbons embellished lamps along the streets. Even the shop windows changed their decorations to be Christmas-themed. Walk further, and you'll see a Christmas tree on display that'll make you want to stop and snap a picture!
At American Waterfront, you'll find a 15-meter Christmas tree fully bedecked with brilliant ornaments. It's by far the best photogenic spot!
When night falls, the theme park's decorations and Christmas trees are gorgeously illuminated, transforming the park into a romantic atmosphere.
Get Excited for the Holidays With Amazing Shows!
The park put on impressive shows to celebrate Christmas—a beloved holiday that comes once a year. Guests could immerse themselves in this fun party atmosphere with Mickey Mouse, Minnie Mouse, and all of the Disney characters!
It's the Holiday Season! Sing Christmas Songs With Disney Characters
"It's Christmas Time!" is a musical that took place in Mediterranean Harbor. Disney characters and dancers continuously sing famous Christmas songs, followed by splendid tap and line dance performances.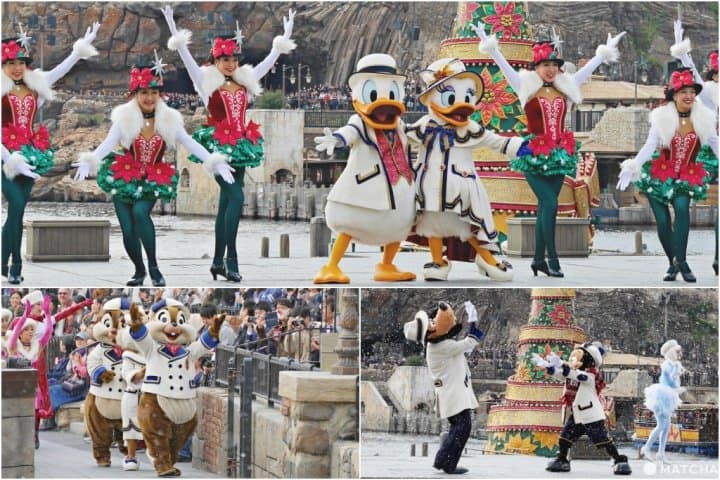 These notable Disney mascots not only appear on the main stage. They also turn out to the left and right of the stage, and even aboard boats. There was even snow falling midway through the show—adding another element of surprise!
Guests should pay attention to the songs, dance, and story. The miraculous and heartwarming ending heightened the celebratory atmosphere.
Color of Christmas: A Night Show Illuminating the Winter Sky
When night falls, it brings a totally different sight to the park with the "Color of Christmas." Beginning in 2012, this show that has enamored millions of guests had its final performance in 2019.
Several Disney characters appeared on boats circling around the Mediterranean Harbor as they sing and dance. The show reaches its climax once the towering 15-meter Christmas tree in the harbor illuminated against a backdrop of water, fireworks, and falling snow.
Duffy and Friends—popular characters exclusive to DisneySea—will appear on the boats to enjoy the show with everyone! As soft music plays, the spectacle comes to a close. The feelings radiating from this performance will multiple in magnitude if you watch it alongside a loved one!
The Christmas tree displayed in Mediterranean Harbor will continue to glisten after the "Color of Christmas" is over. Take your time viewing this seasonal decoration, even forging memories with a picture before leaving the park!
2019 Christmas Menu
The limited-edition menus during the Christmas season 2019 were a lot of fun. You could also snag a small present, which serves as a memento, by ordering a dessert set!
Select Five Set
The Select Five Set comes with a generous portion. The hamburger is juicy and flavorful, pairing delciously with the bread. Stamped with the outline of Mickey Mouse, the bun feels almost too cute to eat!
The onion soup is topped generously with powdered cheese and Mickey Mouse-shaped croutons. It'll warm both your heart and stomach! Dessert is a caramel mousse resembling a reindeer. A welcome tanginess from the orange transforms the flavor of the dish (2,080 yen with tax at Horizon Bay Restaurant).
Limited-Edition Sweets
1,480 yen with tax at the Queen of Hearts Banquet Hall and Horizon Bay Restaurant.
The Strawberry Shortcake is an essential dessert when celebrating Christmas in Japan. Each year, these cakes must be pre-ordered before they're sold out. However, you can have a Christmas cake without prearrangements simply visiting Tokyo DisneySea! Enjoy a delicious slice of Japan's unique Christmas culture!
The sponge cake is covered with whipped cream as white as snow. It's then piled with ruby-red strawberries that are embellished with a whipped cream ribbon. Finally, the dessert is topped with candy cane-shaped white chocolate, and a cookie of Mickey Mouse dressed as Santa Claus with Minnie Mouse.
Cut the cake to also find fruit hidden inside! Have you had the chance to taste Christmas cake in Japan? If not, visit Tokyo DisneySea during the next holiday season!
800 yen each with tax at Mamma Biscotti's Bakery.
One of the menu items that comes with a souvenir was an aromatic tart served with tons of rich coffee cream. A golden embellishment of Mickey and Minnie Mouse give the navy blue plate a subtle touch of brilliance.
The Chocolate and Milk Mousse with Souvenir Cup is sprinkled with walnuts, which gives it a pleasant texture! The aroma of the walnuts makes the mousse more aromatic and balances well with its chocolatey sweetness.
Enjoy Christmas Snacks While Admiring the Tree
This year, the "Taste of Christmas" is a seasonal Christmas snack exclusively available in the American Waterfront area.
The Okonomiyaki Roll is not only easy to eat, but also will warm up your cold hands. The roll has a fragrant sauce that pairs perfectly with draft beer.
Gazing up at the Waterfront's 15-meter Christmas tree, you'll feel the spirit of Christmas while indulging in this delicious snack! (Okonomiyaki Roll 550 yen; draft beer 620 yen; all prices included tax and were available at Restaurant Sakura's terrace seats).
Limited-Edition Mini Snack Christmas Case
850 yen with tax at Mamma Biscotti's Bakery
Found only at Disney theme parks, these adorable mini snack cases are collected by many Disney fans. This year's limited-edition Christmas mini snack case is a popcorn wagon covered in snow. It's also adorned in the classic Christmas colors of red and green.
The case is great for storing candy. It'll also look nice hanging on your Christmas tree to your surprise.
Don't Miss out on Limited-Edition Merchandise!
You've come all the way to Tokyo DisneySea. Now it's time to take home some limited-edition goods that are saturated with Christmas and winter cheer!
Limited-Edition Merchandise at Mediterranean Harbor
Bell-Shaped LED lights 2,300 yen; Mickey and Minnie Mouse plush dolls 5,100 yen each; plush doll keychains 1,900 to 2,900 yen; postcards 200 yen; all item prices included tax.
During the 2019 winter holiday season, Mickey Mouse, Minnie Mouse, and the Disney crew appeared as products dressed in their "It's Christmas!" show costumes.
Stationery and postcards were also available. After collecting a limited-edition postcard and original postmark, you could mail it from Tokyo DisneySea.
Duffy and Friends Merchandise
ShellieMay Plush Doll 4,900 yen; wallet 3,000 yen; prices included tax.
The Duffy and Friends merchandise was undeniably adorable. The characters are featured wearing fluffy winter clothes, with some plushies even holding onto a snowman. You'll want to collect them all.
Several versions of the straps and plush dolls were available along with stationery, cookies, and hot chocolate powder. It may be hard to make up your mind on what to buy!
Scarf 3,800 yen; cushion 4,500 yen; prices included tax.
The items are also embellished with snow motifs, such as the cushion above. You won't have to worry about which character to buy with this product. With just one purchase, you can add a product with Duffy and all of his friends to your collection.
You'll also spot a white scarf with a Duffy patch sewn onto its end. While the front is plain and simple, the back depicts a cheerful image of Duffy and his friends.
The Christmas-Filled Disney Resort Train!
The Disney Resort Train was transformed with a limited-edition Christmas design. Not only is the station decorated, but the Mickey Mouse train straps inside the compartments were also decked out in santa hats.
A one-day pass and station souvenir medal will feature a limited decoration. Try searching for it when you ride the train!
Your Last Chance to See a Key Show!
Alongside this special Christmas event, the highlights of 2019 included another original DisneySea show titled "Fantasmic!" This spectacle will come to a close on March 25, 2020. Similarly, "Color of Christmas" and the towering Christmas tree in Mediterranean Harbor will were featured for the last time during this holiday season.
Don't lose your last chance to see these shows. Experience a one-of-a-kind Disney experience in Tokyo with Fantasmic! and more.
ⒸDisney
In cooperation with Oriental Land Co., Ltd.


The information presented in this article is based on the time it was written. Note that there may be changes in the merchandise, services, and prices that have occurred after this article was published. Please contact the facility or facilities in this article directly before visiting.