Tokyo DisneySea Spring 2020: Pixar Playtime And New Duffy Friends!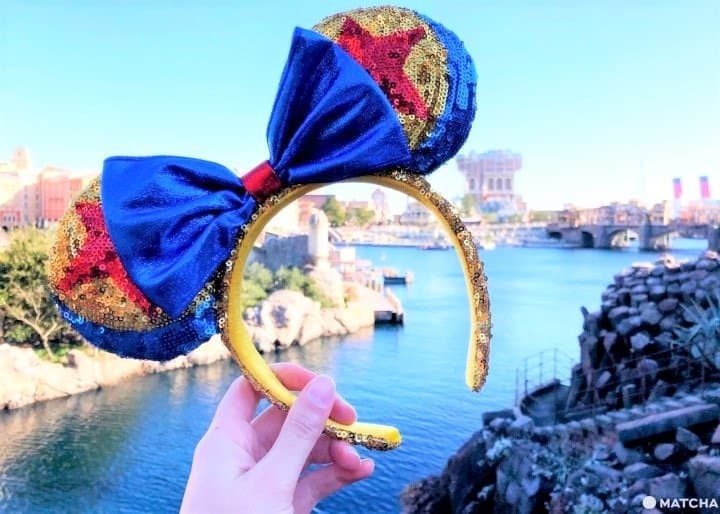 Disney Pixar and Duffy fans will be thrilled to visit Tokyo DisneySea in winter and spring 2020. Special Pixar and Duffy and friends events are held until around March 17, 2020. Learn about which events and performances to enjoy, limited-edition snacks and meals, and fun photo spots.
Dive into Spring 2020 at Tokyo DisneySea! Special Pixar and Duffy Events
Ready to end winter and welcome spring in Tokyo? Head to Tokyo DisneySea, where you can enjoy special parkwide events like Pixar Playtime and Duffy and Friends' Heartwarming Days between Friday, January 10 through Thursday, March 17, 2020.
From limited-edition shows to colorful photo spots and imaginative food, Tokyo DisneySea offers much to guests during later winter and early spring this year. This event report includes show highlights, food, and shopping to look out for.
Pixar Playtime - Have Fun with Your Favorite Characters
Pixar Playtime Pals is an interactive show where guests play games with characters from Disney Pixar films. Featuring characters from "Toy Story 4," the "Incredibles," "Finding Nemo," and more, watching is a must for Pixar fans of all ages.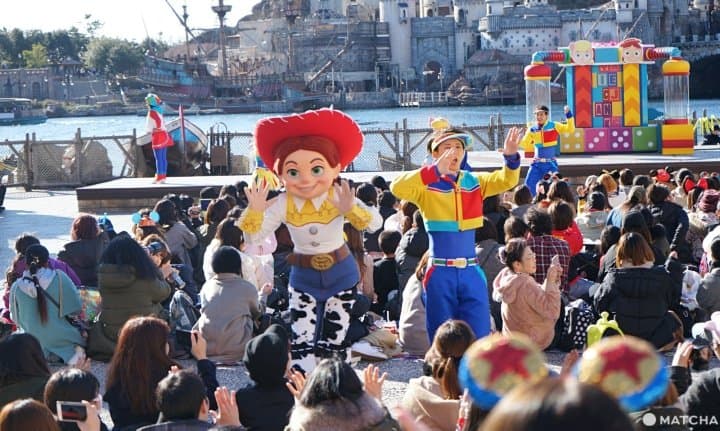 During the Toy Story part, the characters come out to the audience and divide them into teams to learn cheers. We were part of Jessy's team.
During "The Incredibles" part, everyone will get on their feet and stretch, and interact with the cast in other playful ways. Even Baby Jack Jack makes an appearance, so be sure to participate for a chance to meet this special character.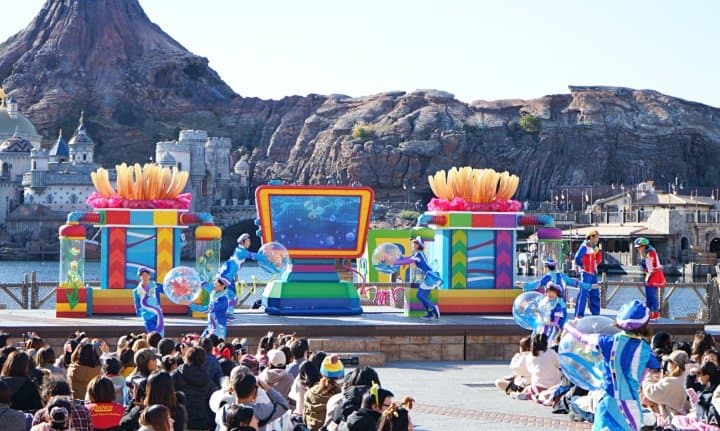 The third part features "Finding Nemo," as the audience will also play with Nemo and his friends, practicing whale noises. Cast members will bring in orbs with Nemo, Dory, and other favorite characters directly to the audience.
During the show finale, characters from many different films, like "Monsters Inc.," "Up," "Inside Out," and "Brave" make their appearances and interact with the audience. Feel free to high-five and greet your favorite Pixar characters, and be sure to take photos to capture the excitement!
Please note that the show is in Japanese––but it is enjoyable and easy to follow along even if you don't have language skills.
More Pixar Shows to Enjoy
During the Pixar Pals Steamer show, characters ride on a steamboat and greet guests from the water. The steamboats move quickly, so be sure not to miss it!
Another must-see attraction is the Lightning McQueen Victory Lap, an exciting parade and show featuring characters from the "Cars" series that occurs at the American Water Front.
Please refer to the pamphlets available at the front of the park for current showtimes and show locations.
Roam the Board Game-Themed Park
Board game decorations are scattered throughout the park, providing scavenger hunt-like amusement for guests. The entrance to Tokyo DisneySea is marked fittingly by a huge "start" sign above. This is where the board game fun begins!
Continue along to find more large, colorful paintings on the paths and spinning wheels for a more playful environment. For example, look for the house from "Up" to play a mini-game and spin the wheel for a personal challenge. This is great amusement for the young and the young-at-heart! The path will loop you around the park, through the various zones, until you reach the finish.
There are also elaborate photo spots throughout the park. The colorful decorations and larger-than-life figures (like the one featuring Baby Jack Jack above) make it easy to capture an entertaining shot every time.
Adorable Pixar Food with Souvenirs to Take Home
Many restaurants in the park offer special event-related menus during the event. With around 20 different offerings, from meals to dessert and drinks, there is something to please everyone!
One must-try is the special set (1,980 yen, with tax) from Horizon Bay Restaurant (above). The meal set is inspired by "Finding Nemo," coming with a savory hamburger patty, cream sauce, pink mashed potatoes, and vegetables on the main plate. On the side are a creamy onion and pumpkin soup, choice of rice or bread, and a dessert. For an additional 650 yen, purchase the souvenir luncheon mat to bring the fun of Pixar to your meals anytime.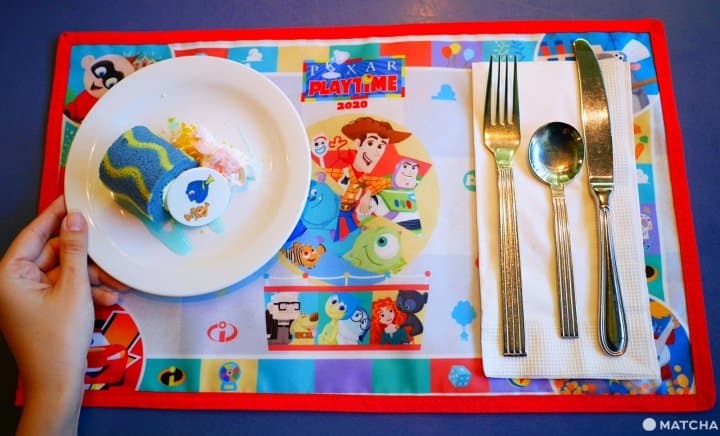 The dessert, a blue and yellow lemon cream cake, is adorable, featuring Nemo characters printed on an edible fondant chip. It is a light and refreshing cake that will leave you energized for the rest of your day at Tokyo DisneySea!
Mama Biscotti's Bakery also offers some special menu items that come with souvenirs, like the orange and white chocolate mousse in a mug, and a blueberry cheesecake on a souvenir plate (800 yen including tax each). These treats are perfect for those with a sweet tooth, wanting to take something special home.
Warm Your Heart with Cute Duffy Characters
Duffy and Friends' Heartwarming Days is another event at Tokyo DisneySea occurring during the same period as Pixar Playtime. This year, the event celebrates the release of the new Duffy character, CookieAnn––a puppy who loves baking.
Decorations and spots to take photos are scattered through the park (especially around the Cape Cod area).
Special Duffy food, including sandwiches, snacks, sweets, are available at the park. Pictured above is the vanilla and peach mouse with souvenir cup (900 yen with tax), waffle with souvenir cup (900 yen with tax). They taste as delicious as they look!
Try the caramel milk tea (above, 400 yen with tax), that is also available during this period. Aren't the cups just adorable? Souvenir mugs are available for purchase as well for a lasting memento.
Shopping - Pixar Playtime Items and Limited Edition Duffy Goods
Parkgoers can enjoy shopping from the limited collections of Pixar Playtime and Duffy and Friends' Heartwarming Days. The Pixar items feature colorful designs, and the Duffy goods have limited edition designs for CookieAnn, with soft and adorable patterns.
Brighten Your Day with Pixar Playtime
The Pixar Playtime collection is filled with colorful designs that will surely bring out the excitement of your trip to DisneySea. For chilly days, put on a cozy sweatshirt (3,900 yen) and keep your hands warm with the fuzzy hand warmer (1,900 yen). Add to your outfit with collectible keychains featuring Pixar movie characters like Buzz, Woody, and Nemo (1,000 yen each). All prices include tax.
For "Cars" fans, accessorize with these adorable earrings (1,300 yen with tax). The dangling ribbons are light, making them easy to wear.
New Duffy and Friends Goods
You'll be enchanted by these soft designs and pastel colors. The plush keychains above feature new designs of Duffy, ShellieMay, StellaLou, and CookieAnn, the newest addition to the Duffy's friend group (2,000 yen with tax each). We couldn't resist purchasing the new character in her adorable baker's outfit.
A variety of merchandise is available for all, from household items like chocolate molds, to sweets and cups. Duffy fans will feel overwhelmed by how adorable the goods are––go shopping soon, while supplies last!
Return to Maihama Station via the Duffy Disney Resort Line
One more surprise that will delight Duffy fans waits on the platforms of The Disney Resort Line. Some monorails are transformed into the Duffy and Friends Liner, with charming Duffy character designs inside and outside of the cars. Even the handles to grab onto are decorated. The one we rode featured CookieAnn handles––a final reminder of our fun day.
Rediscover the Charms of Tokyo DisneySea!
Running until March 17, 2020, Pixar Playtime and Duffy and Friends' Heartwarming Days are two events that are perfect for welcoming spring this year. Filled with colorful decorations, interactive games and shows, tasty food, and adorable merchandise, there is much to enjoy for visitors of all ages.

There is more experience at Tokyo DisneySea than what is mentioned above––for example, until March 19, 2020, the Tower of Terror will have special drops for extra thrills.

Tokyo Disneyland is also holding a special event during this time--Very Very Minnie, featuring all types of Minnie Mouse with exclusive shows, merchandise, and food.

Visit Tokyo DisneySea and Tokyo Disneyland for a day to remember!

Original Author: takagi

Duffy Menu Item pictures courtesy of ©Disney. In cooperation with Oriental Land Co., Ltd.

The information presented in this article is based on the time it was written. Note that there may be changes in the merchandise, services, and prices that have occurred after this article was published. Please contact the facility or facilities in this article directly before visiting.