A Special Early Spring 2019 Event! Tokyo DisneySea's Pixar Playtime
Do you love Disney Pixar films like "Monsters Inc." and "Toy Story?" Pixar Playtime is being held from January 11 to March 25 at Tokyo DisneySea! Learn about which events to see, limited-edition food, and other things to do at this event!
Pixar Enters the World of Dreams for Pixar Playtime!
Tokyo DisneySea is hosting a special event called "Pixar Playtime" from January 11 (Thursday) to March 25 (Monday), 2019.
Among the many things to see and do during this limited-time event, make sure not to miss the interactive performance, "Pixar Playtime Pals." Several Pixar characters appear on stage and encourage the audience to join in the performance.
Booths with entertaining games and photo spots are also available during the event. Read this article to prepare for Pixar Playtime!
Have Fun with Pixar Characters! Pixar Playtime Pals
Pixar Playtime Pals is a participatory show where guests can play games with characters from Disney Pixar films. First, let's enjoy the show together with characters from the "Toy Story" series!
Guests will also move around during a scene with Mr. Incredible and Elastigirl, his wife, from the movie "The Incredibles." "Finding Nemo" characters also make an appearance on stage.
The finale is especially exciting, as familiar Pixar characters appear on stage one after another.
These characters include Woody, Jessie, Lotso, and Rex from the "Toy Story" film series, Mike and Sulley from the "Monsters Inc." series, Grandpa Carl and Russel from "Up," Joy and Sadness from "Inside Out."
If you are a fan of Disney Pixar films, this is your chance to interact with your favorite characters up-close and personal!
The "Pixar Pals Steamer" Water Show
During the "Pixar Pals Steamer" show, characters will ride on two Transit Steamers and greet guests with a water show.
The steamboats move quickly, so be sure not to miss it.
The first boat features Woody and Jessie from "Toy Story." Mike and Sulley from "Monsters Inc." board on the next boat and greet guests.
Showtimes are printed on the TODAY pamphlets distributed near the park entrance. Be sure to check the showtimes beforehand if you're interested.
Into a Pixar World Inspired by Board Games!
You'll also find various surprises throughout the park!
The board game-inspired program is one such example. Through the program, you can enjoy mini games centered around the "Cars" series, "Toy Story" series, "Ratatouille," and "Up."
Of course, don't forget about taking pictures! Several limited-time photo spots await you at the American Waterfront, Port Discovery, and Lost River Delta.
Adorable, Pixar-Filled Food
Many restaurants in the park are offering special menus during the event. These menus are complete with aesthetically adorable desserts and filling menu items.
Special Dishes
At Café Portofino, you'll be able to enjoy the Toy Story Set (1,880 yen with tax).
This set includes curly green lettuce, celery, and creamy pasta with a refreshing lemon flavor. It is inspired by Rex from "Toy Story." The sausage and vegetable soup is inspired by Mr. Potato Head.
For an additional 600 yen, you can receive a souvenir luncheon mat so you can enjoy home-cooked meals with Pixar characters!
You can choose from three dessert selections for this set: a mixed berry mousse cake, panna cotta, or a cream roll cake.
For another additional 210 yen, you can substitute your drink with the limited time green apple soda (with whipped cream). The drink contains mixed fruit jelly, allowing you to enjoy a bright appearance and jellied texture. This drink is 410 yen with tax and can also be purchased as an individual item outside of the set.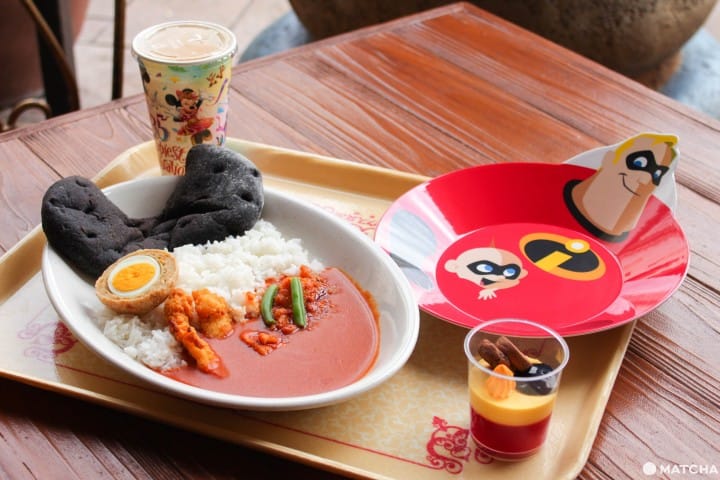 The Incredible Family Set is served at Casbah Food Court (1,580 yen with tax).
Its features include a red, spicy curry served with black naan modeled after a black mask. This dish represents Mr. Incredible's costume from "The Incredibles." This is a gorgeous set finished off with a lemon mousse and raspberry jelly.
You can also purchase a souvenir plate for an additional 1,000 yen.
"Duffy's Heartwarming Days" is another event at Tokyo DisneySea. Food items related to this event are sold at Cape Cod Cook-Off.
The special set comes with a souvenir lunch case for 1,990 yen with tax. It includes a BLT hamburger, french fries, and a soft drink.
Almost Too Cute to Eat! Toy-Like Desserts
From the "Monsters Inc." series, we have the lovely Mike Cookie Sandwich (with chocolate ganache) (400 yen with tax). Sandwiched between the cookies are colorful chocolate sprinkles.
The hot lychee drink (400 yen with tax) was inspired by Sulley and will also come with a souvenir coaster for an additional 400 yen.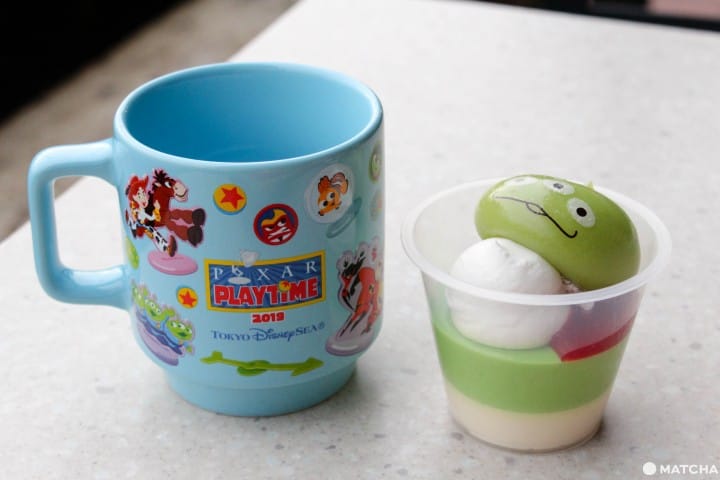 Next is this special menu that can be eaten at Mamma Biscotti's Bakery!
This is a dessert consisting of pistachio and vanilla mousse topped with a Little Green Alien Bun. It also comes in a set with a souvenir cup for 780 yen with tax.
The chocolate and strawberry flavored Little Green Alien Buns have been newly reinvented with an added lemon cream flavor. You'll become addicted to its springy texture and fragrance. It also comes in a set with a souvenir case for 980 yen with tax.
By buying the Colorful Chocolates with Mini Snack Case (800 yen each, with tax), you'll be able to eat chocolates whenever you want. The mini snack case comes in two designs. The first is a capsule toy machine that will dispense colorful chocolates when you turn the level while the second is a case made in the shape of Mike from "Monsters Inc."
If you're a Pixar fan, this these are goods you'll want to carry around!
Sky blue and purple are two colors that represent Sulley from "Monsters Inc." A 2019 limited souvenir plate will come together as a set with this Sulley roll cake (780 yen with tax).
You can also receive a Duffy souvenir cup with the Caramel Milk Tea (400 yen with tax), a seasonal winter hot drink, for an additional 1,200 yen.
Additionally, you can order the strawberry and cassis mousse to receive an adorable pink souvenir cup or the blueberry muffin for a souvenir plate (880 yen each with tax).
Recommended Pixar Playtime Limited Edition Items
If you're a Pixar fan, then you can't overlook limited edition items! This time, nearly 100 different types of goods have been released for the event. You'll definitely want to collect and buy them all if you're a fan.
Sweatshirt worn by the model: 3,600 yen with tax
If you want to immerse yourself in the atmosphere of the park, then put on these limited edition apparel. This knitted beanie (2,600 yen with tax) is not only cute but will protect you from the cold.
New Duffy and Friends Goods
New products for Duffy's Heartwarming Days have also been added to the Duffy and friends lineup. For the first time, craft supplies are also among the release of new products.
You'll be enchanted by these soft designs and pastel colors.
Make Your Way to the Tower of Terror!
Picture courtesy of ©Disney
The popular Tower of Terror is converted into the Tower of Terror "Unlimited" for a limited period of time. The ride's drop patterns have increased and the scariness of the ride has also doubled! If you're a fan of spooky things, then definitely give this ride a challenge.
Go and Rediscover the Charms of Pixar Playtime!
Our writer, who has now participated in Pixar Playtime twice, felt like the 2019 event has upgraded even further from its previous year. The event is, of course, full of both event products and special menus!
If you are a fan of Disney Pixar films like "Toy Story," "Finding Nemo," and "Monsters Inc.," be sure to visit the park during this special event!
Original Author: takagi
In cooperation with Oriental Land Co., Ltd.
The information presented in this article is based on the time it was written. Note that there may be changes in the merchandise, services, and prices that have occurred after this article was published. Please contact the facility or facilities in this article directly before visiting.