Disney Christmas 2018 - Celebrate The Holiday Season!
Tokyo Disneyland is welcoming the 2018 holiday season with a Christmas event. This event, combined with the park's 35th anniversary, features festive parades, special food, photo spots, and cute gifts.
Disney Christmas
Disney Christmas, a special event at Tokyo Disneyland is from Thursday, November 8 to Tuesday, December 25, 2018. There will be special shows and limited-edition merchandise during this time.
Happiest Celebration!, the 35th anniversary event of Tokyo Disney Resort, is also being held this year. MATCHA made a visit to the park, which was filled with the festive atmosphere from both the anniversary celebration and holiday season.
Disney Christmas Stories
This is a Christmas parade featuring Disney characters on seven floats, showing the fun of spending the holiday season with loved ones.
Donald Duck and his friends appear on the first float, greeting the guests to their party.
Characters from the movie Toy Story stand on top of boxes of presents, as if they are handing out gifts to the guests.
Mickey and Minnie Mouse ride with Chip and Dale, looking happy to be with their friends.
Mickey will be greeting guests, waving to them and giving them high-fives. Be sure to join the fun!
Belle and Beast ("Beauty and the Beast"), Anna, Elsa and Olaf ("Frozen") also appear in the parade as various Christmas songs play in the background. This event is filled with a romantic, warm atmosphere.
The parade is held twice every day for about forty minutes.
Christmas Decorations
There are special decorations in the park for the Christmas season, especially around the Cinderella Castle.
At the plaza in front of the castle, there are scenes of Disney Friends enjoying the holidays in a Christmas town, with Mickey carrying a bundle of presents.
This is the perfect spot to take photographs, and also to exchange presents with your friends.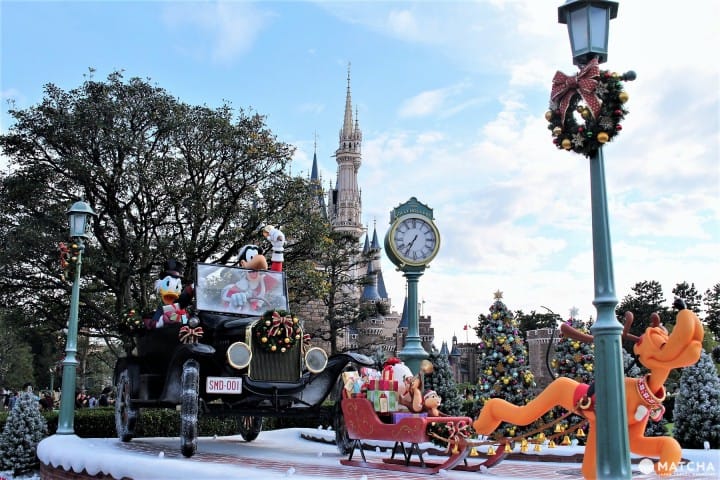 At the plaza on the opposite side, Chip and Dale is wearing a Santa Claus hat and riding a sled pulled by Pluto. The Cinderella Castle can be seen in the background, so this is another spot to take photographs.
The Christmas tree at the castle, which happens to be an real tree, is decorated with items related to the 35th anniversary and Disney. Although it looks gorgeous in the daytime, the tree is illuminated at night, creating a fantastic atmosphere. Be sure to see both versions.
Special Christmas Menus
Roast Chicken Set
Grandma Sara's Kitchen, located near Haunted Mansion, serves a special set menu (1,580 yen including tax).
This menu consists of roast chicken with mushroom cream sauce, vegetables and dessert, so it is fit for those with a healthy appetite.
Special Sweets: Cute and Delicious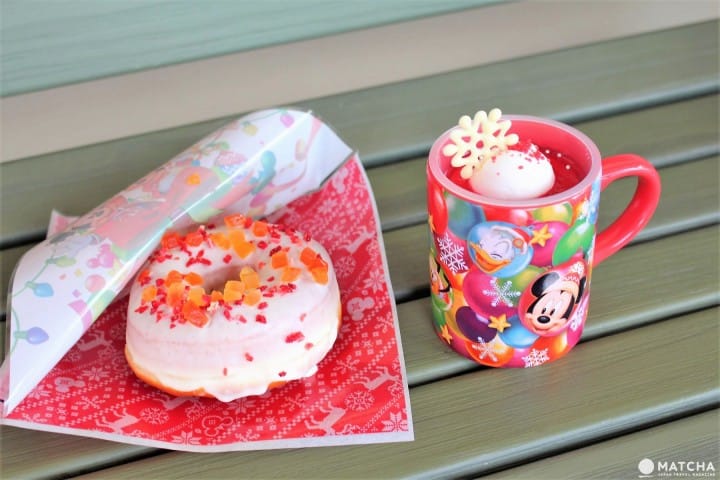 The Christmas style special doughnut (350 yen including tax) can be purchased at the Food Booth. The crispy dried papaya on top is superb.
Sweetheart Cafe serves apple jerry and mixed berry mousse with a souvenir cup (780 yen including tax). Take the colorful cup home as a souvenir, and bask in the Christmas spirit.
Hot Drinks to Warm Your Body
The winter season calls for a hot drink. Apple and cinnamon hot drink with a souvenir sleeve (900 yen including tax), which comes with large chopped apples, is served at both the Boiler Room Bites and Troubadour Tavern. The fluffy sleeve is perfect to carry the hot cup.
Enjoy Snacks While Waiting for Attractions
Chocolate and gummi candy is sold at various events in charming packages. This year, the winter character SnoSnow and Mickey, clad in the Tokyo Disney Resort opening event costume, are both featured on the package. These snacks should also be a perfect souvenir for your friends.
Christmas Merchandise
SnoSnow
SnoSnow is the popular souvenir in winter, with Mickey, Minnie and Pluto all transformed into snow figures. The price of the stuffed doll badge, a staple souvenir item, is 1,500 yen.
Upper Left Photograph: Charm/Upper Right: Memo Pad/Lower Right: Ballpoint Pen/Lower Left: Snacks
There are other souvenirs related to SnoSnow.
If you want a compact stuffed doll, take a look at the charm set, which comes with three dolls (1,500 yen including tax). There are various stationery such as the memo pad (800 yen including tax) and ballpoint pen (1,300 yen including tax) with cute designs, which also comes in three pieces. Senbei (rice crackers) are also sold in packages with SnoSnow designs.
Popular Merchandise in Event-Related Designs
Every event has its own stuffed doll badge. This is a standard item, as some guests collect the badges from various events and pin them on their tote bags.
The photograph shows various characters in their Christmas parade costumes. Winnie the Pooh, who didn't appear in the parade, looks warm in sweater and cap (1,800 yen including tax). The Chip and Dale set is 2,900 yen including tax.
Chocolate Crunch, another popular item, is also sold in Christmas packages. The large can (1,700 yen including tax) contains three flavors (milk-, white- and mixed berry-chocolate), with twelve pieces each.
A special Chocolate Crunch shop will be open inside Pastry Palace until March 25, 2019. Guests can pack their favorite flavors into a can by themselves, so don't miss it.
Enjoy the Christmas Atmosphere
There will be Christmas illuminations at Celebration Street in the World Bazar. It will be repeated several times after starting at 17:05, so the guests will be able to watch it while choosing souvenirs.
The Christmas event is packed with highlights. Make sure to take this chance to visit Tokyo Disneyland with someone special.

This article is a revised version of the original, published in November 16, 2017.
In cooperation with Oriental Land. Ltd.
The information presented in this article is based on the time it was written. Note that there may be changes in the merchandise, services, and prices that have occurred after this article was published. Please contact the facility or facilities in this article directly before visiting.