Tokyo Disneyland Summer 2019: Tanabata Days and Toy Story 4
Make the most out of summer with events at Tokyo Disney Resort! This article covers Disney Tanabata Days, an event celebrating the summer Japanese tradition that ended on July 7, 2019, and a "Toy Story 4-" related event with one-of-a-kind goods and limited menus held until September 1, 2019.
Have Fun with Two Summer Tokyo Disney Events
At Tokyo Disney Resort, Disney Tanabata Days was held until July 7, 2019. Based on the legend of Tanabata, Mickey and Minnie Mouse—dressed as Hikoboshi (the star Altair) and Orihime (Vega), respectively—greeted guests alongside other Disney characters dressed in traditional clothing.
Another special event, Funtime with Toy Story 4, is held until September 1, 2019. This event is related to the movie "Toy Story 4," which was released this summer.
The following is an on-site report of the theme park's festivities along with recommendations on how to enjoy these events.
Making a Wish with Mickey and Minnie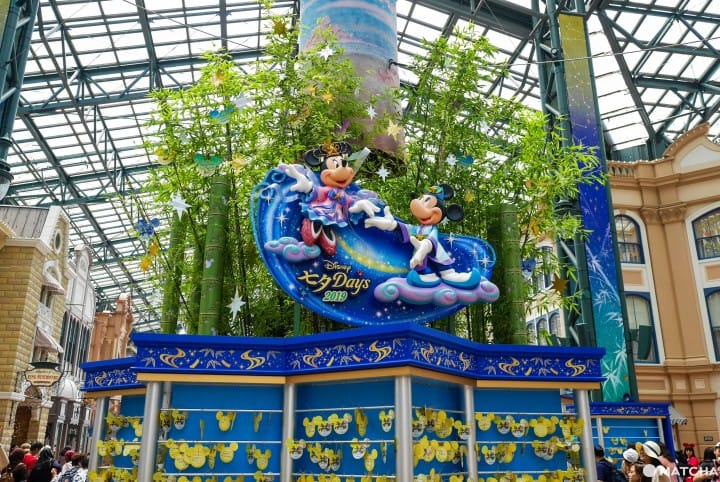 As many Japanese annually make wishes during Tanabata, the Wishing Place appeared at the World Bazaar inside Tokyo Disneyland.
A large decoration featuring Mickey and Minnie, dressed as Hikoboshi and Orihime, surrounded by bamboo stalks, created a Japanese atmosphere.
Visitors wrote their wishes on a Mickey-shaped card. Nearby, wishes made by other Disney characters could be seen on display as well.
At night, the World Bazaar was illuminated by a gorgeous projection mapping display as guests enjoyed the Tanabata-themed music which filled the air after sunset.
Decorated by fantastic lights that appeared like magic, the World Bazaar resembled the Milky Way with Disney characters disguised as constellations. The scenery created a long-lasting memory of the enchanted visit.
Tanabata Greeting
With the Tanabata music playing in the background, Mickey and Minnie dressed as Hikoboshi and Orihime appeared on a rickshaw while greeting park guests. Other Disney characters, some riding floats, also joined in.
The Disney princesses danced to celebrate Tanabata.
Minnie, adorning a Tanabata-themed dress, resembled a princess! A photograph of Minnie against the backdrop of Cinderella Castle looked even more romantic.
Limited-Edition Tanabata Merchandise
About forty items related to Disney's Tanabata Days were also on sale.
Many park visitors were enchanted by the adorable stuffed Mickey and Minnie plushes, dressed as Hikoboshi and Orihime, priced at 1,800 yen per doll (including tax). A star-shaped stuffed doll and an interior light of Chip and Dale, priced at 2,800 yen each (including tax), were also popular.
Photograph courtesy of © Disney
During the event, limited items designed with a Japanese aesthetic were also on sale. Earrings (650 yen), folding fans (2,200 yen), yukatas, and mini-sized towels would all come in handy on a trip in Japan (All prices include tax).
The picture above shows a soap bubble machine, a popular item with children. It creates colorful bubbles and can be used as a light during the nighttime parade. The price is 2,500 yen, including tax.
Special Tanabata Menu Choices
Nothing beats carbonated drink on a hot summer day. The sparkling jelly drink, which contains grape jelly and carbonated water, will make you forget about the sweltering temperature.
The yellow drops are made of soft, jiggly collagen ingredients. The two kinds of jellies not only make this adorable drink fun to look at, but also had a delicious textures (priced at 380 yen).
The vivid, purple-colored jelly is a refreshing treat. The texture of the grape-flavored jelly and the mousse on top is perfect for a hot summer day. A cute limited edition cup sold during the Tanabata period could also be purchased with the jelly (750 yen, including tax).
Another special item was peach-flavored kakigori (shave ice) and blue jelly. It will quench your thirst and help you beat the summer heat.
The star-shaped topping, along with the soft-serve ice cream, created a starry night-like image that was simply adorable (priced at 550 yen, including tax).
Toy Story 4 Special Event
One of the photo spots inside Tokyo DisneySea.
"Toy Story 4," a movie Disney fans have long been awaiting, was released in Japan on July 2019.
To commemorate the movie's release, a special event, Funtime with Toy Story 4, is held until September 1, 2019, at both Tokyo Disneyland and Tokyo DisneySea.
Special Event Food and Drinks
© Disney
The Eastside Cafe at Tokyo Disneyland serves the Chef's Special (2,480 yen, including tax). It comes with different items, like smoked salmon and carrot salad served with a simple orange sauce.
The main dish is a tomato cream sauce pasta with shrimp and crab. The set also comes with a piece of bread to satisfy a healthy appetite. The dessert is a yogurt-flavored vanilla raspberry mousse.
A kit for making Forky, a new character in "Toy Story 4," is handed out with an order of the Chef's Special at both Tokyo Disneyland and Sea.
Forky can be set on a table, with a lump of clay at the base. A wide variety of expressions can be made using the stickers included in the kit. (The dish in the background is a limited menu item at Tokyo DisneySea, priced at 1,580 yen, including tax.)
© Disney
Unlike other drinks, the melon soda, a popular beverage, is served with strawberry jelly. The soda is 400 yen, and a limited edition coaster can be purchased for an additional 500 yen.
The coaster looks a puzzle piece with a Toy Story motif. It would look adorable on the dining table.
The lemon-soda smoothie (500 yen including tax), arranged in the image of Andy's room from the movies, is served with strawberry jelly and lemon-soda drops at the bottom. A scoop of ice cream drizzled in mango sauce tops the drink.
The smoothie tastes sweet but is also refreshing. This drink is a great choice for children.
A limited edition mini-snack case with a new design is also available for purchase, along with a key ring of either the Aliens, Hamm, or Forky. The characters are all adorable.
You can attach the case to your bag just in case you get hungry. The case comes with gummy candies and is priced at 850 yen.
Toy Story Photo Spots
There are also multiple photo spots in the park related to "Toy Story 4." At Tokyo Disneyland, visitors can take part in a special program called Look for Forky for free. Try and find Forky, who will be hiding inside the park.
He is hiding in different spots throughout the park, so be on the lookout!
Toy Story 4 Limited Edition Items
Cookies: 800 yen; Stuffed Doll: 1,600 yen; Cap: 2,800 yen; Stickers: 900 yen (All prices include tax.)
A total of 50 Toy Story movie memorabilia such as cardholders, baseball caps, Forky dolls, cookies, stationery, and limited-edition Tomica models are on sale during the event.
They can only be purchased at Tokyo Disney Resort, so don't forget take a look if you have the chance to visit.
Enjoy Tokyo Disneyland Resort in Summer
During the Tanabata event, many guests came to the park dressed in yukata (lightweight kimono), which further adds to the Japanese atmosphere.
In 2019, the inclusion of the special event Funtime with Toy Story 4 also creates a new type of excitement to enjoy at Tokyo Disney Resort. Be sure not to miss a visit to the parks in summer!
In cooperation with Oriental Land Co., Ltd.
The information presented in this article is based on the time it was written. Note that there may be changes in the merchandise, services, and prices that have occurred after this article was published. Please contact the facility or facilities in this article directly before visiting.