35th Happiest Celebration! See The Water Show At Tokyo DisneySea!
Tokyo Disney Resort 35th Happiest Celebration is an event held from April 15, 2018 to March 25, 2019 in celebration of Tokyo Disney Resort's 35th anniversary. We'll introduce highlights of the events going on at Tokyo DisneySea!
A Special Experience Only Found During This Period
In commemoration of Tokyo Disney Resort's 35th anniversary, the anniversary event Tokyo Disney Resort 35th "Happiest Celebration" will be held from April 15th, 2018 (Sun) to March 25th, 2019 (Mon) at Tokyo DisneySea.
Special experiences that can only be enjoyed here at the park, including greetings from the sea, Duffy-related photo spots, and more, are waiting for you. We'll introduce the highlights of this anniversary event in this article!
Water Greeting "Happiest Celebration on the Sea"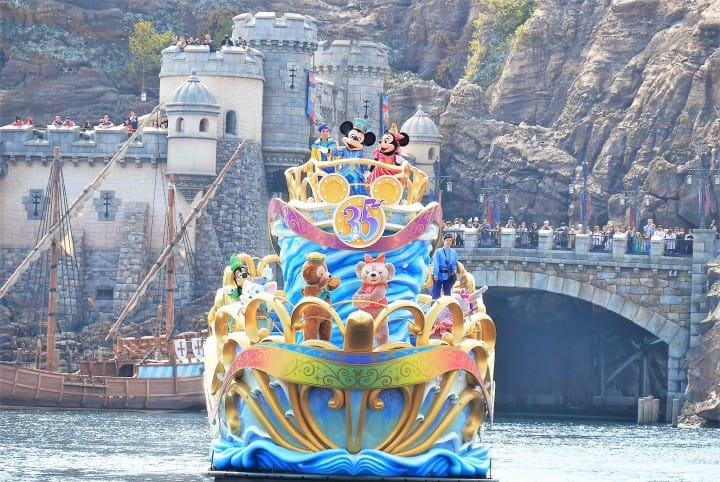 In Mediterranean Harbor, a boat will appear with Tokyo DisneySea-only characters such as Duffy and ShellieMay onboard with Mickey and Minnie Mouse at the center of the show. A water greeting show will take place in the harbor.
The characters will be dressed in their 35th anniversary costumes and will move across the waters by boat while greeting guests. Once the boat stops in the center of Mediterranean Harbor, characters, which will change every month, will begin to talk about their new dream.
Prometheus Volcano, the symbol of Tokyo DisneySea, will erupt and pack a punch during the show's finale! The show will come to a close at the same time the boat departs towards their newfound dream.
The "Happiest Celebration on the Sea" will be held one to three times a day and is a ten minute long show. The performance times will be printed in the Today pamphlet located near the park's entrance, so please be sure to check the schedule so you don't miss the show.
You Have to Eat This! A Limited Time Food Menu
Yucatan Base Camp Grill, located in the Lost River Delta area, will serve a special set (1580 yen plus tax) of menu items that children love such as a tomato sauce hamburger, roast chicken, and more adapted for adults. The dish will be offered until September 2nd, 2018.
The set also comes with salad, cream pudding (vanilla flavor), and a drink, making it extremely filling! The shop has nearly 700 seats available, so you can leisurely sit while enjoying your meal inside.
The purple Special Churros (350 yen plus tax) is also currently being sold at Tokyo Disneyland. It's perfect as a snack to eat while walking.
Duffy and Friends Limited Goods That Will Excite Fans
A Doll You'll Want to Hold While Walking in the Park
It's because it's Tokyo DisneySea that there is also a lineup of purchasable limited edition goods at the park. Here are plush dolls of Duffy, ShellieMay, Gelatoni, and StellaLou dressed in their 35th anniversary costumes (4500 yen plus tax each).
You'll find that many guests walk around the park while holding the plush dolls of Duffy and Friends at Tokyo DisneySea. As a result, there are podiums in the park where you can sit your doll as well as those that will take photos of their dolls at these photo spots. How about buying this event's limited edition doll and taking a photo of it at the park?
Show Outfit-Wearing Plush Doll Badges
For those that think, "A plush doll is a bit too big to be holding while walking around!", we recommend a plush doll badge. They are sold at 1800 yen plus tax per badge. Their outfits are the outfits they wear during the "Happiest Celebration on the Sea" show.
Duffy Chocolates You Can Enjoy Even at Home
What about chocolates as souvenirs to give to your friends? This product contains four flavors – milk and sweet, strawberry flavoring and milk, melon flavoring and milk, and white and milk chocolates – with three of each flavor included in one container for 900 yen plus tax. The chocolates are made in the shape of Duffy and Friends.
Commemorative Photo Spots and Adorable Decorations
Limited time decorations have been installed in the Cape Cod area. How about joining in with Duffy and Friends as they happily perform and take a photo with them?
The street lights have also been adorable decorated, so please be sure to look up and admire them.
Happiest Mickey Spots are placed throughout the park and are a shared feature with Tokyo Disneyland. You'll hear Mickey Mouse's excited voice when you go near the spots with the limited edition Happiest Memory Maker (2300 yen plus tax).
The Disney Resort Line is Also Dressed for the Event!
To go to Tokyo DisneySea from Tokyo Disneyland or JR Maihama Station, you will be taking the Disney Resort Line. During the event period, the station platform will also be cheerfully decorated as if the World of Dreams is still continuing despite leaving the park.
A decorated railroad car will also be running once every thirteen minutes for the event, so let's aim to board the decorated railroad car when traveling to and from the park!
Celebrate the 35th Anniversary and Enjoy a Fun Atmosphere!
Through the "Happiest Celebration", which will make Tokyo DisneySea even more enjoyable than usual, there will be several experiences that cannot be enjoyed any other time but during this period. You'll end up wanting to visit the park over and over again.
Tokyo DisneySea isn't the only place celebrating, because there's also a program that can only be experienced at Tokyo Disneyland. We recommend taking two days to enjoy both parks.
For details on the Tokyo Disneyland event, please read the article "35th Happiest Celebration! Don't Miss This Special Anniversary Event At Tokyo Disneyland!"
Definitely be sure to visit and celebrate the 35th anniversary together with Disney characters during this limited time of one year!

Made in cooperation with Oriental Land Co., Ltd.

The information presented in this article is based on the time it was written. Note that there may be changes in the merchandise, services, and prices that have occurred after this article was published. Please contact the facility or facilities in this article directly before visiting.