10 Adorable Duffy Goods To Look For At Tokyo DisneySea
You can only find merchandise of Duffy, a very popular Disney character, at Tokyo DisneySea! We'll introduce ten of our favorite Duffy goods that are adorable and also practical for daily use, from plush dolls to phone cases.
Look for Duffy Merchandise at DisneySea!
Duffy, an adorable and charming Disney character, is a teddy bear made by Minnie Mouse for Mickey when he was setting sail for a long voyage. The bear was nicknamed Duffy because he was put inside of a duffle bag.
Duffy's friends consists of the female bear ShellieMay, the talented painter cat Gelatoni, StellaLou, a bunny who loves to dance. You are actually only able to buy goods of Duffy and his friends at Tokyo DisneySea!
In this article, we'll introduce Duffy goods that you'll definitely want to get your hands on when you visit Tokyo DisneySea.
1. Must-Buy Plush Dolls
First on the list are definitely plush dolls. For Duffy fans these are must-buy merchandise. Enjoy an adventure in Tokyo Disney Resort together with Duffy just like Mickey, who kept Duffy close to his side even during his long voyage.
The plush dolls come in sizes S, M, and L with the S size being the best size for carrying around. The M and L sizes are too large to walk around with, but would perfect to keep at home.
Characters Available: Duffy, ShellieMay, Gelatoni (S, M only), and StellaLou (S only)
Price & Size:
S… 3900 yen, approximately 30cm in height when sitting
M… 11,000 yen, approximately 50cm in height when sitting
L… 52,000 yen, approximately 65cm in height when sitting
2. Hand Puppets: Use Your Hands To Play!
Here's a puppet Duffy that you can maneuver by putting your hand inside. It would be fun to role play each of the characters and play around with them!
The puppets are slightly smaller than the S sized plush dolls, so being able to play with them easily is a great appeal of the product. We also recommend these to puppets for those with children.
Characters Available: Duffy, ShellieMay, Gelatoni
Price: 2570 yen
Size: Approximately 20cm in height when in a sitting position
3. Coin Cases are Great For Daily Use
Here is the popular coin case. It's so cute how Duffy's face makes up the entire body of the case!
The coin case also comes with a cord that you can hang around your neck. These are items that you can not only use inside the park, but also on a daily basis. Pictured above is the ShellieMay coin case.
Characters Available: Duffy, ShellieMay, Gelatoni, StellaLou
Price: 1700 yen
Size: 14cm (length) x 22cm (width)
4. Backpacks With Adorable Ears
There are several types of bags of Duffy and his friends, but we especially recommend the backpack. The upper portion of the bag is adorned with ears and the rest of the backpack features a cute Duffy design.
If you put your belongings into this backpack, you'll free up both of your hands and it'll be easier to walk around the park!
Characters Available: Duffy, ShellieMay
Price: 4500 yen
Size: 26.5cm (width) x 37cm (height; includes ears and ribbon)
5. Fluffy Tote Bags
This tote bag is as fluffy as Duffy's fur. The Duffy badge stitched onto the lower right of the bag is fashionable as well. This is another item convenient for everyday use.
Characters Available: Duffy, ShellieMay
Price: 2900 yen
Size: 30cm (width) x 22cm (height)
6. Plush Doll Badges Make for a Great Accent Accessory!
This plush doll badge is a size that fits snugly into your hands. There are many types of plush doll badges available, like Duffy wearing his different outfits. These keychains are a compact fifteen centimeters, making them a wonderful accent for your your pencil case or bag.
Characters Available: Duffy, ShellieMay, Gelatoni, StellaLou
Price: Around 1500 yen
Size: 14 to 19cm
7. A Smartphone Case That'll Always be With You
Want to always have Duffy with you? Then how about this smartphone case? If you take out your phone, snuggly fit in a Duffy case from your pocket, it would be adorable, wouldn't it? You might be inclined to take more care of your smartphone when you start using such a cute case.
Characters Available: Duffy, ShellieMay, Gelatoni, StellaLou
Price: 3900 yen (Gelatoni and StellaLou are 3300 yen)
Size: Can be used with smartphones that are the following size. Between 108-145mm (length), 56-70mm (width), 9mm (thickness)
8. Be with Duffy at Home with Indoor Slippers
These indoor slippers are so adorable that you'll think twice about using them. They also have a soft texture that is perfect for using at home. Sizes run on the slightly smaller side, so be sure to purchase them after checking if they fit you.
Characters Available: Duffy, ShellieMay
Price: 3000 yen
Size: Approximately 22.5 – 24.5cm
9. A Unique Tissue Box Cover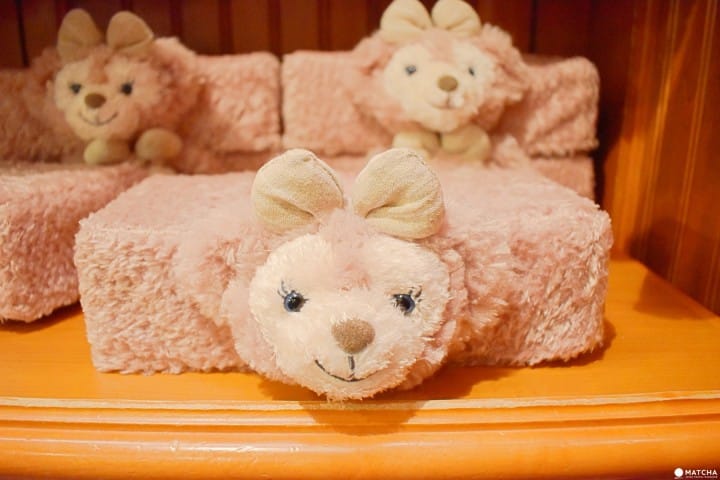 Here's another product perfect for using at home. This is a simple tissue box case featuring Duffy's face. This would make an adorable addition to your room. Pictured above is the ShellieMay tissue box cover.
Characters Available: Duffy, ShellieMay
Price: 2600 yen
Size: 25cm (width) x 8cm (height) x 13cm (depth)
10. Indulge in Delicious Chocolate
Pictured above are StellaLou and Duffy chocolates. The different chocolates packed into this box are almost too charming to eat. In addition to these chocolate, candies, cookies, and other treats are also available for purchase.
Price: The chocolate pictured above is 1200 yen
Where to Buy These Goods
The merchandise of Duffy and his friends that we've introduced in this article can be purchased at McDuck's Department Store inside American Waterfront at Tokyo DisneySea.

These goods are also for sale at Aunt Peg's Village Store (American Waterfront) and Galleria Disney (Mediterranean Harbor).

These goods may sell out or change in design and price, so please check the official character page (Japanese) for the latest information.

Made in cooperation with Oriental Land Co., Ltd.

The information presented in this article is based on the time it was written. Note that there may be changes in the merchandise, services, and prices that have occurred after this article was published. Please contact the facility or facilities in this article directly before visiting.