Pick The Right Train! Going From Keisei Ueno Station To Narita Airport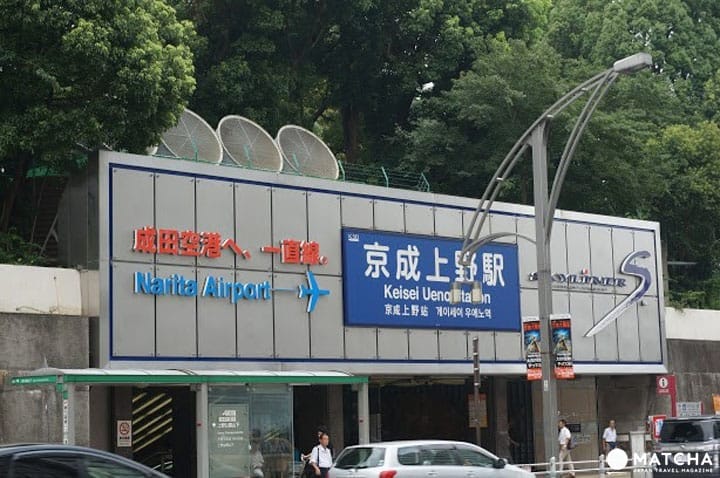 There are four ways to get to Narita Airport from Keisei Ueno Station. In this article we explain the costs and duration of each option.
Keisei Ueno station is located an 8-minute walk away from JR Ueno station. You might not be familiar with it, but it's an extremely convenient station for travelers from abroad as well as for Japanese travelers planning on going abroad.
That's because you can go to Narita Airport from Keisei Ueno Station without any train transfers. It's the ideal station for travelers who've arrived in Narita airport and want to go to the center of Tokyo, as well as for those who need to return to Narita Airport.
In this article, we'll introduce to you three different ways to get to Narita Airport from Keisei Ueno station. The train fares and duration of the ride will be introduced separately. It's generally the same however when you head to Keisei Ueno station from Narita Airport too.
1.Skyliner: Airport Rapid that Goes 160 km/h
The Skyliner is the train that arrives at Narita Airport from Keisei Ueno station in the shortest amount of time. It takes 41 minutes. It stops at Nippori station, Narita Airport Terminal 2 station, and Narita Airport station. Only reserved seating is available and you must purchase both a train ticket and a Liner ticket.
There's no need to worry. The staff at the ticket counter will hand you the Liner ticket and the train ticket as a set.
Next to the ticket counter is a foreign currency exchange shop. If you have too much Japanese yen left over, you can exchange it here before heading to the airport. On the other hand, if you didn't exchange your money at the airport, you can exchange it once you get to Keisei Ueno station.
If the ticket counter is crowded, you can make your purchase using the Liner tickets only ticket vending machine that's right next to the ticket counter. English is available, so no need to worry even if Japanese isn't your strong point.
Once you purchase your Liner ticket from the ticket machine, don't forget to purchase your train ticket from the red ticket machine, that's right next to the Liner ticket machine. You can't ride the Skyliner unless you purchase both the Liner ticket and the train ticket.
The Liner ticket is 1230 yen per person and the train ticket is 1240 yen per person for a total of 2470 yen.
Reference URL: Skyliner timetable

For MATCHA Readers Only! 5% Discount Coupons!
MATCHA's readers benefit from a 5% discount service on their purchase of activity tickets from the Voyagin website. Upon performing your online payment, please insert the discount coupon code "voyaginmatcha". You will receive a 5% discount on your purchase! (This service does not apply for Tokyo Disneyland and DisneySea)
Purchase tickets from Voyagin here
2.Access Rapid: a Budget-friendly Rapid Without Liner Tickets
Using the Access Rapid, it takes 59 minutes to get to Narita Airport station from Keisei Ueno Station. It's different from the Skyliner because you don't need a rapid ticket (Liner ticket). You can ride it with only a regular train ticket. We recommend it for people who want to save money, even if it means it takes a little bit more time.
You buy the train ticket from the same machines you would when you go on a regular train. It's 1240 yen per adult.
3.Keisei Main Line: the Cheapest Option for a Relaxed Paced Trip
This is the cheapest out of the four options. You can get to Narita Airport station without using the rapid trains heading to the airport.
The ticket can be bought at the regular red ticket machine.

It takes a minimum of 70 minutes. The train fare for one adult is 1,030 yen. This is roughly half the price of the Skyliner and it's appealing because these train run frequently. However, it's used for commutes to and from work and school, so be careful to avoid it during the weekday rush hour.

The town of Ueno is filled with appealing options and a convenient place for when you want to head to Narita Airport. How about stopping by before leaving Japan?

Reference HP: Keisei Main Line Time table (Japanese)

The information presented in this article is based on the time it was written. Note that there may be changes in the merchandise, services, and prices that have occurred after this article was published. Please contact the facility or facilities in this article directly before visiting.