Keisei Skyliner & Tokyo Subway Ticket - Enjoy The Iconic Sights Of Tokyo
The Keisei Skyliner & Tokyo Subway Ticket allows you to enjoy the iconic sites of Tokyo as soon as you arrive at Narita Airport. This recommended itinerary includes TOKYO SKYTREE TOWN, a sushi lunch, the Shibuya Scramble Crossing, Meiji Jingu, and a walk around Harajuku.
Explore Tokyo from the First Day! Keisei Skyliner & Tokyo Subway Ticket
Tokyo offers so many amazing places to visit! You shouldn't waste any time once you arrive at Narita Airport but start your explorations right away. Use the Keisei Skyliner & Tokyo Subway Ticket to quickly get to central Tokyo and enjoy a day filled with iconic sights as soon as you arrive.
9:00 - Purchase the Keisei Skyliner & Tokyo Subway Ticket at Narita Airport
The Keisei Skyliner & Tokyo Subway Ticket can be purchased at Narita Airport at Keisei ticket counters such as the Skyliner & Keisei Information Center.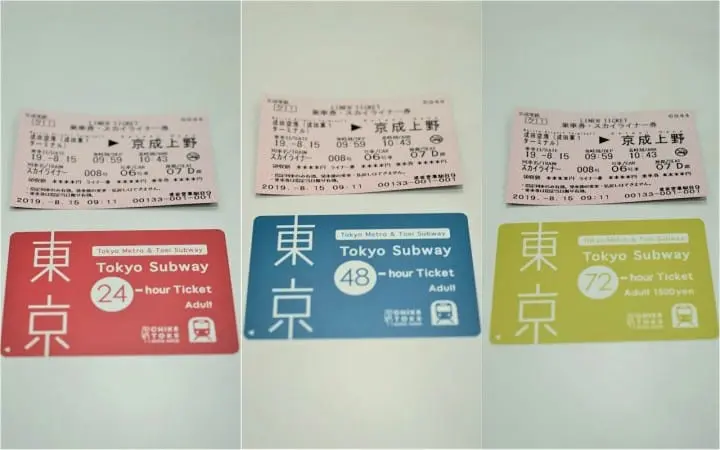 You can choose from three different versions of the ticket. All of them include a Skyliner ticket (one way or round trip) and a 24-hour, a 48-hour or 72-hour subway ticket. The subway ticket allows you to use any Tokyo Metro and Toei Subway line for the chosen time frame for no additional fee.
The prices for a one-way Keisei Skyliner & Tokyo Subway Ticket for 24 hours is 2,800 yen, for 48 hours is 3,200 yen, and for 72 hours is 3,500 yen.
9:59 - 10:43 -- Travel by Skyliner from Narita Airport to Keisei Ueno Station
The Skyliner offers the fastest and smoothest ride from Narita Airport into the heart of Tokyo. In only takes 41 minutes to Keisei Ueno Station. Other means of transportation take about double the amount of time.
The seats in the Skyliner are reserved. Just settle down and enjoy the view. There is no need to drag suitcases through stations or to try to find a seat in a full train.
The Skyliner offers free Wi-Fi and power outlets so you can charge your electronics or work while you are traveling. The Skyliner is provided with vending machines so you can buy yourself some refreshments.
10:45 - 10:55 -- Use the Keisei Baggage Service and Travel Lighter
You'll be able to fully enjoy your first day in Tokyo if you leave your luggage at the Keisei's Baggage Service counter within Keisei Ueno Station.
Dropping your luggage here also saves you time searching for a suitable locker. One piece of luggage costs 900 yen for one day. Please be aware that this baggage service counter is only open from 8:00 until 18:00. If you miss the closing time, you will be charged for an additional day.
11:02 - 11:18 -- Off to TOKYO SKYTREE TOWN
The first iconic stop on our itinerary is TOKYO SKYTREE TOWN. From Keisei Ueno Station take the Ginza Line to Asakusa Station and change to the Toei Subway Asakusa Line. Just insert your subway ticket through the ticket gates. Remember to pick it up again because this is your ticket for traveling around Tokyo for the day.
It is only two stations from here to Oshiage Station "SKYTREE". The ride takes about three minutes.
11:45 -12:40 -- TOKYO SKYTREE: Enjoy the Most Breathtaking View of Tokyo and Local Cuisine!
TOKYO SKYTREE, located in TOKYO SKYTREE TOWN, is the highest structure in Tokyo and the highest tower in the world. Nowhere else will you have such a breathtaking view over the city.
The Tembo Deck, the main observation deck, is 350 meters above the ground and the most commonly known part of the observatory. Here you can get a panoramic view of Tokyo, the bay area, Tokyo Disneyland, and even Mt. Fuji on days with clear weather.
Using the TOKYO SKYTREE PANORAMA GUIDE and screeshot
If you want to know what exactly you are looking at, feel free to download the app called TOKYO SKYTREE PANORAMA GUIDE. With this app, you can look at the surrounding area through your phone and find out more about buildings of interest by simply tapping them on your screen.
To fully enjoy TOKYO SKYTREE it is recommended to purchase a combination ticket which includes the Galleria. The Galleria is a sloped corridor located 450 meters above the ground where you can feel you've climbed all the way to the top of the tower. In addition to fantastic photo opportunities, the Galleria often showcases collaboration displays with famous characters from popular culture.
TOKYO SKYTREE
Address: Tokyo, Sumida, Oshiage 1-1-2 Map
Business hours: Monday - Sunday 8:00-22:00
Nearest station: TOKYO SKYTREE Station or Oshiage 'SKYTREE' Station
Credit cards: accepted
Languages: English, Chinese, Korean, etc.
Telephone number: 0570-550-634
Official website: http://www.tokyo-skytree.jp/en/
This information is current as of October, 2019.
12:45 - 13:45 -- Have Lunch at Edo Tokyo SUSHITSUNE in TOKYO Solamachi
TOKYO Solamachi is a shopping and amusement complex located in TOKYO SKYTREE TOWN. There is a large number of restaurants here so it's the perfect place to take a lunch break.
Edo Tokyo SUSHITSUNE is located on the seventh floor of TOKYO Solamachi. The restaurant specializes in Edo-style sushi and tempura. Their tempura dish, whose shape is inspired by Tokyo's iconic tower, is especially famous.
The menu changes depending on which ingredients are seasonally available. We chose the Tenku no Sushi Gozen (2,680 yen before tax), a summer-limited set meal that includes seven types of sushi and the famous tempura dish. The fresh sushi and the crispy tempura make a heavenly combination!
14:04 - 14:35 -- Let's Head to Shibuya
After a nutritious lunch, it is time to visit Shibuya, one of the most popular places in Tokyo. The Tokyo Metro Hanzomon line will take you directly from Oshiage Station to Shibuya Station. The trip is about forty minutes.
14:50 - 15:30 -- See the Hachiko Statue and the Scramble Crossing
Once in Shibuya, search for the Hachiko Exit to find the square where the statue of the famous loyal Akita dog Hachiko is displayed. He waited here for many years after his owner suddenly passed away.
There might be people lining up to take pictures with Hachiko. Make sure to not cut into the line.
After saying goodbye to Hachiko, it is time to cross the famous Shibuya Scramble Crossing. It is said to be one of the busiest crossings in the world. It is estimated that at peak hours, when the traffic light switches from red to green, over 3,000 people cross the street.
15:30 - 16:00 -- Walk from Shibuya to Harajuku
There are several ways to walk from Shibuya to Harajuku. The easiest way is to cross the scramble crossing and keep walking straight, past Tower Records, underneath a bridge, past a small playground and all the way until you reach another big crossing.
To get to Meiji Jingu, our next recommended destination, cross the street, turn left and walk towards Harajuku Station. Meiji Jingu is just over the bridge from Harajuku Station.
The second way is slightly shorter if you want to reach Meiji Jingu. It starts the same until shortly before Tower Records where you turn left and walk up-hill. If you pass by a large Disney Store, you are on the right path. Walk straight until you reach Yoyogi Park, then turn right.
16:00 - 16:45 -- Enjoy Complete Tranquility at Meiji Jingu
Meiji Jingu is a shrine loved by international visitors and locals alike. Dedicated to Emperor Meiji and Empress Shoken, Meiji Jingu will celebrate its hundredth anniversary in 2020.
The path towards the main shrine is lined by a lush tree grove. This grove is a man-made forest composed of 105 trees that were offered to the shrine by all the provinces of Japan when the shrine was built.
After reaching the shrine, please purify yourself in order to pray. Take the cup by the handle and first wash your left hand, then your right hand. Cup water in your left hand and rinse your mouth, then wash the left hand again. Let the cup drain and put it back.
To pray, toss a coin in the offertory box. Five yen (go yen) are considered especially lucky because it sounds like the Japanese word goen, which means good fortune or chance.
Two-two-one is the way Japanese people remember the right way to pray at a shrine. It means bow twice, clap twice, make your prayer, then bow once more.
Remember you are on sacred grounds, so please act and speak with respect.
17:00 - 17:45 -- Savor a Scrumptious Snack at BROOK'S ME-BYO café
After so much walking, how about taking a break and enjoying a snack? Exit the Meiji Jingu the way you came and go back over the bridge. Don't go to the station, just walk straight downhill until you reach the large crossing of Meiji-dori Avenue and Omotesando Avenue. You will see the sign of BROOK'S ME-BYO café on the right.
In an area offering thousands of sweets like Harajuku, BROOK'S ME-BYO café is a great place if you want something healthier but still delicious. This cafe is a concept shop of BIOTOPIA, a health and wellness facility located in Oimachi (Kanagawa). The cafe has a relaxing oasis-like atmosphere and their menu includes gluten-free and vegan dishes.
Picture courtesy of BROOK'S ME-BYO café
For a light meal, we recommend the healthy BENTO (840 yen) and the refreshing Amazake Smoothie (780 yen). This energizing smoothie contains amazake along with fruit and vegetables.
18:00 -- Shopping in Harajuku on Takeshita Street
After the refreshment at Brook's, why not end your day with a short shopping trip on Harajuku's famous Takeshita Street? Most shops are open until 20:00.
Keep in mind that the Keisei Baggage Service closes at 18:00 if you want to pick up your luggage before going to the hotel. Otherwise, feel free to enjoy your shopping hands-free and pick up your luggage the next day.
Get the Full Tokyo Experience!
This day trip itinerary includes some of the most iconic places in Tokyo so that you can enjoy this amazing city without delay. All of these places can easily be reached using the Keisei Skyliner & Tokyo Subway Ticket without any extra charge.

Enjoy Tokyo starting on your first day!

Route Summary
Narita Airport → Keisei Ueno Station → Oshiage "SKYTREE" Station → TOKYO SKYTREE TOWN → Lunch at Edo Tokyo SUSHITSUNE→ Oshiage Station → Shibuya Station → Hachiko Square → Meiji Jingu → BROOK'S ME-BYO café → Takeshita Street

Expenses
Transportation: 3,200 yen (48-hour Keisei Skyliner & Tokyo Subway Ticket)
Lunch: 2,680 yen
Snacks: around 1,500 yen

For more information on discount tickets from Narita Airport, please visit this website: http://www.keisei.co.jp/keisei/tetudou/skyliner/us/

The writer visited these facilities on August 13, 2019.
Supported by Keisei Electric Railway Co.,Ltd.

The information presented in this article is based on the time it was written. Note that there may be changes in the merchandise, services, and prices that have occurred after this article was published. Please contact the facility or facilities in this article directly before visiting. Some of our articles contain affiliate links. We kindly ask our readers to exercise careful judgement when making a purchase or booking a service online.