Only 500 Yen! A Day Exploring Tokyo's Most Popular Areas By Toei Bus
Tokyo has vibrant areas that are always full of activity. Let's take the bus and visit Ikebukuro, Shinjuku, and Shibuya - three of Tokyo's best known and most popular areas.
Explore Tokyo with the Toei Bus One-Day Pass
In Tokyo, taking the bus has many benefits over other transportation methods. The Toei buses have displays with information in English and other languages. In addition, by using the Toei Bus One-Day Pass, you even save money! Exploring Tokyo by bus allows you to see the surroundings from the window near your seat and feel the pulse of the city.
One of the most convenient and cost-efficient ways to explore Tokyo is by using the Toei Bus One-Day Pass, a day ticket that allows unlimited bus rides in the city for one whole day, priced at only 500 yen. (The ticket can only be used in the 23 wards of Tokyo.)
Some of Tokyo's most popular areas, such as Ikebukuro, Shinjuku, Omotesando, and Shibuya can be accessed using the Toei 池86 bus.
Let me guide you on a one day Tokyo tour using the Toei Bus One-Day Pass on the Toei 池86 bus. The route includes viewing Tokyo from Sunshine City observatory in Ikebukuro, walking around in Shinjuku's Kabukicho area, and a visit to Shibuya's TOWER RECORDS and famous scramble crossing.
9:30 -- Start Your Journey from Ikebukuro
Ikebukuro is one of Tokyo's most popular business districts. We'll begin our tour from Ikebukuro Station, which lies in the center of Ikebukuro.
Our first destination is Sunshine City, Ikebukuro's iconic shopping facility. Sunshine City is connected to Ikebukuro Station through an underground passageway and is also located close to the Ikebukuro Sunshine Bus Terminal, where the Toei 池86 bus departs from.
10:00-11:00 -- SKY CIRCUS Sunshine 60 Observatory - Interactive Fun and Tokyo from Above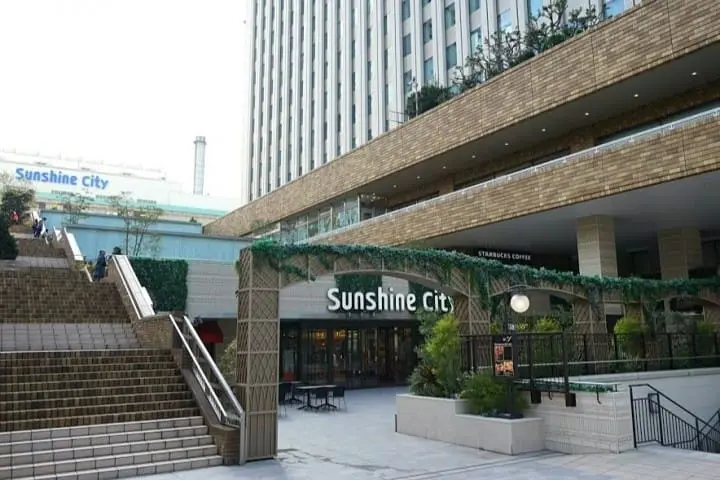 Ikebukuro's Sunshine City is so much more than a shopping mall. In addition to shops and dining places, it includes several amusement facilities such as the Sunshine Aquarium or the Konica Minolta Planetarium "Manten".
There's no better way to start your exploration of Tokyo than taking a look at the city from above, so we suggest visiting the SKY CIRCUS Sunshine 60 Observatory.
The SKY CIRCUS Sunshine 60 Observatory has been renewed two years ago and now offers many fun things to enjoy besides the stunning view. There is a special elevator on the 1st basement floor of Sunshine City that takes you directly to the SKY CIRCUS. The ticket counter is also located on the B1F and opens at 10:00.
The observatory offers a 360-degree view of the city including a special window called Mosaic Sky (pictured above), a window you can step into framed by small mirrors. The view is absolutely breathtaking! This place is perfect for taking pictures of yourself surrounded by the Tokyo skyline.
In addition to the great view, there are many fun things to enjoy in the observatory. This makes it worth visiting even on days with bad weather.
The main theme of the interactive activities available at the SKY CIRCUS is virtual reality. You can take fun pictures of yourself in special mirrors or within a kaleidoscope! The "Infinity Scape" corner is a surreal space created out of mirrors in which various images are projected. Step in and you'll become one with images of the four seasons - from Japanese cherry blossoms to colorful fish and autumn leaves.
Before you leave the SKY CIRCUS, make sure to get a re-entry stamp at the exit. By doing this, you can come back here at any other time of the day, until closing time at 22:00. Viewing Tokyo by night from up here is amazing too!
11:28 -- Take the Bus from Sunshine City Bus Terminal toward Shinjuku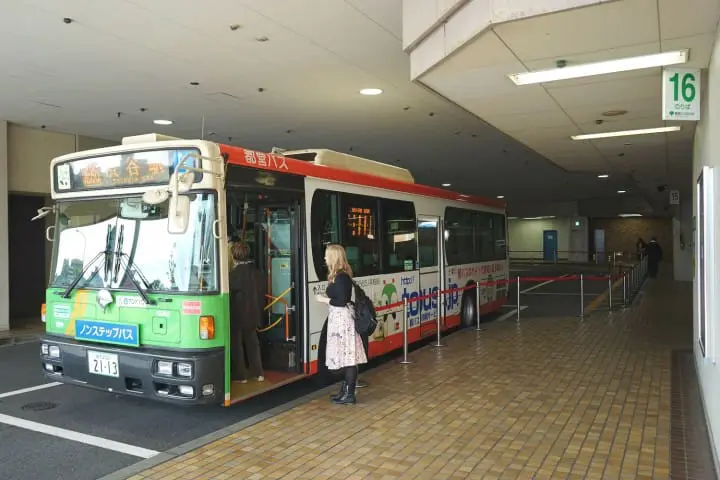 Shortly after 11:00, return to the 1st floor of Sunshine City and follow the signs within the facility that lead to the Sunshine Bus Terminal. The terminal is adjacent to Sunshine City and you don't have to get out of the building.
Once you reach the bus terminal, go to platform no. 16. That's where the Toei 池86 bus heading to Shibuya Station departs from.
Using the Toei bus is easy. Get on through the front door and pay the fare in advance. (IC card 206 yen, cash 210 yen)
This time we'll be using a day pass, so ask the bus driver for the Toei Bus One-Day Pass. The pass costs 500 yen and you will be able to take any metropolitan bus during the day using it.
If you're using a day pass, each time you get on the bus, please show the date on your pass to the bus driver.
So, just get a window seat and enjoy Tokyo's street view.
Near Sunshine City there is the Higashi Ikebukuro Yonchome station of the Tokyo Sakura Tram (Toden Arakawa) line. If you wish, you can visit the Tokyo downtown area along this line. Because the area along the Toden Arakawa line is famous for its cherry blossom spots, it was nicknamed "Tokyo Sakura Tram".
If you wish to travel along the Tokyo Sakura Tram line, then we recommend using the Toei One-Day Pass which can be used on the Toei buses, on the Tokyo Sakura Tram (Toden Arakawa line), on the Toei subway lines and on the Nippori Toneri Liner for one day. It is an extremely convenient ticket.
12:30-13:30 -- Shinjuku - Delicious Sardine Ramen for Lunch
In the bus, there is a display showing the following bus stop. In addition, there are also audio announcements. Once you hear the name of the stop you want to get off at, press the nearest stop button. This time, our second destination is Shinjuku Golden Gai, so once you hear the bus stop "Shinjuku Isetan-mae" being announced, press the stop button and get off the bus through the back door.
After you get off the bus at Shinjuku Isetan Mae bus stop you will be able to walk to the popular Golden Gai district in Shinjuku in about five minutes. Located here is one of Tokyo's best-kept ramen secrets: Ramen Nagi. The shop specializes in high-quality niboshi ramen. Niboshi are Japanese dried sardines. Even in Japan, sardine ramen is rather unique.
The shop's specialty is the "Sugoi! Niboshi Ramen" (Unbelievable NIBOSHI Ramen) made with twenty different kinds of dried sardines from all over Japan blended into the soup. It contains thick noodles and a couple of extra broad noddles which resemble thin lasagna plates. The ramen is topped with juicy chashu (stewed pork) and dried sardines.
The soup is thick and rich and the portions are really generous. You can clearly taste the sardine flavor in every bite. If you want to cut through the richness of the soup, they also offer handmade niboshi vinegar. I recommend eating half the ramen by itself and the other half with vinegar if you want to try a different flavor.

13:30 - 14:30 -- Take a Walk in Kabukicho, Shinjuku's Amusement Area
Golden Gai, where Ramen Nagi is located, is right near Kabukicho, the amusement district of Shinjuku. Take a walk through this area and you'll feel the vibrant atmosphere Tokyo is famous for.
In addition to many dining places, there are also many game centers and shopping facilities in Kabukicho. The beautiful grounds of the Hanazono Shrine are also located here. This shrine has been here ever since people have begun living in this area, watching over the city.
Kabukicho is an exciting area, ideal for a walk.
14:43 -- Take the Bus toward Omotesando - Harajuku
To reach our next destination, the popular Omotesando - Harajuku area, take the Toei 池86 bus again from the Shinjuku Isetan Mae bus stop which you used at arrival. In about 15 minutes, you'll reach the Omotesando bus stop.
You will find yourself right in front of Tokyu Plaza Omotesando, a popular shopping facility. One of the best photo spots in Omotesando is located right here in this building. Just take the escalator to the second floor and you'll be able to take a picture of the beautiful mirrored entrance of this building.
Since you're in the fashionable Omotesando - Harajuku area, how about taking a walk around? Takeshita Street, the famous area of Harajuku fashion, is right by the corner. If you prefer classy fashion, head down the avenue toward Aoyama.
16:00-16:45 -- Take a Break at Gomaya Kuki - The Best Sesame Sweets in Tokyo
After the walk through Shinjuku and Omotesando, you might feel the need for a break. That's why we suggest relaxing at Gomaya Kuki in Omotesando, where they offer the best sesame sweets in Tokyo.
Gomaya Kuki is best known for its delicious sesame ice cream. You can choose between golden sesame and black sesame and three different kinds of each flavor. Golden sesame has a creamy and slightly roasted flavor while black sesame has more of a smoky and deep flavor. The ice cream is not too sweet and you can freely top it with sesame seeds and rich sesame oil. Don't be afraid of the oil - it contains healthy fats and brings out the sesame flavor even more.
If you don't want to sit down for ice cream, I recommend the sesame smoothie which is easy to drink while strolling around. It is rich and creamy with the same vivid sesame flavor as the ice cream. They also have a black sesame hot latte in case it is cold outside and you feel the need to warm up. Everything at Gomaya Kuki is delicious and a must try for any sweets lover, especially if you like sesame.

17:09 -- Take the Bus toward Shibuya
After a well-deserved break in Omotesando, it's time to head to Shibuya, Tokyo's vibrant youth culture district. Take the 17:09 Toei 池86 bus from Omotesando bus station. In about 4 minutes you'll reach the Jinnan Itchome bus stop. Get off here and you'll have one of the most popular spots in Shibuya to your left: TOWER RECORDS SHIBUYA.
17:15-18:15 -- TOWER RECORDS SHIBUYA - Discover Japanese Music and Limited Goods
TOWER RECORDS SHIBUYA is one of the largest music stores in Japan. The Shibuya store offers a great selection of Japanese music and music from all over the world on seven floors.
At the entrance, you will be greeted by TOWER RECORDS' own version of the famous dog Hachiko.
On the first floor of TOWER RECORDS, you can find the most recent music releases in Japan, while the second floor offers magazines, original goods, a souvenir corner, and a cafe.
The whole third floor is dedicated to Japanese music. Here you can find CDs which can often be hard to get outside of Japan. TOWER RECORDS offers everything from popular artists to independent bands including a vast variety of Visual Kei (a popular Japanese rock style). This floor is extremely popular among lovers of Japanese music. If you're curious, give Japanese music a try.
The fifth floor is every vinyl record collector's dream! It houses a great collection of vinyl records by both Japanese and non-Japanese artists of various genres such as Rock, Soul, Hip-Hop, Jazz and Club Music. If you love records and are searching for a specific one, this might be the best place to go.
In terms of the number of CDs, LPs, and other musical products being handled, TOWER RECORDS SHIBUYA is one of the leading institutions in Japan, so it's definitely worth visiting this store.
18:30-19:30 -- Walk around Shibuya and View the Famous Scramble Crossing
When you exit TOWER RECORDS, go to the left and make your way past Shibuya's shopping area to the scramble crossing.
The world's busiest scramble crossing, which Shibuya is famous for, can be best viewed either from street level or from one of the high buildings surrounding it. A great viewpoint is on the rooftop of the high-rise building Magnet by Shibuya 109 (former 109 men's).
After 19:30 - Enjoy Dinner in Shibuya or Go to Roppongi Hills for the Night View
Shibuya boasts some of the best dining places and bars in the city so if you want to enjoy a night out in this vibrant district, you'll have a great time.
If you wish to marvel at the amazing view of Tokyo by night, how about going to Roppongi Hills after dinner? You can take the Toei 都01 bus which goes to Roppongi. From the Roppongi Hills observatory, you can enjoy the wonderful night view of Tokyo.
The bus heading to Roppongi departs from platform no. 51 in front of Shibuya Station East Exit. Look for the green ginkgo biloba leaf, which is the symbol of the Toei buses. There are other bus stops in the area, so please be careful which bus you take.
For details on where to get on the bus heading to Roppongi, please refer to the article below:

See a Different Side of Tokyo by Bus
By using the Toei Bus One-Day Pass, you can ride the Toei buses how many times you want within that day. The Toei buses bring you to many popular destinations in Tokyo and can show you a completely different side of the city. Besides this, it is very cost effective as you get to spend only 500 yen on transportation for the whole day!

Route Summary
Higashi Ikebukuro Station → SKY CIRCUS Sunshine 60 Observatory → Ikebukuro Sunshine Bus Stop/Bus Terminal → Shinjuku Isetan Mae Bus Stop → Ramen Nagi → Isetan Mae Bus Stop → Omotesando Bus Stop → Gomaya Kuki → Omotesando Bus Stop → Jinnan Itchome Bus Stop → TOWER RECORDS SHIBUYA → Scramble Crossing

Expenses
Transportation: Toei Bus One-Day Ticket 500 yen
Ticket to the SKY CIRCUS: 1200 yen
Lunch, sweets and other expenses: less than 3000 yen

For more information on convenient discount tickets you can use on Tokyo subway and buses, check this website: https://www.kotsu.metro.tokyo.jp/eng/

Supported by Toei Transportation

The information presented in this article is based on the time it was written. Note that there may be changes in the merchandise, services, and prices that have occurred after this article was published. Please contact the facility or facilities in this article directly before visiting. Some of our articles contain affiliate links. We kindly ask our readers to exercise careful judgement when making a purchase or booking a service online.