What Do You Do While In Line At Disney? We Asked 20 Couples!
Tokyo Disney Resort is a common date spot, but lines are often long and it's been said couples have gotten into fights in line. What do you do to pass the time? We asked 20 couples at Tokyo DisneySea and received surprising results!
Arguing While in Line at Disney?
Heart pounding attractions, exciting shows, foods that you'll be happy to eat… It will be even more fun if you visit Tokyo Disney Resort as a couple.
But we're curious about the waiting lines during attractions and shows. There are even people that have waited in line for three and a half hours to ride these attractions. These couples will be having fun talking to each other at first, but gradually the silence will increase until it turns into an argument…!
To avoid that situation, we asked couples that have visited Disney how they spend their time while in waiting in line.
In this article, we asked 20 Japanese couples ranging from their teens to their 30s visiting Tokyo DisneySea. We'll introduce the ranking of the results!
Number One as Expected is…!
** All photos in this article were taken with permission from each couple.
First place is, as expected, talking! There is no end to the topics between these two from gossip to complaints about work.
Couples that hadn't gone on a date in a while updated each other about what was happening in their lives. There also appeared to be many couples already living together or married that talk about realistic subjects such as, "What do you want for dinner tonight?"
Number Two: Making Plans for the Day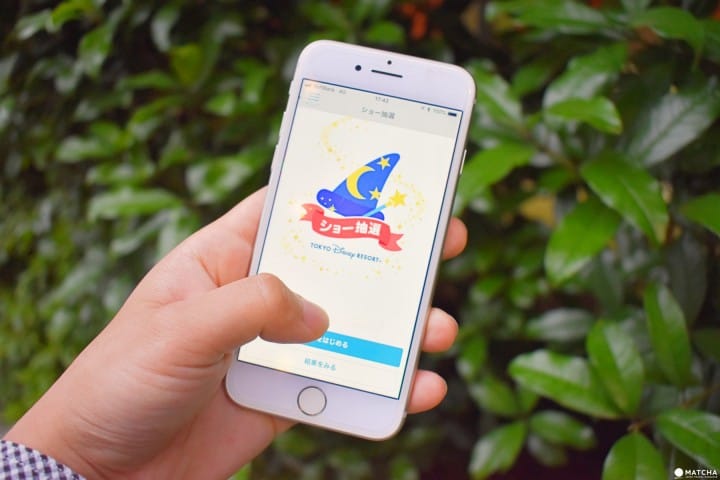 Waiting times are a chance for you to map out your plan for the day!
There were many couples that use the park map, but the most common thing that was done was scheduling using an app. Couples would map out their plans using an app that was able to search the waiting times for attractions or use the official Disney app (*1) through which they could draw seating tickets for shows.
A married couple that visits Disney once every two months surprised us when they said, "We always gather here at seven in the morning and map out a plan." "You're wasting time by waiting, so we shorten that time by using the FASTPASS. Then, we use our free time to go to greetings (meetings with characters) and shows." How efficient!
There was also a couple that said, "We have divided opinions on where we want to go." Let's be sure to respect each other's opinions and create a plan so that it doesn't evolve into arguments due to what you've decided!
*1: an official Disney app that you can use to draw raffles on waiting times and shows as well as purchase park tickets in advance is scheduled to release in summer 2018.
Number Three: Taking Photos
The majority of couples take selfies using apps like Instagram, but there are also experienced Disney goers that take photos of the shows using telephoto lenses.
"We think about where to watch the show to be able to take good photos. There are many people that sort through the photos that they've taken during the wait" (a Disney-loving couple in their 20s).
When you've become a Disney-loving couple, then it's already Disney over your partner. How well their photos of the shows and characters come out is a main part of the date, it appears.
Number Three: People Watching
People watching received the same number of votes as taking photos. Like the phrase describes, there are many couples that talk to each other about the people and things they see while standing in line.
"I was startled when my girlfriend pointed at something and said, 'That plushie is rare, isn't it?' I'm relieve she didn't ask me to buy it" (the boyfriend of a couple in their 30s).
Perhaps he's nervous about his girlfriend's people watching...
Number Five: Playing Games
What saves couples from slowly beginning to run out of topics are games. We'll introduce a few simple games that Japanese people often play.
The Thumb Game
The game that this couple (pictured) is playing is a game that uses your thumbs. It's a game that consists of yelling "ready set, go!" together and raising your thumbs. One person then has to correctly guess the total number of thumbs that are up. If they guess the right number, then they withdraw one hand. The first person to withdraw both hands wins.
This is a popular game in Japan with yelling phrases that vary depending on the region.
Word-Chain Game
This is another game that no Japanese person won't know. One person will say a word, then the next person will say a word that begins with the last character in the word said by the previous person. It will then continue into a word relay that will end once someone says a word that ends with the character "n".
For example, "RI-N-GO" -> "GO-RI-RA" -> "RA-PPA" -> "PA-N". In this case, the person that said "pan" loses.
Original Games
There was even a couple that made up their own original game.
Guess the Person Game (I Spy)
"It's a game where he'll look around us and give me several hints on what he sees. I then have to guess who or what it is," (University couple). It's a game that puts people watching to use.
Impersonating Contest
There was also a couple that would do impersonations they were confident in to each other. The girlfriend, who had a great impersonation of Mickey Mouse, did her best in imitating him in front of our writer and said, "Hi, I'm Mickey! Haha!"
Number Six: Do Separate Things
There were also couples that went about their own paces and did separate things.
"I watched a movie while my girlfriend read comics" (A working-student couple).
"We knew that we would have to wait, so we talked about it and decided to enjoy the wait by doing our own things separately" (A couple in their 20s from Osaka).
Both people constantly fiddling with heir phones… the sight may be a bit lonely, but if you both agree to wanting to enjoy things separately, then you may be able to make it time that you can use effectively.
Number Seven: Silence
There was even a couple that didn't do anything that laughed, saying, "We spent more than half the time in silence."
When our writer asked the boyfriend, "Won't you argue if it's just silent (between the two of you)?"
He answered, "But we don't mind the silence."
He values his time with his girlfriend and tries his best not to use his phone. He's a great boyfriend!
Ranking Summary
Upon putting the rankings together, it is ranked as such below.
1st: Talking – 12 votes
2nd: Mapping out a plan for the day – 7 votes
3rd: Taking photos – 6 votes
3rd: People watching – 6 votes
5th: Playing games – 5 votes
6th: Doing things separately – 3 votes
7th: Silence – 2 votes
There were also other couples that had various ways to spend their time such as "We want to become YouTubers, so I watched tons of YouTube videos together with my girlfriend to study them" (a couple in nursing) and "It's a waste of time, so we take turns in going to the character greetings" (a Disney-loving couple).
Time Goes By in a Flash in the End
We met a couple that were visiting Disney for the first time that said, "We expected that we would have to wait, so we talked about what we should do while we were in line the day before."
When our writer asked them, "What did you actually do today?"
The boyfriend replied, "Well, we were talking while we ate popcorn and the time had gone by in a flash."
We also had several other answers like this.
A couple in their 20s said, "The waiting time was supposed to be three hours, but we had 20 minutes left before we realized it." While a working couple commented, "We didn't fight at all."
Our writer first went into the study thinking, "won't there be several couples that end up arguing in line?" However, surprisingly, most of the couples replied, "We didn't argue." Our writer steadily started to feel melancholic as he collected data.
The waiting time at Disney which may seem long is a chance for couples to deepen their relationship. It's great if you have fun together and it's also great if you decide to do things separately. Each couple should enjoy the waiting times in their own ways!
Read Also
The Ultimate 2018 Disney Easter Guide With Shows, Goods, And More!
A Beginner's Guide To Tokyo Disneyland
A Beginner's Guide To Tokyo DisneySea
How To Use A FASTPASS Ticket At Tokyo Disney Resort
6 'Only In Japan' Souvenirs From Tokyo Disney Resort
Made in cooperation with Oriental Land Co., Ltd. and all the couples in this article
The information presented in this article is based on the time it was written. Note that there may be changes in the merchandise, services, and prices that have occurred after this article was published. Please contact the facility or facilities in this article directly before visiting.