Tokyo Disneyland Spring Event: Very Very Minnie! 2020
Tokyo Disneyland holds the "Very Very Minnie!" event where Minnie Mouse is the star until March 19, 2020! Discover the charms of this iconic mouse with shows, parades, and shopping. Read more to learn about the special Minnie-centric festivities to enjoy.
Tokyo Disneyland's Very Very Minnie Event
"Very Very Minnie!" is a special Minnie Mouse program held this year until Thursday, March 19, 2020 at Tokyo Disneyland. The park is decorated with Minnie Mouse motifs from the shows and parades to limited edition products and food. You'll be overwhelmed by the cuteness of this iconic character.
Our MATCHA writer visited the event and covered the park's adorable transformation in this article!
A Must-See Show! It's Very Minnie!
When you visit Tokyo Disneyland this season, you must watch the show "It's Very Minnie!" at the amphitheater Showbase. With Minnie Mouse as the star, the performance showcases Mickey Mouse, Donald Duck, Daisy Duck, and other Disney friends dancing to six scenes.
The spectacle has a variety of music enjoyable throughout the performance. Additionally, it actually contains several entertainment forms that were formerly shown in the park. This will bring nostalgia to longtime fans.
The opening features Minnie Mouse wearing her classic red and white polka dot dress. It is an exciting, adorable scene.
Next up is a Latin-style dance. Minnie and Mickey appear in their costumes from "Minnie Oh! Minnie," which was performed in 2018.
The show becomes slightly romantic, as the girls—Minnie with Daisy Duck and Clarice at her side—don tiaras while wearing outfits from "Minnie's Princess Greeting." The dresses and tiarasare from 2007!
The show then turns into a club, moving to the climax with the pulsing medley. Mickey Mouse performs sharp dance moves to music that was popular in the 1990s. You'll be dancing in your seat!
After performing past songs and parade tunes, the Disney characters have a grand finale, with everyone dressed polka dots like at the beginning of the show. This exhillirating spectacle is 25 minutes long. You'll feel like you're in a dream Disney world the entire time!
Reminscent of Past Parades! The Very Minnie Remix
Shows aren't the only performance perfect for fans. The "Very Minnie Remix" parade held twice a day adds in aspects from past parades into the performance. The dance moves and music change depending on the location and day, so park-goers can have fun watching the show no matter every time,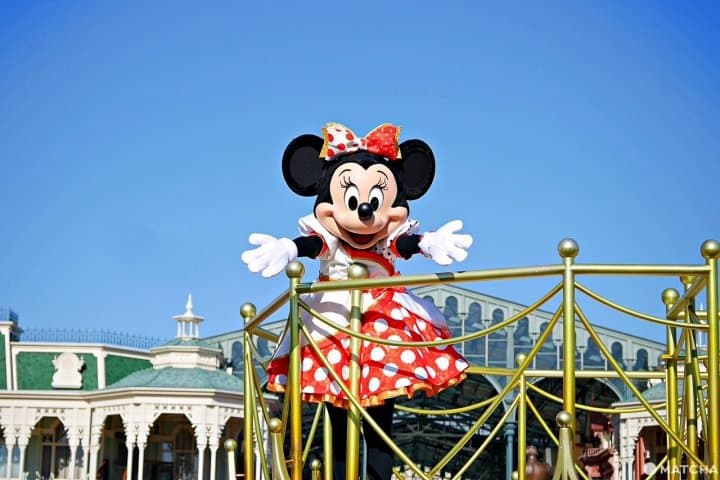 Be sure to check out Minnie's outfit with an adorable dot pattern. The dots are all different sizes! Mickey's outfit also has the iconic polka dots, giving him a pop-art-style look.
Double your fun by buying this flag (600 yen with tax) from one of the shops. Wave it to the musical beat and join the Disney dances!
Shareworthy Limited-Edition Food
Top Pick! Sweets and Souvenir Cups
The limited-edition food during this event are filled with Minnie Mouse motifs!
The Yogurt and Raspberry Mousse with Souvenir Cup (800 yen with tax) is served in a mug decorated with an image of two popular couples: Minnie and Mickey Mouse alongside Donald and Daisy Duck. The characters are also decorated with outfits from the event. This sweet mousse uses a moderately sweet yogurt to bring out its delicious flavor.
The sweet-and-sour Cranberry Vanilla Mousse Cake with Souvenir Plate (800 yen with tax) comes with a souvenir Minnie plate. Use the commemorate dish with the mug from the raspberry mouse to relive your Disney memories at home!
These sweets are exclusively sold at the Sweetheart Cafe.
A Special Meal Set with a Charming Dessert
Want a full meal? Then order the Special Set (1,980 yen with tax) at Plaza Pavilion Restaurant. This hearty set menu comes with a main dish served alongside minestrone soup, dessert, and a drink.
The hamburger steak comes with two patties, so first try the meat without any garnish. For the second patty, sandwich it between the buns with bacon, tomato, cheese, and avocado sauce and eat it as a hamburger. Of course, you're welcome to eat the hamburger with both patties.
This adorable dessert is designed to look as if the ice cream is melting! Snap a picture before digging into this sweet treat!
Don't Miss Out on Limited-Edition Goods
There are also many limited-edition products to enjoy inspired by Minnie Mouse's pop-art image. Try finding your favorite item, whether it's a gift for you or your friends.
Minnie Merchandise to Wear in the Park
Try wearing items with a Minnie Mouse flair, like the Minnie ears (1,800 yen with tax) and character mitts (2,300 yen with tax). We recommend purchasing these goods when you get to the park and wearing them right away. However, please note that the stores may be crowded.
You can also snag a plush doll keychain (1,900 yen with tax) to clip on your clothes or bag. It'll feel as if you're going around the park with a Disney character! Variations include Minnie, Mickey, Donald, Daisy, and Goofy dressed in their limited-edition outfits.
Thinking about saving a spot for the parade? Pick up this exclusive picnic blanket (670 yen with tax) featuring nostalgic Disney characters beforehand. It comes with a convenient storage bag and isn't bulky to carry around.
A Dress-Up Minnie Doll
Another fun item is a Minnie Mouse doll you can dress up in past show and parade outfits!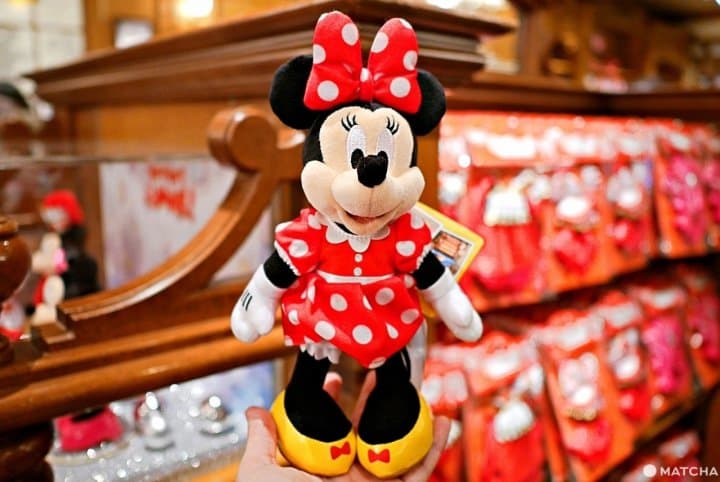 The standard doll is dressed in her standard polka dot dress and costs 2,500 yen with tax. Each additional outfit is 2,200 yen with tax.
Matching Items for You and Your Friends
Top left: 4-Piece Memo (900 yen with tax); Top right: 2-Piece Hand Cream (1,600 yen with tax); Bottom right: 4-Piece Ballpoint Pen (1,220 yen with tax); Bottom left: Drawstring Pouch (2,500 yen with tax)
On the hunt for gifts for your besties? We recommend the ballpoint pen, drawstring pouch, or memo pad as souvenirs for a small group because they are packaged with four pieces. If it's just between you and your BFF, then the hand cream would be great!
Cute Confections to Give Out!
Top: Chocolate-Filled Cookie (1,800 yen with tax); Bottom right: Marshmallow (600 yen with tax); Bottom left: Madeleine Cookies (1,600 yen with tax)
If you're looking to hand out souvenirs to several people, we recommend the adorable Disney sweets that come in individual packages. The marshmallows, chocolate cookies, and charming ribbon-shaped madeleines are limited-edition products for the event.
9-Piece Chocolate Box (1,300 yen with tax)
For Valentine's Day and White Day in March in Japan, it's customary to give chocolates. The park also sells high-quality chocolates in special packages. These are perfect gifts for that special someone or to give to thank someone.
Souvenirs for March events and the Chinese Lunar New Year are also on sale. Please read this article for more details.
Experience The World of Pixar at Tokyo DisneySea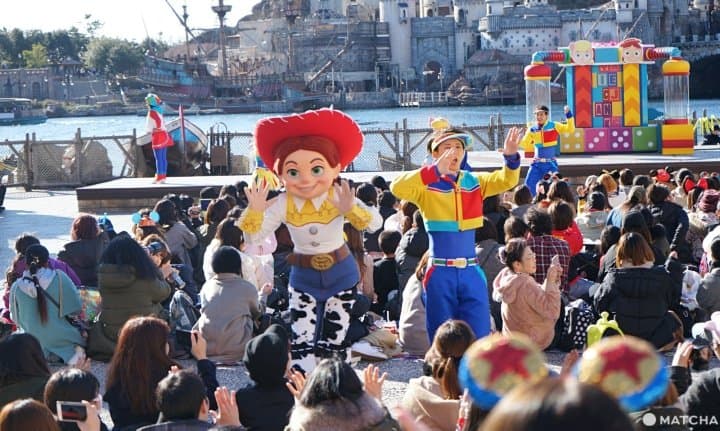 Tokyo Disneyland has been transformed into Minnie Mouse's world. If you'll be spending another day at the resort, head over to Tokyo DisneySea for "Pixar Playtime Pals." This limited-time interactive show is held until March 19, 2020.
Venture out to both Disney theme parks for a magical day of Disney fun!
ⒸDisney
In cooperation with Oriental Land Co., Ltd.
The information presented in this article is based on the time it was written. Note that there may be changes in the merchandise, services, and prices that have occurred after this article was published. Please contact the facility or facilities in this article directly before visiting.