Gifu Complete Travel Guide: Attractions, Festivals, And Local Food
Gifu Prefecture is brimming with beautiful and unique locations, including the World Heritage Sites of Shirakawa-go and Hida-Takayama! This article covers festivals like the Takayama Matsuri, local food, and travel attractions, like Gero Onsen, that all can enjoy.
Gifu: Hot Springs, World Heritage Sites, and Nature!
Located in central Japan, Gifu is a prefecture located north of Nagoya. From beautiful mountain ranges to historical villages, there is plenty to enjoy in this region.
One unique feature of Gifu is the difference in climate and customs between the north and the south. Northern Gifu is called the Hida region while southern Gifu is known as the Mino region. Start at JR Takayama Station to explore Hida, and JR Gifu Station to check out Mino.
While Gifu is easily accessible from Nagoya by train, there is no direct transit route from Tokyo. We recommend transferring at either Nagoya or Toyama for smooth travel.
Gifu Travel Guide
Things to Do in Hida, Gifu
Things to Do in Mino, Gifu
Must-See Festivals in Gifu
Local Gifu Cuisine
Things to Do in Hida, Gifu
1. World Heritage Site: Shirakawa-go
Picture from Shirakawa-go Travel Guide 2019-2020 – Access, Things To Do, And Food
Known for its scenery of roughly 100 thatched-roof houses (*1), the Ogimachi village in Shirakawa beautifully preserves this traditional rural landscape. A UNESCO World Heritage Site, Shirakawa-go is still home to an active community that you can see upon your visit.
The surrounding mountains change appearance with the seasons. The winter illuminations are especially popular among tourists. Just make sure to respect the private homes of locals by only visiting residences open to the public (such as the Wada and the Nagase houses).
There are no railways around Shirakawa-go, so you will have to rent a car or take a bus when traveling here.
*1 Thatched-roof houses: traditional houses with steeply sloped roofs. The Japanese name, gassho-zukuri, comes from the roof's appearance resembling hands in prayer (gassho).
2. Hida-Takayama, the Gateway to the Hida Region
Sanmachi-dori. Photo by Pixta
Hida-Takayama refers to the city of Takayama in northern Gifu. The name comes from the city's central geographic location within the Hida region.
The first place we will cover in Hida-Takayama is Sanmachi-dori, which is a ten-minute walk from JR Takayama Station. The street retains the atmosphere of a commercial district during the Edo period. There are plenty of foodie destinations where you can find local sake breweries and restaurants serving Hida beef.
The neighboring area is also worth exploring. Some places worth checking out include the 350-year-old architectural landmark Takayama Jinya and the Hida Souvenir Shop, where visitors will discover a plethora of local goods.
JR Takayama Station is accessible by multiple train and bus lines. This makes visiting popular attractions such as Shirakawa-go and the Shinhotaka Ropeway very convenient. The region comes alive during the Takayama Festival held every spring and fall. For more details, scroll down to our festivals section in this article.
3. Hida Furukawa: Visit Real Life Locations Featured in a Famous Anime Movie
Picture from Take The "Your Name" Tour! Enjoy Yourself In Hida Furukawa, Gifu
The town next to Takayama is Hida Furukawa, another community that preserves a traditional atmosphere. The Seto River runs through the scenic town, flanked by white-walled houses. The sight of locals going about their daily lives is another calming sight for visitors.
Hida Furukawa garnered attention when it was used as the setting for the 2016 anime film Your Name. JR Hida-Furukawa Station, Hie Shrine, and the Hida City Library are must-visit destinations for fans of the smash-hit animation.
These so-called pilgrimages to film and show sets are a popular form of Japanese tourism.
4. Shinhotaka Ropeway: A Trip to the Peaks
Photo by Pixta
The Okuhida Onsen Village is located at the border between Gifu and Nagano Prefecture. Famed for its onsen (hot springs), the village is also home to the Shinhotaka Ropeway. This ropeway will take visitors above 2,156 meters (7,073 feet) for a stunning view atop a mountain.
The Shinhotaka Ropeway consists of four stations and two ropeways. Transfer at Nabehira Kogen Station to reach the gondola lift. The station also features an onsen facility, a bakery, and other attractions.
The second ropeway is unique because it's the only double-decker gondola in Japan. As you rise in altitude, the landscape clears of any obstructions, opening up to a breathtaking view! The duration of the ride is about 15 minutes, including the transfer time. The fare costs 1,600 yen for adults and 800 yen for children each way.
There is a summit observatory at the last stop: Nishihotakaguchi Station. The 360-degree view of the Northern Alps has earned it two stars on the Michelin Green Guide Japan.
It is an hour and forty minutes from Takayama Station to Shinhotaka Ropeway on the Nohi Bus. You can also rent a car and conveniently park at Shin-Hotaka Onsen Station and Nabehira Kogen Station.


5. Gero Onsen: Hot Spring Promising Silky Smooth Skin
Funsenchi. Photo by Pixta
Gero Onsen is ranked among Japan's three greatest hot springs (the other two are Arima Onsen in Hyogo and Kusatsu Onsen in Gunma). Located along the Hida River, Gero Onsen has been nicknamed the "Spring of Beauty" due to its skin-smoothing effects.
A large number of bathhouses allow those on day trips to enjoy the springs. Purchase a Yumeguri Tegata Onsen Pass (1,300 yen including tax) at a gift shop or convenience store. This ticket allows you to select three baths to soak in at 20 participating ryokan. On the banks of the Hida River is where you'll find the open-air bath Funsenchi (free admission). Bring a swimsuit to enjoy this co-ed bathing facility in the outdoors.
Since Gero Onsen is close to Gero Station, it is easily accessible by those traveling by train. Take the limited express train from Nagoya Station for a direct connection.
Things to Do in Mino, Gifu
6. Monet's Pond: Scenery Straight out of a Painting
Photo by Pixta
Imagine a clear spring-water pond with floating waterlilies and colorful carp. While this may sound straight from Claude Monet's renowned series of "Water Lilies" paintings, this dreamy description refers to Monet's Pond in Seki City, Gifu.
Once an obscure pond within the grounds of Nemichi Shrine, it has attracted many visitors in recent years. Some camera-touting tourists even travel from afar.
The best time to visit is either June through September during the waterlily and hydrangea seasons, or during the fall months of October and November. The soft light in the morning hours is ideal for snapping photos.
The closest transit stop is the bus station Ajisaien-mae. However, since buses are few and far between, we recommend renting a car. The area offers free parking.
If you have trouble locating Monet's Pond, head for the neighboring Itadori Flower Park.

7. Cormorant Fishing Along Gifu's Nagara River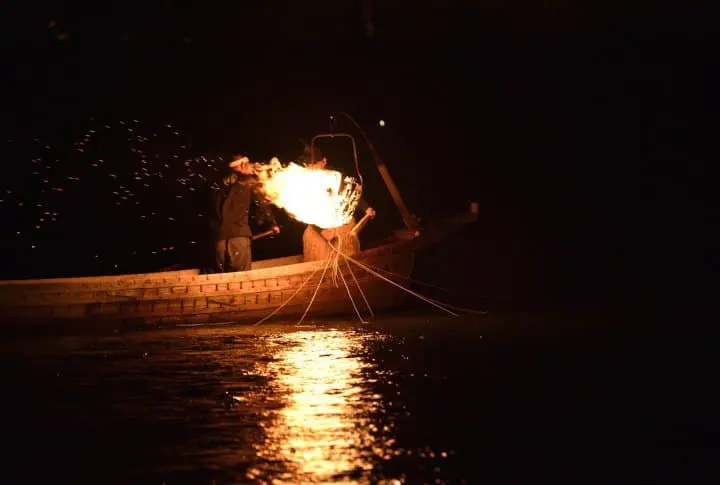 Photo by Pixta
Cormorant fishing is a traditional Japanese method where leashed cormorant birds are used to catch fish along the river. This method of fishing is also practiced on the Uji River in Kyoto and the Mikuma River in Oita. However, cormorant fishing carried out on the Nagara River is deemed an Important Intangible Folk Cultural Property of Japan. Additionally, it's a staple summer tradition in Gifu.
Guided by the light of a bonfire, the fishing boats carrying cormorants appear like a scene out of a theatre performance.
The fishing season is from May 11 to October 15 each year. This activity is done every night, except when the river water rises. While you can watch from the riverbanks, we recommend getting a closer look aboard a yakatabune (roofed pleasure boat).
To make a yakatabune reservation, check the official website of the Gifu City Cormorant Fishing Observation Boat Office. Prices start from 2,900 yen for adults. The site is available in English, traditional and simplified Chinese, and Korean.
Take the bus from either JR Gifu Station or Meitetsu Gifu Station until you arrive at Nagarabashi. Once you arrive at the bus stop, Nagara River is only a minute away on foot.
8. Magome-Juku: Home to a Celebrated Writer
Photo by Pixta
Located in Nakatsugawa City, Magome-juku was formerly a post town between Kyoto and Edo (modern-day Tokyo). Gift shops and restaurants reminiscent of the Edo Period line both sides of the cobblestone street. Moreover, the watermill—a symbol of the town—is a popular photo spot for visitors.
The town's center is where Toson Shimazaki, a celebrated Japanese writer was born. There's now a memorial hall commemorating the literary master that is open to the public.
After visiting the Toson Memorial Museum, head next door for a break at the traditional-style Japanese cafe Yomogiya (Japanese). A relative of Shimazaki runs the cafe, and you will find items used by the writer displayed inside.
Typically around October, the surrounding mountains start to change color, and visitors congregate to see the autumn leaves. The terrace seating at Kappe (Japanese) offers a beautiful view of this mountain range. As you admire the scenery, enjoy cream anmitsu (*) or a chestnut rice set meal made from Nakatsugawa chestnuts.
To reach Magome-juku, take the Kitaena Kotsu Bus Magome Line from JR Nakatsugawa Station. You will arrive at the town in about 25 minutes. Since bus rides are limited, make sure to plan accordingly, so you don't miss your ride!
*Cream anmitsu: a classic Japanese dessert with cubes of kanten jelly, fruit, sweet red beans, and a scoop of ice cream.
9. The Site of Reversible Destiny: Where Art and Nature Combine
Photo by Pixta
The Site of Reversible Destiny in Yoro Park is an interactive art display in the middle of nature.
Completed in 1995, the Site of Reversible Destiny was created by the artist Shusaku Arakawa and poet Madeline Gins over 30 years. Large interactive objects and pavilions are scattered throughout the site.
The art pieces are purposefully made crooked and off-kilter, giving visitors the impression that they are in a fantasy world! There is plenty of fun to be had taking photos here!
Due to the slopes and slippery surfaces, we highly advise you wear sneakers and appropriate clothing to stay safe. The gift shop also rents out helmets and running shoes free of charge.
The Site of Reversible Destiny is a ten-minute walk from Yoro Station along the Yoro Railway.

*Due to construction, some areas are closed off through July 17, 2020.
10. Mosaic Tile Museum: Experience a World of Color
Photo by Pixta
The town of Kasahara in Tajimi, southern Gifu, is the largest domestic producer of mosaic tiles. Measuring less than five centimeters, these tiles are often used as decorations for interior fixtures and furniture.
These colorful tiles are on full display at the Mosaic Tile Museum. The exterior design of the building, which appears like a mountain of clay, is unique in its own right.
Step inside and you will find vast collections of mosaic tiles gathered from across the country. Learn about the history behind these colorful materials. The spaces covered with mosaic tiles even resemble a marvelous masterpiece.
Picture courtesy of Cafe de Soleil
After touring the museum, head to Cafe de Soleil on the first floor of the Kasahara Central Public Hall.
Run by a local tile manufacturer, Nagae Togyo, the cafe is adorned with mosaic tiles. Its beauty is sure to put a smile on your face!
Picture courtesy of Cafe de Soleil
The owner of Cafe de Soleil, Kumiko Tamezawa, is a pastry chef who trained at Alain Ducasse—a three-star Michelin restaurant—in New York. Her cakes and croissants are a delight for both the eyes and palate!
11. Gujo Hachiman Castle: Cloaked in the Morning Mist
Photo by Pixta
Among several longstanding attractions in Gifu, Gujo Hachiman Castle has been gaining popularity. A castle with a history spanning 400 years, its magnificent views are the reason behind its recent acclaim.
From late October to mid-December, a thick morning haze tends to form around the castle. This appearance has gained it the nickname Castle in the Sky.
To access the feudal castle, disembark at Gujo Hachiman Station along the Nagara River Railway Etsuminan Line. From the station, it's is a fifteen-minute taxi ride to your destination. Additionally, the city celebrates Gujo Odori, the largest festival in the area, every summer. We recommend planning a visit in time for the festival.
12. Gifu Castle: View the Nighttime Cityscape of Gifu
Photo by Pixta
Atop Mt. Kinka is the over 800-year-old Gifu Castle. Initially built as a small regional fort, various lords have reconstructed the castle over the years.
From the main tower of Gifu Castle, you'll get a panoramic view of the city, Nagara River, and the surrounding mountain range. The view at night is especially breathtaking. From sunset to sundown, the city lights put on a photogenic display!
One way to reach the castle is hiking up Mt. Kinka. For those who prefer an easier route, take the Mt. Kinka Ropeway from Gifu Park.
Must-See Festivals in Gifu
Gujo Odori: The Biggest Summer Event
Picture courtesy of Gifu Prefecture Tourism Federation
Bon-odori is a longstanding Japanese tradition in which people dance to folk songs in remembrance of their ancestors.
While bon-odori festivals are held across Japan, none are equally as grand or long as the Gujo Odori in Gujo Hachiman. Held in various cities between mid-July and early September, the Gujo Odori attracts over 200,000 attendees each year.
Some venues for the bon-odori include traditional castle town streets, shrines, and many more. Crowds are dressed in their yukata (traditional Japanese clothing) while the cities echo with festive music.
Most festivities last from 20:00 to 22:30 on weekdays and Sundays and from 20:00 to 23:00 on Saturdays. During the height of the festival season (August 13 to 16), people dance all night long! For more information, check out the official website.
Anyone is welcome to join in the dance! Why not take the opportunity to experience a traditional Japanese festival?
Takayama Festival: Festive Extravagance
Photo by Pixta
The Takayama Festival is ranked among Japan's three most beautiful festivals alongside the Gion Festival in Kyoto and Chichibu Night Festival in Saitama.
The Takayama Festival is actually the name of two different events in Takayama. The Sanno Festival is held at Hie Shrine on April 14 and 15. In autumn, the Hachiman Festival is held at Sakurayama Hachimangu Shrine on October 9 and 10. Celebrated for over 400 years, these festivals are registered to the UNESCO Intangible Cultural Heritage list.
The highlight of both festivals is the yatai, or floats. Each of the dozen or so yatai measure seven to eight meters tall and feature gold embellishments.
Some yatai carry karakuri puppets (mechanical dolls) made by local craftspeople. Be on the lookout for their stunning performances.
Local Gifu Cuisine
Takayama Ramen
Photo by Pixta
Prefectures across Japan often cook up their own local ramen. For example, the tonkotsu (pork bone) broth featured in Hakata ramen (Fukuoka) and the miso ramen from Hokkaido are famous worldwide.
Hailing from the Hida-Takayama region, Takayama ramen is the beloved noodle specialty here. This simple ramen has a soy sauce-based broth and is topped with pork belly, spring onions, and bamboo shoots.
The dark soup may appear salty, but it pairs deliciously with the thin, wavy noodles.
Hida Beef: Premium Wagyu
Photo by Pixta
Blessed with abundant nature, Gifu has a thriving cattle industry. Only wagyu that meets the strict criteria can be branded as Hida beef.
Hida beef is known for its delicate texture and fatty marbling. It will melt in your mouth with great intensity of flavor.
Hoba miso is another regional dish of cooked mushrooms, spring onions, and miso on a hoba leaf atop a hot plate. Some restaurants offering Hida beef will serve it with Hoba miso.
Keichan: A Favorite Dish Among Locals
Photo by Pixta
What began as a household meal in the Hida and Okumino district, keichan has since become a staple dish of Gifu. It is made by sauteeing chicken that has been marinated in miso or soy sauce with cabbage and onion.
You will find keichan on the menu of restaurants, diners, and izakaya. Depending on the region and eatery, the sauce will either be spicy or sweet. We recommend trying different variations during your trip!
Gohei Mochi: The Perfect Snack on a Stick
Photo by Pixta
Gohei mochi is not only a specialty in Gifu, but also in the mountainous regions of Aichi and Nagano prefectures. This snack consists of grilling skewered rice cakes with a sauce.
The sauces come in a range of variations from sweet and spicy to soy sauce and walnut miso. The mochi's texture is both firm and sticky. As this glutinous treat is being grilled, the savory fragrance will make your mouth water.
You can find gohei mochi at gift shops or served with a side of soup or pickles at a local restaurant.
Gifu: An Enjoyable Destination All Year Round
This article featured a handful of locations in the Hida and Mino areas of Gifu. Many of the destinations can be enjoyed during each season, which allows you to experience something new all year round.

The mountainous Hida region gets a lot of snowfall during the winter, with temperatures dropping below zero. If you're visiting Hida during the colder months, we suggest packing warm clothing and coming prepared! Furthermore, snow can affect public transportation, so plan your trip with plenty of time between each activity.

Main photo by Pixta

The information presented in this article is based on the time it was written. Note that there may be changes in the merchandise, services, and prices that have occurred after this article was published. Please contact the facility or facilities in this article directly before visiting.