Take The "Your Name" Tour! Enjoy Yourself In Hida Furukawa, Gifu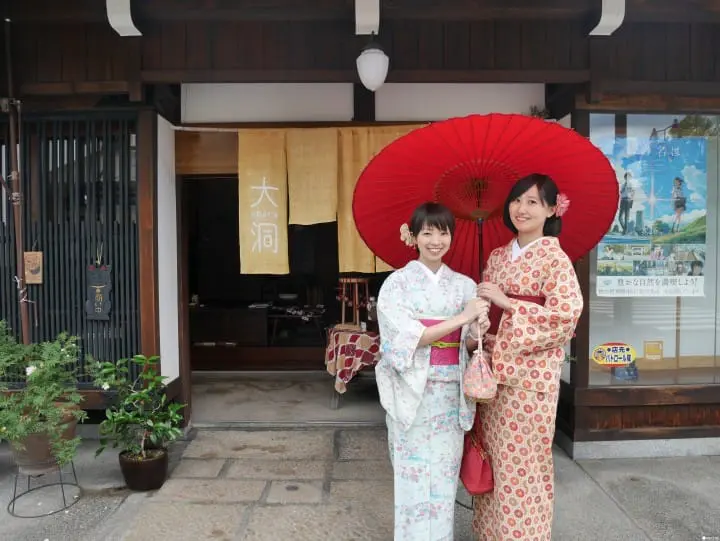 Known as the model for the film "Your Name", Hida Furukawa in Gifu is now busy with visitors. There are also many other charms we'd like you to experience here. Change into a kimono and let's embark onto a pilgrimage into this olden town!
Hida Furukawa: A Charming Rural Town
The locations that appeared in the 2016 animated film "Your Name." have become sacred places for lovers of the film. Hida Furukawa in Gifu is one of them.
In this article, we'll introduce a stroll through the town of Hida Furukawa while introducing spots from the film. With streets that still retain its atmosphere from the olden times, it is here where you can take your time enjoying that very atmosphere.
Dye & Textiles Obora: Change into a Kimono
Upon arriving in the Japanese ambience of Hida Furukawa, we first recommend a kimono rental shop. Please try imagining it – walking in a townscape with Japanese-style buildings in traditional Japanese clothing; the Japanese on Japanese look is quite the combination!
You can take photos that'll look great on social media and you'll also be able to feel even more extraordinary.
Dye & Textiles Obora is Hida Furukawa's only kimono rental shop. The wooden building is connected to the proprietress' residence and she will also help dress you with her expert skills.
She dresses her customers in kimonos that are fitted to their own body shapes and will beautifully complete the look in a way that fits the individual.
You can also experience making the same handmade braided cords that the heroine Mitsuha made in the film inside the shop. Though it may require an additional fee, wouldn't it be nice to try including this experience in your trip?


The information presented in this article is based on the time it was written. Note that there may be changes in the merchandise, services, and prices that have occurred after this article was published. Please contact the facility or facilities in this article directly before visiting.