From Centrair Airport - A Convenient Trip To Hida Takayama And Shirakawa-go
From Centrair Airport - A Convenient Trip To Hida Takayama And Shirakawa-go
Centrair is the closest airport to the famous sightseeing spots of Mie, Gifu, Ishikawa, and Toyama. Read on to learn about the incredibly convenient Shoryudo Bus Pass, which can be used to travel to Hida Takayama and the Shirakawa-go Village.
If you plan to visit Ise Shrine in Mie, Hida Takayama and Shirakawa-go in Gifu, or Kanazawa in Ishikawa, use the Chubu Centrair International Airport (Centrair).
In this article, MATCHA visits Hida Takayama and Shirakawa-go, two well-known sightseeing spots, using the 3-day version of the Shoryudo Bus Pass (Takayama/Shirakawa-go/Kanazawa Course). Let's take a closer look at this bus pass.
Shoryudo Bus Pass - A Cost-Effective Pass
This is a ticket which enables users to tour popular sightseeing spots in the Chubu Region. All the bus fares in the designated areas, along with the round-trip train fare to Nagoya from Centrair Airport, are included in the ticket price. By using the bus pass, tourists will be able to save on transportation costs, and the time and effort of buying tickets.
Types:
3-Day Pass for Takayama/Shirakawa-go/Kanazawa: 7500 yen
5-Day Pass/Wide Course: 13000 yen
3-Day Pass for Matsumoto/Magome/Komagane: 7000 yen
Conditions:
Only visitors from abroad with a foreign passport can purchase this pass.
Japanese nationals and foreign nationals residing in Japan cannot purchase this pass.
How to Purchase:
Visit the Shoryudo Bus Pass Site
Voucher Counter:
The voucher can be obtained at Centrair (Meitetsu Travel Plaza or Meitetsu Central Japan International Airport Station), Meitetsu Nagoya Station Central Gate Ticket Window and Meitetsu Bus Center. For further information, please refer to the bus pass site.
Please note that reservations for the various bus services cannot be made online nor by telephone, and must be made after arriving in Japan, at the ticket counter of each bus company.
First Day
8:30 -- Head for Hida Takayama
The access route from Centrair to Hida Takayama after obtaining the Shoryudo Bus Pass is as follows. The pass becomes valid as soon as the voucher is obtained, so choose the place and time according to your arrival.
For those arriving in the morning hours: Obtain the voucher at Centrair, and take the following route.
Meitetsu Central Japan International Airport Station → Meitetsu Bus Center (by limousine bus using the bus pass) → Takayama Nohi Bus Center (by highway bus using the bus pass)
For those arriving in the afternoon hours: Spend the night in Nagoya, and obtain the voucher next morning at the Meitetsu Bus Center.
Meitetsu Central Japan International Airport Station → Meitetsu Nagoya Station (by Meitetsu Line/the train fare will be charged separately)/Meitetsu Bus Center → Takayama Nohi Bus Center (by highway bus using the bus pass)
*December 2019 update: As of December 1, 2019, the bus connecting Chubu International Airport and Takayama Nohi Bus Center operates only once a day. Please refer to the bus timetable for details.
After arriving at Takayama Nohi Bus Center, make a reservation for the bus bound for Shirakawa-go at the ticket counter.
The walk to the central area of Hida Takayama from the bus center will take about ten minutes.
11:30 -- Strolling in the Edo Period Atmosphere of the Area
Photograph courtesy of Takayama City
In the Edo Period, Hida Takayama prospered as the center of Hida Region (the northern area of the current Gifu prefecture), around the Miyagawa area.
Photograph courtesy of Takayama City
Edo Period buildings have been restored in the eastern area of Miyagawa, where a large number of visitors gather to take in the nostalgic atmosphere, and also to taste Hida's famous beef cuisine. Moderate-priced restaurants line up along the streets, so this is the perfect chance to try the local dishes.
Hida Kotteushi - A Hida Beef Sushi Restaurant Favored by Foodies
Hida Kotteushi has become a topic on the web and draws attention from gourmands for both its taste and appearance.
From left to right: Gunkan sushi, ginger soy sauce sushi and sushi with bamboo-seasoned salt.
The picture above shows a popular dish called Hida-gyu sanshu-mori (three-piece set of Hida beef sushi). The sushi is made with medium-rare Hida beef and grilled with a burner to just the right level.
Gunkan (battleship) sushi is wrapped in yakinori (toasted seaweed) from the Ariake area in Kyushu, and served with a special sauce which consists of twenty ingredients. The sushi is served on top of a rice cracker made with aosa (sea lettuce), so it can be eaten during the stroll.
Gyu-man Kihachiro - No. 1 Beef Bun on the Rakuten Market
Gyu-man Kihachiro (Kihachiro's Beef Bun) is a popular dish sold online, made with marbled Hida beef, domestic vegetables and miso produced in Takayama. Both the ingredients and the dough are tasty. In fact, the combination of the fragrant dough and the umami-filled meat makes for a fantastic dish.
The matcha (powdered tea) bun is another popular dish. The bean jam is made with black sesame, and kneaded with matcha green tea made by Gion Tsujiri, a famous tea manufacturer. This is a treat for all those who want to enjoy the deep aroma of sesame and matcha.

Kibun-ya: Delicious Takoyaki Made with Beef (Gyu-takoyaki)
Gyu-takoyaki is another famous Takayama dish. It is a takoyaki made with Hida beef, instead of tako (octopus).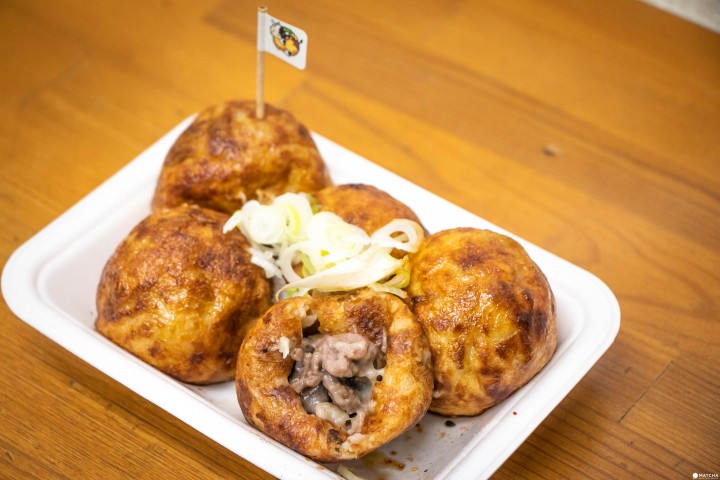 Gyu-takoyaki is served with ginger soy sauce, and the fragrance of the dish, along with its springy texture, will be hard to resist.
To make it taste better, open the gyu-takoyaki with your chopsticks, add some leek and shichimi-togarashi (Japanese spice with seven flavors).

Funasaka Sake Brewery - 200 Years of History
Funasaka Sake Brewery, established at the end of the Edo Period, strives to create a new type of sake, along with their traditional sake which has 200 years of history to its name.
Their products won the gold prize in the Annual Japan Sake Awards 2016, and the first prize in the Liqueur Category in the Japan Liquor Competition 2013. Yuzubee (yuzu liqueur), shown in the photograph, is very popular with visitors from abroad.
A bar, cafe and a restaurant are located next to the brewery, so this is a great place to enjoy sake, coffee or the local cuisine.

Iori Miyagawa - A Hotel with a View of Miyagawa
Picture courtesy of Iori Stay
Takayama is a very popular sightseeing spot. Those who want to fully enjoy the area should consider staying at Iori Miyagawa, a unique hotel located by the riverside which limits its number of guests to one group per day.
Picture courtesy of Iori Stay
Along with the wonderful surroundings, guests can enjoy the hot springs (free of charge) at a popular ryokan (Japanese-style inn) located nearby, and taste the Japanese-style breakfast consisting of Takayama dishes.

15:50 -- Heading to Shirakawa-go from Takayama Nohi Bus Center
From Takayama Nohi Bus Center, the bus ride to Shirakawa-go takes about fifty minutes.
The passengers will arrive at Shirakawa-go, a modern-day fairyland, in no time!
Shirakawa-go: A World Heritage Site Welcoming 1.5 Million Visitors Every Year
In 1971, Shirakawa-go, located in the northeastern area of Gifu prefecture, paraded a slogan which restricted the sales, renting or demolition of the local residents' houses, and a committee to preserve the natural environment of Ogi-machi was formed, with the consensus of the residents. This committee has played a central role in the conservation of the area.
Picture courtesy of Shirakawa Village, Gifu Prefecture
In 1976, the Japanese government registered Shirakawa-go as a historic building preservation district, and UNESCO registered the area as a World Heritage site in 1995. These events drew attention from all over the world. The local residents still live in the gassho-zukuri (an architectural style with a steep roof) houses, built over 200 years ago.
Please keep the following rules in mind when strolling through Shirakawa-go, as this is a residential area.
Smoke only in designated areas.
Drone-flying is restricted.
Do not enter private properties.
Be careful when using selfie sticks.
Do not leave any garbage behind.
Only use designated toilets.
Do not remove any of the natural plants.
If you're going for a nighttime stroll, have a flashlight ready.
17:00 -- Yoshiro: A Gassho-zukuri Guesthouse with a Human Touch
Yoshiro is a guesthouse using a 200-years old gassho-zukuri house, run by an elderly couple.
The guesthouse offers breakfast and dinner, lovingly prepared by the owners. Most of the dishes use local products such as sansai (edible wild plants), freshwater fish and Hida beef.
Since the owners speak only Japanese, guests should have their questions translated in advance.

Second Day
10:00 -- Wada House - A Large Scale Gassho-zukuri Structure
The gassho-zukuri style of architecture originated around 1700, about the time sericulture (silk production) and gunpowder were being developed, and the current style was established around 1800. In the Edo Period, the Wada family played an important role in Shirakawa village, and prospered in the gunpowder business.
The first and second floors are open to the tourists, where the tools for sericulture, passed down in the Wada family, are displayed.

11:00 -- Ogi-machi Castle Ruin Observation Area - Perfect for a Photo Session
There are two observatories in Shirakawa-go: the Tenshukaku (castle keep) Observatory and the Ogi-machi Castle Ruin Observation Area. The whole village, which looks like a fairytale land, can be photographed from these two spots, so don't miss it.
At night, the whole landscape can be photographed by adjusting the shutter speed of the camera. The last shuttle bus to the observatory runs at 16:00, so be sure to reserve a taxi for the ride back.

12:30 -- Yamakoshi: A Handmade Soba Restaurant
Yamakoshi is located in a serene environment, surrounded by trees.
The soba noodles, made from buckwheat flour ground at the restaurant using a stone hand mill, are freshly served as soon as they are boiled, so you can enjoy the smooth texture of the fragrant noodles.

14:00 -- Kyoshu
Kyoshu is a cafe inside a renovated gassho-zukuri house. Myozenji Temple and the rural landscape can be viewed from the large windows.
This cafe is very unique, as they only serve coffee, and children are not allowed inside. Groups of more than five people are also not allowed, so this is a place for those who want to savor a quiet moment.

15:00 -- Doburoku Festival Museum
From late September to mid-October, Shirakawa-go hosts a Doburoku (unrefined sake) Festival, to pray to the deities in the mountains for a large harvest and the well-being of the village. At the Doburoku Festival Museum, visitors can see the items used for the ritual along with the photographs, which should deepen their knowledge of Shiraka-go.
Doburoku is made from the fermentation of koji (malted rice) and sake lees, and has a deep, sweet taste. If you want to try doburoku, ask about it at the reception.

Third Day - On to Kanazawa or Toyama, or Head Back to Nagoya
This is a tour using the 3-Day Pass of the Shoryudo Bus Pass, so there is one more day after Hida Takayama and Shirakawa-go.
The last day can be used by moving on to Kanazawa - Toyama to experience their own unique culture, or by heading back to Nagoya to do some shopping.
This pass will enable the user to enjoy an inexpensive sightseeing trip of the Chubu Region from Centrair. Please note that bus reservations can be made only in Japan, so be sure to make some leeway in your itinerary.
Read also:
Chubu Centrair International Airport – Enjoy Fine View Baths, Great Food, And More!
Wonderful Views And Great Local Food! A Trip To Ise-Toba From Centrair
Travel In Chubu Special Feature

Official Chubu Centrair International Airport Website: http://www.centrair.jp/en/

Written by Chen
Sponsored by Chubu Centrair International Airport

The information presented in this article is based on the time it was written. Note that there may be changes in the merchandise, services, and prices that have occurred after this article was published. Please contact the facility or facilities in this article directly before visiting.