A Day Trip From Takayama: Take In The Japanese Alps From A Luxury Ropeway
Go on a day trip from Takayama to admire the magnificent Japanese Alps. Ride in a two-storied gondola on the Shinhotaka Ropeway to see these famous mountains and take in the great outdoors. Learn a day trip itinerary that includes mountain views, local food, and hot springs!
See the Snowy Scenery of the Japanese Alps
Takayama in Gifu Prefecture is a sightseeing area popular for its historic townscape. It is close to the thatched-roof village of Shirakawa-go, a World Heritage Site accessible via bus.
However, the snow-blanketed mountains in the Japanese Alps in Okuhida, are another must-visit destination in the area. Also known as the Hida Mountains, this mountain range lies northeast of Takayama and is renowned for its superb beauty.
One of the most convenient ways to get to Takayama is by bus from Nagoya. Centrair (Chubu International Airport), the nearest airport to Nagoya, also has direct flights from Bangkok, Taipei, Hong Kong, and Seoul, making Centrair a great choice for traveling to Takayama. It takes around three hours to arrive at Takayama from Centrair by train and bus.
In this article, we'll introduce a day trip by bus to the Japanese Alps from Takayama.
7:00 - Depart From Takayama
MATCHA's editorial staff took the bus bound for the Shinhotaka Ropeway to head to the Japanese Alps from the Takayama Nohi Bus Center at 7:00. The bus center is located next to JR Takayama Station. No transfers are needed to get to our destination.
Tickets can be bought on the same day as your ride. At the time of your purchase, staff will introduce discount ticket options, such as the One Day Open Ticket for the bus, or a set of tickets for the bus and ropeway. Purchase the ticket that fits the needs of your trip.
This time, we purchased the Takayama & Shinhotaka Open Ticket (4,110 yen), a ticket issued by Nohi Bus that allows unlimited rides for two days between Takayama and Shinhotaka. A one-way ticket costs 2,160 yen, so you will save money even if you only use it for one day.
8:45 - Arrive at Shinhotaka Ropeway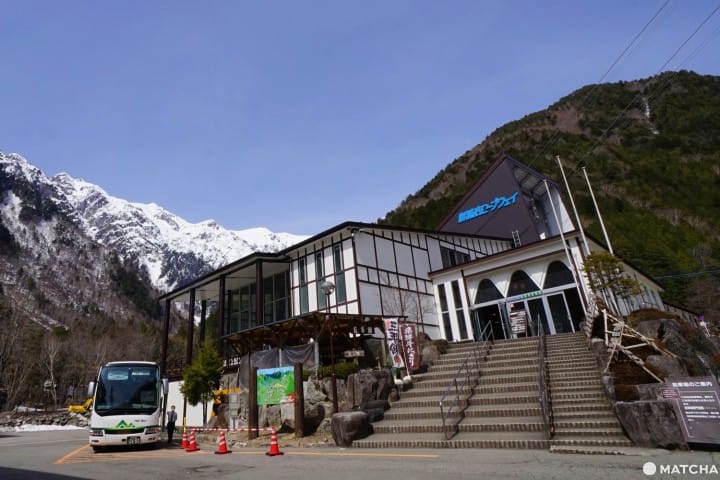 You will reach the stop for Shinhotaka Ropeway after riding the bus for about one hour and 40 minutes. The bus drops you off right in front of the ropeway station building.
The first floor of the station is a shop, and the second floor is where ropeway tickets are sold. Buy your tickets here if you didn't purchase them as a set with your bus ticket.
The ropeway is split into two: Ropeway No. 1, which goes halfway up the mountain, and Ropeway No. 2, which travels from the midway to the summit. We were headed to the summit, so we purchased roundtrip tickets for both ropeways. Roundtrip tickets cost 2,900 yen for adults (thirteen years and older) and 1,450 yen for children (six to twelve years old).
Ropeway No. 1 Gondola
We took the first ropeway of the day at 9:00. We initially thought that we were too early, as we had arrived before the ropeway opened, but there was already a line of people waiting. Nevertheless, we were still able to take the ropeway without waiting.
In about four minutes, we arrived at Nabedairakogen Station, the final stop on Ropeway No. 1.
Exit Nabedaira-Kogen Station and you'll find Sangakukan, the Shinhotaka Visitor Center, to your right. The Snowshoe Half Day Tour, an activity that is extremely popular with travelers, is held here. Be sure to stop by.
9:30 - Hiking and Play in a Snowy World
Picture courtesy of Shinhotaka Ropeway
The Snowshoe Half Day Tour is an activity where participants can explore the snowy mountains wearing snowshoes. You can take a walk in the forest, which can only be done during the snowy season. A guide accompanies the tour.
If you're lucky, you may even be able to meet the cute, tiny animals living in the forest. Enjoy the two-hour tour while taking gorgeous pictures and playing in the snow in the middle of nature.
Snowshoe Half Day Tour
Please make a phone reservation in advance. 0578-89-2254
Activity Period: Late December – Late March (Depending on snowfall)
Time: Twice per day 9:30 – 12:00 and 13:00 – 15:30
Participation Fee: 4,000 yen for adults, 2,900 yen for children (rental and guide fee is included)
The tour is conducted when two or more people have signed up.
12:10 - Have Delicious Hida Pork for Lunch
Bottom two pictures courtesy of Shinhotaka Ropeway. Top picture taken by MATCHA
After strolling in the snow, replenish your energy at Restaurant Alps on the second floor of Shirakabadaira Station near the Shinhotaka Visitor Center.
The restaurant has an abundant menu featuring Hida beef and pork. Try these local specialties in dishes like the Hida Beef Yakiniku Bowl or Hida Pork Katsu Curry. They also have Takayama ramen, a local variety of noodles.
Hida beef is a well-known type of Japanese beef, but Hida pork is another popular choice. The MATCHA editorial staff had the Hida Pork Miso Katsudon (1,200 yen with tax).
Its crispy skin and miso glaze topped with sesame seeds blend to create a truly delicious flavor. The dish comes with miso soup and pickled vegetables on the side.
Top picture courtesy of Shinhotaka Ropeway. Bottom two pictures taken by MATCHA
Alps Bakery is on the same floor as the restaurant. The croissants, which come plain or with fillings (red bean paste, chocolate, and vanilla cream) are very popular with visitors. There are also snacks you can bring along during the rest of your trip, like Hida Beef Curry Bread or a Hida Beef Croquette.
13:15 - Ascend the Summit
Once you're full, head to the top of the mountain to take in the view. Take Ropeway No. 2 from Shirakabadaira Station, which is at an elevation of 1,308 meters. It takes just seven minutes to get to Nishi-Hotakaguchi Station on the summit, which is 2,156 meters above sea level.
Picture courtesy of Shinhotaka Ropeway
The gondolas of Ropeway No. 2 are Japan's only two-level gondolas and are not commonly found outside of Japan, either.
After arriving, go to the roof on the fifth floor. There will be an observation deck where you will be greeted by Nishiho-kun, a snowman. In late March, it was -7℃!
This observation deck is featured in the "Michelin Green Guide Japan" with two stars as a tourist area you must visit in Japan.
The area of the observation deck and the mountains before you are all a part of the Japanese Alps. The magnificent nature will surely take your breath away.
The tall mountain in the center is Mt. Yari (3,180 meters).
Look below you and you'll catch glimpses of people walking in the snow. Our editors also went down into the snow.
This is called Sengoku Enchi. Here you can walk through a corridor made of snow and take pictures. The snow walls can reach up to three meters tall during January and February!
The temperature is low, so the snow is powdery and piles up without melting. We put our hands in the surrounding snow and it completely covered us up to our arms.
Once you're satisfied with the pictures you've taken, warm up with coffee at Mount View on the fourth floor of Nishi-Hotakaguchi Station. We also had hot Hida beef skewers.
The restaurant also serves ramen, curry, udon, and other such dishes, so you can fortify yourself for the rest of the day with a meal.
The store on the third floor sells wonderful souvenirs. We recommend the Haga-Ki (a pun on the Chinese character for tree), a postcard made from wood that you can actually mail. It can be mailed from the postbox at the highest altitude in Japan, at Nishi-Hotakaguchi Station.
Other interesting selections include a bell to ward off bears! (pictured bottom left). It's said that bears won't approach you if they hear the sound of the bell and is used by people that walk in the mountains. There were also Kizuna-Sarubobo (relationship good luck charms) and local Kit Kats (pictured bottom right)
Sarubobo is a regional handicraft item of the Hida-Takayama region. However, they're not only cute, but are also considered to protect against misfortune. The Kizuna-Sarubobo has a wire from the Shinhotaka Ropeway in the case hanging from its chest and can only be found here.
14:15 - Descend the Mountains and Soak in Outdoor Hot Springs
Afterward, the MATCHA editorial staff took the ropeway from Nishi-Hotakaguchi Station one station below to Shirakabadaira Station, then headed once more to the Visitor Center.
Our destination is the Kamitakara-no-Yu, a natural open-air bath. When you enter the baths, the combination of the chilly outdoors and the warm hot springs will make you want to soak in the soothing waters forever.
In consideration of the environment, the use of soap and shampoo is not permitted. Entry fees are 600 yen for adults and 400 yen for children. They also sell face towels (200 yen) and bath towels (400 yen).
There is also a free footbath next to the station. If you don't have time to enter the hot springs, then it'd be nice to warm yourself with a footbath.
15:00 - Pick Up Souvenirs at the End of Your Trip
Conclude your trip with some shopping. Take Ropeway No. 1 to Shinhotaka Onsen Station at the base of the mountain to search for gifts and keepsakes.
At Kasagatake inside the station, you will find wasabi soft serve ice cream, udon, soba, ramen, and snacks. They have all types of souvenirs lining their shelves, making this a great place to find something that will commemorate your visit to Shinhotaka Ropeway.
If you're feeling a little hungry, visit Ajidokoro Okuhida, a stand at the front of the station, where you'll find hot spring soft-boiled eggs and steamed Hida beef buns. Gondola-yaki, a type of pastry baked in the shape of ropeway's two-storied gondolas, is a unique choice ideal for visitors with a sweet tooth.
15:55 - Return to Takayama by Bus
It's about time to return to Takayama.
Take the bus that departs at 15:55 to arrive at the Takayama Nohi Bus Center at 17:31. Those transferring to a bus bound for Nagoya can arrive in Nagoya by 20:30 if they purchase a ticket for the 18:00 bus. It costs 2,980 yen to get from Takayama to Nagoya, which is a comfortable option that is less expensive than taking the train.
Enjoy the Scenery of the Magnificent Japan Alps
Picture courtesy of Shinhotaka Ropeway
The stunning winter scenery of the Japanese Alps introduced in this article can be enjoyed until around the end of April depending on weather conditions.
However, you can have a great visit to the magnificent Japanese Alps regardless of the season. The summit during the summer is pleasantly cool and filled with lush greenery. The colored leaves during the autumn are also gorgeous.
The ropeway also runs the Star Night Gondola in the evenings between spring and fall, allowing riders to gaze at the starry sky. Be sure to experience all the wonders of the Japanese Alps by visiting for yourself!
View Information
Shinhotaka Ropeway
| | | |
| --- | --- | --- |
| | Address | Gifu, Takayama, Okuhida Onsenkyo, Shinhotaka Onsen |
| | Business Time | Varies depending on season |
| | WiFi | Not Available |
| | Accepted Credit Cards | Not Available |
| | Nearest station | JR Takayama Station |
| | Access | Take the Nagoya Meitetsu from Centrair and exit at Nagoya Station (approx. 40 minutes needed). Take the express bus from Nagoya Station, then exit at Takayama Nohi Bus Center (approx. 2 hours and 30 minutes). Take a route bus from Takayama and exit at the Shinhotaka Ropeway bus stop (1 hour and 40 minutes) |
| | Price | Roundtrip Ropeway Ticket Adults: 2,900 yen, Children: 1,450 yen |
| | Telephone number | 0578-89-2252 |
| | Website | http://shinhotaka-ropeway.jp.e.uk.hp.transer.com/ |
Official Chubu Centrair International Airport Website: https://www.centrair.jp/en/

There are many other exciting sightseeing spots near Centrair. Check them out in our Travel In Chubu Special Feature!

Written by TeiChayangkul
In cooperation with Shinhotaka Ropeway
Sponsored by Chubu Centrair International Airport

The information presented in this article is based on the time it was written. Note that there may be changes in the merchandise, services, and prices that have occurred after this article was published. Please contact the facility or facilities in this article directly before visiting.