Popular Festival Foods In Japan - Snacks And Sweets To Enjoy Year-Round
Festivals are normally held year-round in Japan and serve dishes at the yatai, or food stalls. From freshly-cooked karaage fried chicken to red bean paste-filled taiyaki and other treats, the snacks and desserts at festivals add the finishing touch to the magic of Japanese matsuri.
Must-try Japanese Festival Foods
Photo by Pixta

Festivals take place at shrines, temples, and other venues all year round in Japan, celebrating seasonal or historical events. On festival days, shop owners set up food stalls known as "yatai," and outdoor stands on the road, at parks, or paths approaching shrines. Festivals have a great variety of treats and sweets, and are one great way to enjoy Japanese street food at a reasonable price––often costing less than 500 yen.
Japanese food is served typically from yatai like the one above. They typically serve quick and tasty Japanese dishes, desserts, and drinks.
Below are some typical foods and sweets you can enjoy at a Japanese festival. Please keep in mind that in 2020, many festivals have been canceled, postponed, or are not serving food. We recommend to keep this article in mind for 2021 and beyond!
Savory Japanese Festival Foods and Snacks
The savory dishes found at festivals in Japan are varied and sure to please all tastebuds, ranging from yakisoba to fried chicken. Indulging in something cooked fresh from a stall, combined with the festive atmosphere, will make your experience all the more delicious. Please note that the selection of food will differ according to the festival, location, and time of year.
1. Yakisoba Noodles
Yakisoba is a stir-fried noodle dish often found at festivals in Japan. Yakisoba is made with noodles stir-fried with cabbage, pork, chicken or beef, carrots, and a few slices of pickled ginger. Ao nori, or dried green seaweed, is often sprinkled on top. A tinge of yakisoba sauce and Japanese mayonnaise make it juicier.
This is a classic festival snack food which you just have to taste at a Japanese matsuri. Vendors quickly cook up a huge pile of noodles in batches and divide them up into orders as needed.
2. Takoyaki
Originating in Osaka, takoyaki enjoys popularity all around the country. Takoyaki is made from a light Japanese pancake batter, shaped into round, bite-size balls with small pieces of cooked octopus (tako) inside, using a special iron grill. It is topped with takoyaki sauce (similar to Worcestershire sauce), katsuobushi (dried bonito flakes), and dried green seaweed.
Optional toppings include Japanese mayonnaise and beni shoga (red pickled ginger) with mayonnaise, and even cheese.
3. Okonomiyaki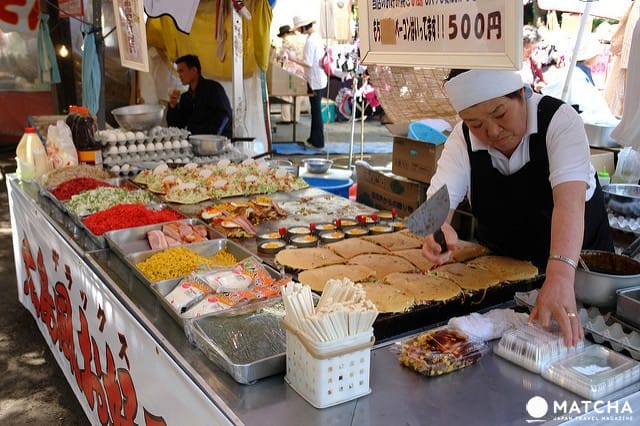 Okonomiyaki is a round, savory pancake-like dish typically containing cabbage, pork and a sweet sauce. It literally means "grilled as you like it" due to the huge number of variations one can use in ingredients.
Making okonomiyaki takes time to complete, so vendors cook it up in batches and serve up the piping hot pancakes after they're cooked through. This is a favorite festival food of many, and few can escape the allure of its aroma and taste.
4. Ikayaki - Grilled Squid
Grilled, squid, or ikayaki, is another classic festival snack. The grilled squid is usually seasoned with soy sauce, served as horizontally cut squid rings. It is lighter than the pan-grilled and stir-fried dishes above, making it a good side snack to have with drinks, like beer.
5. Yakitori
Yakitori is a common sight both at Japanese festivals and at roadside yatai stalls.
Bite-size pieces of chicken are put on wooden skewers and seasoned with a savory sauce. They are then grilled to perfection, giving out a unique aroma. These pieces can be chicken thighs, chicken meatballs, chicken skin, chicken wings and bone cartilage, chicken tail, and even internal chicken organs.
6. Karaage - Delicious Japanese Fried Chicken
Karaage, or Japanese-style fried chicken, is another snack prevalent and popular at festivals. Fried up fresh at the yatai, this tasty chicken snack will satisfy your cravings for something juicy, salty, and crispy.
Even if you've had Japanese fried chicken before, festival karaage is a must-try. Your fried chicken will be served in bite-sized pieces in a paper cup or another container to-go.
7. French Fries of All Varieties
French fries are found throughout the world, but the varieties at festivals in Japan may be unlike anything else you've tried before. Pronounced "furaido poteto" (fried potato) in Japanese, this salty, crunchy snack comes as jumbo, long-cut fries in a tray (like the picture above), in a bag with seasoning that you have to shake to mix, or as classic French fries. There are also unique Japanese flavors like nori shio (seaweed flakes and salt) are delicious and worth a try.
8. Tomorokoshi Corn on the Cob
Photo by Pixta
The Japanese word for corn is "tomorokoshi," and is a popular summertime treat at festivals. This seasonal vegetable is usually freshly grilled at the food stall and served with a coating of buttery flavor, on the cob. While you may have had this snack before, the traditional matsuri atmosphere and flavor of the corn blend together and will surely give you a unique experience.
Japanese Festival Sweets
Festivals in Japan also serve up mouthwateringly-delicious traditional desserts that taste all the more flavorful when served up fresh from the food stalls. Like the savory snacks listed above, the food offered varies by region and the season.
9. Taiyaki
Taiyaki is a fish-shaped pastry with a sweet filling. Made using regular pancake or waffle batter, taiyaki is poured into a fish-shaped mold, filled with the sweet filling, and then cooked on both sides. The most popular filling is sweetened red bean paste, but you can also find taiyaki with custard cream, chocolate, sweet potato cream, and a variety of other flavors.
10. Kakigori - Shave Ice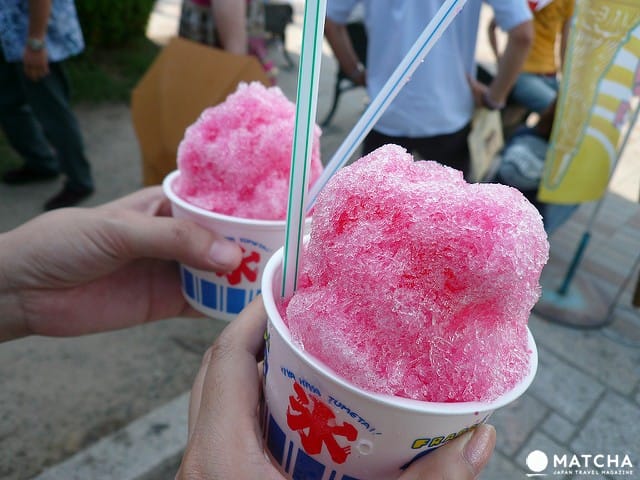 A traditional favorite at summer festivals, kakigori is shave ice with a syrup topping. This cold dessert is enjoyed especially during the summer and is often topped with fruity flavors of syrup and condensed milk. Some of the most popular flavors for shaved ice include strawberry, melon, lemon, cola, mango, orange, and matcha or green tea. Children and adults both enjoy this delicious dessert!
11. Chocolate-Covered Banana
Chocolate-covered bananas in Japan are a popular treat at festivals. Typically, chocolate is drenched over a banana, which is then sprinkled with sweet confectionery such as multi-colored sprinkles or nuts. It can be dipped also in other kinds of melted chocolate, too, such as white chocolate, strawberry-flavored chocolate, and all sorts of chocolate variants.
With strawberry and melon-infused chocolate coatings, colorful crunchy sprinkles, and containing a whole banana, the choco banana is a favorite among children and the young at heart.
12. Sweet Potato Sticks
Festivals tend to have fried foods and sugary treats, but not everything served is heavy. Japanese sweet potatoes (satsumaimo) are one exception––the ultimate treat for someone looking for a satisfying dessert with nutritional benefits. Sold at some festivals in lengthwise cuts as sweet potato sticks with a dusting or glaze of sugar, or as-is. These treats contain vitamins and fiber along with a satisfying sweetness.
Savory and Sweet Treats at Festivals in Japan
The food offered at yatai stalls during festivals in Japan is tasty and friendly to the wallet. The dishes can be enjoyed while walking around the festival grounds or at your space on the lawn if watching a performance or fireworks display. Sometimes, there will be a space with tables and chairs where people can take a break to enjoy their food, too.

In addition to the yatai dedicated to food, the venues will often have stalls housing games and activities with prizes. The tasty snacks and desserts along with the people in yukata, glittering lanterns, and cheerful atmosphere will create an unforgettable day or evening.

The information presented in this article is based on the time it was written. Note that there may be changes in the merchandise, services, and prices that have occurred after this article was published. Please contact the facility or facilities in this article directly before visiting.