Popular Festival Food In Japan
Festivals, especially those related to shrine and temple celebrations, are held all year round in Japan. The food stalls that grace the festival grounds are as popular as the celebration itself. Let's see what the food at these festivals is like.
Shrine and temple festivals take place all year round in Japan, celebrating seasonal or historical events. On festival days, shop owners set up stalls and outdoor stands on the road or path approaching the shrines. These food stalls are also put up in parks, on the streets or on the roadside during various festivities held throughout the year.
In autumn, traditional Japanese festivals take place all over Japan to celebrate the rice harvest. While some of those festivals are large scale and attract thousands of people, others are quite small and very local. However, no matter the scale, people gather in large numbers at these festivals and enjoy fun activities as well as local snacks and desserts.
One of the highlights of Japanese festivals is yatai. Yatai are stalls that are set up to serve quick and tasty Japanese dishes, typically associated with festivals. As visitors arrive at the festival venue, they can smell the aromas coming from the yatai that line the road leading up to the shrine. The best way to enjoy the festival atmosphere is to sample delicious food from the yatai stalls. Here are some typical foods you can taste at a Japanese festival.
Popular Japanese Snacks
Yakisoba Noodles
Yakisoba is a stir-fried noodle dish. Quick to make and delicious, it is a great snack to enjoy on the go. Vendors quickly cook up a huge pile of noodles in batches and divide them up into orders as needed.
Yakisoba is made with soba noodles stir-fried with cabbage, pork, chicken or beef, carrots, and a few slices of pickled ginger. It is often topped with dried green seaweed. A tinge of yakisoba sauce and Japanese mayonnaise make it juicier. This is a classic festival snack food which you just have to taste at s Japanese festival.
Takoyaki
Originating in Osaka, takoyaki enjoys popularity all around the country. Takoyaki is a popular Japanese snack food made with light Japanese pancake batter. It is a round bite-size ball with a small piece of cooked octopus (tako) inside and pan fried in a special takoyaki pan. It is topped with takoyaki sauce (similar to Worcestershire sauce), katsuobushi (dried bonito flakes) and aonori (dried green seaweed). Optional toppings include Japanese mayonnaise and beni shoga (red pickled ginger) with mayonnaise and even cheese. Extremely tasty, this snack satisfies the taste buds.
Okonomiyaki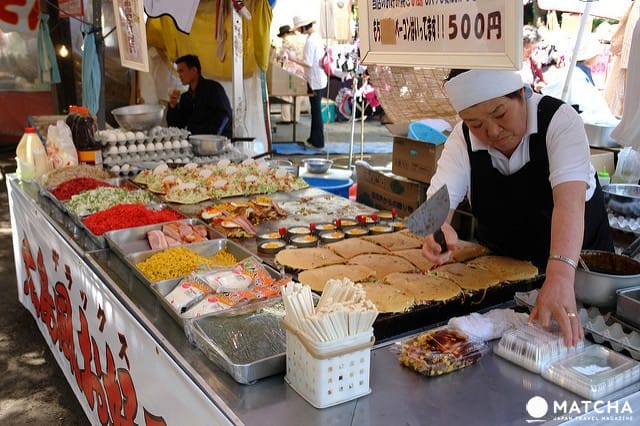 Okonomiyaki is similar to a savory pancake that is made with batter and a variety of different ingredients like cabbage, pork and a sweet sauce. It literally means "grilled as you like it" due to the huge number of variations one can use. The most common ingredients are cabbage, spring onions, and meat or seafood. The whole cooking process takes a bit of time to complete, so vendors cook it up in batches and serve piping hot pancakes. A favorite festival food, one cannot escape the allure of its aroma and taste.
Grilled Squid
It is also known as ikayaki. One of traditional snack at festivals, grilled squid is usually seasoned with soy sauce and served as horizontally cut squid rings. Not too heavy on the stomach, it is a good side snack to have with some drinks, especially beer.
Yakitori
Yakitori is a common sight both at Japanese festivals and at roadside yatai stalls. It consists of grilled chicken pieces on a skewer, and these pieces can be grilled chicken thighs, chicken meatballs, chicken skin, chicken wings and bone cartilage, chicken tail, and even internal chicken organs such as liver, gizzard, heart, and small intestines as well. Bite-size chicken parts are put on wooden sticks and seasoned with savory sauce. They are then grilled to perfection, giving out a unique aroma.
Festival Sweets
Taiyaki
Simply put, taiyaki is a fish shaped pastry with a sweet filling. Common fillings include red bean paste, custard cream, chocolate or cheese. Made using regular pancake or waffle batter, taiyaki is poured into a fish-shaped mold, filled with the sweet filling and then cooked on both sides. The most popular filling is sweetened red bean paste, but you can also find taiyaki with custard cream, chocolate or sweet potato cream.
Kakigori - Shaved Ice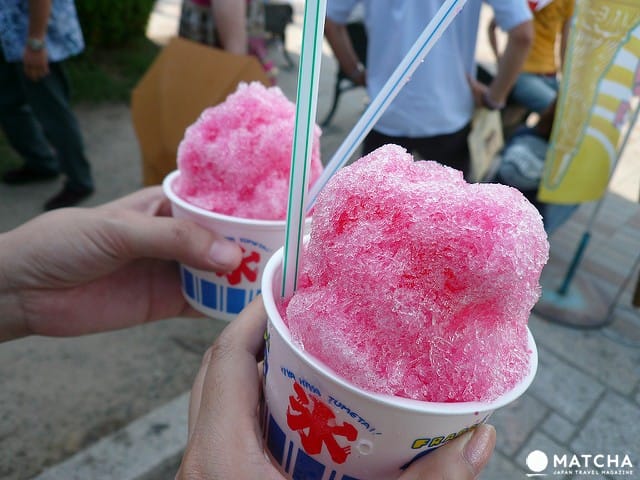 A traditional favorite at summer festivals, kakigori is shaved ice with a syrup topping. Kakigori is a cold dessert and is enjoyed especially during the summer. It is basically shaved ice mixed with fruity flavors of syrup and condensed milk. Some of the most popular flavors for shaved ice include strawberry, melon, lemon, cola, mango, orange, and coffee. Children and adults both enjoy this delicious dessert!
Choco Banana
Choco banana is frozen banana coated in chocolate and sprinkled with sweet confectionery such as multi-colored sprinkles or nuts. Although it is called chocolate banana, it can be dipped also in other kinds of melted chocolate such as white chocolate, strawberry chocolate and all sorts of chocolate variants. With strawberry and melon-infused chocolate coatings, colorful crunchy sprinkles and containing a whole banana, the choco banana is a favorite among children and youngsters.
In Conclusion
Food offered at yatai stalls is tasty and it rarely costs more than 500 yen. The dishes can be taken out, and it is perfectly acceptable to walk around while eating them. Sometimes there is even a space with tables and chairs where people can take a break to enjoy their food. In addition to the yatai dedicated to food, the matsuri venues are filled with attractions, such as games and activity stands, making the venue a fun place to visit.

Festivals and special occasions are incomplete without the festive atmosphere brought about by the cheerful people, traditional food carts, beautiful firework displays, fun stalls, and glittering lanterns enjoyed with friends and loved ones. On your next trip to Japan, how about including a Japanese festival into your itinerary? It will surely be one of the best experiences of Japanese culture and cuisine.

The information presented in this article is based on the time it was written. Note that there may be changes in the merchandise, services, and prices that have occurred after this article was published. Please contact the facility or facilities in this article directly before visiting.