Fireworks in Japan: The Best Festivals, History, and Tips
This service includes sponsored advertisements.
Fireworks are one of the joys of summer in Japan. This article introduces the features of Japan's fireworks festivals, the best summer events, and how to enjoy them to the fullest!
Don't Miss Out on Watching Fireworks in the Summer!
Fireworks are synonymous with summer in Japan, primarily launched at events throughout July to August. "Hanabi," the Japanese word for fireworks, can be literally interpreted to mean "fire flowers" or "flower-shaped fire."
It finally feels like summer has arrived once you see fireworks blossoming in the beautiful night sky. How are fireworks enjoyed in Japan? We'll dive into their history, explain their popularity, and introduce manners and etiquette, what to bring, access, and expected traffic during fireworks festivals and displays in Japan.
Fireworks in Japan
1. The History of Japanese Fireworks
2. Why are Fireworks in Japan Special?
3. Types of Fireworks in Japan
4. Food at Fireworks Festivals
5. What to Check Before Going to a Fireworks Festival
6. Free vs. Paid Seating
7. What to Bring to a Fireworks Festival
8. Fireworks Festival Attire
9. Crowd Forecast on Event Day
10. 10 Famous Fireworks Festivals in Japan
The History of Japanese Fireworks
Hiroshima Prefecture, Miyajima Water Fireworks Festival
There are various theories on how fireworks came to be and why they are hugely popular in Japan. Experts most support the following theory.
Tokugawa Ieyasu (1543-1616), the founder of the Edo shogunate (1603-1867), received fireworks as a gift from the envoy of British King James I and a Chinese merchant in August 1613. This exchange sparked his interest in fireworks.
As fireworks began to gain popularity, Edo (modern-day Tokyo) authorities would gather on the banks of the Sumida River to watch the displays. This gave birth to the tradition of watching fireworks while enjoying the gentle breeze.
The first fireworks festival held for the general public dates back to 1733. During this event, fireworks were launched from the banks of the Sumida River to console the spirits of the one million people who died in poverty the previous year. The crowd-gathering festivity was also meant to entertain the public.
It eventually became an annual summer event, currently called the Sumida River Fireworks Festival. Additionally, unique fireworks festivals and displays are held in each administrative district throughout Japan.

↑ Return to the top of article.
Why are Fireworks in Japan Special?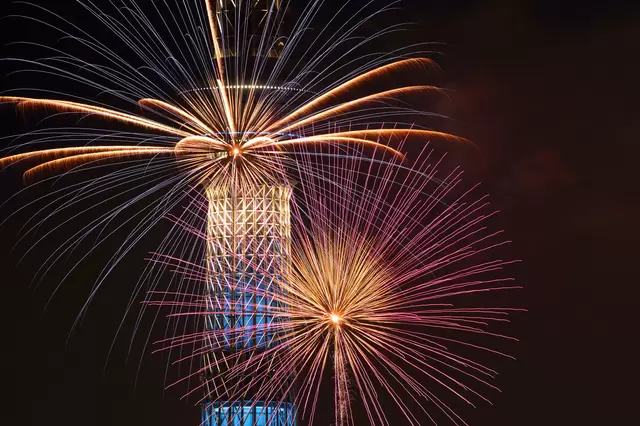 Sumida River Fireworks Festival in Tokyo
Fireworks are launched into the air to liven up events held worldwide.
On the other hand, fireworks in Japan are launched for no reason other than to appreciate the illuminations. Many Japanese are equally captivated when watching fireworks in the summer as marveling at cherry blossoms in the spring. That's because fireworks are a beautiful yet fleeting performance enjoyed with friends or a significant other.
The length of time a fireworks display is held is also different in Japan compared to abroad. During fireworks festivals in Japan, pyrotechnics are the main event. It typically lasts one to two hours, although this may differ depending on the venue's scale.
Types of Fireworks in Japan
Azumino Fireworks Festival in Nagano
Fireworks crafted outside Japan are typically made by filling a cylindrical shell with gunpowder. This results in fireworks that are fountain-shaped when launched into the air. On the other hand, fireworks made in Japan appear round due to spherical cases filled with gunpowder.
Fireworks in Japan have evolved further in recent years. They are available in various shapes and colors that will take your breath away. Some fireworks are even made into heart and character shapes.

↑ Return to the top of article.
Food at Fireworks Festivals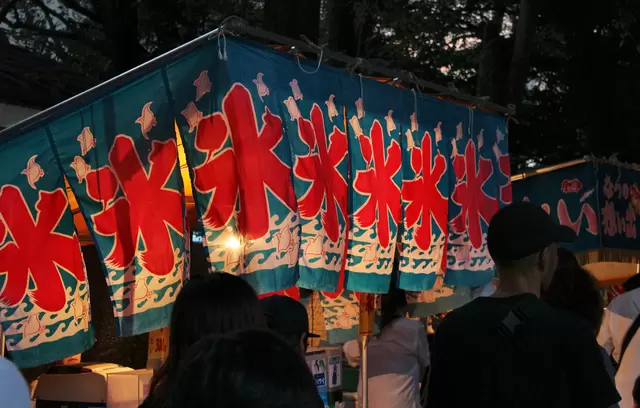 The venue and surrounding area near a fireworks festival are lined with food stalls. You'll find yakisoba (stir-fried noodles), shaved ice, grilled squid, chocolate-covered bananas, and more!
Nearby supermarkets and convenience stores become extremely crowded, with lines forming outside. Most stores will sell drinks and snacks in front of the store.
It's best to purchase what you need before arriving at the nearest station to the venue.
What to Check Before Going to a Fireworks Festival
Josu Kinu River Fireworks in Ibaraki
Fireworks festivals in Japan typically occur between July and August. Make sure to check the venue and time beforehand. Venues and viewing areas used for fireworks festivals can be huge. We recommend confirming location details on the official website or a map in advance to avoid getting lost.
Fireworks are easily affected by rain and wind. As a result, events are subject to be postponed or canceled due to rain or stormy weather. Don't forget to also check the weather forecast!
There will be restrooms and portable toilets set up around the venue. However, long lines form with these being used by hundreds of people. Depending on the viewing area, it might also take you several minutes to walk to the restroom. Please go to the bathroom before the fireworks begin to ensure a relaxing time.
Book the JR Rail Pass for Whole Japan (7, 14, or 21 Days) on klook
↑ Return to the top of article.
Free vs. Paid Seating
If you visit Japan, you'll want to see the fireworks and make lasting memories. However, choosing where to watch the fireworks is key.
The typical way to watch a fireworks festival is to head to the set area for general viewing and lay a picnic blanket on the ground. Many aim for the best positions and save their spots with a picnic blanket. Therefore, please be careful of the following things:
- Find a spot without any buildings or obstructions that will block your view of the fireworks.
- Be at the venue at least an hour before the fireworks begin (you will need to stake out the area earlier in the afternoon to find the best spot).
- Have at least one person stay in your spot at all times until the fireworks begin.
- Don't forget to show consideration for others to avoid scrambling for seats.

Many fireworks festivals can be enjoyed for free by bringing a picnic blanket or mat. But there is still a possibility that you won't secure a seat if you don't stake out a spot hours before the fireworks festival begins. That's why the number of people that reserve paid viewing seats has increased in the past few years.
Large-scale fireworks festivals have paid seating and sell tickets with viewing access from the rooftops of nearby buildings. These tickets must be pre-booked, and most events have multi-lingual support as of 2023.
The Best Way to Enjoy Paid Seating
Yakatabune pleasure boats in Asakusa
The paid seating at fireworks festival venues is often set up near the launching sites, giving an unparalleled view. Yakatabune (Japanese-style dinner cruises) and well-located restaurants get flooded with reservations during these times. If there's a fireworks festival or display that you'd like to go to, be sure to make your reservations in advance.
Buy Paid Seat Tickets
Want to watch the fireworks from a spot clear of obstacles? We recommend purchasing a paid seat ticket. You won't need to stake out a place at the venue, which is bound to get crowded on the day of the fireworks festival. The cost in a ticketed seating area starts from 1,000 yen for non-reserved seats and will range from 10,000 to 30,000 yen for a reserved seat with tables and chairs.
Make Restaurant Reservations
"I want to watch the fireworks but worry about the heat."
"I'm bad with crowds."
If this describes you, we recommend visiting a restaurant or beer garden with a view of the fireworks. You can watch the fireworks in an ideal setting while having a delicious meal and drink.
View Fireworks from a Yakatabune
Yakatabune is a Japanese-style boat with a roof and tatami rooms. These pleasure boats have proved successful since the Edo Period, offering receptions and meals for guests to enjoy on board. The fireworks are visible from the windows of the boat. Some boats are even furnished with a rooftop deck where you can watch the fireworks as the boat sways in the pleasant breeze.
There are even large, private yakatabune that can accommodate a small number of people to over 100. An inexpensive boat costs around 10,000 yen to charter. Chartering a boat for a large party lets you watch the fireworks as everyone winds down in a spacious banquet hall.
Another charm to chartering a yakatabune is enjoying a traditional full-course Japanese meal and other extravagant delicacies. Various add-on options, like watching a magnificent geisha performance or having a karaoke session while on board, are available. It's truly an activity anyone can enjoy regardless of age. If you want to thoroughly enjoy summer in Japan, this is for you!
Book Fireworks Festival Tickets on Klook
↑ Return to the top of article.
What to Bring to a Fireworks Festival
Food, drinks, and picnic blankets can be purchased at convenience stores near the venue. Normally, you would be fine without bringing anything. However, you'll be stuck in a long line inside a crowded store if you try to shop on-site where these events occur. The costs may also be slightly higher than usual.
Do you want to enjoy the fireworks as smoothly as possible? Then bring your own food and drinks. Picnic blankets are available in single to party sizes for big groups at 100-yen shops and supermarkets. We also recommend bringing wet wipes, towels, and blankets.
Lately, visitors' manners have deteriorated, and the garbage problem at fireworks festivals is becoming more severe. As a common courtesy, please bring your trash home if you are watching fireworks at an outdoor venue. This is why trash bags and other cleaning supplies are essential.
To combat this, there is an increase in large trash areas at venues with staff stationed to separate the trash. Please follow the rules and practice good manners when viewing the fireworks.
Fireworks Festival Attire
While fireworks festivals don't have a set dress code, many people wear yukata (summer kimono) to the event. A fireworks or summer festival is the perfect time to go out in a yukata if you have one!
If wearing a yukata is not an option, we recommend heading out in cool summer clothing. Some ideal options include shorts, T-shirts, or a lightweight dress. It's essential to wear shoes that are easy to walk in for events like these.
Expect the streets between the nearest station and the venue to be crowded. It would be best if you also had time to find the viewing area because of the immense crowds at the venue. We highly suggest putting on sneakers that you regularly wear.
Summers in Japan are hot and humid. However, the nights get cooler in areas near the river or ocean. So, a thin jacket or shawl will be handy.

↑ Return to the top of article.
Crowd Forecast on Event Day
The station area and trains are terribly packed every year after the fireworks are over. Give yourself extra time, don't rush, and stay orderly for your safety.
If you don't use IC cards like Suica and Pasmo for transportation, it would be convenient to buy a return ticket after arriving at the station nearest the venue. If you have time, we recommend waiting a while after the fireworks are over before leaving or walking down one or two stations to take the train.
A taxi is another option. However, the area around the venue will be under traffic restrictions, with limited roads open to traffic. There will be long lines at taxi stands, so you should hail a cab at a spot away from the crowds.
Meanwhile, you should make plans ahead of time if you are staying far from the fireworks venue. Hotels near the venue get fully booked, so make a reservation a few months ahead to be on the safe side.
Book the JR Rail Pass for Whole Japan (7, 14, or 21 Days) on klook

↑ Return to the top of article.
10 Famous Fireworks Festivals in Japan
Naniwa Yodogawa Fireworks Festival in Osaka
Are you planning to stay in Japan during the fireworks festival season? Then consider visiting one of the popular fireworks festivals listed below!
Event Name & Area
Nearest Station
Event Date & Time
Edogawa Fireworks Festival (Tokyo)
15-minute walk from Shinozaki Station
25-minute walk from Koiwa Station
8/5 (19:15–20:30)
Sumida River Fireworks Festival (Tokyo)
5-minute walk from Kuramae Station
15 minute walk from Asakusa Station
7/29 (19:00–20:30)
Katsushika Fireworks Festival (Tokyo)
10-minute walk from Shibamata Station
15-minute walk from Shin-Shibamata Station
20-minute walk from Kanamachi Station/Takasago Station
7/25 (19:20–20:30)
Adachi Fireworks (Tokyo)
15-minute walk from Kita-Senju Station, Kosuge Station, Gotanno Station, and Umejima Station
7/22 (19:20–20:20)
Tenjin Festival Fireworks Display (Osaka)
2-minute walk from Sakuranomiya Station
5 minute walk from Temmabashi Station
7/25 (19:30–21:00)
Naniwa Yodogawa Fireworks Festival (Osaka)
15-minute walk from Mitejima Station, Himejima Station, Tsukamoto Station, Nishinakajima-Minamigata Station, Minamikata Station, and Juso Station
8/5 (19:30–20:30)
Nagaoka Festival Grand Fireworks Show (Niigata)
30-minute walk from Nagaoka Station
8/2, 8/3 (19:20–21:10)
Minato HANABI (Minato Kobe Marine Fireworks Festival) (Hyogo)
8-minute walk from Minatomotomachi Station
10/16–10/20 (18:30–18:40)
Miyazu Toro Nagashi Fireworks Display (Kyoto)
10-minute walk from Miyazu Station
8/16 (19:30–20:20)
All-Japan Fireworks Competition (Akita)
30-minute walk from Omagari Station
8/26 (17:10–18:00, 18:50–21:30)
Book a ticket on skyticket!
Check Highway Bus WILLER for vacant seats and prices
↑ Return to the top of article.
Enjoy Japan's Summer Fireworks!
Kamioka Nangai Fireworks Festival in Akita
While watching aerial fireworks on TV or through pictures is great, nothing beats the intensity of looking at the fireworks in person. These events are uniquely Japanese, considered synonymous with summer in Japan for many residents.
Giving yourself enough time is the most important thing when going to a fireworks festival. Making even the smallest preparation will ensure a great time on the day itself, with your summer memories undoubtedly becoming all the more wonderful!
Why not wear a yukata and experience a quintessential summer treat in Japan among locals?
Book Fireworks Festival Tickets on Klook
*This is an updated version of an article originally published in English.
All pictures from PIXTA
Written by
Top Articles
There are no articles in this section.