Roasted Sweet Potato Shop Fuji - Choose Between 8 Different Flavors!
Roasted sweet potatoes, also known as yakiimo, are a popular snack in the autumn and winter months. There are various delicious types available. If you visit Fuji in Tokyo's Setagaya ward, you can try one of the greatest yakiimo selections in Japan!
Roasted sweet potato, also known as yakiimo in Japanese, is a popular autumn and winter snack food in Japan. On my recent visit to Setagaya in Tokyo, I encountered a small roasted sweet potato shop called Fuji which offers the greatest variety of this healthy Japanese snack food I have ever seen.
To get an idea about the difference between the various flavors, I tried four of the eight types of yakiimo that they offer. Let me introduce them to you.
How to Eat Japanese Roasted Sweet Potatoes
First of all, let me explain how you typically eat roasted sweet potatoes in Japan. You will receive the piping hot treat in a paper bag. Slide the potato out half way and use the bag to protect your hands.
Japanese sweet potatoes are very sticky, so it might be hard to get the residue off your hands if there is no sink around to wash your hands.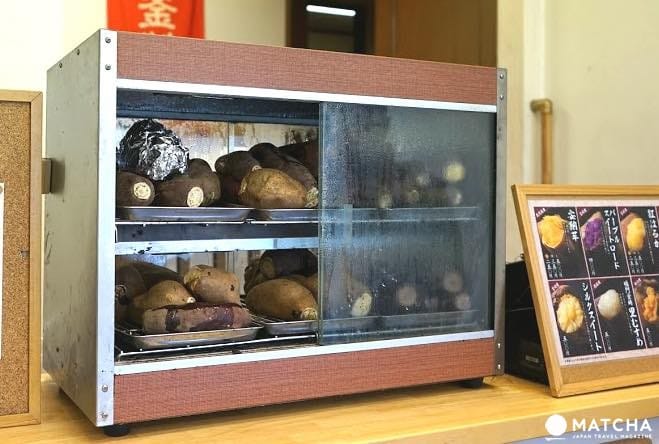 You might be tempted to peel off the potato skin, but I highly encourage you to try it with the skin. The skin has been cleaned and is full of vitamins. If you get a good quality roasted sweet potato it will be very easy to eat.
If you decide to peel off the skin, please dispose of it inside your paper bag, not on the street. After you consumed the sweet potato you can dispose of the bag and the potato skin together.
Some people like to eat their sweet potato while drinking a cup of milk, especially if the potato is on the drier side. I highly encourage you to try this combination. Milk and sweet potatoes go very well together.
Fuji - Enjoy Japan's Delicious Sweet Potatoes
Fuji, located in Setagaya, is a relatively new shop. It opened in 2013 and will celebrate its 5th anniversary this year. The only other store belonging to Fuji can be found in Oita city.
The owner's dream is to introduce delicious roasted sweet potatoes from all over Japan in one place. You can choose from a variety of eight different types of yakiimo, all varying in sweetness, taste, and color.
During the colder months of the year, from August to April, the whole selection of eight yakiimo types is available at Fuji:
Anno Imo (orange-fleshed sweet potato) - A slightly sticky sweet potato with a mild honey-like flavor.
Purple Sweet Road - It has a vivid purple color and is the least sweet-tasting of all the types available.
Beni Haruka - The sweetest yakiimo in the shop.
Halloween Sweet - A brand new breed of sweet potato which is pumpkin-flavored and has a vivid orange color.
Silk Sweet - A yakiimo that was named after its silky feel and gentle sweetness.
Naruto Kintoki Sato Musume - Naruto Kintoki refers to sweet potatoes grown in sandy soil. This potato comes from Tokushima, a region known for its delicious, creamy sweet potatoes, as well as for "naruto", the great swirling whirlpools in the Seto Inland Sea.
Ninjin Imo (carrot potato) - Another unusual orange-colored sweet potato with a carrot aftertaste.
Miyazaki Beni - Beni means "red" in Japanese and it refers to the color of the potato skin. Miyazaki is another region known for its sweet potatoes. This yakiimo has a very soft sweetness.
Most of these sweet potatoes are about the same size and cost 400 yen but if you decide to get Anno Imo or Beni Haruka you can choose between three sizes: S (300 yen), M (400 yen) and L (500 yen).
At Fuji you can also buy roasted chestnuts in M (500 yen) and L (1000 yen)-sized packages.
4 Unique Japanese Potato Flavors
1. Orange-Fleshed Sweet Potato - The Bestseller
If there is one yakiimo flavor you should definitely tried, that is the orange-fleshed sweet potato, also known as Anno Imo. Available especially during the winter time, it is also called "premium sweet potato".
This Anno Imo is being cooked for just the right amount of time to leave it juicy with a little bit of bite to it. Even though I picked the smallest size, it was still large enough to share as a nice afternoon snack.
Beni Haruka - Fuji's Sweetest Yakiimo
If you have a sweet tooth but still like to snack healthily, you should try the Beni Haruka yakiimo. It is the sweetest roasted potato choice available at Fuji.
Think sweet potato pie filling just without the artificial sweetness. It is so creamy and sweet, that it almost tastes like a dessert. You can find Beni Haruka also during the warmer months - between April and August.
Purple Sweet Road - An Okinawan Favorite
Purple sweet potatoes are well-known as an Okinawan delicacy and are loved by people all around Japan. This variety has a very strong flavor but a gentle sweetness.
The stunning purple color you get when you break this potato in two seems almost unreal. It is actually glowing!
Tastewise it feels much denser then the other varieties I tried. The slight sweetness combined with the roasted flavor made me think of maple bacon the first time I tried it.
Fuji recommends the purple sweet potato to visitors who have never tried yakiimo before, because the intense sweetness of some of the other types might come as a little bit of a shock.
Halloween Sweet - An Entirely New Breed
Halloween Sweet is a new breed of sweet potato. It combines the taste of pumpkin with the sweetness and creaminess of a sweet potato. Imagine mixing mashed sweet potatoes and pumpkin puree in a bowl. The result is probably what you would imagine - a sweet creamy pumpkin flavor. However, in this case, you have this great flavor combination in one delicious potato.
If you put the purple sweet potato and the Halloween Sweet side by side, you have an instant Halloween potato party.
The taste is definitely unique and worth a try. I have never seen this type of sweet potato anywhere else.
Roasted Chestnuts - Another Tasty Treat at Fuji
Even though it might not be a Japanese exclusive, Fuji's roasted chestnuts deserve a special mention here.
The roasted chestnuts taste sweet and a little bit smoky. They are another great healthy snack option which you can enjoy while walking around the cozy little streets of Setagaya.
These chestnuts are available year-round at Fuji, together with the Beni Haruka yakiimo.
Sweet Potato Doesn't Equal Sweet Potato
The texture and taste of sweet potatoes vary around the world and Japan has probably one of the widest selections out there.
Having so many unique types of yakiimo available at one shop is very rare. At Fuji, you can sample many different flavors and textures and decide on your favorite. Besides this, the shop ensures high-quality, freshly roasted sweet potatoes which means that you can try each type of yakiimo at its best.
The full line up of the eight sweet potato types is only available during the colder months, between August and April. However, if you come in the summer, you'll be able to try the creamy and sweet Beni Haruka and the smoky chestnuts which are definitely worth a try.
In cooperation with Roasted Sweet Potato Shop Fuji


The information presented in this article is based on the time it was written. Note that there may be changes in the merchandise, services, and prices that have occurred after this article was published. Please contact the facility or facilities in this article directly before visiting.