Hokkaido - 10 Local Foods To Try During Your Visit
Hokkaido's food, culture, and climate are different from Japan's main island, providing many new things to enjoy. In this article, we introduce ten dishes, snacks, and drinks to try when you visit Japan's popular ski and onsen region.
Hokkaido is the most northern island of Japan with its own culture and climate which also reflects in the food. When visiting, it is definitely worth exploring the local cuisine.
1. Seafood - Some of the Freshest in Japan
Picture from Sapporo's Nijo Fish Market - Enjoy The Freshest Seafood In Japan!
The most famous food to try in Hokkaido is probably the fresh seafood. The water surrounding the coast of Hokkaido seems to produce extremely rich-tasting fish.
Picture from Delicious Overflowing Salmon Roe! Sanchichokuso Hokkaido In Sapporo
Ikura, or salmon roe, is something everyone should experience at least once when visiting Hokkaido. The salmon roe in Hokkaido is so fresh that it melts in your mouth. Ikura don, or salmon roe bowl, is a popular way to eat it.
Picture from Delicious Overflowing Salmon Roe! Sanchichokuso Hokkaido In Sapporo
Other must-try seafood in Hokkaido includes grilled atka mackerel, huge Japanese crabs and sea urchin, also known as uni. Sea urchin is an acquired taste but it is worth trying. It is really fresh and tastes completely different from the ones you get at normal sushi chains.
2. Zangi - Hokkaido's Famous Fried Chicken
Picture from Delicious Overflowing Salmon Roe! Sanchichokuso Hokkaido In Sapporo
Zangi is Hokkaido's version of karaage, or Japanese fried chicken. Zangi pieces are usually larger than regular karaage which makes them nice and juicy. The chicken is flavored with a special spice mixture that differs amongst family recipes.
Picture from NARUTO KITCHEN - Taste The Best Fried Chicken In Japan!
You can get zangi in other places in Japan if you go to Hokkaido-themed restaurants or izakaya such as NARUTO KITCHEN, which originated in Hokkaido. However, with an abundance of farmland and green fields, Hokkaido's chicken is extremely delicious and juicy, so it should be put on the must-try list when visiting.
3. Jingisukan - Juicy Lamb Barbecue
Jingisukan is Hokkaido's version of yakiniku, a grilled meat dish popular in Japan. It is a traditional grilled mutton dish with vegetables.
The name is pronounced the same as the famous Mongolian leader Genghis Khan. It is said that it was inspired and named this way due to the belief that Mongolian soldiers would eat lamb as preferred meat.
4. Buta Don - Outstanding Pork Bowl
While buta don, or pork bowl, can be found all over Japan, it is believed to have originated in Hokkaido. It consists of a bowl of rice topped with pork simmered in a sweet sauce. It also often includes some green peas as a topping.
Hokkaido's buta don is famous for its thick, juicy pork slices. Some Hokkaido pork bowls even contain more meat than rice. If you are a meat lover, make sure to try it!
5. Ishikari Nabe - Miso-based Seafood Hot Pot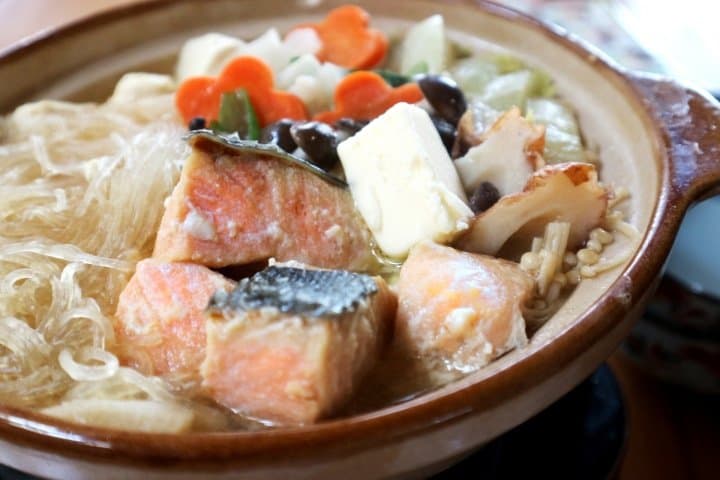 Nabe, or hot pot, is perfect for the colder season. Hokkaido is the coldest part of Japan so nabe is a very popular dish.
Ishikari Nabe is a typical hot pot meal native to Hokkaido. Traditionally is combines delicious fresh local salmon and vegetables boiled in a kelp and miso stock. This dish is creamy and slightly sweet, filled with vitamins to fight off the cold.
6. Soup Curry - A Local Favorite
Curry is popular all over Japan. Japanese curry has a very unique taste. Soup curry is exactly what it sounds like: a soupy Japanese curry.
This curry is served separately alongside a bowl of rice and not together in one dish. It is filled with delicious local produce and meat or fish, and is one of Hokkaido's soul foods.
7. Hokkaido Ramen - Different in Every City
Picture from 30 Must-Try Sapporo Ramen Restaurants Recommended By An Expert
Hokkaido is somewhat of a ramen capital. Especially in the capital of Sapporo, you can barely walk a small distance without finding a ramen store. Miso-based ramen is most popular in Sapporo.
Picture from 30 Must-Try Sapporo Ramen Restaurants Recommended By An Expert
Every major city in Hokkaido has its own ramen. Most ramen use locally-sourced ingredients and even fish, crab or lobster.
8. Hokkaido's Dairy Products - Flavorful and Rich
The vast area of Hokkaido lends itself to farming. Milk and butter from Hokkaido are renowned all over Japan for quality and taste. Sweets mention being made with Hokkaido milk to imply richness and delicious taste.
You cannot go wrong with whatever dairy treat you want to try in Hokkaido. The milk is rich and creamy, ice cream extremely flavorful and Chitose airport even sells gyunyu (milk) castella cake that almost tastes creamy.
Picture from Hokkaido Souvenirs - 8 Delicious Snacks
Made with local, rich butter, Marusei Butter Sandwich is one of Hokkaido's most famous souvenirs. White chocolate and cream using 100% Hokkaido raw milk-made butter and juicy raisins are sandwiched between two flavorful cookies.
9. Yubari Melon - Famous All Over Japan
Cantaloupe, or just melon as it is known in Japan, is a popular fruit. Yubari in Hokkaido is a small town that is best-known for its high-quality melon.
All melons from Hokkaido are very delicious, but Yubari melon is known to be especially juicy and flavorful. People from all over Asia will buy whole boxes of Yubari melon to take home.
10. Local Hokkaido Beer - Refreshing and Unique
Picture from 5 Delicious Hokkaido Beers To Pick Up At New Chitose Airport
Beer is not technically food, but it needs to be mentioned as something to try in Hokkaido. Sapporo beer is one of the biggest brand names in Japan. The fresh produce and clean spring water of Hokkaido make the beer crisp and delicious.
Picture from 5 Delicious Hokkaido Beers To Pick Up At New Chitose Airport
In addition to Sapporo, many other areas of Hokkaido brew beer. One of the most famous beers is the Abashiri Drift Ice Draft, which is blue in color and slightly icy in taste. It is produced in a local brewery in Abashiri, Hokkaido.
If beer is not your preference, local wine from Hokkaido is also very tasty. There is even wine with lavender fragrance from the Furano area.
If You Visit Hokkaido, Enjoy the Local Food
Food in Hokkaido is incredibly tasty and rich. Hokkaido cuisine includes a lot of fresh, local ingredients and is targeted towards the colder weather in Hokkaido, which makes it different compared to other parts of Japan.
The information presented in this article is based on the time it was written. Note that there may be changes in the merchandise, services, and prices that have occurred after this article was published. Please contact the facility or facilities in this article directly before visiting.