NARUTO KITCHEN - Taste The Best Fried Chicken In Japan!
NARUTO KITCHEN is a popular karaage (Japanese fried chicken) restaurant from Hokkaido which recently opened branches in Shibuya and Gotanda, Tokyo. Let us show you why their juicy fried chicken covered in secret spices even has been featured on TV shows!
Karaage usually refers to juicy marinated chicken fried in potato starch. Don't pass it up thinking it is just fried chicken you can eat every day at home. The flavor is completely different compared to fried chicken outside Japan. The meat is often seasoned beforehand and sometimes even the potato starch is individually flavored. Karaage is one of those recipes that has been handed down for generations and is different in every region.
If you want to try outstandingly delicious karaage that will probably make you come back time and time again you should consider visiting NARUTO KITCHEN in Tokyo.
NARUTO KITCHEN - Hokkaido's Secret Soul Food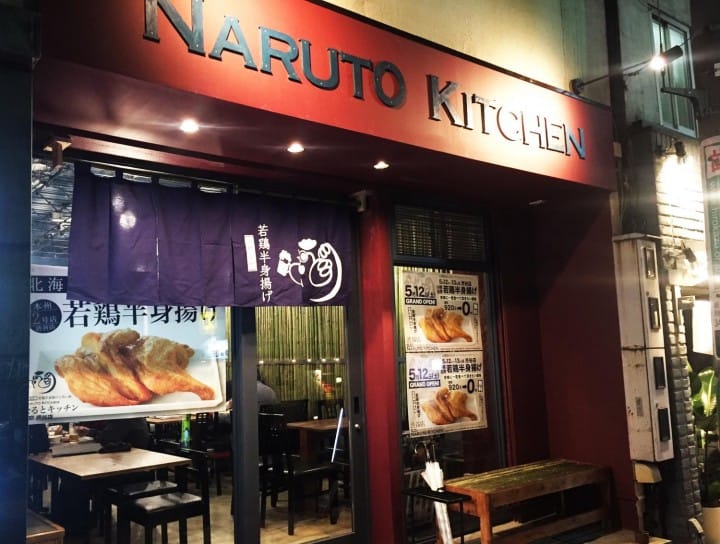 Picture courtesy of NARUTO KITCHEN
NARUTO KITCHEN originated from Hokkaido. Even though Hokkaido might not make you think of chicken, it seems home to extremely delicious karaage recipes which they are finally willing to share with the rest of Japan.

NARUTO KITCHEN does not only offer chicken karaage but it is an extremely popular item on their menu. The chicken is marinated and coated in secret spices, covered in a thin layer of flour and fried to perfection.
Customer where so impressed with their delicious chicken that their shops started to spread elsewhere in Japan with two shops recently opening in Tokyo. Many Japanese TV programs covered NARUTO KITCHEN. Naomi Watanabe, who is a known Japanese comedian and plus-size model loving food, even openly declared her love for them at one of these TV shows.
NARUTO KITCHEN Menu - The Most Popular Items
NARUTO KITCHEN is designed as a place to enjoy some delicious fried chicken with an ice cold beverage. Most of their night menu is meant to be shared as it is typical in a Japanese izakaya (Japanese style bar).
Wakadori Hanmi Age - Half a Young Fried Chicken
The Wakadori Hanmi Age at NARUTO KITCHEN is prepared in the same way as their karaage with secret spices and seasoning, potato starch for the crust and deep fried. This way of preparing makes the chicken extremely crunchy on the outside and juicy and soft on the inside with an intense flavor.
While eating this chicken I have learned that you shouldn't eat chicken with your fingers in Japan. If you want to be well mannered, you first let the staff help you pull it apart with plastic gloves, then pick up the small pieces with your chopsticks. 
This fried chicken is not only delicious and juicy but also very budget friendly for only 920 yen.
Assorted Chicken Plate - A Little Bit of Everything
 Left to right: skin, tail meat, drumsticks, breast meat, thigh meat, wings, stomach, heart, cartilage, and liver
If you are a little bit more adventurous you should try the Assorted Chicken Plate priced at 1840 yen. It contains most parts of the chicken, all prepared as karaage.
Personally, I am not a fan of organs but spiced and prepared like this even I thought they where delicious. You can clearly taste the freshness and high quality of the meat. I recommend giving it a try especially if you are with a group of people.
If you are not as experimental or you want to try something different than chicken NARUTO KITCHEN also offers an Assorted Fish Plate and an Assorted Vegetable Plate.
Karaage - The Big Favorite
I have been talking a lot about karaage in this article, so naturally, I would recommend ordering their karaage if you visit Naruto Kitchen. If you have ordered karaage in Japan before you might be used to small bite-sized pieces. Naruto Kitchen's karaage is not bite-sized by any means. It is about double to triple the usual size. The big size is not only impressive but also ensures that the inside is still juicy and soft while the outside is perfectly crunchy.
The karaage on offer is normally the chicken breast or thigh meat which is part of the assorted chicken plate or you can order them separately off the menu. Sometimes they also have limited time flavored karaage, so make sure to check the menu.
Lunch Menu - Affordable and Delicious
While NARUTO KITCHEN is more targeted towards being enjoyed with a glass of beer at night, they do also offer an affordable lunch menu between 11:30 and 14:30. The lunch options contain their most popular items such as karaage or Wakadori Hanmi Age. Every Lunch option is usually under 1000 yen and is served with rice and miso soup. 
So if you are in Shibuya or Gotanda and search for an affordable but high-quality lunch, make sure to check out Naruto Kitchen.
Love Fried Chicken? Visit NARUTO KITCHEN!
If you love fried chicken you should definitely give NARUTO KITCHEN a try. The high-quality and affordable price will let you enjoy traditional Japanese karaage at its best.
Why don't you try for yourself why karaage is such a beloved fast food and home food in Japan?
In cooperation with NARUTO KITCHEN

View Information
NARUTO KITCHEN Shibuya
Address
3-6-19 Shibuya, Tokyo
Business Time
Lunch : 11:30 - 14:30
Dinner : 17:00 - 23:00
Fixed holidays
Sundays
WiFi
Not Available
Accepted Credit Cards
Not Available
Languages
Japanese
Menu/Pamphlets in Other Languages
English
Nearest station
Shibuya Station
Access
6 minutes from Shibuya Station
Price
from 920 yen
Telephone number
0368051985
Website
http://www.naruto-kitchen.com/shop_shibuya.html
View Information
NARUTO KITCHEN Gotanda
Address
2-26-4 Nishigotanda, Shinagawa, Tokyo
Business Time
Mondays - Fridays : 11:30 - 14:30 and 17:00 - 23:00
Weekend and holidays : 17:00 - 23:00 only
WiFi
Not Available
Accepted Credit Cards
Not Available
Languages
Japanese
Menu/Pamphlets in Other Languages
English
Nearest station
Gotanda Station
Access
5 minutes from Gotanda Station
Price
from 920 yen
Telephone number
0364170780
Website
http://www.naruto-kitchen.com/shop_gotanda.html
The information presented in this article is based on the time it was written. Note that there may be changes in the merchandise, services, and prices that have occurred after this article was published. Please contact the facility or facilities in this article directly before visiting.