Featured In The MICHELIN Guide! 6 Excellent Tottori Restaurants
Tottori, reachable in two hours by limited express from Osaka and Kyoto, is a treasure trove of fine cuisine such as fresh crab and quality beef. In this article, we introduce six Tottori restaurants featured in the 2019 edition of the MICHELIN Guide.
Tottori Restaurants Featured in the MICHELINGuide
Tottori Prefecture is a treasure trove of delicious seafood and Wagyu beef that won't lose to Osaka and Kyoto as a "food capital". In this article, we'll introduce six Tottori restaurants featured in the famous restaurant guidebook "The MICHELIN Guide".
All the restaurants that we will be introducing here are featured in the "MICHELIN Guide Kyoto Osaka + Tottori 2019" and are places where you can enjoy excellent meals made with local ingredients.
1. Sasasushi – Enjoy Fresh Sushi in a Traditional Setting
Are you looking for a good sushi place in Tottori City? We recommend Sasasushi, a family operated restaurant boasting a history of 50 years.
The restaurant welcomes you with a warm, wooden interior. You can also ask for a private room if you're visiting with family. The private rooms are decorated with wood and paper-made walls and have a tatami mat flooring, giving the interior a traditional Japanese flair.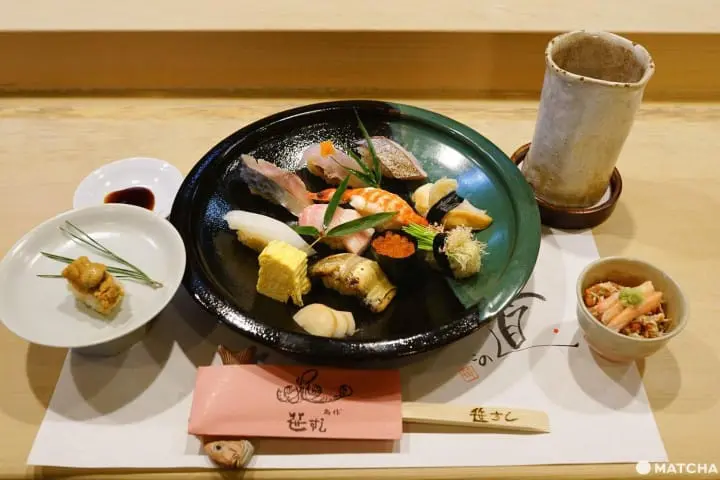 Only fresh ingredients procured from the local fish market every morning are used at Sasasushi. Additionally, their original method of not adding sugar to their vinegar sushi rice has been rated highly by the MICHELIN Guide.
For this article, we requested the sushi to be served on one plate for photography purposes. Typically, freshly made sushi is served piece by piece as soon as possible so that it retains absolute freshness when served.
As our writer visited Sasasushi in November during the height of crab season, she ordered the Mini Don, which is a rice bowl topped with crab meat and roe. Crab roe is a delicacy in Japan. Definitely please give it a try if you're a fan of caviar.
2. AL MARE - Enjoy Italian Cuisine Made with Local Ingredients
AL MARE, located near Uradome Coast in eastern Tottori, is an Italian restaurant that was opened in 2018. Its clean, artistic interior was designed by a person involved in the design of the TWILIGHT EXPRESS MIZUKAZE, a popular luxury train in West Japan.
The restaurant has windows that give a great view of the beautiful ocean. The MICHELIN Guide not only highly rated the restaurant for their dedication towards the use of local ingredients and tableware, but also for its resort-like dining experience.
Compared to its luxurious interior, many of the dishes on the menu are reasonably priced. Both Pasta and Meat Courses are around 2,000 yen while the luxurious Mediterranean Course is priced at 3,980 yen. All courses are available on the lunch menu.
From 14:00 util 17:00, you can also enjoy the Afternoon Tea, which comes with a variety of sweets, or the Dolce sets.
Our writer ordered the Mediterranean Course. The set includes handmade bread and butter, two types of appetizers, pasta, fish as the main dish, and dessert. All ingredients used are locally sourced.
We also ordered the Quattro Formaggi Pizza. This pizza is not made with tomato sauce, which enhances the flavors of the four types of cheeses used and its dough.
When you dine at this restaurant, enjoying both its delicious food and the amazing view, you'll feel as if you're experiencing local cuisine on a beach in Italy.
** The contents of the menu are subject to change. Please check the AL MARE website (Japanese) for details.
3. Café Nijinoki – Taste a Very Special Curry
Café Nijinoki, also located near the Uradome Coast in eastern Tottori like AL MARE, is a popular café run by a young couple.
This café's unique trait is the fact that everything, from their curry, cakes, and plates, down to the shop's exterior and interior are handmade.
Their curry is especially popular and has also been featured in the MICHELIN Guide. It is made by combining various spices.
Our writer ordered the curry mix of the day. Rice and naan crackers are served in one dish on top of a mix of several types of curries. If an Indian version of curry exists, then so does a stew-like curry. It doesn't have a kick to it but it's very tasty.
If you can't decide on which curry to order, then try ordering the Curry Mix of the Day. You'll be able to taste various flavors in one dish.
We ordered the homemade Gateau Chocolat, the cake of the day, and hand-dripped coffee for dessert. The cake on the menu will change depending on the season and what ingredients are available at the time.
Handmade products made by locals are also sold at Café Nijinoki. Depending on the day, you might also find locally produced vegetables and bread being sold.
Café Nijinoki is popular with both the locals and travelers. This café is worth the visit, even if it's just to experience its warm ambiance and the taste of their freshly dripped coffee.
4. Ajidokoro Misa – Enjoy Seasonal Crab Dishes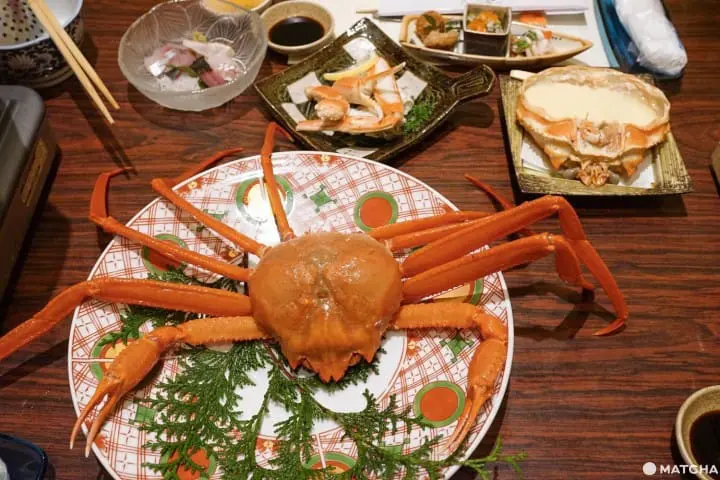 Two species of crabs can be enjoyed in Tottori from November to June. The most common species is the red snow crab (September – June). Although numerous processed crab products are also available on the market, the meat is also delicious when boiled or grilled.
The second species is the Matsuba crab (November – March). This species is densely packed with meat because it resides in waters abundant with plankton, and has a strong flavor.
If you want to eat fresh snow crabs, then definitely make your way to Tottori!
Our recommended restaurant for enjoying fresh crab is Ajidokoro Misa located in Sakaiminato in western Tottori. Much of their menu, such as their excellent dishes made with crab freshly caught from the Sea of Japan and seafood bowls made with seasonal fishes, have been featured in the MICHELIN Guide.
Their crab course meals are popular menu items at Ajidokoro Misa. The red snow crab and the Matsuba crab can be enjoyed in various ways through these set meals.
The leg meat of the Matsuba crab can be eaten raw as sashimi. The red snow crab is eaten by simmering it in a hotpot or cooking it on the table grill. Other sashimi dishes and appetizers are also served alongside the crab.
In Japan, we also eat crab intestines or "crab miso". Crab miso is a delicacy that doubles as a side dish to have with Japanese sake. Through this course, you can enjoy crab miso in two ways: grilled or cooked on top of chawanmushi (steamed egg custard).
Ajidokoro Misa is the most suitable place if you want to enjoy as much of Japan's crabs to your heart's content!
5. Kyoshotei – The Best Grilled Wagyu
Wagyu beef is high quality beef raised in Japan. Due to its high fat content, it has a beautiful, marbled appearance and a texture that just melts in your mouth.
Kyoshotei, located in Yonago in western Tottori, is a yakiniku restaurant specializing in Daisen Kuroushi beef, a type of wagyu beef raised in a designated farm in Daisen. Daisen Kuroushi beef received the honor of being "Japan's best high quality beef" in 2017, surprisingly winning against the famous Kobe beef.
At Kyoshotei, you can either order a set course meal or from the a la carte menu.
Our writer selected the "Daisen Kuroushi" Wagyu Course, a set menu that allows you to enjoy beef in various ways, recommended in the MICHELIN Guide. It includes various cuts of meat, garlic rice, oxtail soup, salad, dessert, and coffee.
The beef served with the course is served as torched beef sushi, yaki-shabu, and yaki-suki.
Torched beef sushi consists of vinegar sushi rice topped with a large, but thin slice of meat.
Yaki-shabu is a dish inspired by shabu-shabu. As pictured above, you heat the meat by sliding it onto the grill imitating how shabu-shabu is cooked. Be sure to watch the grill as the meat burns very easily.
Yaki-suki is a dish inspired by sukiyaki. A thinly sliced piece of meat is quickly cooked on top of the grill, the dipped into uncooked meringue. The fluffiness of the egg and the soft, creamy meat will meld together in your mouth.
Tottori's Daisen Kuroushi beef has many fans throughout Japan. Do check out the menu offered by Kyoshotei.
6. Brasserie Agora - French-Style Tottori Cuisine
Brasserie Agora, located near JR Yonago Station in western Tottori, serves French home cooking while utilizing Tottori ingredients.
The restaurant's approach to preserving the traditional French method of garnishing meat dishes with a sauce without exception is what led to its high ranking in the MICHELIN Guide.
An especially popular menu is their dinner course. That is due to the fact that through the course, you can enjoy various types of dishes a little at a time that go quite well with either beef or wine.
Our writer visited during the afternoon and ordered the Chicken and Seasonal Vegetable Lunch. It was a unique experiencing eating juicy Tottori chicken together with a French-style herb sauce and lentils.
In the open kitchen, you'll find the chef-cum-owner preparing food placing love and kindness into each and every dish.
"The reason I opened this restaurant was that I wanted to share my love towards Tottori to my customers". The owner also further emphasized his reason for choosing French cooking methods, "I wanted to improve the tastes of familiar foods with all new flavors."
The Food Capital of Tottori
Tottori boasts numerous types of gourmet cuisines, including deliciously fresh crabs and Daisen Kuroushi beef. If you're interested in Japanese gourmet cuisine, then don't forget to put Tottori on your list of places to visit!
Find other fun destinations on Tottori Prefecture's official website: http://www.tottori-tour.jp/en/
Also, don't forget to check out MATCHA's Tottori page!
Sponsored by Tottori Prefecture
The information presented in this article is based on the time it was written. Note that there may be changes in the merchandise, services, and prices that have occurred after this article was published. Please contact the facility or facilities in this article directly before visiting.