Unique Cafes In Rural Tottori! Three Stores That Serve Organic Dishes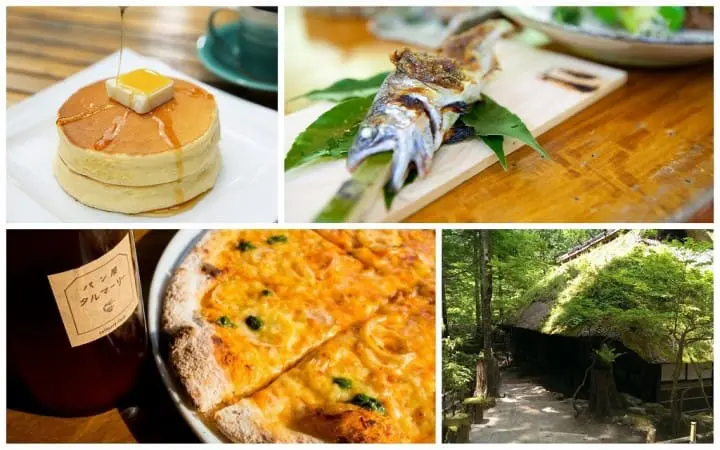 Tottori is an area that allows visitors to relax in the heart of nature and to learn to reappreciate a simple lifestyle. This article introduces three charming cafes in the rural area of Tottori that serve delicious organic dishes.
Many cafe and restaurant owners say that they brought their franchise to Tottori in pursuit of a better product.
That's why you'll find unique cafes and restaurants gathered in Tottori prefecture; their owners were drawn by the clean water and superb foodstuffs.
This article is about three popular cafes serving organic and healthy dishes in Tottori. They are all located in a pristine natural setting, and offer a memorable experience.
Contents:
1. Recommendation No.1: Oenosato Natural Farm
2. Recommendation No.2: Mitakien
3. Recommendation No.3: Talmary
Recommendation No.1: Oenosato Natural Farm
A Stylish Cafe and Restaurant Deep in the Mountains
Photo courtesy of: Oenosato Natural Farm
From JR Tottori Station, it takes about thirty to forty minutes by train and bus to reach Yazu, a neighborhood located in the south of Tottori city. Walk along the mountain path and a stylish building will come into view.
Oenosato Natural Farm runs various facilities such as Coco Garden (cafe) and Oenosato Village (restaurant) at this location, which has become a popular spot where more than 230 thousand people visit annually.
The Fresh Eggs of Oenoasato Natural Farm
Photo courtesy of: Oenosato Natural Farm
Oenoasato Natural Farm is famous for its free-range eggs.
Modern poultry farming tends to raise chickens in a large factory-type environment. But Mr. Riichiro Ohara, the current president who established the company in 1994, believes that chicken should range freely, feeding on natural products.
Since its foundation, Oenosato Natural Farm has gained a large number of fans thanks to its dedication to quality.
The Fluffy Pancakes of Coco Garden
Photo courtesy of: Oenosato Natural Farm
The eggs are used in Oenosato Village's buffet menu, and also in other dishes such as pasta, kamatama udon (udon noodles with raw egg), and tamago kake gohan (rice with a beaten raw egg) served at Coco Garden.
But the most popular egg dish may be Coco Garden's pancakes. The batter is prepared to order, made without any additives, and the customers are asked to enjoy their pancakes within ten minutes after being served. This fluffy dish will literally melt in your mouth.
There are terrace seats at Coco Garden, so visitors can take in the fresh mountain air along with the fine cuisine.
Recommendation No.2: Mitakien
A Natural Paradise
Photo courtesy of: Tottori Prefecture
From JR Tottori Station, it takes about an hour and a half to reach Chizu, using trains and buses. Mitakien is located deep in the mountains, surrounded by the archetypal Japanese nature scenery.
The sounds of a burbling brook and the songs of birds fill the air, while old houses with thatched roofs fill the grounds. Visitors may even run into the chicken roaming around freely.
Thanks to its refreshing atmosphere, some visitors say that even the air tastes good at Mitakien.
Using Local Products
Photo courtesy of: Tottori Prefecture
Mitakien was established in 1971 to convey the appeal of the rural area. The cafe serves traditional cuisine using the local sansai (*1) and fish, which helps to promote the charms of the countryside.
*1 Sansai: edible wild plants.
Three Courses at Mitakien
Photo courtesy of: Tottori Prefecture
Mitakien offers three types of course meals: the Hinoki course, consisting of seasonal game meat and one-pot dishes; the Sugi course, with grilled fish and konnyaku dengaku (grilled konnyaku); and the Take course, with three kinds of sansai and handmade tofu. For details, check their official site.
Mitakien also runs Cafe Quince, where the visitors can enjoy homemade pudding with a cup of coffee.
Recommendation No.3: Talmary
A Cafe Renovated from a Preschool
From JR Tottori Station, it takes an hour to reach JR Nagi Station. After a ten minute walk from the station, an adorable wooden building comes into view.
This building used to be a preschool, and the owner of Talmary renovated it into a cafe, with the help of the local residents.
The Only Japanese Brewery to Use Wild Yeast
Talmary used to be a popular bakery in Chiba prefecture, in the vicinity of the Tokyo metropolis. But the owner, in search of a clean environment for the bakery, moved to Chizu-cho in 2015.
Artificial yeast is used in most bread types and craft beers for mass production. But Talmary uses wild yeast in their products to create a complex taste.
Talmary is the only Japanese brewery to produce all craft beer with the use of wild yeast.
Welcoming Visitors from Abroad
The renovation of the building and the use of wild yeast reflects the ideals of the owner, Mr. Itaru Watanabe.
While working at a food company, Mr. Watanabe started to have doubts about various aspects of modern society. He decided not to pursue profits blindly, and also to utilize and consume local products, thus creating a recycling system within the local area.
Mr. Watanabe published a book in 2013. It became a long-seller, and was later translated into Korean and Chinese. Now people from abroad, who empathize with his ideas, visit Talmary.
Pizza and Craft Beer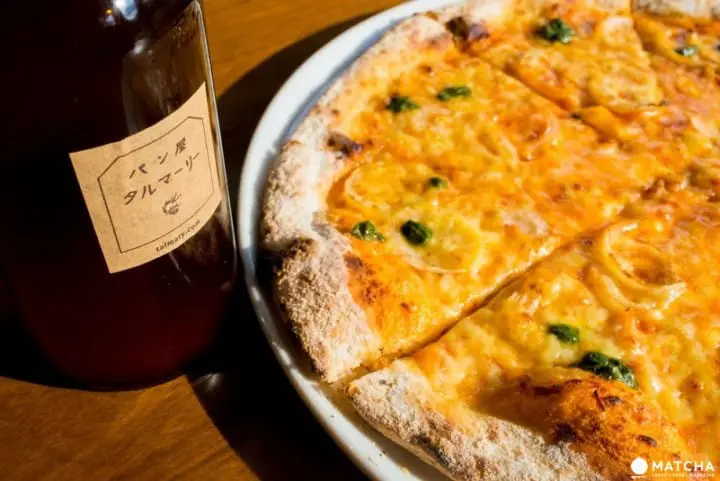 The tomato and cheese pizza, along with the craft beer, are the popular dishes at the cafe. The soft pizza has a deep taste, and the beer goes down smoothly, with a refreshing, bitter taste.
Talmary also serves wild boar hamburgers and ice cream made from milk produced in Shimane prefecture, a neighbor of Tottori.
Tottori - A Land of Unique Cafes
There are also various cafes which serves organic dishes in the Daisen area, a popular sightseeing spot in western Tottori. For further information about Daisen, please read The Tottori Daisen Tour - From Fine Cuisine To Museums.

If you have the chance to visit Tottori, look for a cafe that fits your taste.

For more information please check the official website of Tottori Prefecture: https://www.tottori-tour.jp/en/

Please also check out our articles in the Tottori section.

Sponsored by Tottori Prefecture

The information presented in this article is based on the time it was written. Note that there may be changes in the merchandise, services, and prices that have occurred after this article was published. Please contact the facility or facilities in this article directly before visiting.