Discover The Irresistible Charm Of Tottori City! A Two-Day Itinerary From Osaka
Are you visiting Osaka and want to go on a trip out of the city? How about taking the budget-friendly highway bus towards Tottori for a two-day trip to a city with one-of-a-kind sand dunes and sand art, breathtaking beaches, and delicious local cuisine?
Tottori - A City Full of Hidden Charms
Tottori is unlike any other prefecture in Japan. It is widely known as the region with the largest sand dunes in Japan. The abundance of sand makes it possible to create wonderful sand sculptures, which can be seen especially in eastern Tottori.
In this article, we introduce a two-day itinerary recommended to those who wish to visit Tottori City from Osaka, making use of the extremely convenient highway bus lines connecting the two cities. This fun-filled trip will allow you to enjoy the hidden charms of Tottori.
Day One - Have Fun in the Sand!
7:00 - 9:52 -- Travel from Osaka's Namba OCAT to Tottori Station Bus Terminal
You can conveniently travel to Tottori by highway bus from one of Japans most popular sightseeing cities, Osaka. The bus goes directly from Namba OCAT to the Tottori City Bus Terminal which is located in front of Tottori Station. One way costs 3,700 yen and you will reach Tottori in less than three hours.
After you arrive in Tottori you can either take the local bus to get to the locations recommended in this article or rent a car. If you choose to take the bus please check the timetable beforehand and adjust your schedule accordingly.
10:30 -- The Sand Museum - TRAVEL AROUND THE WORLD IN SAND
The Sand Museum is a must visit when in Tottori. It showcases large scale, amazingly detailed sand statues, telling the story about the place they were inspired by.
The main theme of the Sand Museum in the last couple of years has been "TRAVEL AROUND THE WORLD IN SAND". This year it covers the Nordic countries. Other countries such as America, Africa, England, and Germany have all been showcased in the past as well.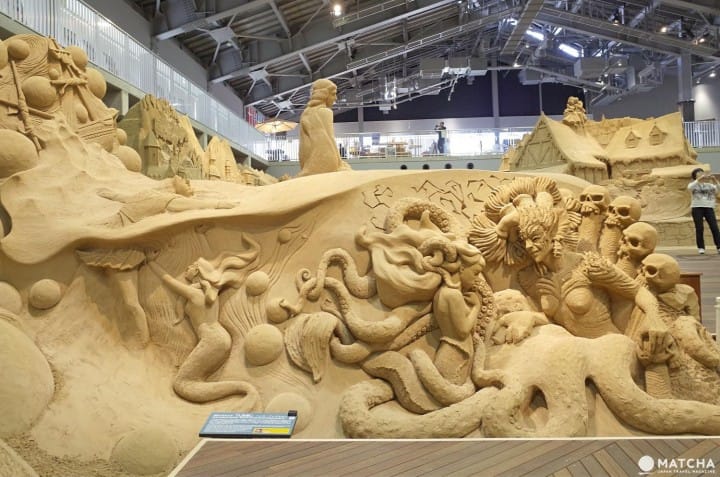 One of the museum's charm points is that the art is only temporary. The sand sculptures have withstood earthquakes in the past but once a year they are all broken down to make space for a new chapter of the story told by the Sand Museum.
12:00-13:00 -- Enjoy Lunch near the Sand Dunes! SUKATTO's Delicious Shrimp Pasta
SUKATTO is just a short stroll from the Sand Museum. You are even greeted by a small sand sculpture made for the restaurant at the entrance. SUKATTO are famous for their pizza and pasta and they have the charm of a small Italian restaurant.
The period between September and May is mosa shrimp season in Tottori. Mosa shrimp is popular for its unusual sweetness and can be eaten raw or cooked. It has to be eaten fresh, shortly after it has been caught.
SUKATTO offers its highly reviewed mosa ebi (shrimp) pasta this season. The creamy shrimp pasta topped with grilled mosa shrimp has a very delicate taste. It is a treat that can only be enjoyed in Tottori!
13:00-14:00 -- Have Fun at Tottori's Famous Sand Dunes!
From SUKATTO, you can walk to the sand dunes. Just switch the side of the street and find you favorite walkway down to the sand dunes.
Once you reached the sand dunes, you might feel like you left Japan and landed in the desert. There are even camels to ride and sandy hills as far as you can see. In fact, there are many activities available that can only be enjoyed here in Japan!
If you climb on top of the sand dunes you can enjoy a great view over the horizon. Any time of the year will offer a different scenery. In winter the dunes might even be completely covered in snow.
15:00 - 17:00 -- Watch the Sunset Along Uradome Beach
Uradome Beach covers a wide area along the coast of the Sea of Japan. We suggest taking your rent-a-car or a bus to reach a place along the beach that interests you in particular. You can find a list of recommended places along Uradome Beach in the article below.
How about visiting the famous rock formations of Shirawara Beach? You can also just relax on the beach or stroll around while watching the sunset.
18:00 -- Check in at Tabibito no Yado NOTE - Welcome Home!
Tabibito no Yado NOTE is an affordable hostel located close to the beach, loved by many travelers for its warm and inviting atmosphere. You will be welcomed by the English-speaking owner of the facility.
Occupying a renovated traditional wooden house, the hostel has two floors with a community room and a shower. The rooms are Japanese tatami rooms with comfortable futons to sleep on.
If you have preferences regarding your room, make sure to let them know in advance.
Home-cooked dinner and breakfast can be included or excluded but if you want to try homemade local cuisine, we highly recommend including at least one of the options. The owner will serve local seasonal specialties in large quantities which will surely leave you satisfied.
You can book your room in English on Tabibito no Yado NOTE's official website.
Day Two - Nature and Crafts - Explore the Urban Side of Tottori
8:00 -- Breakfast at Tabibito no Yado NOTE
If you take your breakfast around 8:00, you will have enough time to get ready for the day ahead of you. The breakfast at Tabibito no Yado NOTE is plentiful and traditional Japanese. It includes fish, rice, miso soup, and natto.
The base ingredients will change every season. Please feel free to let the owner know at the time of your booking if you have any dietary restrictions.
10:10-10:50 -- Uradome Beach Sightseeing Boat Cruise
If you come all the way to Uradome Beach, then don't miss out on the exciting Uradome Coast Island Cruise. From Tabibito no Yado NOTE, you will only need about 10 minutes by car, or 20 minutes by bus. Please check the bus schedule beforehand.
A sightseeing boat will be available approximately every hour between March and November from 9:30 until 15:30.
The Uradome Coast Island Cruise will take you through some of Tottori's greatest sights, which cannot be seen up close from the land. Tottori's waters are amazingly clear. At most places, you will be able to see all the way down to the bottom of the sea.
The tour will take approximately 40 minutes. If you come by car, you can enjoy a drive around the Uradome Coast area, which is famous for its wonderful views. It is actually close to Shungyo Tatsumi, where you suggest you enjoy your lunch.
12:00 - 13:00 -- Seasonal Seafood Lunch at Shungyo Tatsumi
Shungyo Tatsumi is popular among the locals for its affordable, seasonal seafood dishes. The dish shown in the photo above consists of all the seasonal delights recommended by the chef at Shungyo Tatsumi. This set meal is a great way to sample the delicious cuisine that Tottori has to offer.
Please be aware that you have to be a little adventurous to sample some of Tottori's local cuisine. The flounder had many of its organs still inside, which can be eaten, and the mosa shrimp traditionally holds green eggs or is even green inside. This is actually a seen as a sign that you get authentic, fresh mosa shrimp but it might be very surprising at first.
If you love shrimp, feel free to choose the mosa shrimp selection, another highly recommended seasonal dish. It consists in a variety of rare, cooked and grilled mosa shrimp.
14:00 - 15:00 -- Visit the Ruins of Tottori Castle and Jinpukaku
Our next destination is located in the heart of Tottori City: the ruins of Tottori Castle. Once an impressive sign of power built in 1532, it fell victim to the modernization policy of the Meiji period (1868 - 1912).
Though only the ruins of the castle can be seen today, many visitors come here for the impressive view over Tottori City, as well as to walk through a little bit of Tottori history.
In 1907, former lords built a European style house called Jinpukaku at the base of the castle ruins. It is very interesting to see how European style architecture was interpreted in this building surrounded by a distinctive Japanese landscape. The building even has a brick fireplace.
15:30 - 17:00 -- Tottori Folk Crafts Museum and Mingei-dori
The Folk Crafts Museum was opened in 1949 by doctor and folk craft activist Shoya Yoshida. He is known for his impressive collection of folk craft objects from Japan and other countries to get inspiration for his own work.
Nowadays, the museum displays works whose creation he directed as well as his collection. Yoshida's pieces combine simplicity and functionality and are very popular among Japanese collectors. He is known as an important part of Tottori folk craft history.
If you want to see some more Tottori folk crafts and maybe even purchase some practical objects as keepsakes from your Tottori trip, we suggest a stroll along the Mingei-dori ("folk craft street") nearby.
17:00 -- Dinner at Takumi Kappoten
Before leaving Tottori, enjoy dinner at Takumi Kappoten, a restaurant located right beside the Tottori Folk Crafts Museum. They serve local cuisine on ware made by Shoya Yoshida and are known to use the freshest ingredients.
If you visit Tottori in a group of at least two people, you should try their hot pot. It is Takumi Kappoten's most popular dish made with local Tottori beef and vegetables. Some people even say it stand the origin of the popular dish called shabu shabu.
We tried their seasonal seafood dinner option which looked really appetizing on the green-tinted ware which is specific to Tottori.
18:40 -- Take the Highway Bus Back to Osaka
After two fun-filled days spend around Tottori City, you can take the highway bus back to Osaka from the Tottori Station Bus Terminal. Or... you can take a bus to another exciting destination in Tottori Prefecture! See where your journey takes you.
Tottori - So Much More Than Just Sand Dunes!
In Japan, Tottori is known mainly for its sand dunes. However, as our suggested two-day trip itinerary has shown, Tottori City alone is definitely worth a visit for its delicious food, beautiful beach, and unique artistry.

You can find several other exciting destinations on the official homepage of Tottori Prefecture: http://www.tottori-tour.jp/en/

Also, don't forget to check MATCHA's special feature on Tottori Prefecture, too!

Written by Chiara Mischke
Sponsored by Tottori Prefecture

The information presented in this article is based on the time it was written. Note that there may be changes in the merchandise, services, and prices that have occurred after this article was published. Please contact the facility or facilities in this article directly before visiting.