Reasonable Flights - Don't Miss Out On 7 Must Try Things In Tottori!
Tottori prefecture isn't just famous for its sand dunes and popular anime-related spots! This article introduces seven things you have to experience in Tottori, plus useful information on cheap and comfortable travel to Tottori.
What's Tottori Prefecture Like?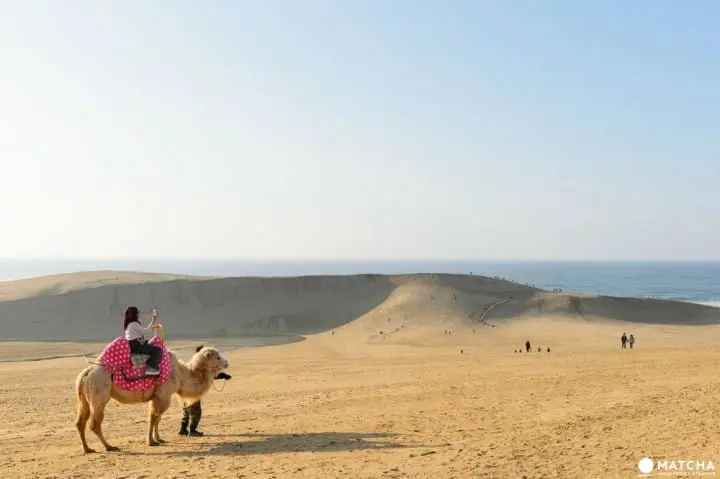 Tottori prefecture calls to mind images of vast sand dunes spreading out beside the sea.
Found in Western Japan, Tottori prefecture is well known for its beautiful sights, many of which are not yet popular with travelers from abroad. There are also many delicious dishes, including Matsuba crab and other types of fresh seafood, served here all year round for very affordable prices.
Tottori prefecture is also known to be the home of famous anime creators, such as Gegege no Kitaro's late author Mizuki Shigeru, and of Gosho Aoyama, the artist behind Detective Conan, whose work is displayed at the Gosho Aoyama Manga Factory.
Isn't it a shame that these and other highlights of Tottori aren't more widely known? In this article, we will introduce seven things to experience in Tottori, as well as convenient means of traveling there.
What's the Best Way to Reach Tottori?
There are numerous ways to reach Tottori prefecture, such as the shinkansen and highway bus, but the fastest, and most convenient and comfortable option is by plane.
While there are many flights to Japan available, if you are heading to Tottori prefecture, then the most convenient option is the largest airline company in Japan, ANA.
For example, if you choose a flight that will arrive at Haneda Airport in Tokyo the next morning, you can transfer to an ANA flight that arrives in Tottori at Yonago Kitaro Airport in just an hour and a half. That means you can start your sightseeing from the day you arrive.
And if you return to Haneda Airport via the Tottori Sand Dunes Conan Airport, you can spend some time shopping and sightseeing in Tokyo too!
Is It Hard to Catch Connecting Domestic Flights?
Those who haven't transferred from an international to domestic flight before may think that the process is quite difficult.
But that isn't the case. When using ANA for both domestic and international flights, you can make use of the ANA Exclusive Transit Bus, on which you can easily transfer terminals by yourself.
In this video, you can learn more about how to transfer from ANA international flights to domestic flights. There are also signboards inside the airport, so you can transfer smoothly.
Plus, if you use ANA on both the domestic flight and your return international flight, you won't have to pick up your luggage at Haneda Airport during transit/layover. Your bags can be left as is on your international flight, making it even easier to go sightseeing in Tokyo.
Special Discounts for ANA Passengers!
ANA offers the most flights from Tokyo to Tottori every day (six to Yonago Kitaro Airport and five to Tottori Sand Dunes Conan Airport), making 11 trips a day. So you won't have to wait long for a connecting flight!
In addition, ANA offers a promotional ticket that can only be used by travelers visiting from/living abroad. If you have a round-trip ticket to Japan, you can purchase domestic tickets for ANA's flights to Yonago Kitaro Airport or Tottori Sand Dune Conan Airport for the amazing price of just 10,800 yen one way!
To learn more about these promotional tickets, take a look at Up To 80% Off! ANA's Domestic Travel Tickets Are A Bargain!.
Make Your ANA Promotion Ticket Reservations Here!
Not only that, but from April 1st, 2018, free WiFi will be available on the domestic ANA flights. (Except for some aircrafts.)
On clear days, you can see Mt. Fuji during your flight to both Tottori Sand Dune Conan Airport and Yonago Kitaro Airport, so if you take a picture from the plane, you can use the WiFi and upload it to your SNS! You'll have an even better chance of catching this once in a lifetime view if you reserve a left hand side window seat on both flights to and from Tottori.
Seven Must-See Spots and Experiences in Tottori Prefecture!
As mentioned earlier, not only are there the famous sand dunes in Tottori, but also the Mizuki Shigeru Museum, and the Gosho Aoyama Manga Factory. Next, we will introduce seven exciting things to experience in Tottori!
Read also:
Mizuki Shigeru Road In Tottori - The Door To GeGeGe No Kitaro's World!
Meet Detective Conan In Tottori! Explore The World Of Manga And Anime
1. Strolling Through Kurayoshi, a Cultural Heritage Zone
Kurayoshi is a city located in central Tottori prefecture, known for its charming historical townscape.
Here you will find a town built over 100 years ago that still retains its white plaster walled, red tiled roofed shops and houses; Kurayoshi has been designated as a national cultural asset of Japan.
Taking a leisurely stroll through the town is highly recommended as there are numerous temples, shrines and small shops selling regional crafts and sweets here. You might even want to pick up a treat and enjoy it as you stroll!
Kurayoshi Shirakabe Storehouses (White Wall District)

View Map
| | | |
| --- | --- | --- |
| | Address | Tottori, Kurayoshi, Shinmachi 1-chome, Higashinakamachi, Uomachi, Togiyacho areas |
| | Business Time | Depends on the shop |
| | Fixed holidays | Varies from shop to shop |
| | WiFi | Not Available |
| | Accepted Credit Cards | Not Available |
| | Languages | Japanese |
| | Menu/Pamphlets in Other Languages | English, traditional Chinese, simplified Chinese, Korean |
| | Access | Kurayoshi Station |
| | Access | At Kurayoshi Station take a city bus (bound for Nishi Kurayoshi) and get off at Akagawara or Shirakabedozo, then walk for 5 minutes. |
| | Telephone number | 0858-22-1200 (Kurayoshi Shirakabedozogun Tourist Information) |
| | Website | Kurayoshi Tourist Information |
2. Enjoy a Desert Adventure at the Sand Dunes
One of the most popular sightseeing spots in Tottori prefecture, the Tottori Sand Dunes is the largest sand dune in Japan, and faces the Sea of Japan.
Here you can not only enjoy the sight of this desert spreading out around you, but take an adventurous ride on camels and photograph the incredible windswept landscape as well.
There is a Sakyu Kaikan that sells souvenirs nearby, as well as a Sand Art Museum where statues made from sand are displayed, making this an area you can enjoy all day long.
Read also:
Tottori Sand Dunes - A Complete Guide To Japan's Unique Sand Dunes

3. Make Your Own Talisman at a Historical Temple!
Near Kurayoshi is Ohirasan Konpirain Temple where, after offering prayers, worshippers can make their very own, unique, omamori (amulet).
Simply select the amulet stone, bag and thread of your choice, then write your wish on a piece of paper, and put it with the stone inside the bag, and tie it closed.
After that, all you need to do is wait for your wish to come true. Make sure to carry it with you always. There are also many other types of talismans available at this temple as well.
4. Relax at Misasa Onsen
Since you've come all the way to Tottori prefecture, it would be a shame to miss staying at Misasa Onsen, a famous hot spring town.
As you slowly soak in the hot springs here, you will feel the stress and fatigue of your travels melt away. This hot spring is said to be effective in aiding recovery from fatigue, improving your immune system and in anti-aging.
The best way to enjoy an onsen is to stay at a ryokan inn, where you can eat beautifully arranged kaiseki cuisine for dinner.
As shown in this photo, many inns offer kaiseki courses, or dinners featuring numerous small dishes, including some with Red Queen crab; these courses change with the seasons but can be had all year round at inns in Tottori.
Read also:
Tottori's Skin Care Hot Springs - Easy Access From Osaka And Kyoto!
5. Eat Pink Curry - Only in Tottori!
There are many different cafes in Tottori prefecture, all with their own specialty dishes, but one Japanese curry in particular has recently garnered a great deal of attention.
This curry, found at Oenokian is called Kifujin no Pink Karei, which means Lady's Pink Splendor, and is a play on words of 'karei' (splendor) and 'curry'. This pink curry can only be found here in Tottori!
But this isn't just a cute, colorful dish. The pink color is all natural; made from beets, giving this curry an added boost of vegetable content.
6. See Japan's Most Beautiful Starry Skies
Did you know that Tottori prefecture is home to Japan's most beautiful starry sky viewing spots?
There are locations throughout the prefecture where you can gaze up at the stars without any light pollution to get in your way. One of the best is actually in the middle of the sand dunes! Seeing the starry skies spread out overhead all around you is sure to make you want to ponder the infinite.
Read also:
Japan's Most Beautiful Starry Sky! Night Tours And Lodgings In Tottori
7. Visit Onitsuka Tiger's Hometown Factory
The popular sports fashion brand Onitsuka Tiger is famous all around the world.
Onitsuka Tiger's sneakers are especially popular in Thailand. In fact, many people may still remember the buzz created around their special sakura dyed sneakers last year.
One of their most popular lines, the NIPPON MADE sneakers, are fully made in Japan and are actually all produced in Tottori prefecture by hand at the San'in ASICS Factory - a fact that not many are aware of. Tottori prefecture is the birthplace of Mr. Kihachiro Onizuka, the founder of Onitsuka Tiger, and the only manufacturing factory in Japan is located in Sakaiminato, Tottori prefecture.
The factory can be visited at the moment only by the participants in the Tottori Sightseeing Tour.
Unfortunately, the NIPPON MADE shoes are not available for purchase at the factory.
At the end of your trip, you may want to pay a visit to the NIPPON MADE Onitsuka Tiger Omotesando location in Tokyo. There you can custom order your very own pair of NIPPON MADE shoes in store!
In order to visit and experience the seven spots introduced in this article, you should plan a three night and four day stay in Tottori.
There are two airports to chose from in Tottori: Yonago Kitaro Airport and Tottori Sand Dunes Conan Airport. Check out this experience report article for more information. We recommend using both airports if you can!
If you reserve a discount ANA Domestic Flight Promotion Ticket, you'll be able to save both time and money, and truly enjoy all the hot springs and gourmet delights of Tottori to the fullest!
Those who would like to learn more about Tottori prefecture should check out Tottori Travel Guide: From Sand Dunes To Local Cuisine And More! as well as MATCHA's Tottori Special Feature page.
Read also:
Adventure In Tottori - Onitsuka Tiger Factory, Sand Dunes, and Historic Streetscapes!

Tottori Prefecture Official Website: https://www.tottori-tour.jp/en/
ANA: One Way For Just 10,800 Yen! ANA Domestic Flight Promotion Ticket Reservation Site

Written by Tiewyeepoon.com
Photos by Masami Tokumaru

Sponsored by ANA (All Nippon Airways) and Tottori Prefecture

The information presented in this article is based on the time it was written. Note that there may be changes in the merchandise, services, and prices that have occurred after this article was published. Please contact the facility or facilities in this article directly before visiting.