Beautiful Starry Skies, Onsen, And Fireflies! A Two-Day Trip To Tottori
How about creating some precious memories of your summer trip by watching a star-filled sky? In today's article we'll feature a one night-two day travel plan for Tottori prefecture, said to have the most beautiful starry skies in all of Japan!
Visit Tottori to See the Most Beautiful Starry Sky in Japan!
Picture courtesy of Tottori Prefecture
In Tottori Prefecture, evening skies are clear and beautiful, and if you reach out your hand, it almost seems like you can touch the stars. Because of this, Tottori is also affectionately called "hoshi-tori-ken" (in Japanese hoshi=star, tori=to take or grab, ken=prefecture). In other words, Tottori Prefecture, known for its beautiful star-filled evening skies, is a place where you can reach out and grab a star!
From eastern Tottori all the way to western Tottori, there are countless places where you can see the milky way, shooting stars, and star-filled skies. At Tottori's main sightseeing spots such as the Tottori Sand Dunes and the Mount Daisen area, starry sky night tours and other events are held.
In today's article, we feature Misasa Onsen in central Tottori, a travel spot where you can enjoy a starry sky so beautiful that it'll take your breath away!
In addition to a beautiful night sky filled with countless stars, visitors to Misasa Onsen can also enjoy the hot springs, and in early summer you can see the fireflies, so this is one place that offers you a truly Japanese experience!
We recommend staying at the Misasa Onsen Ryokan for at least one night and two days, and taking in everything the local area has to offer.
Using the travel route suggested in this article as a reference, how about going on a trip where you can gaze up at the stars together with friends or that someone special?

Day One:
After Visiting Historic Kurayoshi, Head to Misasa Onsen
If you have plans to stay one night and two days in Tottori prefecture's central area, on day one we recommend taking in all the highlights in Kurayoshi City, a place known for its charming retro streetscapes, followed up by a visit to Misasa Onsen.
To get from the Kurayoshi Shirakabe Storehouses to Misasa Onsen, it takes about twenty minutes by bus or about fifteen minutes by taxi.
To find out how to get to Kurayoshi, please have a look at the article below.

Enjoyable Activities in Kurayoshi
1. Stroll Around the Charming Shirakabe Storehouses Area
From the latter half of the Edo period to the Meiji period, Kurayoshi flourished as a city of merchants.
Here, old traditional merchant family buildings have been faithfully preserved so it feels like you've stepped back in time, making this the perfect place to go for a walk along the street.
Lined up behind the merchant buildings are the Shirakabe Storehouses (White Wall District), and quaint little stone bridges arch over a small creek creating a postcard-like scene, making this a popular spot for taking photos.
Vermillion colored lanterns line the approach to the temple dedicated to Benzaiten (goddess of water and music). For those who'd like to take a Japan-esque picture we recommend taking a photo from this hidden spot.
In this area, old signs and show windows reminiscent of Japanese streetscapes some fifty years ago can still be seen today.
Visit the Kurayoshi Shirakabe Dozo-gun Information Center to get information on the highlights around the Shirakabe Storehouses area. They can also tell you which shops are best for taking a well-deserved break.
2. Have Lunch at the Elegant Shirakabe Club Restaurant
If you're having lunch in the Shirakabe Storehouses area, a great place is the restaurant and cafe Shirakabe Club, located in a building designated as a tangible cultural property.
The building was originally constructed in 1908 as a bank designed with a storehouse-style of architecture, and in 2011 a western-style restaurant opened here.
The beautiful interior, created by the contrast of the white plaster walls and the wood, has an elegant atmosphere and we've been told that it's a place loved by all the locals as well.
If you stop in at noon, we recommend the Shirakabe Lunch menu which offers something new each week. Depending on the week, the appetizers and the main course change, and this lunch offering is limited to the first twenty customers.
The food at Shirakabe Club uses plenty of seasonal ingredients, and the meals are both visually appealing and delicious, so your eyes and taste buds can take their time enjoying this experience.
3. A Pear Tree Inside the Museum?!
Taste Delicious Pears at the Tottori Nijisseiki Pear Museum
Picture courtesy of Tottori Nijisseiki Pear Museum
For lovers of fruit, we recommend visiting Japan's one and only pear-themed museum, the Tottori Nijisseiki Pear Museum.
Once inside the museum, the first thing that comes into view is a big pear tree spreading out its branches! You'll be surprised by its larger-than-life presence.
At this museum, you can not only learn about Tottori's famous product, the Nijisseiki pear, but also taste and compare several pear varieties. In addition, at the museum shop, you can purchase various sweets all associated with pears, which make good souvenirs.
Also, at the fruit parlor, you can sample the ever popular pear soft ice cream. If coming to Kurayoshi, a visit to this enjoyable museum is a must!

Check-In at a Ryokan in Misasa Onsen, Then Go Look at a Star-Filled Sky
If you've enjoyed exploring the Kurayoshi area and it's now dusk, let's head for Misasa Onsen next.
First, we'll check-in at the onsen ryokan (traditional Japanese inn). After you take a dip in the hot spring and refresh yourself, you'll feel relaxed and ready to go out to gaze at the night sky. If you put on a yukata, you'll be able to fully enjoy the experience of being in a hot spring town.
In this onsen area there are all kinds of ryokan, both large and small, so if you choose a long standing ryokan you're more likely to have an authentic Japanese experience.
Hashizuya - An Onsen Ryokan With a 300 Year History!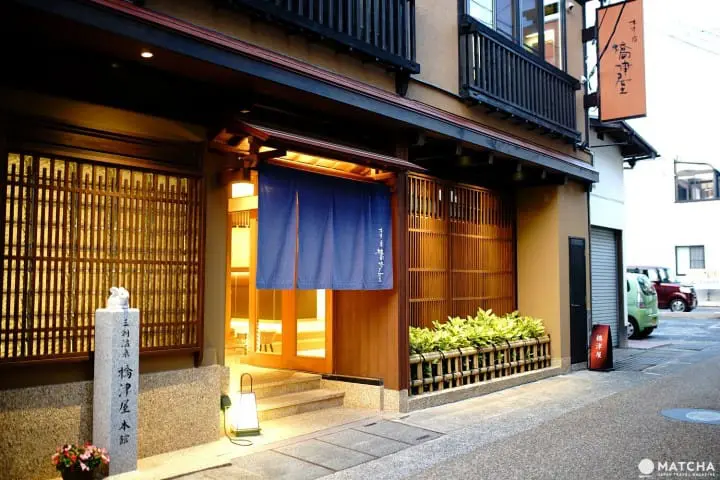 Standing right in the middle of this onsen town is Hashizuya, a ryokan that opened for business some three hundred years ago. This was originally a farmhouse, but with the discovery of the hot spring, they decided to start a ryokan.
While receiving Japanese-style warm hospitality, this is one popular ryokan where you can fully enjoy your visit to the town of Misasa.
The spring water at Misasa Onsen is rich in iron, which is said to make one's skin smooth.
At Hashizuya, there's a rotenburo, a gensen kakenagashi (pool filled with free flowing spring water) and other kinds of pools, so you can enjoy the water at Misasa Onsen by trying various kinds of baths.
At an onsen ryokan, the cuisine is one thing worth looking forward to, so, by all means, go for a room plan that includes meals.
The food at Hashizuya utilizes seasonal ingredients and is served on delicate and refined dishware that gives you a sense of the seasons.
The menu uses delicious ingredients gathered from the local mountains and ocean in Tottori. Here you can enjoy a culinary experience to your heart's content, with food that's been carefully prepared with attention given to every detail.
Let's Watch the Stars from the River Area in Misasa Onsen
After dinner, let's go for a stroll through this onsen town. You'll encounter several ashiyu (foot baths) along the way. Dip your feet into the soothing water and your fatigue will slowly melt away and put you into a relaxed state.
For stargazing we recommend the banks of the Mitokugawa River, which runs alongside this onsen town. If you look up, a star-filled sky opens up directly above you!
The countless stars in the sky combined with the gentle lighting at ground level creates a mystical and beautiful sight. You'll surely find yourself completely fascinated by nature's grandeur.
At Misasa Onsen, stargazing has developed into a popular activity with various star watching events held on a regular basis, attracting many participants.
On Mondays, Wednesdays, and Fridays (August, September, October, 2018) starting at 20:00, a star watching event for astronomers (including beginners!) will be held on the rooftop of the Misasa Sports Center.
For the schedule and other details on this event (Catch the Star), please check the official website: http://spa-misasa.jp/hoshitori/ (Japanese)
It's also possible to see fireflies at Misasa Onsen. If you happen to visit the area in June, by all means, take a close look along the local river banks.
The genjibotaru, or Japanese fireflies, hover near the river, and the greenish lights that they emit create an unforgettable scene.
Day Two:
Let's Go for a Walk around Misasa Onsen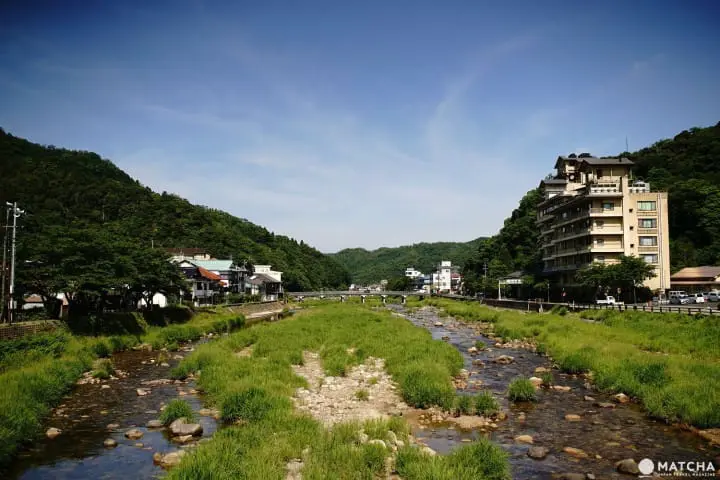 If you wake up a little earlier than usual the next morning, an early dip in the hot spring is one of the true pleasures of the onsen experience. As you take in the morning scenery, which is different from the evening, you can relax and enjoy the hot spring.
After breakfast, let's go for a refreshing walk in the nearby area. Though it's known for its stunning night views, during the day this onsen town changes into a lush green environment offering pleasing and comfortable scenery.
As you stroll along the river bank, please pay close attention and listen to the sound of the flowing water, and the chirping of birds coming from the forest, and experience this natural wonderland that envelopes the local town.
At Kajikabashi Bridge and Koitanibashi Bridge, there are small replicas of kajika frogs, one of the symbols of Misasa Onsen. Here it'll be fun to take a commemorative photo.
There's also a shrine inside this onsen area. Misasa Shrine, seen in the above photo, is the end result of combining three shrines that many years ago existed separately.
At Misasa Shrine's chozuya, worshippers can purify their hands with natural running hot spring water!
Let's Have Lunch at Café Yunoka
Behind Misasa Shrine there's a restaurant called Tojiyado et Café Yunoka. After going for a pleasant walk through this onsen area, you can stop in here for lunch.
At Yunoka, visitors can stay for extended periods of time at the tojiyado (*1) as they receive medical treatment and recuperate at the onsen. The couple who own the facility also run this restaurant.
Here you can sample healthy and delicious cuisine that's made with carefully selected local ingredients.
*1 Tojiyado... Accommodation facility providing services that help in the treatment of various diseases.
Our recommendation is the Rib Balkan set, which uses plenty of tomatoes. The spareribs are simmered in a tomato sauce and the refreshing and delicious taste will boost your appetite.
Still Plenty of Attractive Sightseeing Spots Left to See!
From Kurayoshi, Let's Go for an Extended Tour of Tottori!
After having lunch at Misasa Onsen, let's head for Kurayoshi Station. If you go in the direction of Sakaiminato, located west of Kurayoshi, there's Mount Daisen and Mizuki Shigeru Road. Conversely, if you head out east towards Tottori City, you can enjoy the evening sky at the Tottori Sand Dunes, and go for a ride on the unique Wakasa Railway.

If you would like to know more detailed information, please refer to the official homepage of Tottori Prefecture: http://www.tottori-tour.jp/en/

Also, please check MATCHA's special feature on Tottori Prefecture, too.

For everything you need to know about the attractive and interesting spots in Tottori, please have a look at the articles directly below.

Please enjoy a sightseeing trip in Tottori by putting together your very own unique travel plan!

Written by Ramona Taranu
Sponsored by Tottori Prefecture

The information presented in this article is based on the time it was written. Note that there may be changes in the merchandise, services, and prices that have occurred after this article was published. Please contact the facility or facilities in this article directly before visiting.